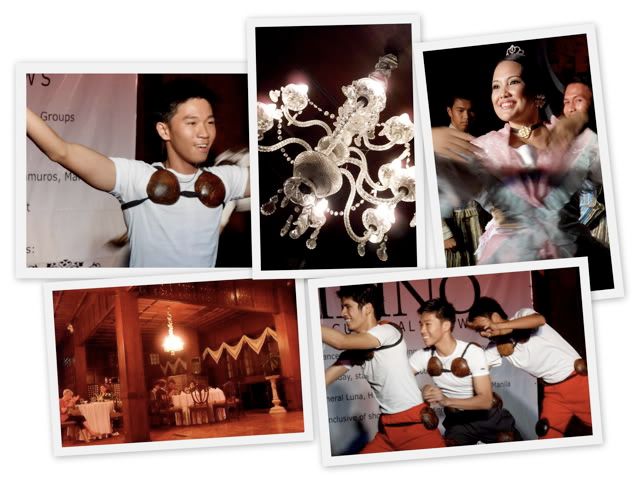 this past week was filled with a slew of celebrations and buffets, and normally, i would complain about eating more than i can burn, but surprisingly, i left the binges without having filled more than 1 plate. last tuesday, i received an odd SMS from the department of tourism inviting me to dinner at barbara's in intramuros. i decided to go since i have never been there. barbara's is on the 2nd floor of an old house along the cobbled streets of intramuros across san agustin. the food was fine, not spectacular, and the ambiance hinted of old wood, and it even looked a little spooky. but the reason i was invited was the promotion of kultura pilipino, a buffet dinner capped with cultural presentations from select dance troupes. some students from a university in bulacan performed traditional filipino dances, and i couldn't decipher anything outside flirtation and courtship. i think that the dances from mindanao are so much more impressive, really, but i did enjoy it, particularly the maglalatik. anyway, i managed to finish a normal-sized plate and didn't have room anymore for dessert.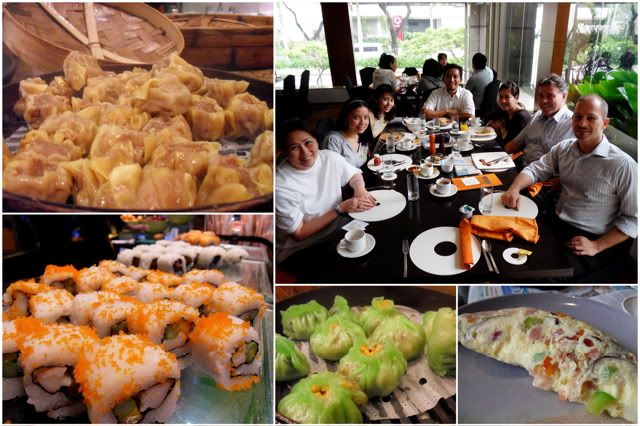 just this morning, my section at the office had a breakfast meeting at circles events café in shangri-la makati. it was my boss's treat. before i took a plate, i just took pictures of the food, until the head chef noticed me and asked why i took pictures and my reply was positively proletariat: oh you know i don't get to eat here often so i'd like to have a souvenir! haha. strangest thing though is that after a small plate of fruits and a pancake, i was okay, and didn't manage to finish the next plate and barely even touched the omelet. i hate wasting food, even if i'm not paying for it. i was so full that morning that i didn't even have space for lunch, that i skipped it altogether.

now i'm trying to figure out why my appetite has waned (not that i'm complaining), and i've realized that for the past 2 years that i've been living alone, my breakfast normally consists of a banana or taho or a sandwich or muesli or even just fresh milk. so i'm not used to stuffing myself silly anymore. the biggest meal i usually have is dinner. which isn't probably wise, but still i'm glad that i'm somehow unconsciously cutting down on what i stuff my face with. it's difficult when you're getting older... and i turn 33 in 16 days!

anyway, i've just packed my osprey argon 70 for my mariveles climb. we are retracing the 2k5 trail, and it has left me a bit giddy. i have lots to say about the climb even before it has started but i'll have to see if my preconceived notions remain the same once i've returned from the trek.