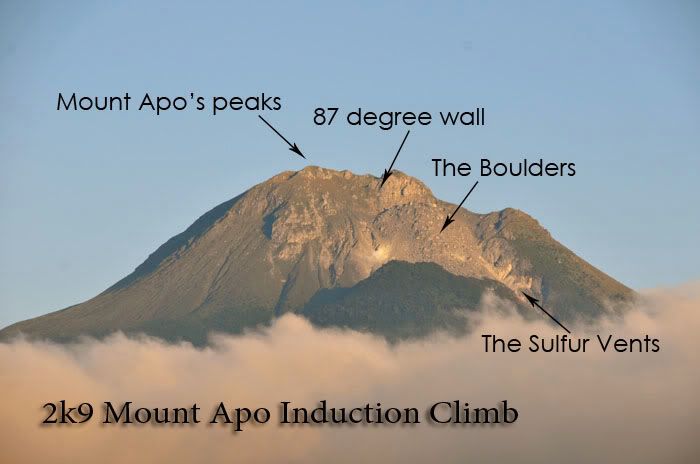 at least 2 days prior to my early friday morning flight to davao, i had already packed my osprey argon 70, and on an anxiety-filled thursday evening that left me tossing in bed, sleepless, i decided to consider the weight of my pack. i attempted to lift it with both hands, and marveled at my own difficulty. i'm normally used to carrying insanely heavy loads, not wanting to trade the little outdoor luxuries for less weight. but i was not planning to embark on an overnighter, no. i was joining AMCI batch 2k9's induction climb in mount apo: four days of toil through familiar terrain. i had been there before, on my own induction climb in 2005, and on a batch-organized climb, so i am aware of the challenges. since i couldn't sleep anyway, i decided to reconsider my load and unpacked. i debated with myself whether everything was necessary, and in the end, i managed to take out an extra pair of socks, 2 packs of milk tea, another 2 packs of swiss miss hot chocolate powder, and half a liter of tequila. i managed to lighten my load by less than a kilo. at the airport, i plunged my backpack on an empty counter and the red digits informed me of the my future burden: 19.8kg. without water. i wondered whether heaving a pack consisting of at least 2 liters of expensive vodka would excuse me from contributing to the water load, and whether along the trail, i could just beg for hydration. i was worried.

but worrying about the weight of my pack was the least of my issues at the airport when charles, one-fourteenth of my team, was yet to arrive as cebu pacific announced the closing of its gates, 45 minutes prior to departure time. i fabricated excuses and assured the very helpful 5J crew that he was nearly there. and just a heartbeat away from being offloaded, charles appeared, balancing stacks of books on both hands. "eds and her stupid books!" he remarked as he made a dash for the check-in counter. from the final check-in, we walked straight into the plane where a little commotion was caused by a family who had mistaken it for the flight to tacloban city.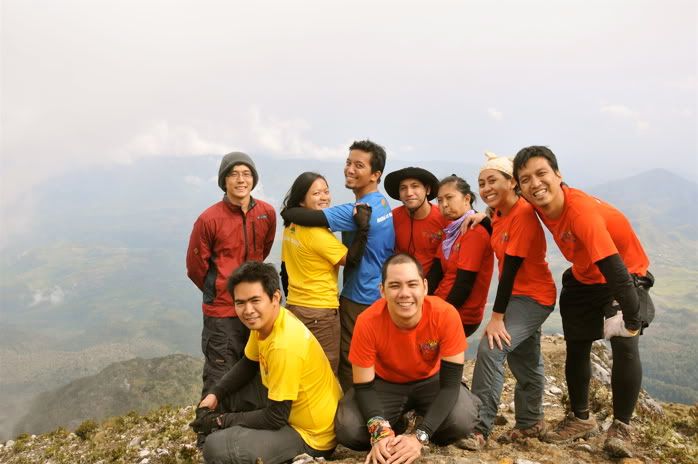 it was a smooth flight that left me merely feigning sleep. before 6am, we were already at the davao airport, where the flights from Z2, 5J, and PR arrived within ten minutes of each other. it was 2 hours yet till assembly time, and i found our van to try to sneak in some sleep. i had officially been awake since 7am of thursday, and still had at least 6 hours of trekking time ahead of me. it is never wise to plunge headlong into an adventure of this magnitude without rest. but it was futile. i needed to draw on my depleted reserves if i wanted to last the whole day. at 8am, the rest of my team appeared, already decked in their multi-colored batang batibot uniforms. my anxiety ebbed, and my imagined stress deflated. i looked forward to 4 days on the slopes of mount apo with my group.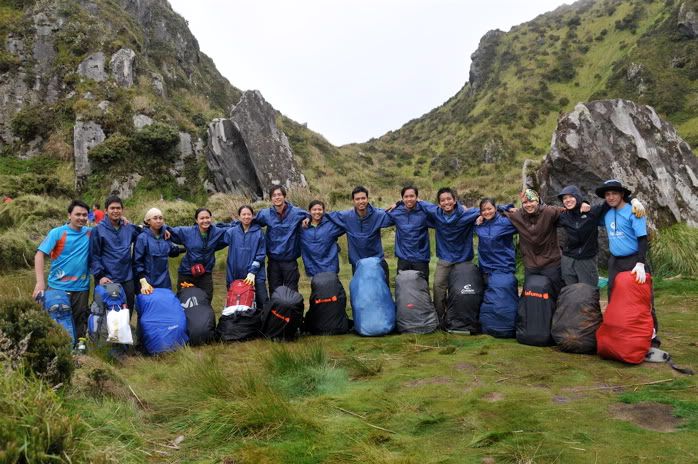 not too long ago, i was invited by enrico to advise his IC group. i have had some of them in my group in previous BMC climbs: enrico from TC1, abs from TC 2, eds from TC3, and nelle from TCs 1 and 4. i had no knowledge of the trekking style of the rest of the group (carlo, ann, emma, and charles), but i could tell that we were all at best, an average group of climbers: not the strongest, but none of them would certainly count as among the slowest. i would not have it any other way. after having been inducted into the club, i have advised 3 IC groups, and played the role of GL/AGL countless times for both TCs under the BMC, as well as independently-organized hikes. i know very well that it matters little that you have the strongest climber in you, because you are only as strong as your weakest member. for this IC, i was joined by edwin, joanne, aris, alen, and diana. it would have been a much larger group, but i wanted to keep the number to something more manageable.



on the way to kapatagan, we passed kiagot, and the name rung a bell. as it turns out, this is my father's hometown, and i have been there at least once, nearly 30 years before. a while later, our van dropped us off in a nameless roadside in baroring where the savers, wearing our dark blue BMC shirts from 2005, were already waiting. after my prayer, the climb promptly began through carrot plantations. less than 20 minutes later, we reached sitio colan to deposit our donations (this was already close to lunch time of our day 2 in our 2k5 IC), and we approached the savers campsite through the shorter route, avoiding hot springs, but passing through a trail blooming with color. the savers campsite itself had been swallowed by nature's growth.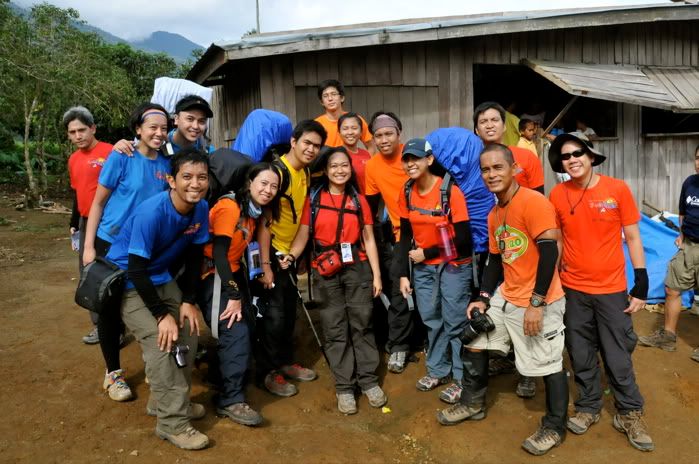 finally, we entered the forest line where we spent most of our trekking time, until evening fell. i was at the tail end of the group, and in the pale light of our headlamps, the trail to tinikaran was a sombre, featureless trek in the woods. i have little recollection of this path since we walked through it under cover of darkness. finally, a little after 6pm, the din of human activity was heard, and we found our camp. enrico announced that he had reserved us a spot. it wasn't the most ideal, but given the refugee-like conditions of the other areas, it was fine. we pitched our tents, prepared dinner, ate, and forgot to uncork our bottles. everyone was just a bit too tired, despite the batang batibot's moniker as maliksi at masigla, that my team decided to hit the sack early, so i ended up with the climb staff, with their jigger cum electronic dice, that had me drinking one too many shots, either through sheer luck or misfortune.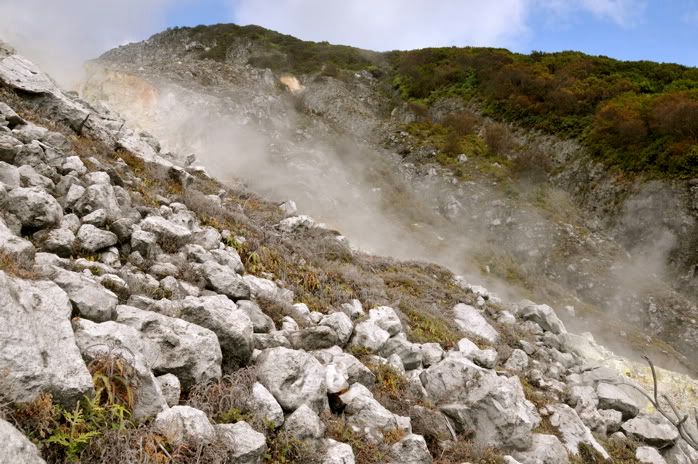 the following morning we rose early for breakfast, and once again, i led the prayer prior to the trek. per my recollection, the trail to the boulders was not very long, although we were beset by slow-moving traffic along the narrow and steep parts of the trail. it wasn't long until we found the dry gully that drained sand from the boulders, and then the forest opened to reveal mount apo's smoking cheek. in the distance, it appears as a cleft of monotonous gray, but upon closer inspection, there is a variety of colors surrounding the monochromatic chunks of rock: phlegmatic green, pale yellow, sometimes, even rust.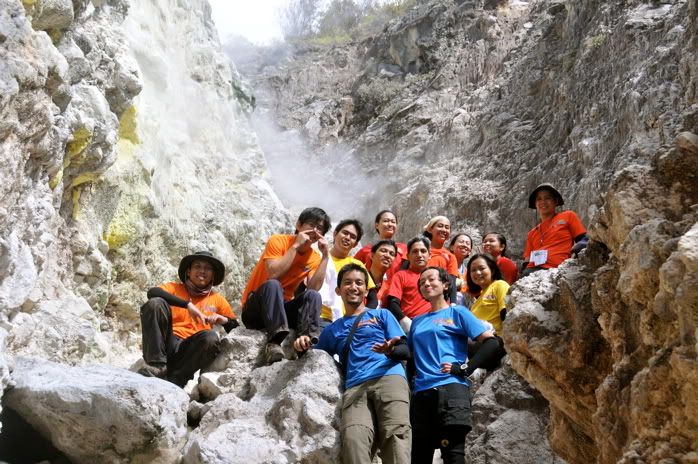 we were still more than an hour ahead of the itinerary so my group went to the sulfur vents, the source of all that smell, for a photo. the vents are actually not very obvious. there are no gaping holes on the surface of mount apo, with boiling lava, or anything of the sort you might find in natgeo. rather, the smoke just blows out of crevices on the yellow walls. there is in fact a hissing sound as the smoke, and smell, escape. mount apo is still very much active, and even in its slumber, reminds all of us of its might and the trembling giant that lies underneath it.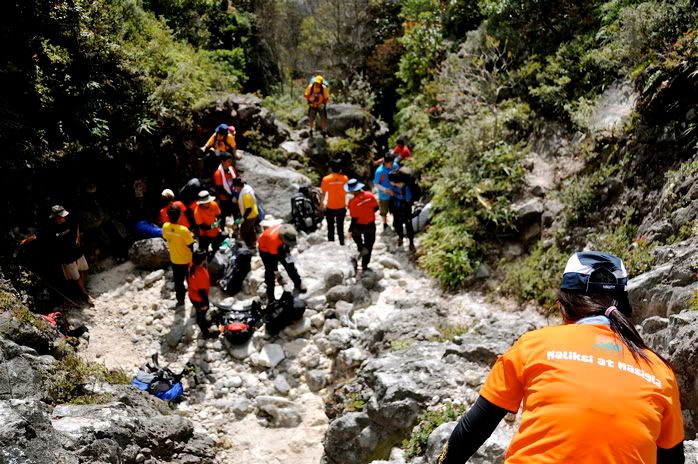 the ascent through the boulders took over 4 hours, and its gray, rocky surface can get tediously monotonous at times: it is just rock after rock after boulder after boulder. the colors range from white to a shade above black, with hints of yellow, green and rust. the vents were hyperactive, spewing a sickening smoke that makes one choose to either suffocate by breathing it, or asphyxiate one's self by constricting breathing itself. nonetheless, in its lack of features lay its charms: it was otherworldly. volcanoes tend to different from most mountains: pinatubo and bulusan always tend to give this feeling that you are somewhere else, where magic and fantasy thrive, or where humans are not alone. i have been to the boulders before, but it was as if i have never seen it. i have no recollection of any specific boulder, as each one resembles the other. the textures range from smooth to rough to jagged to razor-sharp, and the shapes transition from round to many-sided polygons. despite its apparent featurelessness, i took more pictures along the boulders than anywhere else on mount apo. the contrast of our bright, perky uniforms against its deathly monochrome was fantastic.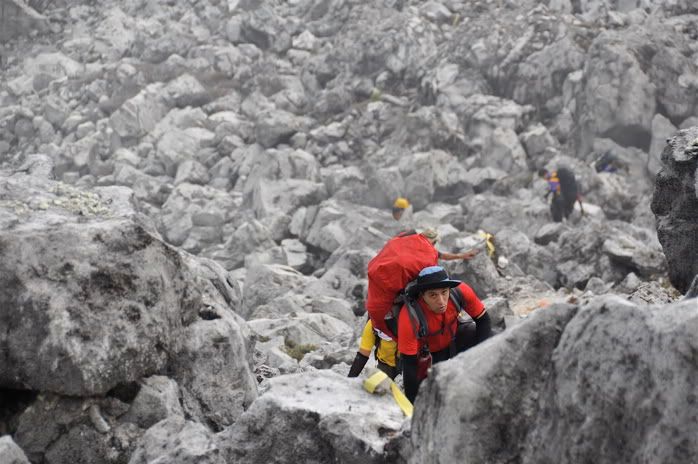 throughout the 4-hour trek, a fog was also almost always present. it blurred the views ahead and behind us, but allowed us small peeks so that we would not grow tired, too quickly. somewhere along the trail, we were hit by hunger. i called for lunch, and it got cold rather quickly. we munched on our lunches, even as others snacked on berries harvested along the trail. that these small bushes can grow in such adverse conditions and still manage to bear fruit is a testament to apo's nurturing nature.



finally, we walked into a wide expanse. the cracked cliffs on both sides were daunting. it was as if an entire mountain would fall upon us. rather quickly, we began a steep ascent on what they'd called the 87-degree wall. although it was steep, it seemed to me that it was a pretty random number, and there was nothing there that would tend to prove pythagoras. this was a different trail from 2k5. we crawled up the trail, and very shortly after found the crater. it was vandalized by rocks that formed names of strangers: how very pre-historic. the urge to leave behind a trace is a feature that can be traced to cavemen. from the crater, we knew that the campsite was less than 30 minutes away. so instead of speeding towards the summit campsite, we decided to assault peak 1 (where we desperately anticipated a clearing back in 2007) for a long photo shoot. we were in no hurry. this was not a contest, after all, and we had no desire to prove anything, least of all our speed. we just stayed there, channeling our inner models, flashing our smiles, denying the fact that we had just hurdled something close to herculean. this was, after all, the highest peak in the philippines. we raise our hands and we touch the roof of the archipelago.



on our way to the campsite, we talked about how the group was just too happy. maybe it would be good to have some issues, a bit of drama, so we devised a script, improvised a fight. it worked for a while, but we couldn't sustain it: we actually had people believe we were involved in a tussle. but the real drama began when i realized that our designated campsite was along a wind tunnel. i investigated to see if there was no more room elsewhere, and was surprised to find that many prized spots were still available in the cozier part of the campsite. i began to ask just how random the camp assignments were, and whether some favoritism was employed. this less-than-innocuous question eventually led to our transfer beside the climb staff. it felt good to be wedged between a rock and a hard place. i felt less afraid of the evening cold.



pretty soon, we were taking care of dinner while some sun still showed. i spoke to the groups from bukidnon and marveled at how the nearly-full moon rose over the campsite. the evening itself wasn't too cold. a lot of people still managed to crawl out of their tents for a few shots. underneath a tarp, we created the truth circle. somewhere else, they were singing OPM. the impact-Os moved around with their costumes and wigs. mount apo was just too kind. the weather had been friendly since the beginning, and that evening, though nippy, wasn't deathly freezing. although when i turned in to sleep, after bringing home 2 very inebriated ladies, i regretted having to leave out the extra pair of socks. my feet were cold.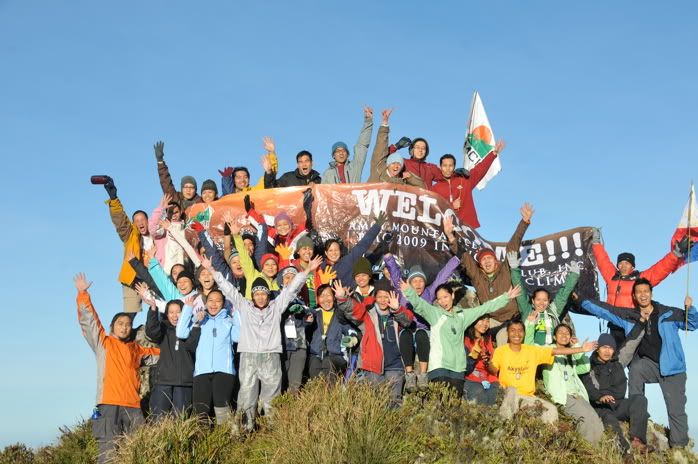 then, early in the morning, we had to rise for the induction rites at one of the peaks. i put on my shirt and knotted my tie, gave final instructions to my group and proceeded to trek in the light of dawn. the AMCI induction rites are sacred and secret. i have witnessed five of these, including mine, and despite the solemnity we associate with them, there is always something that makes us laugh or cry afterwards. the rites were also threatened by outsiders who invaded our ceremony while it was taking place. but what could we do? we do not own the mountain, and we can only plead for their kind understanding: the entire program didn't last 30 minutes, and at the end, we had welcomed 39 new members into the club. i hugged everyone who had been part of my group, and even those who have grown close to me. it was a happy, emotional moment. and for the next hour, we had the customary photo shoots at the peak. the sun was high above us, and the weather permitted an extended stay: much unlike my own IC when we were rushed to descend.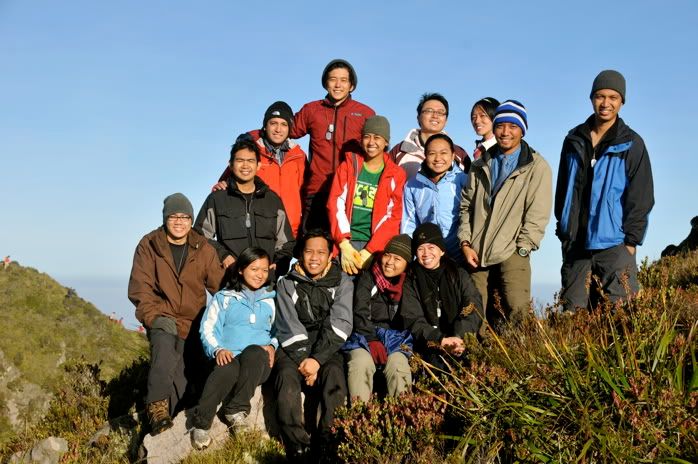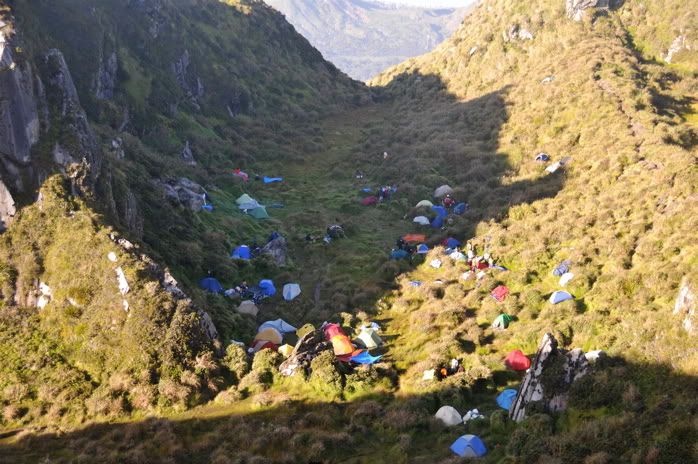 we returned to the campsite, prepared breakfast (a nearly-botched champorado which i will not recommend), and broke camp quickly. all the groups departed one after the other, and there was a long queue all the way to the 87-degree wall. we were sandwiched in the middle, but by the time we had reached another part of the boulders, we were right behind the lead pack. at one point sir manny told me to stay behind and not to stay too close to the lead pack and subject them to any added pressure. i obeyed, of course, and sat it out, despite my misgivings about the choice of route. it could have been easier: the strides could have been shorter, and there would not have been any need to hop. frequently, i made my own trail, as jumping from one boulder to the next wasn't my specialty, not with a huge pack behind me.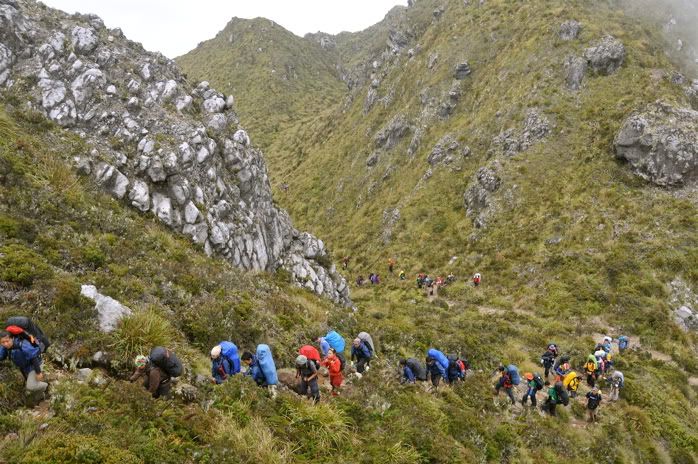 eventually, we found the friendlier trail which we ascended the previous day. other groups were already making their way down. our SAVERS guide remarked about how our packs tended to be generally bigger, and that our ladies shared in the load. when i discussed our training, he was close to disbelieving. but it's true: not that AMCI (or some manila-based mountaineering groups for that matter) tend to be less gentlemanly, but that we do not pamper our women: they carry a portion of the load, which is distributed equitably rather than equally.

after finishing lunch along the trail, we picked up our packs and continued with the trek. enrico insisted on staying behind, since we were more than 2 hours ahead of the IT. he preferred to be with the "view pack" rather than the lead pack. but less than 20 minutes later, i found the lead pack resting at tinikaran 2. we discussed the plan, and manny T said that at our pace, it would be possible to trek all the way to tumbis where there would be water, hot springs, and a store. the decision would be made at tinikaran 1, depending on the time of everyone's arrival. so i waited for my group, discussed the options, and we continued with the trek at a less leisurely pace. i arrived at the campsite with aris just a little past 2pm. the group that had gone ahead of us asked for help when one of their companions had trouble walking: he absolutely could not move his legs but could not feel any pain at all since he had overdosed on painkillers, so they were devising a hammock. it was a long way yet to colan. my entire group was there by 2:30pm, and we were eager to keep walking, and by 3pm, we were still awaiting a decision to be made. i regaled them with my anecdotes of previous climbs, until i eventually had run out of stories. at 4pm, with still a huge chunk of the team far behind, manny T called out: camp!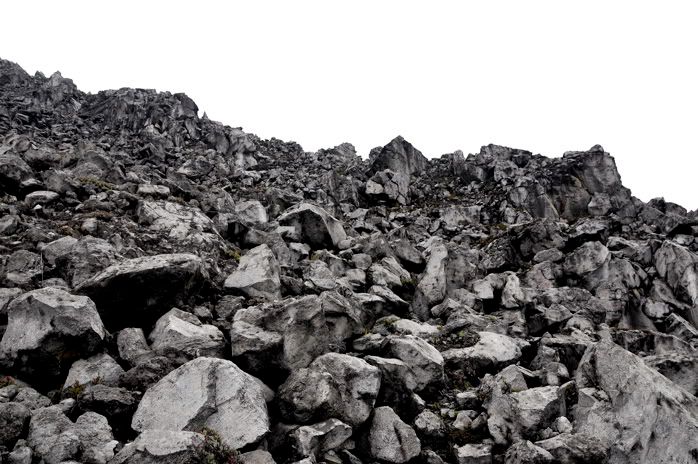 by this time, i was developing a headache as well as a fever. one of my molars was also strangely sensitive to the bite, and i had difficulty chewing anything. despite that, we still managed to have a sumptuous dinner, and finished off the remaining liter of vodka that i carried up and down apo. at around 8pm, there was hint of a drizzle, so we quickly packed up and retired into our tents, although i continued the conversation with charles and enrico while inside. enrico kept saying how this was the perfect group, the best group, how the team composition was ideal, and all that, and without saying goodnight, we fell asleep. at a bit past 9pm, the coke we ordered arrived, and kuya mar's team was alive with beer. they tried to call us out, but i begged off because of the headache. and it was either the racket they were making, or the headache i was feeling, or both, that kept me mostly awake till 5am the following day. i had such an uncomfortable time, rolling around on my thermarest, worrying about my condition, trying to knock of the pain with ineffective medication.

by breakfast, i was visibly not myself, and people noticed: i was brooding, quiet, lost in the distance, out of focus. i tried not to infect anyone with my situation but it was inevitable: the silence was deafening. charles already volunteered to carry my tent poles and that was a welcome offer. still, we managed to prepare breakfast of which i had only a bite. i didn't even bother to get lunch. we were the second group to depart tinikaran, behind the impact-Os. and it was only on the return that i managed to appreciate the kind of trail we trekked: it was actually steep and very slippery in parts. under such conditions, you just walk on, look back a little to see if the team is close to you, and continue walking, following the beat-up trail with its yellow strings, failing to appreciate birdsong or the mating calls of insects or the variety of trees that fill your vision. behind me, the group was having fun counting the falls and slips they collected, and apo was a runaway winner (i would have been the biggest loser since my butt was clean as a whistle). rather quickly, we found the savers campsite again. less than half of the team was still not present, and i decided to be left behind to see what i could do. eds's knees had apparently lost a lot of their control, and they folded on their own. she was slowing down on the descent. so i took off, and in an instant, i was behind my group who had ordered coke at tumbis. we should have been there the day prior if all the other groups made it to tinikaran before 4pm.

but instead there we were, deciding how to be able to help eds. the road was about 30 minutes away from here, so we continued, again past plantations of carrots, along a muddy horse trail, and onto the road which in 2005, was in such bad condition, the mud was nearly knee-deep in parts, and yet we dutifully trekked it at nighttime until we reached marawer. this time, there were no such hiccups: a vegetable truck was waiting for us, and took us to the resort still in kapatagan, about 20 minutes away. and then it began to drizzle: the only significant weather anomaly that took place the entire climb. getting off at the resort, we had a late lunch (i only had soup, about 3 bowls), there was a choice between sleeping and getting cleaned up. given the long queues, i chose the former, until finally it was late in the afternoon, and the entire team had arrived. i quickly took a bath despite my fever, and sat down with the rest of the batang batibot, pooled together our emergency food which we converted into a gourmet dinner, and happily recalled the last 4 days in the company of rum coke.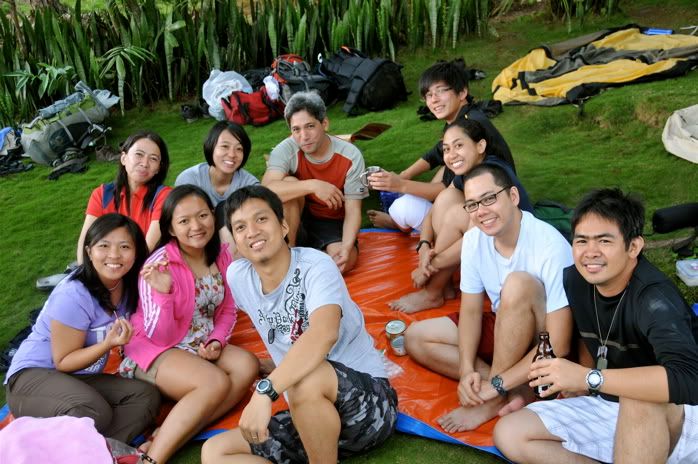 we also planned the socials presentation, which true to the group's name, was still batibot-themed (add a splash of black eyed peas and sinulog as well). it was a lot of fun just to sit there, exchanging stories, laughing at things and occurrences which anyone not privy to the climb or the group would not find funny. in the end, every single one in the group was a revelation, putting a piece of themselves for everyone's consumption. if the lack of misery in the climb did not help to draw us closer together, it was the steady company of each other's presence and small contributions to the success of the group, individually, and the entire team, collectively. i like this group not because there weren't any boiling issues during the climb, or that everyone pitched in without having to be told, or that we worked well as a team. it was because even if any problems ensued, it would not have anchored us down.

a lot of people might compare this climb to others. only very few batches have been inducted on the summit of mount apo, and i am among the few who can actually compare two ICs. but just because i can, does not mean i will. the conditions then and now are wildly different; the amount of realism breathed into the IT of my IC was askance. this year's president had a few simple goals: no night-trekking, no injuries, beat the IT. yes, there may have been features of apo that we were unable to see: waterfalls, hot springs, lake venado. but what is the purpose? to see everything that can possible be seen? then we would need more than 4 days. the underlying reason behind our climb was to welcome new members into the club, and show them the quality of our mountaineering. i think we did that successfully, without having to tempt fate, or hoping that something would go awry, and thus lend the experience some credibility for its sheer difficulty. it is true that many ICs will be remembered for their tendency to push the envelope, to push us to tears and to the edge of sanity. maybe it's time to set a new standard: why can't an IC be hitch-free? it began with the weather, after all.

so despite the impossible load on my shoulders, i ended the climb without feeling sore. the only pain i had to endure was the one vibrating from my lower left second molar. but that's another story.

welcome to the club batch 2k9! here's looking forward to climbing many mountains with you.