the last time i went up a new mountain was in april 2007 when i led the charge up
mount napulauan
. i considered it a personal milestone in my mountaineering career, because in a nation of islands, there appears to be very few mountains known to those who climb. of course, i have not climbed all the mountains in the philippines, but i have climbed many of them, far too many times. that is why i could not pass up on the opportunity to scale mount calavite, on the northwestern tip of occidental mindoro, a couple of weekends ago. i wasn't supposed to join, actually, and i was a last-minute addition to the team. i risked animosity from a friend in order to take part in a climb. at the beginning, i wondered whether it would be worth it.
at midnight on friday, i left for wendy's in buendia: a welcome change from the gatherings outside of ayala tower 1 these last few months. we wanted to catch the 4am ferry bound for abra de ilog in batangas pier, and it was a great amount of luck that got us there with only a few minutes to spare. now the batangas pier has a strange policy: they confiscate things like knives and butane canisters. that's pretty understandable: if they're returned when you go back. but that's just it. so if you have an expensive victorinox swiss knife or a nice buck blade, you'd find the ruling absurd, particularly because from the ports of call outside of batangas, not even a cursory inspection is conducted. nonetheless, we managed to sneak in our "illegal" equipment, due in no small part to the early hour.
the ro-ro ferry was a rag-tag hand-me-down from some east-asian country. there were no beds: just non-reclining seats which were thankfully cushioned. nonetheless, we sequestered a bench and tried to get some sleep. in 3 hours' time, we were parking at the port of abra de ilog. paluan was still a good 2 hours away. along the scenic route which consisted mostly of rice fields and hills, we stopped by the town center, which consisted of a market which had 4 stalls, a gas station, and two carinderias which lacked imagination: they both offered the same meals. when we returned the following day for lunch, we wondered whether they had re-heated the remains of the previous day, or their cooks shared the same recipe book.
from the town, we proceeded to ulasan where an elementary school offered primary education to the indigenous mangyans and other settlers in the area. most of us were still getting down from the jeepney's roof when a drum and xylophone squad started playing. the kids had prepared a program. we gathered around them, and immediately after the welcome salute, costumed little warriors went into formation to perform a hunting dance. a deer (at first i thought it was a carabao with weird horns) walked in and it was speared down by the little hunters. finally, they sang a medley of songs. we were told that they'd prepared the performance for candidates of miss earth who were supposed to visit them, but they never got the chance to perform because there wasn't enough time. i felt really important, to be honest.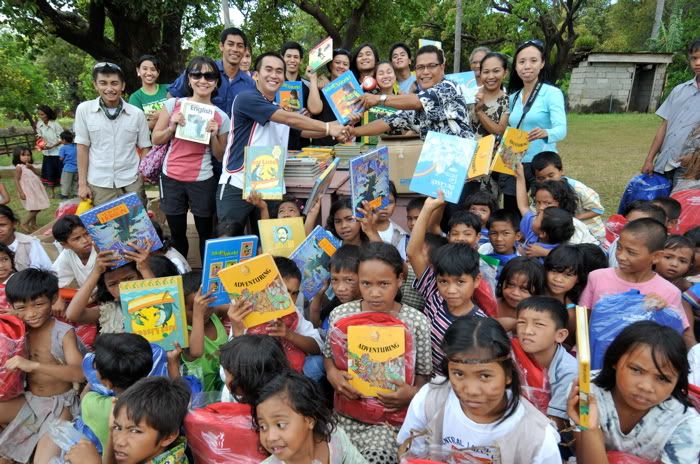 afterwards, we placed school supplies into little bags and distributed them to the children who obediently fell in line. we also donated books, flashlights, and the surplus of canned goods from our post-ondoy deployment operations. the kids were beaming with smiles, and the school administrators were profuse with thanks. i felt embarrassed actually: i was merely a conduit -- an instrument if you will -- since i had no contribution at all towards the generosity heaped upon this small sitio in the uplands of paluan. i merely helped in bringing the donations of unnamed benefactors to the place. i thought the gratitude was more appropriately given to someone else. i was there for a selfish reason: to climb a new mountain. but the outreach activity does lend the climb with a semblance of relevance: a dimension which shouldn't be an afterthought, or a ruse, or perhaps even token charity, but essentially part of the expedition. we saunter into the backlands of these communities who welcome us with warmth and hospitality, and it becomes our responsibility to assist in any way we can.
immediately after the turnover, the kids changed into their saturday's best and were herded to church. the school is actually part of an adventist mission. in the meantime, we dozed off for another hour, and began the climb at noon. and whose bright idea was it anyway? it felt like the northwestern tip of mindoro was closest to the sun than any other part of the philippines. it was hot and dry. a whisper of wind would blow through the trees every once in a while, but it took many stops and several gulps of water to endure the first 45 minutes of the trail. the forest was dreadfully pale: the leaves were a light shade of green, and the trunks of enormous trees were closer to flesh than brown. even the many millipedes scattered on the ground were a few shades lighter than the ones i'm used to seeing. and the trail was also rather steep.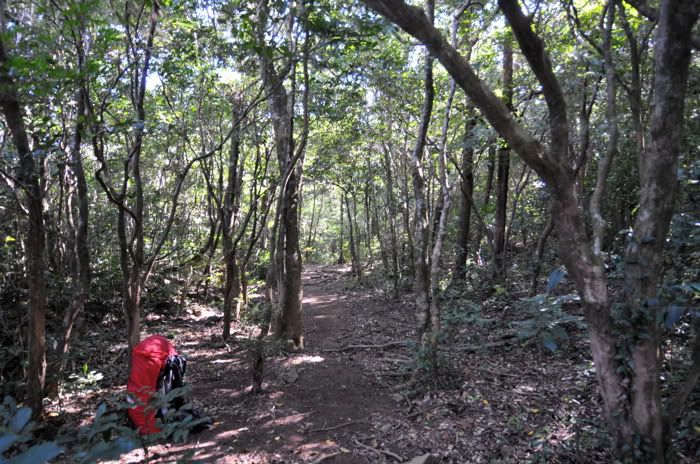 nevertheless, there was a portion of the trail that we all enjoyed, which for some odd reason, gave me the spooks. it was a sparse forest that was generally flat. the trail was littered with dry, brittle leaves, and the lithe trees were spaced far apart. in the middle was a small clearing with a mud pool. at its edge was a slight ascent, and fields of grass. i was alone as i marched through the trail. or at least i felt alone. i found the lead pack hanging up on a tree which i could not climb. they said they were avoiding limatiks who had made their appearance about half an hour earlier. from the "blairwitch trail", we proceeded to the most scenic stretch of the trail, with sweeping views of the sea, the town below, and the mountains in the distance. we paused frequently to marvel at the view, and the dark plume that stood in the distance. since that morning, the weather had been kind, if not unrelentingly hot. we worried though if it would rain.
there were a total of 2 view decks named after the first two persons who climbed calavite. according to sam, no one had climbed it before. they just saw the mountain on a map. a haphazard trip to paluan was organized during a long weekend, and they promptly encountered delays along the way, but with the help of a nine-year old boy as a guide, they managed to climb all the way to the summit of calavite. to this day, more than 4 AMCI climbs have been organized there, but only sam and hermie had seen the summit. all the subsequent climbs were marred by bad weather. we took a long break at herm's view deck where large raptors, possibly oriental honey-buzzards, kept flying over us.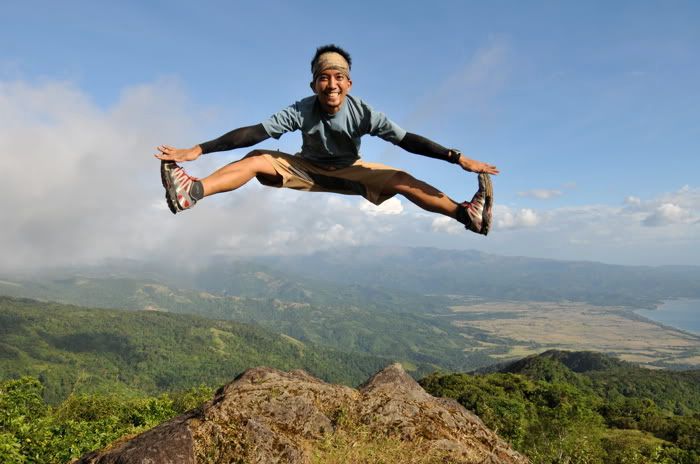 at sam's view deck, we began to feel the much talked-about wind that frequents the football field-sized campsite of calavite. i was quite literally blown off my step a number of times. during the pre-climb, everyone was instructed to bring along geodesic tents to withstand the lashing winds. but i'm pretty hard-headed. after a few minutes, we came upon a gently sloping field that swooped just below a thick forest crowned by a conical summit and topped by a whirling dark cloud. this is the campsite they were talking about. it is many times the size of a football field, but precisely because of the wind, there are very few places where pitching a tent would be wise. we quickly proceeded to an area just behind a small mound, close to a tree and a bush. around this area, we pitched all our 6 tents. sam and mike planned to sleep outside, but their plans quickly went awry when it started to rain. i was in the midst of cooking rice when i decided that it wasn't wise to soak my sleeping attire, particularly when they are also my going home clothes.
but the rain quickly ended, and we resumed the preparation of dinner. it consisted of my mom's signature dishes: shredded bangus lumpia and sardined bangus. we also had brownies from sammer, and after-dinner delights from mher. while the damp wind blew down at the campsite, we gathered around our kitchen and exchanged stories over alcohol. i know it sounds pretty routine and predictable, but it is the promise of unfettered socials that sometimes lures us to climbing mountains. it may not be the right motivation, and it rarely is for me. but it certainly is a welcome form of relaxation while on the mountain, particularly when you have long hours to talk under less-than-hospitable conditions. nevertheless, the insistent breeze notwithstanding, we managed to draw as much fun from our own follies as we could, and i only turned in when i saw someone holding on to a GSM cuatro cantos. unknown to me, i actually drank some of it.
i woke up the following morning to the sound of wind and a drizzle. somehow, we still managed to prepare breakfast and break camp despite the weather, although we were at least an hour behind. it really was a very quick descent. the views were obliterated now by clouds, so we were hardly stopping. besides, the evening rain left the forest wet and dripping: a perfect environment for limatik attacks. the trail was steep going down, although far from difficult. and despite our speed, some crawlers still found themselves at the edges of my socks.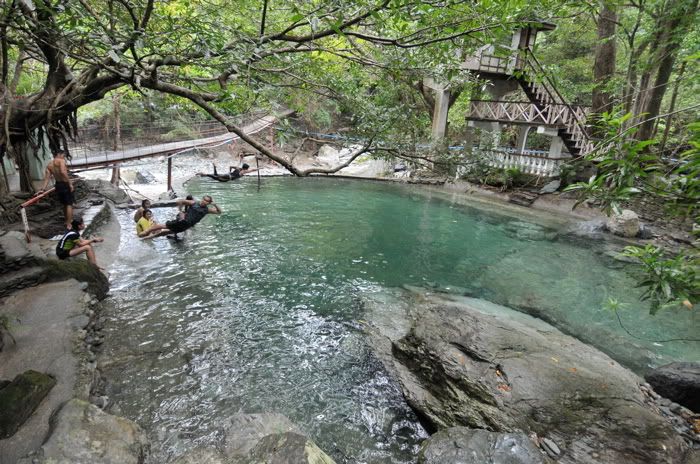 after a little over two hours, we reached the school again, and we had a perfunctory limatik check, which yielded 3 bites. with most of us having changed to slippers, the bleeding was even more obvious: it was a bloody sunday. then we moved over to the only resort in paluan: the calawagan mountain resort, carved across a river. there was a "natural" pool which diverted some of the river, and we lingered here for a while. it was a nice place, and we wondered how ideal it would have been for a first training climb, with the exception of the limatik: something that could possibly scare most of the uninitiated.
from here, we had lunch at the same place again, and the menu had not changed. we were delayed by a few minutes waiting for halo-halo to be served, and this proved to be crucial: we were not allowed to board the 3pm ferry back to batangas, although all of our watches showed we still had at least 2 minutes to spare. it really was just a guard throwing his weight around. since we couldn't force ourselves in, we just decided to drown in red horse, and make ourselves hoarse from singing videoke. after two hours, we walked to our ferry, ordered some beer, and had our post-climb on a moving vessel. we reached batangas after less than 3 hours and stuffed our smelly bags into a van which brought us to manila.
to say that calavite is a new mountain seems to suggest that it wasn't there before. in a way, it was a personal discovery, because although i had heard about it, i hadn't been there prior to this last climb. it exists regardless of my ignorance. but i call it that for purposes of convenience. a new mountain in a country of islands is really cause for celebration. while i do not mind repeating the same old trails, it would be nice to experience something not part of the usual. the list of mountains to see here seems pretty limited, but it is the company and the purpose which made this specific expedition unique. i'm not certain whether i will get to climb another mountain before the year ends. but it is comforting to know that i get to climb a new mountain every now and then.