and to think that i once considered getting the
kindle
.
this gadget
, though only
a preview of another revolution
, is not due for release until the second quarter of this year. i just found out that the 3G version isn't SIM-locked, which is a huge relief because we know how one local telecom has abused its virtual siege of users to double the market price. i am hoping to get one direct from the US. i haven't even done any major research on the product but i'm already sold. i think i said it before: if apple rolls out shit (rotten apples, as it were), i'd still consider getting one for myself. but apple has produced nothing but gold: the temptations have gotten me biting: i got my first
3rd-generation iPod in 2003
, then my
iBook G4 in 2004
. i upgraded to a
second-generation iPod nano
in 2006, got my macbook pro in 2007, a
first-generation iPhone
later that same year, then got a
fourth-generation iPod nano
in 2008.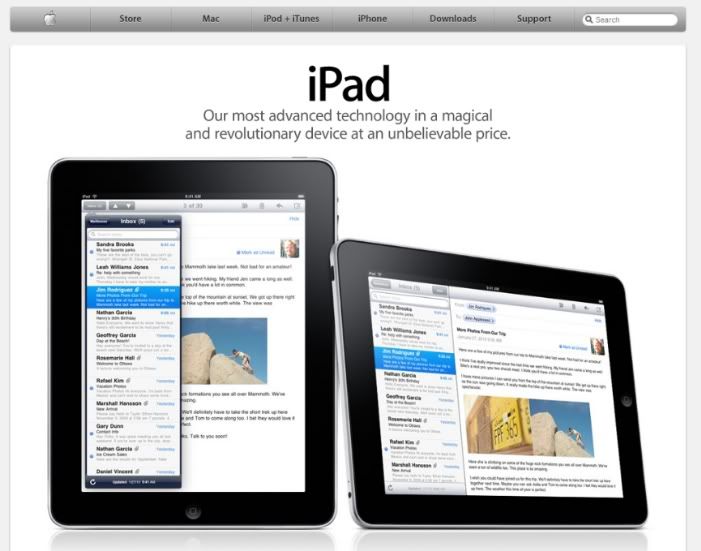 the design of the iPad is so deceptively simple and so reminiscent of the iPhone, one might actually think it was the result of some prankster's creativity. i have to confess i almost got duped by the onion network's report on the new macbook with the wheel. but still, i wonder whether i can hold off until april. or until may perhaps, since the philippines isn't exactly continental america. so steve jobs caved in to the demand of producing a mac tablet. i'm so glad he did. at least now i know why i've been saving: i've been unconsciously waiting for this moment to arrive.