the weather forecast for the weekend could not have been more encouraging: sunny and delightful.
during my last climb to mount natib
, we had nothing but fog on the summit, it almost eluded me how terribly beautiful it would be to look at the bays of subic and manila on a clear day. so on friday evening, i decided to skip sleep altogether, worried i might oversleep and miss the bus for orani. i had mentioned mount natib to the new batch of AMCI members immediately after their induction. i spoke about how i wanted to take them there to hear thousands of roosters crowing at the late morning sun, to share the trail with herds of cows, to figure out the puzzling walls of rock on the way to the summit, and to spin around that small, bald patch of campsite at the top. i had no idea it would come so soon. in less than two weeks, we planned an assault of mount natib. some internet sleuthing got me new contacts and confirmation that the mountain is open. and although there were some last-minute changes to the line-up, a happy band of 13 still gathered for the climb.
my contact, sir louie, is the uncle of francis, who guided us last year (i later found out that francis had gone abroad to work). he picked us up at the highway and took us to the jump-off after i dropped by the military detachment to give our names and contact numbers. we were about half an hour ahead of schedule. by the time we had reached the battlefield, or site A, we had extended it to an hour. all along the trail i was saying that we should take 30, but the trail towards the summit acts like a wind channel, focusing a strong breeze that worried me a little: will we be pounded on the summit? it has not escaped me of course, that mount natib is part of the bataan natural park: a protected area. it only means that the place is rife with flora and fauna. a skip and a hop from pinagbutasan we saw a big, upturned and bloated rat already in rigor mortis, its fat tail pointing upwards. it had white fur on its belly, and brown fur behind it. at the water source i saw a meter-long brown snake resting on the stream, and along the steep trail going up the summit were signs of abundant wildlife: masticated and digested fruit were all around. while we napped at the battlefield after lunch, men with firearms and dogs arrived and jolted us from our afternoon dreams, and a brief interview with them gave us the impression that the mountain still has game. they kept asking us if we were already tired. i insisted we were well ahead of schedule. not long after they left, we heard a gunshot.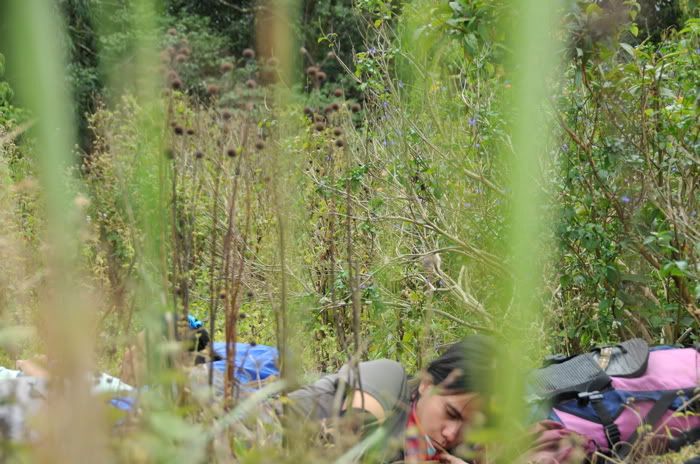 this was more or less reason for me to begin the assault. i warned about a portion where a crawl would be necessary, but it seemed to have disappeared. it was a steady ascent until we reached parts of the mountain that had me reaching for rope.
i still remember how i was presented with the mystery of life itself when i first encountered the walls of natib
. but having been in the lead, it was my responsibility to figure out a path and tie a secure rope so that others could reach the summit. difficult trails lose their mystery when you've passed them a few times. the vertical distance from the battlefield to the campsite is about 400 meters. we crawled upwards in about an hour and a half, and reached the summit which was enveloped in fog a little before 4pm. members of the team trickled in immediately after our arrival, while we checked under our sleeves and above our sock-line for limatik bites. i thankfully had none.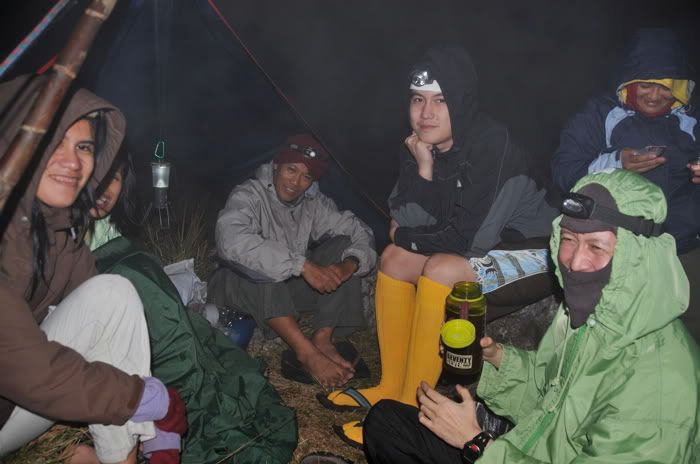 we began preparing dinner before 5pm. jason had completely revised the meal plan and devised something grand. i was happy to be excused from kitchen duties, and was assigned only the pot of rice. jason prepared our meal in stages, beginning with the two salads, the main course, then the soup, which was so chunky, it could have been a meal in itself. in fact, i was already satisfied with the crispy catfish salad. the cooking extended until nightfall, with nearly everyone pitching in to slice, dice, and fry. with the exception of enrico (the amateur photographer) who only reappeared for dinner. while jason presided over dinner, we began exchanging shots of alcohol. we didn't have much, but surprisingly we extended our 3 liters till after 10pm, which we paired with bossing's norwegian tuna a pair of snickers bars. just before 12mn, we crawled into our tents while the wind howled. i was quickly asleep, having not had a wink since getting up on friday for work. but at around 3am, i was awakened: cris was shivering intensely beside me, so much so that both jason and i stirred. eventually, even i shivered a little, that i had to slip into another jacket. my legs and toes still felt incredibly cold, although my suunto only indicated the temperature to be 20-degrees centigrade. it must have been the wind.
we all got up at 6am, and by 9am, had finished breakfast and returned the campsite to a state more pristine than we found it. a short prayer took place prior to the descent, which was slippery and probably more challenging than the assault. i installed the ropes where i thought they may be needed most and had reached the battlefield a few minutes before jason emerged from the bushes. by then he was both soiled and bloody. others also appeared scathed. mike had scratches on both knees and both elbows, while others had muddy buttocks and dirty hands. i kept joking if they had climbed a different mountain. and while we rested at the battlefield, watching swift-moving clouds sweeping overhead, a man on a horse arrived. he had a gun. i couldn't quite remember if he was one of the 3 men we saw the previous day, but he seemed to want us to leave as soon as possible, so much so that he escorted us out of site A. along the trail, we saw two more men on horses who asked if we saw cows. we didn't.
the trail from the battlefield to mang louie's house is gentle, but the rocks along the path are merciless on the soles of our feet. mine were close to getting blisters, and they hurt terribly, i just wanted to get out of my boots. behind me, mount natib rose suddenly from the surrounding forest, its summit crowned by a slice of cloud. everywhere else was sunlight and clear blue skies. we were at mang louie's house by 1pm and decided on a queue for the wash-up. the tinola and tilapia we ordered for lunch was still cooking -- mang louie's wife didn't think we would arrive so early since other groups get down so late. we're not like other groups, i said, unsheepishly. the wash-up took time, but we were on a bus towards manila by 4:30pm. if CJ finding a limatik bite on her scalp wasn't strange enough, jenipie caused a slight commotion inside the bus when she discovered that her head had been bleeding since we turned into NLEX from a similar bite. and to think that my IT said that limatiks are a small concern.
i missed out on december, partly because of family,
partly because of my addiction
. but at least i accomplished something for january. i hope to do at least one mountain each month. and 2010 looks like a good year for climbing. in fact, this time, i wouldn't have to look for mountains, they'll find me.