by the time i had reached the span of elevated highway flying over the interchange of magallanes, the sun was still low in the horizon. this presented a slew of difficulties, at least where photography was concerned: i was going in the wrong direction -- against the light -- and most of the runners were already making their way back to buendia. in fact, there were very few people running alongside me, that far too many people recognized me. of course, my appearance was quite ubiquitous: how many runners have a heavy DSLR slung aroung their shoulders anyway?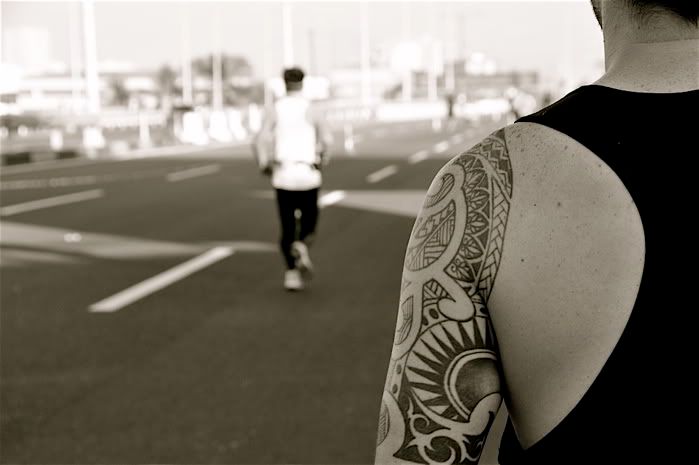 early that morning, i was already dizzy from a heady mix of alcohol and exhaustion. i couldn't extricate myself out of the after-homecoming get-together my batchmates had organized, although i knew i had to be home to prepare for the run. by a little after 4am, i was still in metrowalk, and i had to snap out, as it were, from a beer-induced dreamless state of somnambulism. i became suddenly alert, made a quick farewell to my last few remaining schoolmates, and took a taxi back to makati. i had apparently regained full control of my senses since i gave specific instructions to the driver to avoid buendia, since it would most likely be closed to traffic. by the time i reached the house, the full marathon had already started, and i was just steadily getting dressed. i had the good sense to brush my teeth, but not enough time to take a bath. i reeked of alcohol still when i reached the foot of the skyway in buendia. and that's where my debacle began.
in an earlier post
, i mentioned that i was deciding between running the condura run for the dolphins 2010 or
photographing it as i had done last year
. i was, after all, registered in the 21k category, and although i was lacking in appropriate training, i was confident i would finish -- perhaps not in the time that i would be proud of,
but around the time that i finished when i first did a half-marathon
. but the scales were tilted towards photography when race chair ton concepcion himself offered my a race committee pass at the condura village when i redeemed my race packet, so i could once again take pictures of the event, and even be allowed mobility: i could bring a bike. "but not a motorbike," ton cleared, and i said, that should be fine, because i do have an MTB, and even pointed to it: i biked from my house to bonifacio high street.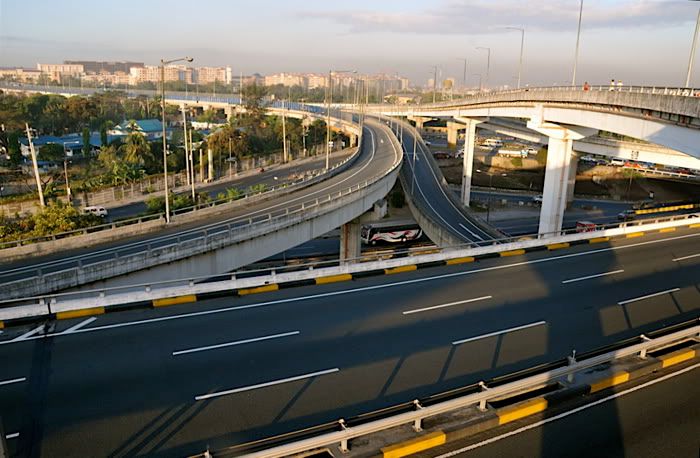 but when i was about to enter the skyway at around dawn last sunday, with my camera and my bike, and my yellow race committee badge hanging around my neck, i was unceremoniously stopped. no bikes on the skyway, i was told. but i tried to explain what i had just mentioned in the previous paragraph: it sounded like i was merely name-dropping. i showed my pass, but it didn't seem to count for anything. i tried to call the people whose names and numbers were written on the badge: race chairman ton concepcion and race director rudy biscocho. neither could offer any help. i was not allowed to take my bike up the skyway. period. my friends, also mounted on their own bikes, were there behind me, seeing the frustration on my animated face. perhaps it may have been the level of alcohol in my bloodstream, but i was possessed: i was about to give a speech while standing on top of a concrete barricade.
now i wouldn't want to give myself any undue importance. i usually have no false sense of entitlement, and i do not insist on being given privilege. what i was holding on to was a promise: the expectation that i could actually photograph the skyway while on a bike. the mobility would have allowed me to think about my shots and maybe include composition and timing in the equation, and not just rely on chance and serendipity. ton's last SMS to me before i finally chained my bike to a barricade was this: just walk up the skyway with my camera. i could have done that without the race committee pass.
i could have gone up the skyway as a runner as i did last year
. but i had already given my race bib to a friend. ton apologized because the race marshalls were beyond his control. i didn't know someone else was more powerful than the race chairman.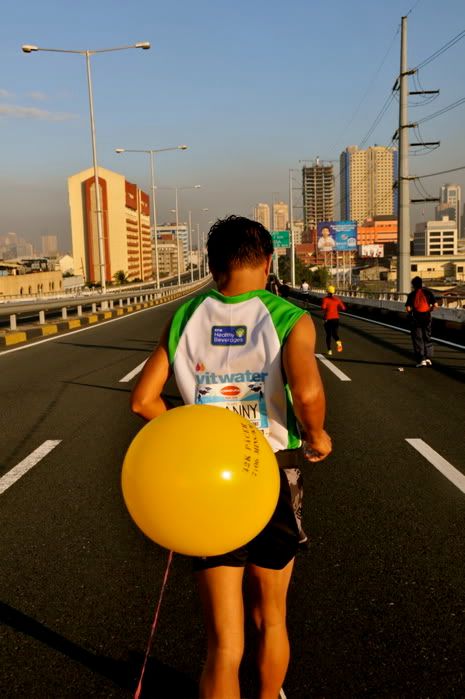 so i was very royally pissed, but i did not allow the cloud over my head to ruin the opportunity: i still ran up the skyway with my camera and went all the way to the NAIA interchange. it was still dark, but managed to pick out people i knew from the rushing crowd. my friends all called out my name. another blogger,
i2runner
, even reminded me of last year's picture.
he mentions me in his running blog
. i was trying to recall the precise place where i took the now
famous photo from last year
, but the conditions were just not right. the sun was up rather late, and all the runners were already rushing in my direction. and the angle of the take-off path of planes seemed a bit too steep. i doubt any other photographer managed to duplicate the shot i took last year. i'm thankful i was given the opportunity. there may be better pictures this year, but at least nothing like the one i took.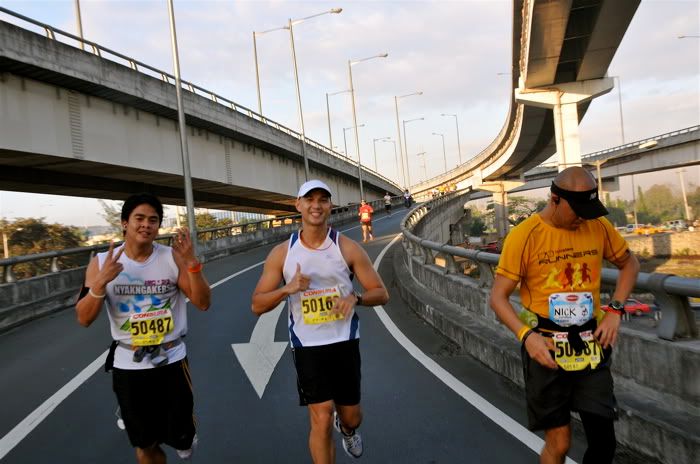 although i didn't run more than 7kms in total, i was actually rather proud of my form last sunday. i was strong, didn't have difficulty breathing, and was so juiced with adrenalin that i had no pain: i was running faster than my usual 5'55" to a kilometer, racing to reach the part of the skyway i really wanted to be at. the race organizers call it the condura hill. from the sky, it's a modern interchange with smooth curves leading in and out of resortworlds manila and NAIA 3. i screeched to a halt at the foot of the bridge going from the skyway towards andrews avenue, and then jumped the fence for the return trip back to the skyway so i could hand the two packs of hammer energy gels i promised yob. bumped into familiar faces from UP: deo custodio and SJ san juan. on the way back to buendia, the volume of runners had thinned. it was nice to photograph the skyway, but without packs of racers, there was nothing special about the scene. i at least bumped into race co-chairperson patrick concepcion, who also thanked me for the picture (i introduced myself, and he recognized my name).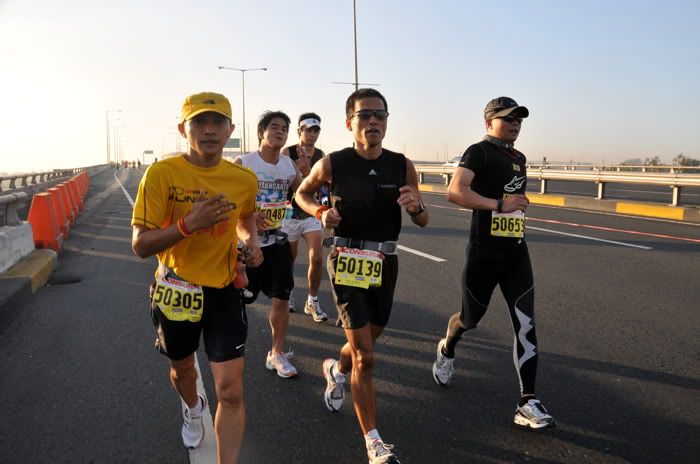 and then i saw a few cyclists on the skyway. i was not sure what their business was there. and i also saw two slow-moving motorbikes. a photographer with a big-ass lens was backriding on one, and a videographer was on the other. i have no false sense of entitlement. but i would have appreciated equal treatment. it appeared to me that their race committee pas was no more special than mine. anyway, i ran back to buendia alternately pausing to take pictures and then bursting with speed to be able to reach the finish line and meet my friends. once mounted on my bike, i cheered the runners by calling out the names of those who had filled-out their DIY bibs.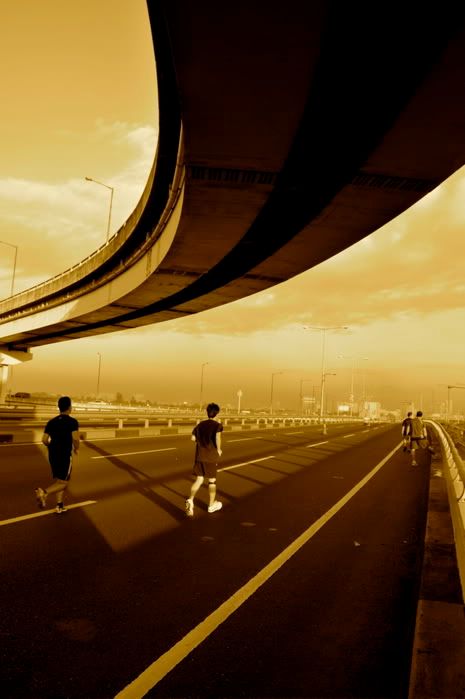 at the finish line, a commotion was being diffused by race volunteers when irate half-marathon finishers were making a small scene over the fact that they'd run out of medals. since i had my race committee pass still on my neck, i was also asked how this happened. condura has apparently already made an announcement regarding this: some logistical confusion that should be resolved within the next few days (i was told that by the time many of those who threw tantrums had left, ton himself was the one handing out medals). those who complained about living far away will have their finisher's medal couriered to them by condura. my friend cecil has said that medals and loot bags and the tired and paid cheering squads are superfluities that are not necessary to the staging of a successful road race (the essentials are hydration, emergency medical support, and a race route cleared of cars), but promises build expectation, and these should be justly given. so there are complaints about the run -- and not just from me. on delivering the essentials i had just mentioned, the condura run deserves an applause and maybe even a cartwheel. but on addressing other promises, no matter how unnecessary, well, there clearly is room for improvement.