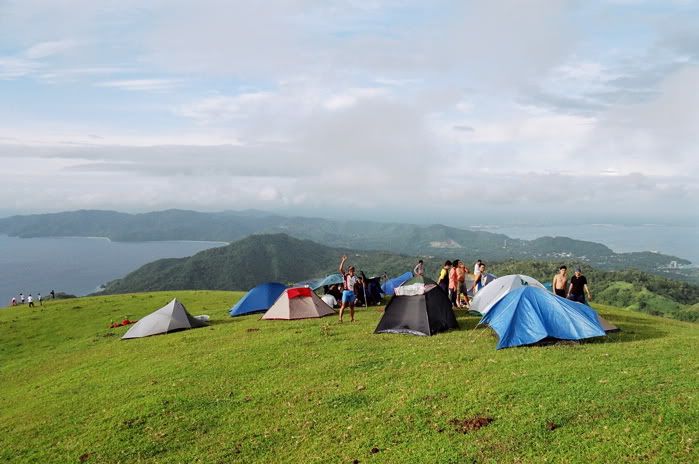 my first climb to gulugod baboy, circa 2004
i only agreed to join the valentine's day climb to mount gulugod baboy in anilao, batangas, mainly for two reasons: i had nothing better to do and i thought it would be a good opportunity to baptize first-timers into the sport of mountaineering. mount gulugod baboy officially counts as my fourth climb after mount pulag, mount pico de loro and then mount pulag again. i trained in pilipinas sierra's BMC, and i fondly recall having a great time: it didn't seem so difficult and i was convinced that i had found new friends with whom i shared a common passion. as luck would have it, i would return to this mountain mainly to accompany initiates to climbing: i joined the
epson mountaineering group
,
accompanied batchmates and guests from thailand
, and joined a
clean-up with the ayala outdoor club
. this time around, i joined friends of friends.
we traveled from buendia all the way to the diversion where we rented a jeepney that would take us to the jump-off. owing perhaps to the fact that i was the most senior mountaineer,
having logged an excess of 75 climbs in the last 5 years
, i was suddenly appointed trail master and lead pack. i could have easily gone full throttle and arrived at the summit within an hour and a half from the start of trek, but that was not my purpose. i very slowly ascended, frequently pausing to wait on the newbies with their overstuffed school bags and inappropriate footwear. it was a hot and sunny day, and the slopes were unnervingly dry, as if the ground itself were brittle. i became confused very early on in the trail and made a very early right turn when i shouldn't have. within minutes i found the trail, and we were well on our way back up the mountain. a couple was following us very closely (and another pair arrived later on) -- it's a valentine's day weekend, after all.
in nearly twice the time that it would take experienced mountaineers to reach the saddle between the peaks, i finally sat under the spotty shade of a tree, admiring the view of anilao bay, its blue waters sparkling under the sun, and the islands of sombrero and maricaban glistening in the distance. a row of boats rested near the shore, and the waters off anilao appeared vast. finally it was decided that we would pitch our tents just below the peak that looked over the bay of batangas. i have never camped on this side of the mountain, to be honest, and i was glad i had made the options clear. it wasn't even past 4pm when i put down my bag and admired the scenery: mountain and then sea, and more mountains in the distance. beneath the dark blue sky, patches of civilization were visible: gray roads and clumps of man-made structures. towards the south, the island of mindoro was a dark silhouette, the tips of its highest peaks haloed by strips of clouds.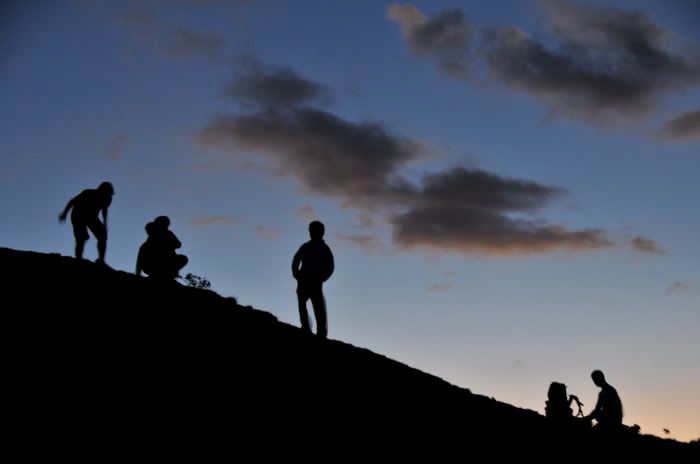 and then there was the business of dinner. AMCI prides itself in the gustatory treats it prepares even in the most inhospitable of conditions. i myself tend to outdo myself every time with my culinary experiments. the results are almost always appreciated. now i wouldn't say what we had for dinner was plain and ordinary, but it was definitely not unusual. at least, we didn't content ourselves with opening tin cans or frying processed meat. by nightfall, we had began to commune with our poisons and even invited our neighbors to join us. they fashioned themselves as a group called dayo, which translates to stranger or visitor or outsider. where the mountains are concerned, aren't we all just that: strange visitors from the outside? the evening was filled with lights: stars from up above and bulbs from the pier. but there wasn't even a hint of moon. it may have been the alcohol or the chilly evening, but it did get a little frisky after a while.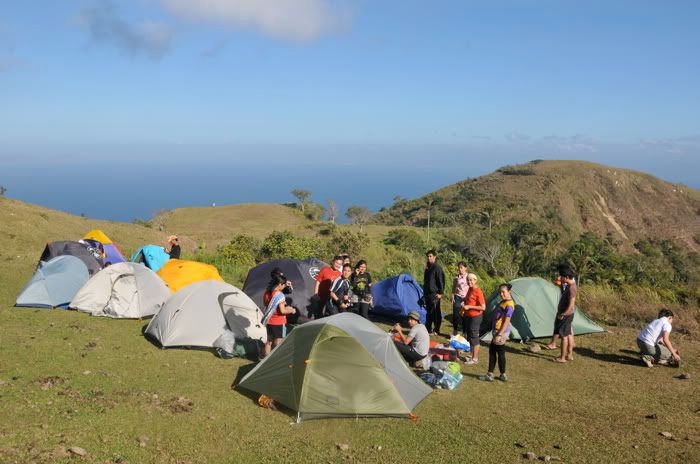 the next thing i knew was that i was awakened by the noise of the following morning. i refused to go out of my tent so early, and didn't want to contribute to breakfast, except to point out the fact that i have not had hotdogs in a long time: whether up in the mountains or down in the plains. i packed quickly and by half past 9, we were all ready to descend. the first-timers seemed to enjoy the descent, although i always think of it as the hardest: our heavy loads tended to punish our knees, and i had quite a load: my REI quarter dome T2, my MSR whisperlite, my GSI bugaboo cookset, 4 liters of camp water, a liter of gilbey's gin, and half a liter of white gas. the common mistake is for newbies to think of us as monster mountaineers with super strength, but i had to remind them that we also feel pain, we also feel faint, we also get tired. the only difference is that our muscles store memories of previous climbs, and we are better equipped to deal with these little inconveniences. there's nothing extraordinary about us other than our experience.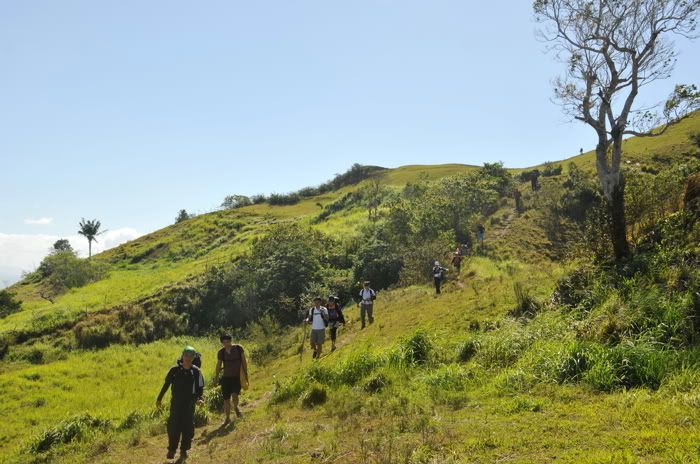 i reached philpan at a little after 11, and quickly asked for the stuff i left behind. i put on my rash guard and rushed to the water to swim. i was a little scared at first because the waters were populated by jellyfish. i was worried they would sting. but upon closer inspection, they turned out to be harmless pods without tentacles. lunch arrived a little late, and if i were a bit more industrious perhaps we could have had a better treat. nevertheless, i had fun floating on the water, discovering my recent courage and ability to keep from drowning.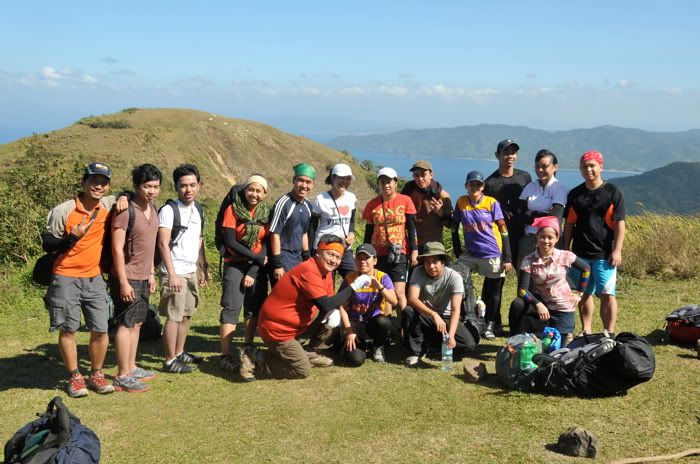 in the end, i felt it was a fruitful climb: we managed to introduce our love for the outdoors to first-timers who all confessed they had fun. and that's the point of it all, isn't it?