something other people might find ironic about my personality is that i am not litigious. in fact, i do not encourage resorting to legal means when other avenues are available, such as dispassionate discussion and friendly negotiation. that is one reason why i have not regretted quitting the life of traditional law practice: litigation -- particularly the kind practiced here -- just did not attract me, and it was not something i encouraged. so when i received my mobile phone bill from smart in december of 2008, i did not immediately resort to threats of exhausting my legal remedies. i decided to be diplomatic about it, and explored available channels. i basically disputed the P13,000 ++ data charges levied on my account. the month previous to receiving the bill, i had my international roaming turned on as i traveled to bangkok for official and unofficial business. i did the usual things: a few calls and an undetermined number of SMS. i was already surprised to find that my calls and text messages racked up over P4,000, but what puzzled me was the P13,000.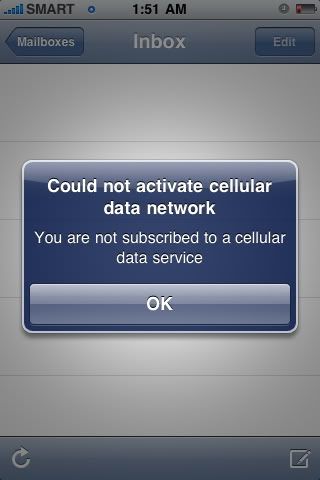 so i asked what data charges meant: access to GPRS and to 3G networks. in a word: internet. while i do use my iPhone to surf the internet, i have never managed to do it without wi-fi. i have said it before, but it requires repeating here: i have had the iPhone since september 2007, long before globe launched it locally. it was shipped from the US, and was unlocked to accommodate my smart SIM. smart's network itself isn't configured to support the iPhone, even after it became locally available. so since the beginning, i have never managed to access the internet, much less put my 3G-capable SIM to good use. the 3G-enabled iPhone came out a full year after i already had mine, and i was not inclined to upgrade. when i pressed on an app which required a data network, i got an error message. despite these technical issues, i have never found the need to access the internet with my iPhone on the go. i was happy when wi-fi was available, really.
so it surprised me when i was billed for P13,000 ++ for something my iPhone was not supposedly able to do: access data. what compounded it was that they were roaming data charges: hence the hefty amount. i couldn't even assume that i was given temporary access accidentally. when i complained to smart's customer care, i insisted it was invalid: a glitch. it just wasn't possible. they said they would investigate. fast-forward to february 2010, 14 months after i disputed the amount, i received a call from smart: they said that after due investigation, they've come to the conclusion that the charges were valid. the conversation took place while i was on a public bus, and i had to control the volume of my voice as well as my anger. i said things like "i refuse to pay something that is illegal" in the calmest of ways. i didn't want to draw attention to myself. the voice on the other line was just as adamant: it's valid sir, i was informed.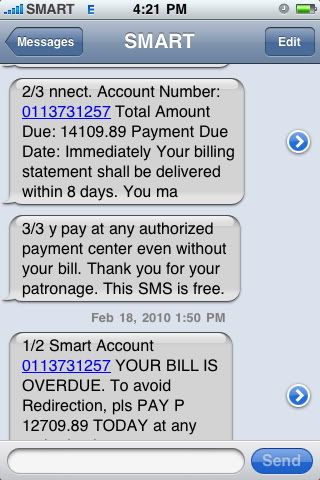 it was then that i realized that i hadn't insisted on my rights as a consumer, and hadn't even begun exploring the remedies that the laws allowed me. so when i finally received threatening messages from smart about being redirected, i briefly entertained the idea of applying for a line with another telecom, but made sure that i would put my legal training to good use. i wrote one email addressed to smart's customer care, and i copied the national telecommunications office to it. after a few days, my line was redirected. it was a weekend, so i resolved to either buy a temporary SIM while my application for a new line was being processed. and then, early on a monday, i received a call from smart: the data charges that i disputed have been expunged from my account, and my line was restored to normal. later that same day i received an email from the NTC confirming if the matter had been resolved. i replied saying it had been resolved in my favor.
here's what i wrote smart in reply to its proposal to pay the data charges in 4 monthly installments:
To whom it may concern,
 
I refuse to give my conforme to these unjust and unsubstantiated charges on my account.
 
For the record, I have been unable to use my phone to access the Internet without an active Wi-Fi connection. I have been an owner of a 1st-generation Apple iPhone since late September 2007, shortly after its US release, and never have I managed to download email or access the Web through means other than Wi-Fi. This model of the iPhone does not support 3G, which makes the data charges levied against me all the more preposterous. And to make things worse, the data charges were levied while I was on roaming, resulting in a ridiculous amount!
 
Since I have owned the iPhone, I have traveled to 5 other countries on several occasions, but never have I been charged for accessing data. The reason is very simple: it is just impossible! The iPhone model is unfortunately not supported by Smart's infrastructure, so it is not configured to access all the available features. I have tried, and failed an equal number of times, to access the Internet, check email, and download applications on my iPhone using modes of connectivity other than Wi-Fi. The result has always been the same: it just cannot be done.
 
That is why I am aghast and surprised to find out that Smart, after its pseudo-inquiry into the matter, has arrived at the conclusion that the charges were validly-made. I have said it before and I will say it again: I refuse to pay for services or charges I neither made nor benefited from.
 
Despite having been a loyal subscriber of Smart these last 10 years, you have given me nothing but headaches and heartaches. Here are just a few of my problems:
 
1) I have been unable to access my Smart Money account in the last 5 years due to no fault of my own (you have not managed to link my Smart Money account to my number), and yet I have been consistently charged for a service I have not been able to use. In fact, the money that I have deposited in my Smart Money account has remained idle and has been illegally deducted.
 
2) Also, because of these illegal data charges, I have been unable to take advantage of the retention program which I believe I am entitled to.
 
Please note that as a lawyer, I shall exhaust all legal means to expose this illegal action on the part of Smart, including bringing this to the attention of the National Telecommunications Commission, and filing a formal complaint if necessary. I am also not averse to the idea of providing the information that I have as ammunition for Sen. Juan Ponce Enrile's campaign against abusive practices of telecommunications companies. I will not allow Smart to bully me into submitting to its illegal and unacceptable demands.
 
In protest,

Alman Dave Quiboquibo
 
cc:
Engr. Froilan Jamias
National Telecommunications Commission
so i'll be staying with smart. who knows for how much longer? i do have a few bones to pick with them still (i've slept on my rights, i know), but this is a good start.