immediately after i crossed the finish line of the globe run for home 2010, joan benoit samuelson, the first woman olympic marathon winner, congratulated me for having run my longest distance yet. the accolade isn't completely based on accurate information, but it is partly true. the little over 15 kilometers that i ran yesterday was my longest run since participating in the 21k category of the
singapore standard chartered marathon
in december of 2008. my longest distance so far is the new balance run in clark, which was 25km.
my relationship with the globe run for home 2010 did not start on the right foot. i registered 37 of my friends on march 3, more than a week before the deadline, and found that they had run out of bibs for the half marathon. in fact, the booth at glorietta only had slots for the 3k and 5k categories. "that's just a warm-up" i said, maybe a little too insensitively since a few people had already lined up eager to just run those distances. my friends and i were more eager on running the longer distances. i was told that some 40 bibs for the 15k were still available at trinoma, so i flew to QC just to make sure that we at least don't have to bandit run the event. at trinoma, however, i was informed that they no longer had any singlets available. when i started joining road races, the singlet was just as part of the motivation as beating a personal record. before running became the next badminton, most road races were sponsored by sporting brands, and they gave out singlets at a cost cheaper than if they were sold at the stores.
but these days, when the number of runners has ballooned to over 6,000 on any given sunday, the singlets are unbranded, cheap-looking, mass-produced rejects that are likely to cause nipple burns. the prints on the awful fabric are ghastly heat transfers. the overall result is that i wouldn't keep them as a souvenir. maybe donate them to charity. but still, the singlet is part of the payment, and road races are already grossly overpriced, so it was unacceptable that they made less singlets for the number of actual slots available. the fact that they had a maximum number of runners for the 21k (which they didn't care to announce, anyway) only means they already knew beforehand how many participants should have gotten singlets. so we were looking forward to getting it as part of our package, along with our violet bibs and the championchip timing device.
when i informed my friends that we would all be running the 15k because of the event organizer's lack of foresight, i specifically mentioned in my email that i hoped none of them would be above anything less than half a marathon. i was wrong, because, well, some of them felt they were too good to run the 15k. i don't think i'm too good for anything, although, i honestly am.
so late saturday evening i prepared all my stuff for the run. i attached the chip on my right shoelaces, with my nike+ sensor on the left. i picked out a shirt instead of a singlet, decided on wearing a cap but not my sunglasses. i also settled on the cycling shorts, although the foam made me a little... giddy. i couldn't sleep at all that night and finally decided to eat half a grilled cheese sandwich at a quarter to 4am, and jogged to the starting line along ayala avenue, right in front of tower 1. and then i asked myself why can't all road races start at ayala? the run for home pimps itself as the first in the makati CBD. i wonder how many more firsts there would be before the year ends.
at 5:20am, the 21k runners were off to tackle their debacles, and we quickly filled the starting line. my friends and i were somewhere in the 4th row, and i mostly ignored the warm-up session. the scene looked unfamiliar to me, and not just because it has been a while since i last ran in a road race (officially,
only 1 since singapore
,
and it was a 5k
), but also because the streets in high street currently do not have any skyscrapers. and exactly at 5:30 we were off, chasing those who'd run ahead of us. the red mat buzzed continuously as our timing chips made contact. the 15k route is winding in parts: and even passes many of ayala's malls. it took us out to makati avenue, then paseo de roxas, onto buendia, up the kalayaan flyover, and inside fort bonifacio up until the turn around in bayani road.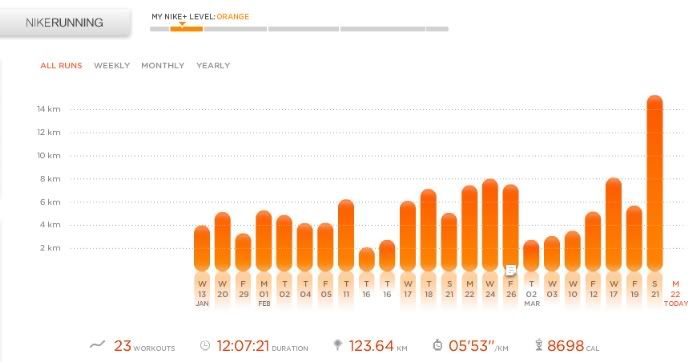 i was running steady for the first 8km of the race, although i worried about my toes cramping somewhere along essensa where i saw the first two runners in the 15k: a kenyan being chased by a filipino. guess who i cheered for? i was also intermittently singing, which is my way of opening my lungs, and making sure i wasn't overexerting. on my way back to the finish line, i saw many of my friends trailing me by a few minutes. i was still doing well, i would suppose, but i had a mental barrier: i had not run more than 8k since the start of this year (my longest run since SSCM was the
TNF 100
-- if you could consider my trek a run). but i was determined not to cave in to the temptation to walk. only when i grabbed a drink did i actually walk a few steps. and the organizers did a good job with hydration: water was widely available, and powerade was also in abundance. they were also giving out foams. i'd never used a foam before but i did pick one up to place on my back.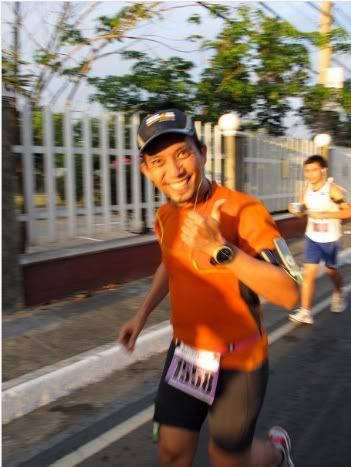 i swallowed the pack of hammer gel tucked under my shorts nearing the incline at essensa, and i don't think it helped at all. when i slowed down going up to mckinley, i wasn't able to regain my 6 mins/km pace when the terrain flattened out. in fact, i may have gone as slow as 8 mins/km! i was repeating this mantra to myself: walk only on the way up the flyover. but i think i forgot about it when i reached it, because somewhere i saw a sign that said i was only less than 3km away from the finish line. and it was at the flyover that my second wind kicked in: i had unshackled my legs of the imaginary balls of lead i had been dragging since essensa, and the moment i paused to grab my last drink, i was told i had one kilometer left to go. the time on my nike+ was already nearly 1:28 and i was sure i could never cover 1000 meters in 2 minutes, but i gave it my best. i was determined to finish well. and when i turned left into makati avenue, my legs began to push harder against the pavement, and after the last turn into the cool shade of paseo de roxas it was a 100 meter dash to the finish line!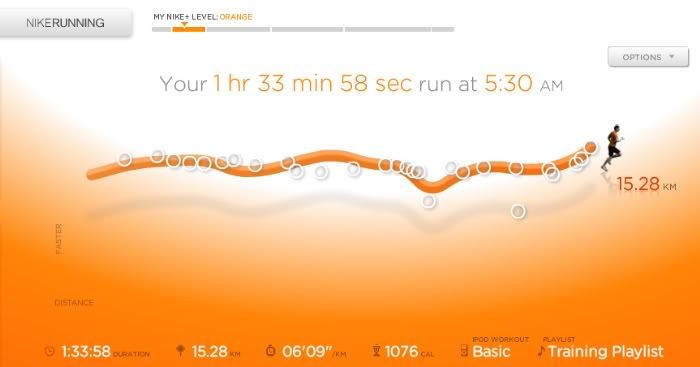 1:33.58, according to my own reckoning. apparently, my initial goals were not as modest as i initially thought, but it was a strong finish nonetheless. in fact, this is a PR for me (since it's the first). i like this distance, and i hope future road races would take their cue. the 10k is a category that's just too crowded (
see my unkind opinion of these bandwagon runners
), although i would like to beat my 55 minute PR (
or is it 53?
). and that would be a good way to prepare for sub 2:10 half marathon. me and my immodest goals.
epilogue
i was already home when i was informed that singlets are available for pick-up outside the old MSE. i went there as quick as i could and got one and wondered whether it was worth the taxi fare: it was evidently made from cheap materials, and was not the same one worn by the runners. it looked like a finisher's singlet. i'm still not forgiving globe's run organizer for this impasse. also, i noticed that as early as thursday, signs had been posted on major streets that some portions would be closed to traffic, but with the exception of the kalayaan flyover and the streets in makati, we had to contend with irate drivers in most of fort bonifacio. maybe these runs should be taken far away where runners don't have to deal with vehicular traffic. and i wonder why the official results aren't out yet.
* thanks to roland aquino (filched from angel constantino's FB) for the running shot. you surprised me. i would have paused, but the sun was on my face and i couldn't see clearly who was in front of me.
update

my official time is even faster (chip time on the last column)! woohoo! ranked 153rd out of 733 runners in the 15k!