"you've been here since the beginning alman," was joey cuerdo's empathic, but obviously inebriated, statement, recognizing my presence during the
1st bagasbas summer surf festival
in 2008 which he organized, although it somehow came across that i was either ancient, or had been around since time immemorial. it did not help of course that he declared that daet's rizal monument, the first to be built in the country, had been around for 2,000 years. joey's efforts at promoting the surf in bagasbas beach has obviously borne much fruit: two buses arrived late in the morning on friday, and the usually empty stretch of black beach was quickly filled with bodies awaiting a good tan.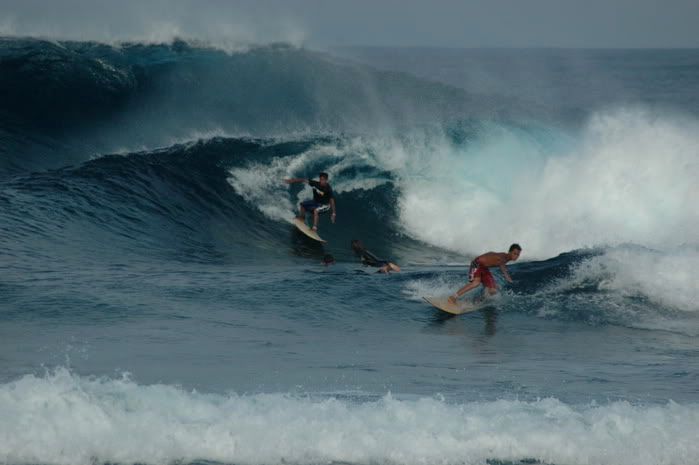 cloud 9 killers
prior to the festival's first staging,
i had only heard about the surf in bagasbas when we passed by daet
, but did not give it a second's notice. i recall sitting on the pier of cloud 9 in siargao, watching 15-foot waves crash down on surfers. there were barrels of water exploding into froth, and boards shooting out ahead of their riders. it was scary and although the surf at bagasbas was only a tiny whisper compared to the screaming in siargao, i wasn't really interested in taking up a hobby that involved water. but when i was invited to photograph the event, i agreed, and it wasn't long after my first encounter with surfing and the unique culture of surfers, that i was immediately hooked. i was stoked, i declared, and it is a big surprise why i hadn't manage to squeeze in another surfing trip since then. i remember that when last year's event was organized, i was somewhere else:
in vietnam to be precise
.
so when this year's event was announced, i cleared up my calendar and made the resolve to travel to this part of bicol and resume my relationship with its modest waves, and rekindle the friendships i made with its people. i invited a few individuals whom i knew liked to either skim or surf: two activities i knew would be available in bagasbas. before i had realized it, our number had ballooned to 11: much much more than what i expected. i quickly bought return tickets to and from daet and made inquiries with nearby hotels. i managed to get reservations from zenaida's palace hotel, which is relatively new, and comparatively more comfortable than the ragtag bunkhouses facing the beach. we arrived in bagasbas very early on friday. the sun was rising steadily over the sea that splashed into the beach, bleeding orange and black in the sky. members of the daet early trekkers club were doing their morning jogs.
zenaida's palace was a good choice. jason, JC, glenn and i took the big room with the pink bedsheets, the bathtub, and a bar. it had a balcony which looked over the street as well as the beach. we registered for the event and collected our yellow shirts and mojo sandals. the event has certainly leapfrogged this year: there are a lot more events and a lot more sponsors. it's a good thing on so many different levels: it promotes local tourism and also exposes people from manila to the the delights of daet and its nearby towns. the boulevard in front of the beach is also slowly evolving. there are more establishments offering food, lodging, and even surf rentals. nevertheless, it is far from turning into a disaster like puerto galera. it's still very bucolic, the locals aren't opportunists, and it feels very safe.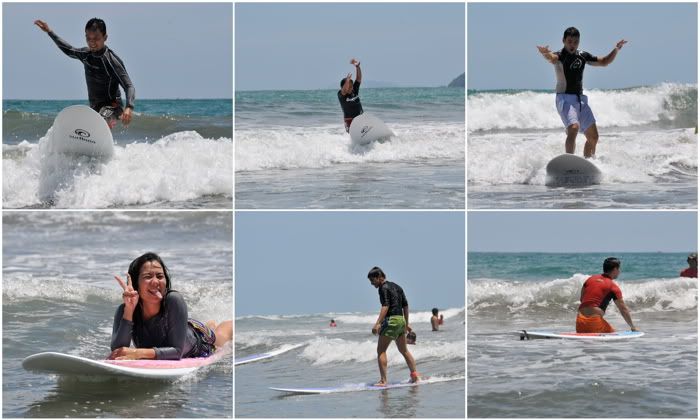 the surfing lessons have also become a bit more scientific. now there's a land lesson prior to the 30-minute water lesson. i had mocha as my personal instructor (i interviewed her when i
wrote about surfing in bagasbas
). i won't give details about how i had to re-learn the art of surfing from basically zero after having had no practice since the last time. but it was fun. even tumbling into the water, succumbing to a whiteout, was part of the experience. i think everyone else enjoyed the surf, and despite the length of bagasbas, there was a lot of traffic on the water. during low tide, the beach stretches as long as 50 feet from the edge of the boulevard, and aptly so, places had been identified for volleyball and beach ultimate. i was supposed to try out some of these but the sun was just so intense during those 3 days that we had to retreat to the hotel every now and then. i had a second round of surf lessons with mocha just before sunset when her student cut short her session, frustrated from not having been able to stand.
the following day jason and i rented a training board for two hours, and i immediately regretted not having an instructor to help propel me. paddling can be very tiring, and i couldn't stay more than 30 minutes in the water. although i seriously enjoyed my time with the board, i wonder whether i can take this sport further. bagasbas is very different from many other surfing spots: its waves are modest, the waves roll at acceptable depths, and it has a beach break, which is really friendly to beginners. i can't even imagine being inside a barrel of sea. i shudder at the thought.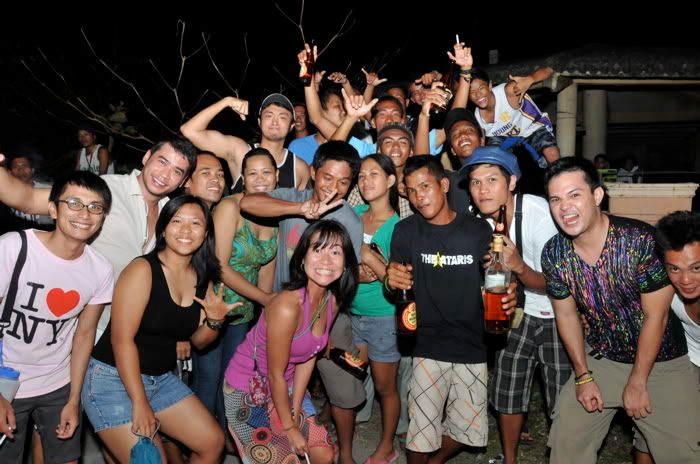 cozy with the locals
the other thing that attracted me to the festival was its evening reggae parties. it had none of the pretension you often see in manila. it has a very pure beach vibe: people just wanted to have fun. this year, joey had lady i and coffee break island perform on two separate nights, and on both, i just showed up with my own poison, dancing like no one was looking. of course, a lot of people were looking, but most of them strangers, and much more locals, who were more curious than anything else. they sat on the walls, on the roof of a nearby building, wondering perhaps what it was that possessed these visitors to dance around like crazed monkeys. i toasted to strangers beside me and offered my drinks to people i didn't know. and on the first night, we cornered joey and interviewed him, and he was profuse with gratitude that we came.
place your bets
apart from the good food of k sarap, alvino's, and kusina ni angel, we also had a taste of local hospitality. i had made some friends in my past two visits to bagasbas, and they were still there and remember me (of course, how could they forget, when police came to look for me?). we also caused ripples at the
perya
nearby when we descended upon it with all our suppressed insanity.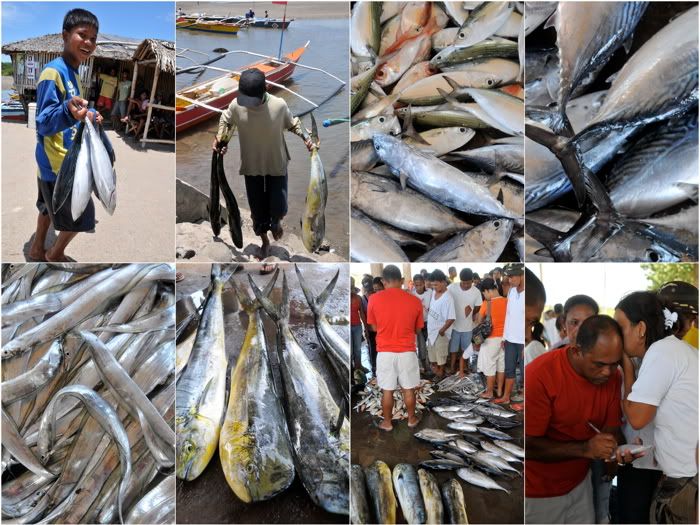 on saturday, we peeled ourselves out of bed very late in the day and headed for an afternoon trip to the island of manukan. i had initially wanted to visit apuao island but it was just too far off. we took tricycles to the fish port in pandawan, where the low tide had grounded most of the boats moored inside a cleft behind a mangrove forest. a bidding for the day's late catch was going on and it was an interesting scene. the bidder got secret bids from fish dealers. they whispered their bids to him and he announced the winners. the catch wasn't weighed. they were just poured on the concrete and shown off. with a bucket of red horse beer, we reached manukan island: the way there wasn't easy. the water was listless, and given the sea accident that i witnessed in 2008, i was understandably uneasy.
manukan (or kinamanukan or chicken) island surprisingly does not have any poultry on it. it is virtually deserted, save for a caretaker (and his dogs) who sleeps on a covered cot. the island is small, and a tour around it will not take more than 20 minutes. it is fringed by cream-colored crushed corals, which isn't as fine as boracay's. one tip of the island, looking towards the pacific ocean, is covered by uneven bedrock. on its center is a forest populated by many exotic birds. it probably has some good snorkelling spots nearby but my mask snapped while i was putting it on so i wasn't able to explore the warm water around it. on the island we had lots of fun putting together impromptu skits inspired by philippine movie classics, meaning: they all involve soured relationships or catfights, an underdog, and overacting.
but the highlight of the videos was the rolling on the sand
.
when i was putting this trip together, i somehow had to sell the idea to my friends. while i was fine going alone, i knew it would have been more fun if i could share my discovery with others. as it turns out, bagasbas sold itself without much effort. the variety of its delicacies was enough for my friends to decide on their own that i was neither exaggerating, nor delusional, when i said it would turn out to be a great long weekend. without much prodding, they reached the same conclusion i made when i first came: that i would return next year. or maybe, even earlier.