here's my token post on the FIFA world cup.
much of my football gets played at timezone
as i've previously expressed 4 years ago
, i am by no means a huge fan of football, and i will not belatedly declare my love and loyalty to a team that carries the colors of another country only because it's cool or current or because of peer pressure. prior to 2002, when it was first held in asia (south korea and japan shared hosting duties), it was possible i was only remotely aware of the size of the world cup, and the emotions that a single goal could inspire. and since i am neither completely ignorant, nor a complete idiot, i could not help but notice all the hype that the world's greatest game has aroused this year.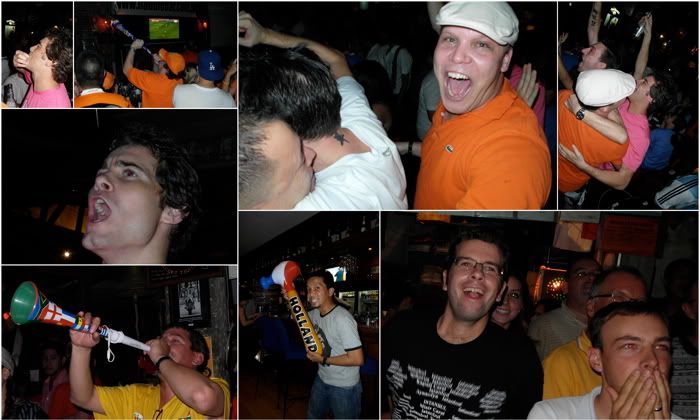 dutch treat: fans of the netherlands celebrate the win over world powerhouse brazil
i've kept myself updated mainly by reading tweets and status updates of friends, who are also themselves gripped by this worldwide sporting phenomenon. whether or not they are truly moved by the sport, or are feigning excitement to appear en vogue, i cannot tell. at least, they are passionate (or appear to be) about something, regardless that it happens once every four years. i have not gone out of my way to watch any of the games, primarily because they take place at such ungodly hours when there's sun in south africa, and when people who work normal hours in manila are already asleep. nonetheless, i have seen a number of games, and i am more amused and fascinated by the feverish reaction of people to the movement of the soccer ball across the field. just this weekend, i marched to polaris street to watch the games, and of course, watch the people.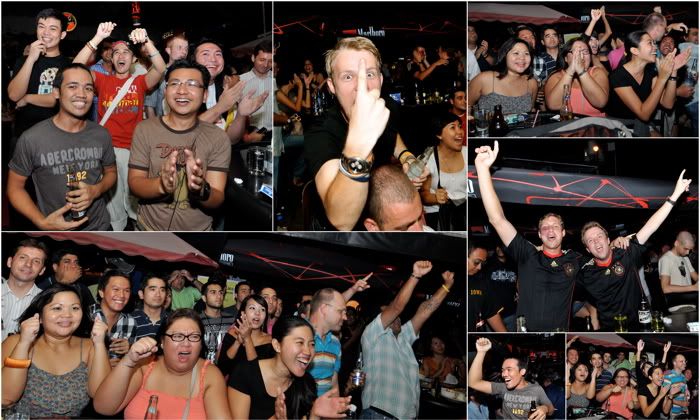 oktoberfest in july: german colors soar in heckle & jeckle
in the last world cup, i cheered for portugal in the one game that i watched. it was a very random decision then, and i knew nothing about the team outside of what i read from the football for dummies that i got on the same day. i had no strong feelings for them, except that i wanted to be different. this year, my loyalties have not necessarily shifted, but when i get asked which is my team, i would always say that i support all the european teams since their tax money pays for my salary. so i had fun observing people at handle bar (netherlands vs. brazil) and heckle and jeckle (germany vs. argentina) in polaris street here in makati over the weekend, and of course, i also rejoiced over the fact that europe won. spain, whose performance i am also following, won its game against paraguay but i didn't manage to see it.
celebrating diversity: the world cup in africa makes a stand against racism
i can't truly say that i am very excited about the finals. of course, i would hope to see spain moving on to the finals over germany so it can finally win its first championship, but i won't pretend to be possessed by the world cup fever when i actually get more riled up by local basketball.