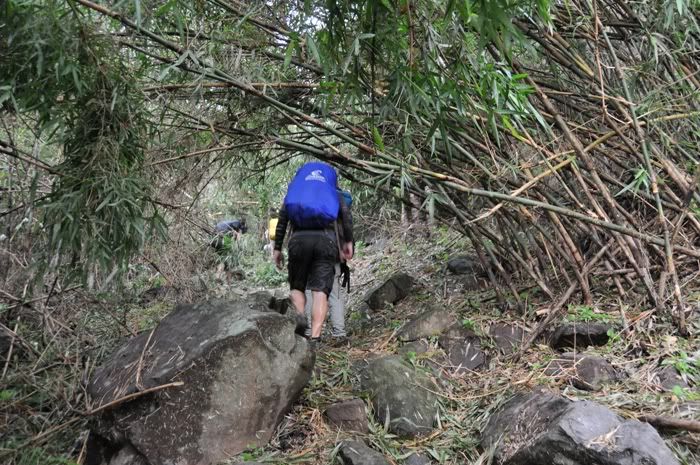 i was not aware of mt. tagapo's fame until i reached the far end of the island of talim in laguna lake. there, shortly after lunch, we were informed that a group of about 15 climbers had already ascended, and another 6 were hot on their heels as well. i was part of a group of 16 visitors. much later in the evening, while it rained furiously but briefly between dinner and the mandatory socials, another group of mountaineers pitched more than 8 tents near and around our area. when the rain ceased, yet another group arrived. i began to wonder whether i was the only person who had not previously heard of this mountain. on this weekend alone, more than 60 people camped just below tagapo's peak.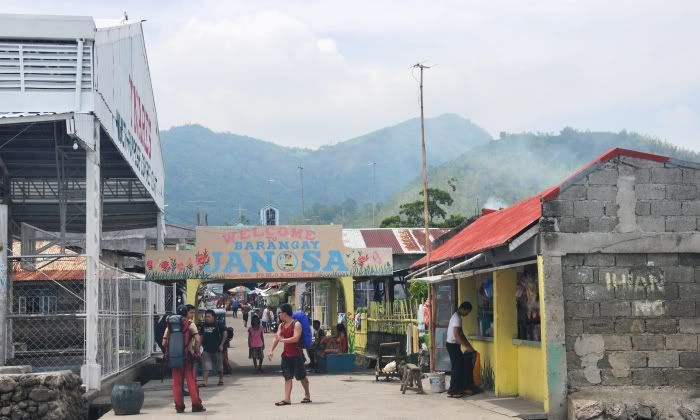 it is difficult to even consider the mound of earth rising near the center of the laguna lake a mountain. it is less than 450masl. the reason i might not have previously heard about it is that the people i normally climb with might either be too haughty or too obsessed with difficulty that a mountain of such a humble stature was not even considered a destination worth our efforts. but my curiosity, and my desire to see as many mountains as i can convinced me that the trip would be worthwhile, regardless of the fact that i knew next to nothing about the climb. except for the time of assembly, i didn't do any further research about our destination, and left the details to the organizers who invited me.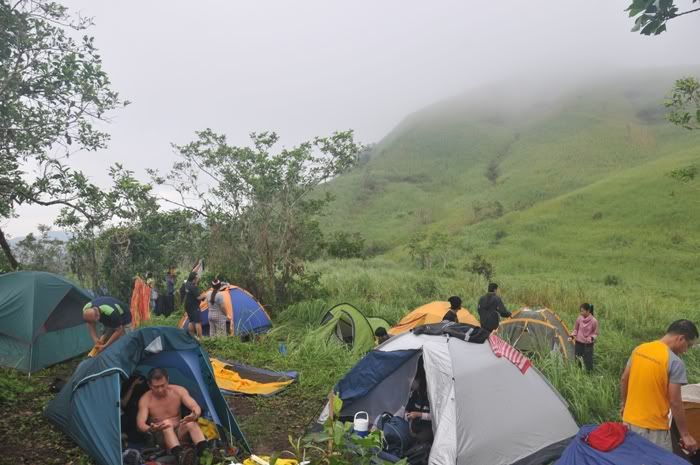 the dayo outdoor group is a merry band of friends drawn together by a common desire to experience nature. that much we have in common.
i first encountered them in gulugod baboy in february of this year
when we shared a common campsite. details of that climb are a little hazy and i do not remember many names, but i do recall inviting them for a few shots. my climbing patterns have become routine and redundant of late, so when the opportunity to see a different view came, i had no hesitation. i grabbed it. so at half past 8 on saturday, we took a passenger jeepney to binangonan in rizal. there is apparently a port there, ferrying passengers from fishing communities on talim island, which hangs like an incisor from the tip of the isthmus of binangonan. the pumpboat service unfortunately does not function like clockwork. they leave when they please. they are big enough boats with outriggers bringing supplies to the people on the island, and the lake is so expansive it almost feels like the open sea. at one point, a barge was gliding from the island towards muntinlupa.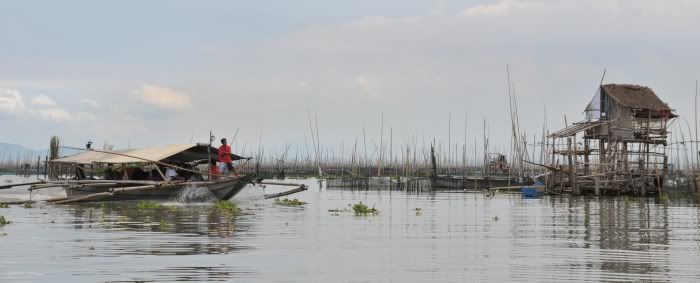 i only often see the lake from the air. up above, this body of water is adorned by a motley of odd shapes: fish cages made of bamboo, and hedged by nets. the water is murky, and the recent typhoon might have caused the death of some of its inhabitants. rotting fish floated on the surface along with clumps of lilies. it is difficult to assess the lake's depth, but judging from the number of fish cages and houses on stilts that populate the parts near talim island, it must not be very deep. the boat inches towards the barangay of janosa, making several stops along the way, where the ynares governors announce the multi-purpose covered courts they've built for the people.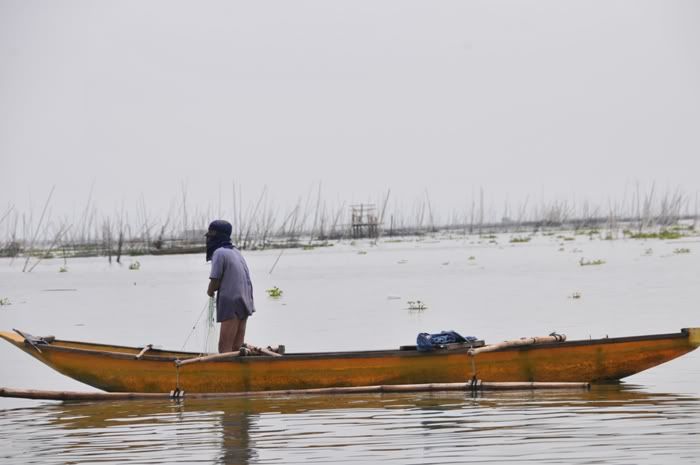 at the foot of tagapo, the barangay spreads out laterally along the bank. a blue chapel meets you immediately after you've entered the small arc beside an ynares court. there was no power when we came, and the locals do not expect electricity to be restored until after a week, at least. we began the climb at 3pm with a local guide who filled a drybag with water, walking through narrow, concrete paths, through bamboo hedges, and a forest that has not seen its full potential. the trail isn't steep, but there are sections which are muddy and slippery. near the campsite, there was nothing but swaying cogon. in just a little under 2 hours, we reached the campsite. the weather was turning sour at this point, but we still hoped for clear skies. the lake was visible in the distance, the fish cages looking like the incomplete crosshatch of a young artist. it was possible to see as far as laguna.
we quickly set-up camp and prepared dinner. my companions appeared to be thoroughly impressed with what i decided to prepare: a very simple indian chicken curry. i brought two pieces of roti prata to go with it. we all had dinner at the same time, and the other groups contributed beef adobo and chicken tinola. i didn't even notice the other team that came immediately after us attempting to cook. immediately after the rain, we uncorked our poisons, and i donated argentine red wine and half a liter of absolut. i had occasion to practice both my french and my spanish in the group. sem is currently studying at the instituto cervantes, while carlo took up european languages (french) at UP. i immediately realized i had just wasted a year of not learning french, and even more years delaying to refresh my spanish. i suddenly want to go back to school. but alas,
je n'ai pas de temps pour faire toutes ces choses.
sigh.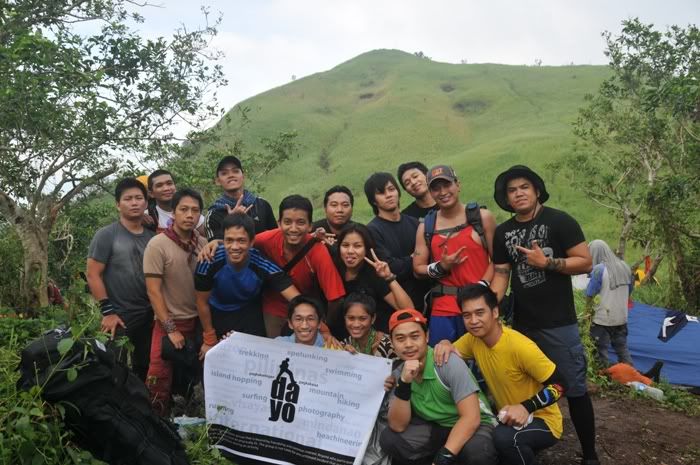 the evening began with a round of introductions. i'm better at faces than at names, and even after relaxing and performing beyoncé's "halo", i still did not manage to remember all 15 in the climb party. the following day, i woke up to the sound of voices outside my tent. my groupmates were struggling to operate my MSR dragonfly. we hadn't planned breakfast, and i only had a hot cup of cadbury chocolate. a meal was waiting for us at the barangay. i took the lead in the descent, and reached civilization just as the chapel choir was singing. i rinsed my muddy legs and found out that a small colony of ants had attempted to burrow into the spaces between my pack, which explained why my body was crawling with critters during the entire time.
after breakfast, we hopped on the boat and returned to binangonan. we planned to wash up at batlag falls in tanay, rizal. along the way, i began my spoofs and spiels, much to the delight of the strangers i shared a night with. i hadn't been to these parts previously, although it appears to be a very popular hangout. groups of friends had camped for the night, and were still soaking on the cold waters, enjoying cheap booze, when we arrived. when a group from pasig invited me for a glass of red horse and a taste of pork adobo, i didn't decline, and even asked for a second glass. neither batlag nor daranak downstream can compare with the ones in
sagada
and
batad
, and quite frankly, i'd rather go the distance and visit these majestic falls. the heavens finally fell after we had washed up, and we collected ourselves for our return to manila. after about two hours, we were finally dumped just outside of lourdes school in mandaluyong. this marked the end of a weekend with strangers. and to recall the toast i offered them that breezy saturday night: to strangers made less strange by a mountain and alcohol, may we be new friends afterwards.
sa muling pakikidayo...