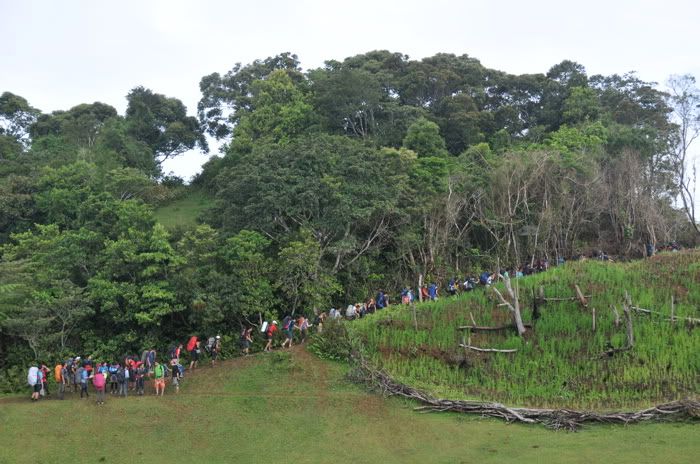 the worst part, i cautioned the trainees a few days prior to the actual climb, would be the trek along the beach. i had been this way before and my experience has been exactly this: that there could be nothing worse than trekking on sand with a heavy pack. but i had never gone beyond the beach in barrio hugom, and was unfamiliar with the terrain that beckoned further up the mountain. in my six years as a mountaineer, i have climbed many mountains, some more than others, and while repetition has waned neither my energy nor my enthusiasm, i always look forward to new destinations. over the last weekend, i first laid eyes on the views at the top of mount daguldol. and getting there counts as the dirtiest non-induction climb i have ever had.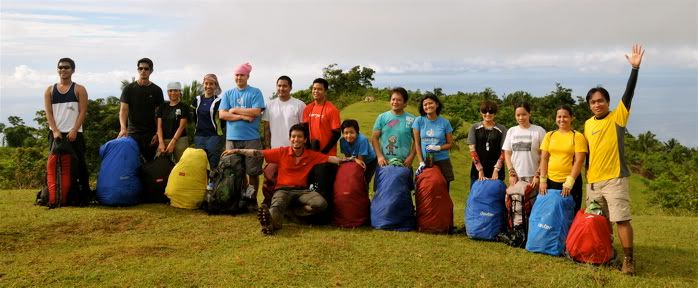 the team gathered as usual at the ayala tower 1 at 3am, and at a little after 4, we were already on our way to batangas. i slept soundly, more or less, but was awakened going into san juan, when low-lying tree branches slapped against the bus, which gave me the odd sensation of being stoned. finally, we reached the end of the road, and we got ready to trek. i led the prayer, and i sometimes regret i am not informed ahead of time so i could prepare something more appropriate and meaningful. after breakfast, the groups departed the jump-off in intervals of 10 minutes, and we were among the last to leave. we trekked on the fringes of the beach, which is also familiar to me because of my first off-road triathlon last year. la luz already had visitors, some of them beautiful, and the resorts along this coastal barangay are increasing in number. as i had predicted, walking on the beach was such a chore, and the bleak weather didn't help. the sea was murky, and the sky that rose above it was ominous. previous to the climb, the TL had asked me about the weather forecast. i can't predict the movements of nature, but i do rely on the tools made available by science. in this case, i turn to accuweather, which hinted at a few thunderstorms, later in the day. i developed the habit of checking weather forecasts in 2007, and i'm glad it's being cascaded to newer batches.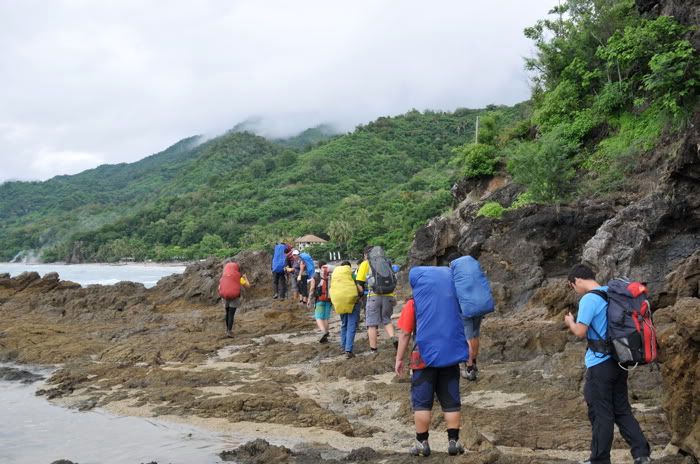 from the pebbly beach, we turned into the small community of hugom: a few houses scattered on the few flats between sea and mountain, and promptly began a gradual ascent. this being a first training climb, the queues along the trail were understandably long. nevertheless, the pace was reasonably fast, given the inexperience of many of the trainees. we rested little along the trail until we reached the lunch area. much like gulugod baboy, there are houses along the trail. and much like maculot, the houses peddle ice-cold softdrinks and halo-halo. one of the guides informed me that there are families living near and around the summit. it rained while we were having lunch, and i starved myself because the tortilla sandwich i prepared was disgusting.



the trail winds up the mountain alongside nondescript plantations and an artless, if not patchy, forest dotted with coconut trees. i don't know exactly where but the team took a detour past the lunch area. normally, the entire trek would not take more than 3 hours for an average climber, but some people have this notion that difficulty is the soul of training, so the trail passed through a more challenging route. colorful ribbons marked the trail although there were not enough of them, and there were even less ropes considering that parts of the trail were steep and slippery. oddly enough, when we were already less than half an hour from the campsite, the lead pack returned to attach ropes. at least those behind us would suffer less slips, less cuts, less bruises. maybe they thought the faster ones require no assistance.

we found the campsite after guessing the right way in a fork on the trail. i had to study footprints to decide which way to go. maybe because the colorful ribbons were expensive, there were not enough of them to scatter on the trail. i instructed my trainees, who were among the first to get to the campsite to get us some sticks so we could prop up our kitchen. it was here where i suffered my first and only fall of the climb: it's really when your guard is down, when you think it's safe, that you encounter mishaps. some members and trainees arrived at the campsite sullied and soiled, it was not too far-fetched to suggest they had just lost a mud wrestling match.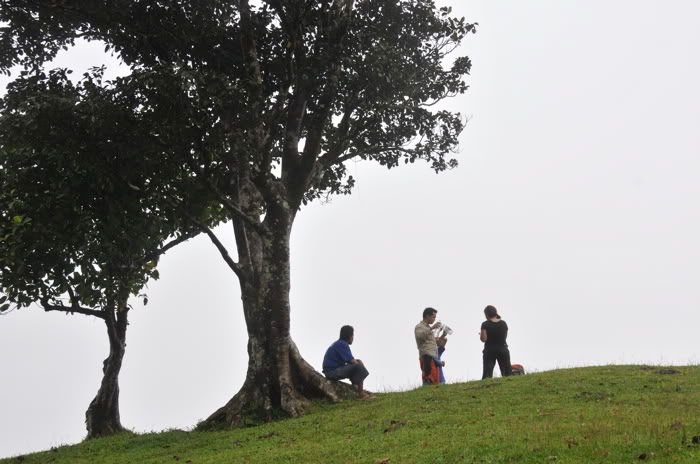 we marched into the mound of earth just below the peak, which at the time was wrapped in a thick fog. very quickly we set-up camp and waited for our groupmates to arrive. it was a long wait. trainees and members trickled into the campsite, like formless, colored silhouettes appearing from the gray depths of a distant dream. it was a huge, sprawling campsite, but i worried about real estate: there was just not enough room for all our temporary living spaces. but before darkness fell, the entire team had arrived, and this patch of green had been transformed into a tent city: a field scattered with more hues than a pack of m&m's. a group arrived late in the afternoon and must have been so impressed with the nylon infrastructure that they had photos taken with TNFs, but glossed over the REIs and the marmots.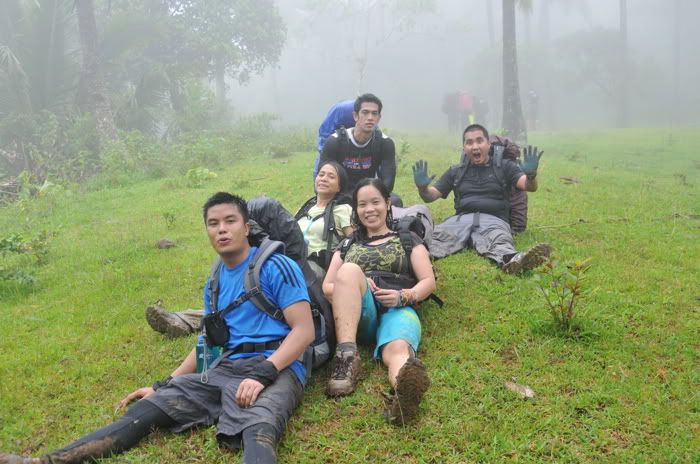 before 5, i had already cooked perfect rice and finished my creamy tuna alfredo and waited on the trainees to serve their beef stroganoff. it was the palest beef stroganoff i had ever seen, and the sour cream was replaced with all-purpose cream, but it turned out to be good, so i was told. i also deep-fried some of my mom's famous bangus lumpia, and we had crispy spinach as appetizers and sammer's brownies for dessert. by 6pm, we were all full and happy, and i even had time to visit other campsites and sample their meals. at around 9pm, the team was called to gather for the socials presentations. the theme was glee. there were a lot of very forgettable performances; my group had the worst, and neri's group, anchored on jason's daring dance and costume, won the merits, although they had more shock value than an actual, palpable presentation.



after that, despite lights out being moved to 11pm, there was little left to do. trainees were not allowed to drink alcohol, and we were forced to just stare at each other. i refused to drink in the presence of trainees unless they themselves were drinking, or were at least provided the choice. a lot of people have voiced their opinions on the soundness of the rule, and the arguments by those who advocate responsible drinking have been generally unheard. personally, i find the prohibition dictatorial, hypocritical and based on faulty logic. sometimes, we are so consumed with drawing the line and emphasizing the difference that we lose sight of the things that we share and have in common. why are we so concerned with floating this hierarchy? why are we replacing the values of others with our own? is it because we find our opinions and our views superior? why are we depriving people of the freedom to choose and to decide? only after the trainees had slept did i actually sit down to partake of the few poisons that were allowed by the circumstances. and despite that, i ended up taking care of a few casualties and one member who was passionately objecting to the rule against drinking. in fact, i was the last to turn in. although i briefly dozed off while the members were singing classics from the eraserheads with my iPod nano. i made a round of the campsite making sure everyone was safely inside their tents and asleep.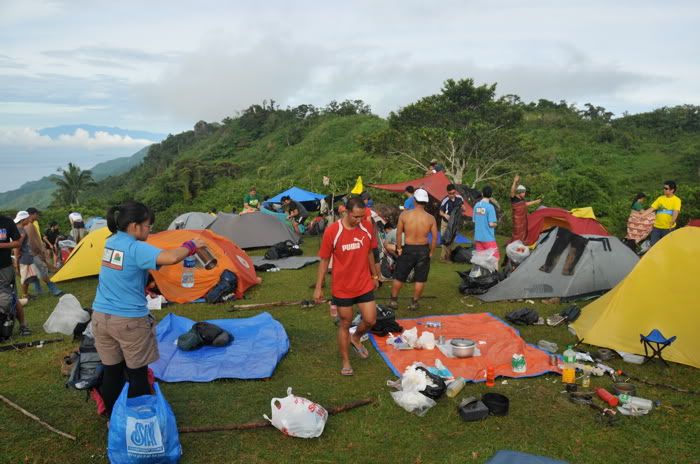 the following day, i woke up at past 6. none of the trainees or the members had bothered to rouse me from my slumber, but when i stepped out of my tent, breakfast was already being served. i ate quickly, and found out the drunkards i took care of from the socials were only beginning to crawl out of their tents, complaining of hangovers -- and still they managed to trek safely down. maybe we just don't give people enough credit.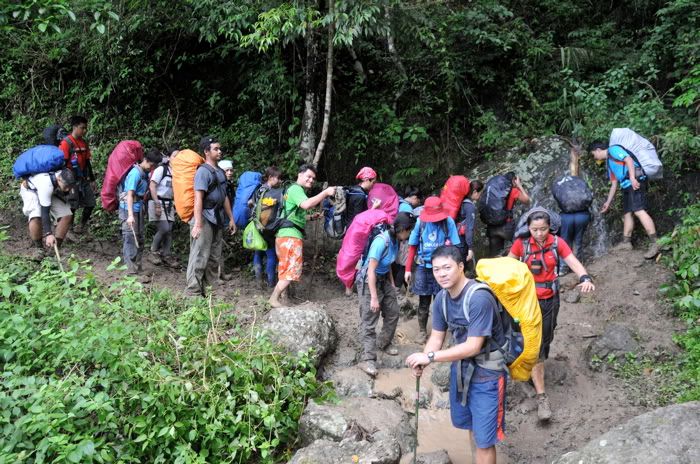 there was a long queue at the beginning of the descent, and this lasted till the lunch area. another group, the loyola mountaineers, also scheduled their training climb that same weekend on the same mountain. it didn't help, of course, that the trail had mushed from the passage of too many boots, and with each squishy step, our feet sank deeper and deeper into the earth, i feared we may have walked into a pool of quicksand. although i did strike conversation with someone from LM, they were not very forthcoming, and i may be far too observant that i noticed one of them raise an eyebrow when impatient AMCI members decided to go ahead and overtake them. i was a bit more relaxed and grabbed the opportunity to forge ahead when they paused at one of the houses. i practically ran down the trail and headed straight for the waterfall, which involves a slight detour.



i didn't know daguldol held secret this amazing natural landscape. at the base of the waterfall, the water poured forcefully into a shallow pool. this section of the mountain was pure, solid rock, it's possible this daguldol is an extinct volcano. further up, there was a solid wall of rock, maybe 40 feet high, where beads of water poured nearly evenly. it was a curtain of water streaming down a vertical rockface, and i immediately regretted having neither a suitable tripod or a neutral density filter. i loved the scene so much that i stayed there the longest.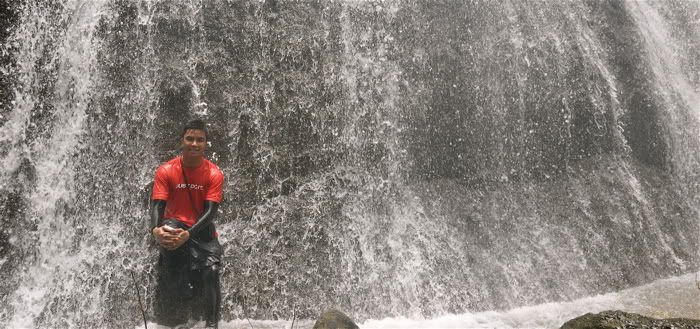 we went back up the trail, and in 10 minutes, had reached hugom. we rested a while, dreading the trek along the beach. i entertained whoever was willing to watch me make a mockery of myself and sped off in the direction of la luz. our wash-up area was a place very pretentiously called les caraïbes resort which served expensive beer and bland food. i hardly touched my lunch. i was also not aware of the actual arrangements with the huts but didn't bother to ask. i managed to sneak in a 100 meter ocean swim, some videoke, and a quick shower. on the bus going home, we chatted until our own exhaustion lulled us to sleep, and we reached the makati area at 9pm.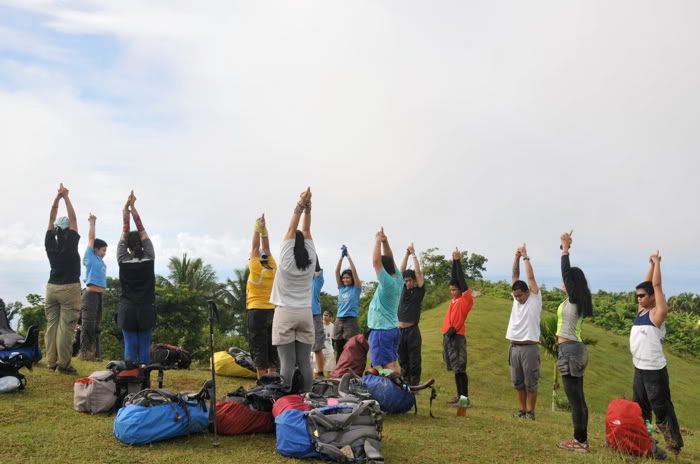 mount daguldol is normally a difficult destination to reach: commuting to hugom, san juan, involves many jeepney transfers, and this may have been the reason why i have not climbed it before. but i'm glad this happens so late in my mountaineering career: although i am never wanting in enthusiasm, i am sometimes deprived of imagination. daguldol somehow hinted to me that it is still possible to imagine new places where ideas take flight. i'd love to return again, when the weather is a little more accommodating, and the rules, a lot more relaxed.