our guide was a little man with little curls on his little head and a little evil laugh which resonated in the trail each time one of us fell on the hard, red earth. he would point out spots on the trail to avoid and inveigled us to walk outside of it, and i hesitated, knowing this went against what i knew about proper trekking. it was this same man who lamented the trash other climbers have left on the trail, but who, without remorse, flicked a cigarette into the bush and slipped an empty bag of marshmallows into the shrubbery. i took little tentative steps even as he snickered about people who slip and fall. we had just passed a small mining operation nestled in a flourishing forest of pine. the guide said somewhere there is a backhoe, digging for chromite. other than the makeshift fence and a sign which warned against trespassing, i didn't really see anything, and found it difficult to think about how such a behemoth of a machine could have been hauled there unless it were a constructicon.



the trail leading to the pine forest begins at the same jump-off as mounts cinco picos and balingkilat. there is a little aeta community there, and some of them offer to guide climbers up either mountain, or all the way to nagsasa cove, which was our destination. getting to the jump-off was a bit of a chore. i had not slept a wink since getting up on friday. nor did i manage to bathe since friday morning. i had a few rounds with an overworked friend, and we whiled away the early saturday morning sharing ideas, and i only finished packing at 4am. i went straight to the victory liner station in caloocan city still reeking of beer.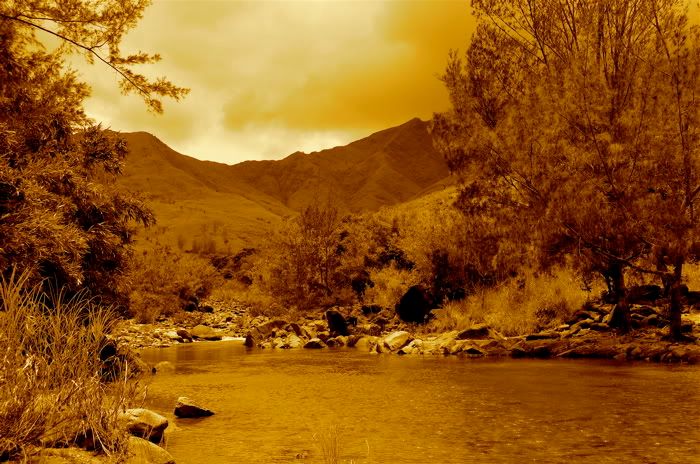 i had heard about the possibility of walking to nagsasa when i first went there with some of the most amazing landscape photographers i know. only after a year would i be able to do it myself. the bus ride almost turned awry, but we did get to subic town safely for a last-minute trip to the market. my companions bought fresh fish and styrofoam boxes. we were hauled to sitio san martin by a rickety jeepney that until we started walking, still probably struggled to get a wheel out of the mud.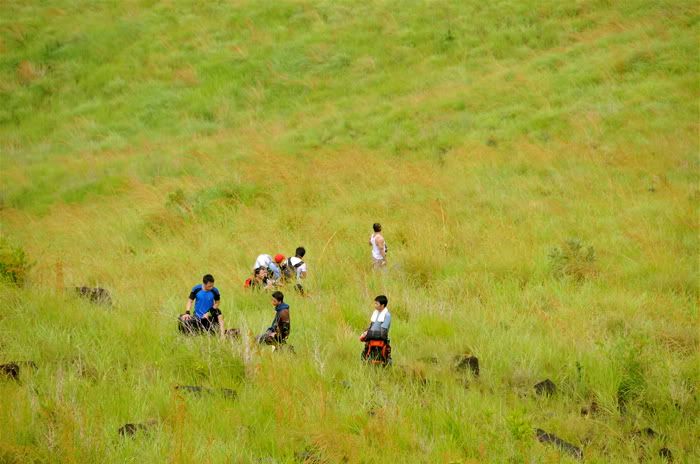 the trail starts the same way the trek to mount cinco picos begins. in fact, according to the guides, it is possible to pass through the mining road carved on the side of the mountain and still reach nagsasa cove. but we opted for a shorter route. and yet, it still took us in excess of 5 hours: the ladies doth protest too much, although we weren't really in a hurry. our itinerary had a part where we enjoyed life and indulged in adventure dreaming. we began the trek at 11am. the weather cooperated, and it was cloudy for most of the trek, with occasional showers. i had a heavy pack, but i didn't want to have it any other way -- i wanted to be well-prepared for another trek this weekend. i forged ahead with the guide, walking along a local trail, over many-colored rocks resting on the bed of gentle streams, past vast open spaces under a friendly sky. the landscape opened in many places: it was green and gorgeous, but i can imagine it must be searing in summer.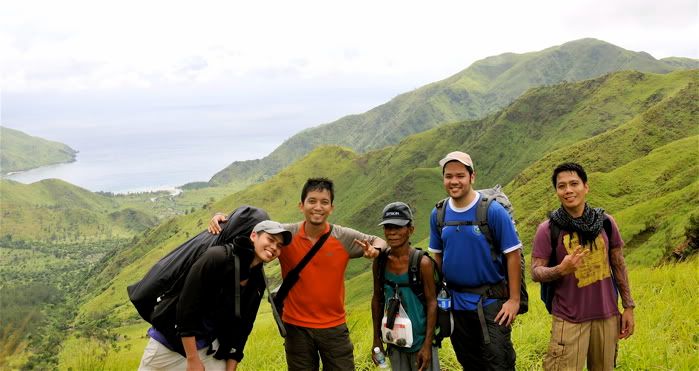 after 3 hours, we reached the saddle of two unknown peaks. unknown because no one was sure what they were called, and the guides were indecisive which they really were. it was inhabited by dragonflies. not more than 450masl, we had a commanding view of the terrain down below which led to the cove of nagsasa. there was a river that ended in the sea. because of my vicarious experience with rivers, i was a little concerned about the crossing. my friend fabian raised the matter during pre-climb, and we borrowed a 40-meter rope in case the river goes wild. getting there, we passed gullies that sparkled with a kiss of heaven. it was very pretty in parts, and had the weather been friendlier, i would have returned with more pictures.



finally, at half past 4pm, we moved out of the forest and reached the river which rolls from the mountain and around a ridge. it was shallow enough to expose little colored stones, and gentle enough to cross without the help of a rope. the terrain immediately turned from forest and red earth to sand and cogon. i could see our destination: the line of pine trees in the distance marked the beach. immediately upon my arrival, i stripped to my trunks and hit the water. it was an instantly soothing experience. and while fabian and i enjoyed the warm water of the sea, two rainbows rose over the row of houses that now lay claim on the beach, demarcating their properties with barb-wired fences to indicate where rent has to be paid.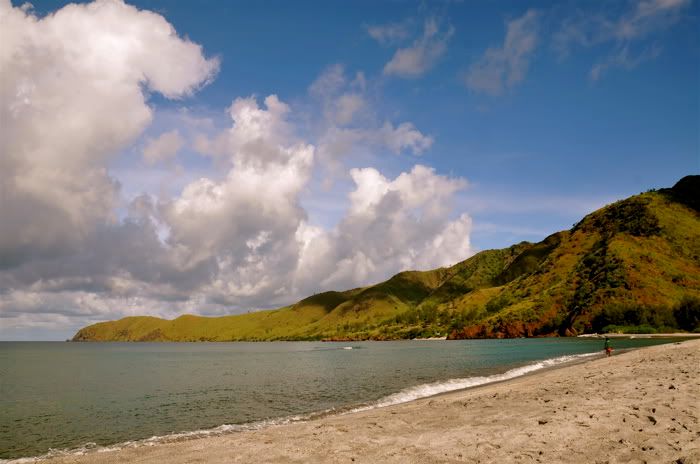 it did not look like this last year. such is the price of fame. when we first went to anawangin in 2005, things were so much simpler. i may have had a hand in making it popular on the internet, my narrative being the first blog entry on the place. i do not claim to have made the same with nagsasa, because people would eventually discover it. i made a bold prediction about how nagsasa might look like in a year. i was right. these days, i scoff at people who think themselves adventurous just because they've been to anawangin. and just before dark, my companions arrived, and despite the drizzle that limited us to the small space afforded by the shed, we managed to pitch tents, get dressed, and prepare dinner. the organizers, the dayo outdoor group, planned a number of games to amuse us. there were several guests in the team, fabian and i among them. there were even prizes. i bombed the pinoy henyo contest, but won the egg whipping game. also, my team won charades because we made the other team guess movies like "being john malkovich" and "vicky cristina barcelona".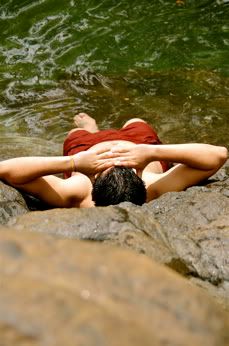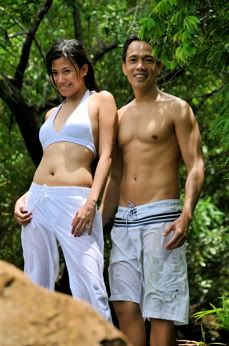 after the games, we sat around our table to focus on the socials. the bitch reared its ugly head only to defend itself against a bigot. and despite the well-meaning efforts of the organizers, the diva had its way. and that's all i have to say about the subject. i was plastered that evening from lack of sleep, although i still lasted until 1am, downing shots of cossack vodka without chasers (this is the same vile liquid which i feared would melt me) and rolled inside my spacious tent until 8 o'clock sunshine woke me. oh, it was a bright sunny day, and everyone must have passed out because many valuable things were left lying around. it's a good thing people in nagsasa were honest.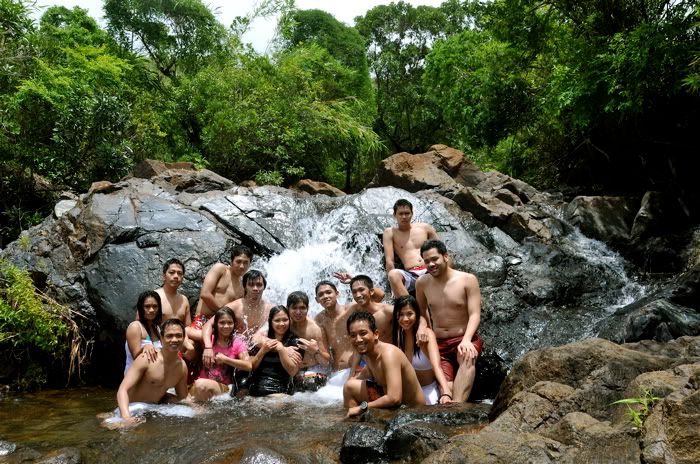 after breakfast, i took my companions to the waterfalls tucked beyond the tall cogon. i had gone there before although i was very briefly confused by the green blades which rose high above the earth. i managed to find the trail again, which is now marked by meandering pipes that end up somewhere upstream, although in spite of it, it was still a very pretty place which everyone seemed to enjoy. had i been better equipped, i would have come home with better pictures. after the time spent enjoying life at the falls, we returned to the beach to cook and eat lunch and get ready to leave nagsasa. i think i was pretty much confined to one place while i was there, getting to know this new group of people who were so amused the second time they'd encountered me at mount tagapo, they decided to invite me again despite what first impressions they may have gathered seeing me rolling around in muck while i was drunk.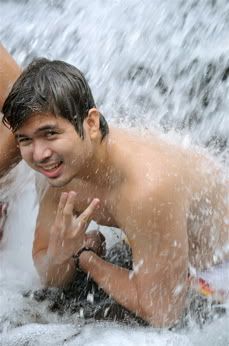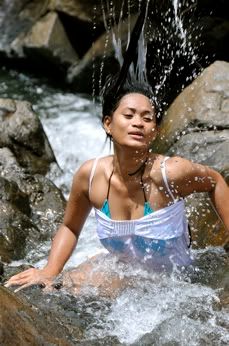 after i had packed, we hauled our bags onto the outrigger canoes waiting for us on the shore. teng, one of the more pro-active locals on nagsasa, volunteered to take care of our trash. when i asked him how he would dispose of it, he said he'd burn them somewhere at the back. i felt sad. after only a year, nagsasa is going the fate of anawangin: greedy commercial interests, neglect and over-tourism are uglifying an otherwise beautiful place. i feel good that i have seen it when it was prettier, but i also wonder whether i have contributed to its fall from grace, and whether encouraging people to come is a good idea. sometimes, it's a struggle: you want to keep returning to a pretty place, and either you share your experience with others so that they too might enjoy what you've experienced, or you keep to yourself and always find your playground in the same state as you've found it.



i mulled the state of nagsasa and its immediate future even as a rough bangka ride sprayed seawater all over our faces. by late evening of sunday, i was back in manila, aching for sleep, thinking of someone, designing the possibilities.