mico halili had already eloquently expressed how the UP community must feel right now, following another winless UAAP season in men's basketball. a pitiful hell, but redeemed, rather convincingly, by an amazing routine of a tireless UP pep squad, which regained the crown from recent and now fiercest rival, the FEU cheering squad. last sunday, i was resigned to the possibility i would not be able to see the performance. i was going to attend a wedding, and i have no television besides. i had half the mind to knock on the doors of my anonymous neighbors and request that they tune in to studio 23 so that i could at least view the performances in the 2010 samsung UAAP cheerdance competition. then i realized that my building's disgusting gym had a small TV set.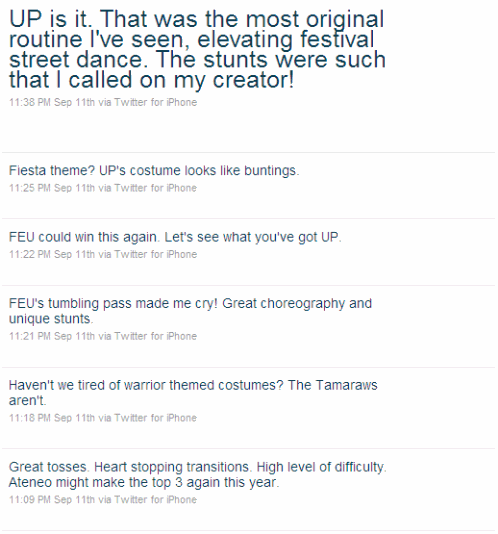 tweets of a twit


so despite the bad reception, i went down and tuned in right at the start of the performances. i turned on my iPhone 4's 3G and began to tweet. i rested my back against the treadmill and prayed that i could view something despite the static. i was supposed to leave for the church but my companions were coincidentally late. i was really more interested in seeing UP's performance. but i was also quite curious about how its closest competitors would do. first was UST. i could not get past the costume, and didn't feel threatened throughout their routine: it lacked snap, and felt a little limp. next was ateneo. they did well, and the costume was just right there, and the level of difficulty was expectedly high, but they dropped a few flyers. FEU came in next and i certainly wanted to weep. on TV, they looked fierce with their samurai theme, and they left me speechless with the sheer impossibility of some of their stunts. and that tumbling pass was off the mark, although the finish was a bit chaotic and i didn't understand it. i knew that UP had to up its game to snare the crown from the morayta tumblers.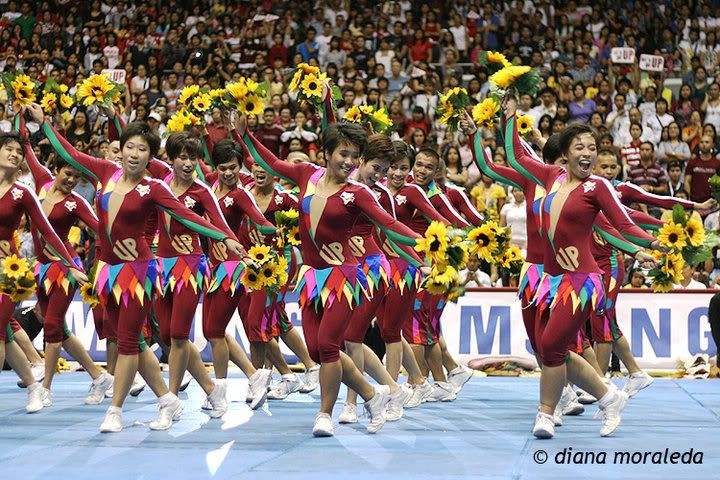 state U blushes and blooms


during UP's preview, i immediately noticed the costume, and i tweeted that they looked like stitched buntings: banderitas stretching from houses or electricity poles over main thoroughfares during religious festivals. they had already done a fiestaesque theme in 2008 with their tribu-inspired routine, the skin-tone costumes akin to tacloban's pintados. but this time, they took it many steps further. i was not immediately impressed. UP's cheerdancing costumes aren't always the best, and for me, the rock-inspired outfit 3 years ago still ranks as the most impressive, followed by last year's cute tribute to UP's colors. but they walked in, executed a near flawless routine, and simply owned araneta. i love fiestas with a passion, and i have a goal of going to all the major ones by the end of next year. by my own reckoning, they began with aklan's ati-atihan (hala bira!), put in shades of iloilo's dinagyang (whistles and snares), bloomed with baguio's panagbenga (sunflowers for pompoms -- also, UP's university avenue is adorned with them come summertime), donned bacolod's masskara (masks, obviously), and ended with antipolo's higantes festival (giant faces of an isko and an iska). if any other team had done this, it would have been absolutely tacky. but UP's carefully conceptualized routine was such that it had just the right samplings, without sacrificing cheer standards. with mouth agape, i watched as they mounted fantastic pyramids with ease and grace, and made seamless transitions from various festival streetdance moves and music. that they managed to pull this off is a testament to the UP pep squad's unsurpassed creativity. and although fiesta tribes and troupes repeat more or less the same movements, it cannot be denied that UP's originality as a pep squad is unparalleled.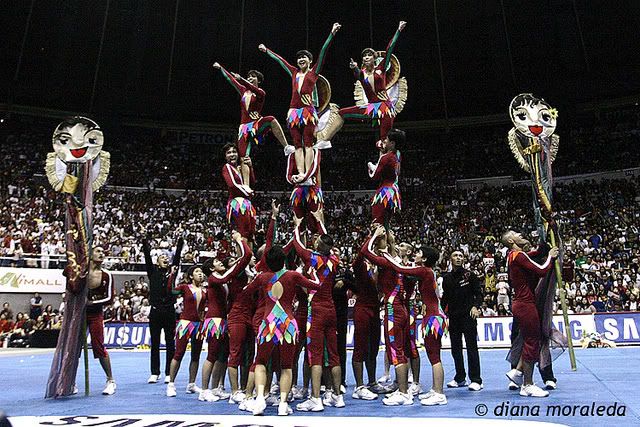 deadman lift


there were only minor errors: quite noticeable were the 2 bad landings during the tumbling pass, and the girl who didn't manage to get her sunflower pompoms in time. there were slight wobbles and some unstable bases, but no flyers fell (unlike last year -- something which probably deprived them of a second three-peat). it is uncanny that when i first watched dinagyang, i thought that the UP pep squad could take a leaf from filipino festivals. they must have read my mind, many years later, and took an entire branch! also, they up-ended UST in 2007 by ending a five-year reign as cheerdancing gods, the first time that the UP MBT also ended with a 0-14 win-loss record. it looks like a losing streak provides the pep squad with good luck. either that or they feel the weight of responsibility, and decide to uplift the battered spirits of a sports-weary diliman. really, the only reason why so many of us watch basketball games still is for the half-time performance of the pep squad.


thank you, UP pep squad, for giving the diliman community a reason to celebrate. in fact, we're pouring out onto the streets, whistling and dancing. hala bira!