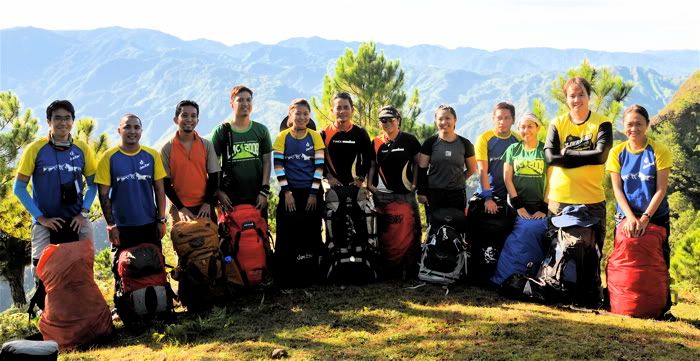 there is a place where clumsy and imperfect pyramids of rock and pine rise from rivers slithering in the bellows of the earth. it is a place of solace and inspiration, where the imagination travels on steep paths to the heavens; a place of beauty and wonder, where ridges roll beside cliffs, carrying dreams in many colors. i owe this place a good story. in fact, i owe it 4 good stories. in the past,
its beauty and madness has so overwhelmed me
, i had not managed to write anything about an experience too rich i was many times rendered speechless. which was quite the opposite of my expectation: i anticipated to return,
garrulous and eager to retell my foray into the mountains
. but maybe silence is also as profound. however, because of the degree of my indebtedness, i have decided to set out to weave one great story. whether i would achieve it by the end of this entry, i do not quite know. what i do know is that if i am faithful to the feeling it has imbued me in those 3 wonderful days, the story i am now writing about this place called kibungan might occupy a place of prominence in my trove of mountain pursuits.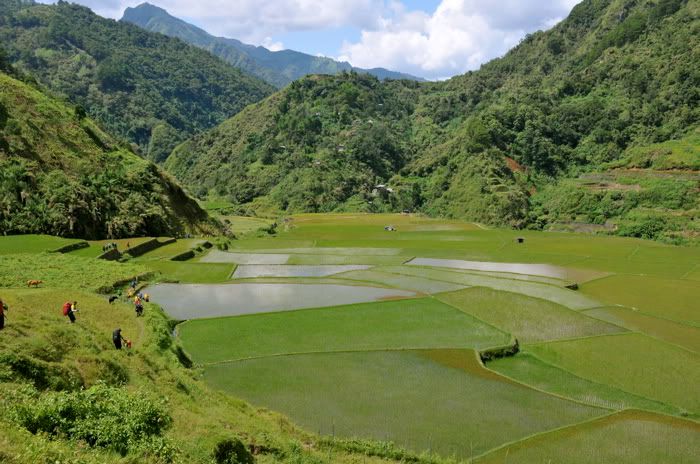 since my
first visit to kibungan in 2005
, i have found myself returning nearly every year.
last year was particularly memorable
, in that while we were jumping into the cold pool that is the alman's hole, manila was transformed into a cespool by ondoy. in the evening, while we turned up my speakers to full volume and danced immediately after a brief but furious wind threatened to blow us all the way to poblacion, we shrugged our shoulders at text messages that gingerly arrived informing us of flooding in manila. it always floods in manila, i thought at the time, and only the following day, when the signal became more consistent, that i realized the gravity of the tragedy.
when i learned that kibungan would become part of this year's training climbs, i immediately volunteered to be GL. normally, i shun this position because i have no desire to undertake sweeping duties: it interferes with my natural pace, and results in my enduring a longer trek. i confess that i am not as patient as most people, and would much rather have long pauses while waiting for those who took their time. nevertheless, i have been a GL for kibungan 3 times previously, and i make exception for this mountain range because of its exceptional beauty. my wards and members were a motley of characters, and i knew it was going to be a great time, foul weather notwithstanding. so on friday morning, we were transported to the jump-off, and began the first day of our 3-day tryst with the mountains of kibungan: a love affair that will be well-remembered for its long caresses, passionate kisses, orgiastic highs and multiple climaxes.
in my first encounter with the mountain ranges that define the entire municipality,
the trails were described as resembling outstretched fingers of one hand
: characterized by steep ascents and even steeper descents.
this trail was reversed the following year
and it was no less difficult. in fact, it may have bordered on the insane. the next year, an entirely new first day was devised which involved an interminably long truck ride, much of which was spent assisting the incompetent vehicles from particularly muddy and slippery roads.
the 2006 trail
was reprised last year, and in april of this year, the guide association which AMCI helped organize took us to their
invitational trail
. during that time, we chorused about how it would make a good training climb. and this month, we proved our hypothesis correct.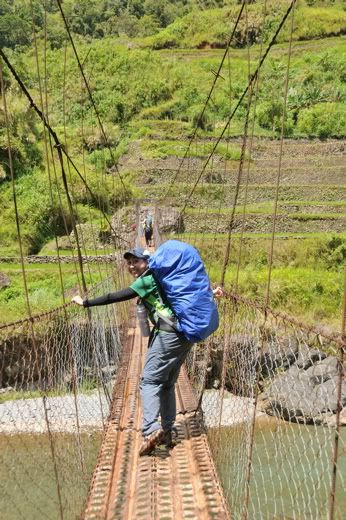 on an unusually humid thursday evening, i trooped to ayala tower 1 with peig from my house, preparing for the climb by passing through all of ayala avenue's underpasses. a shade before 10pm, our bus had left makati and sped towards baguio city with the haste of an ambulance ferrying a dying patient in dire need of fresh strawberry jam. just before 4am, 4 jeepneys were already rolling towards kibungan, a municipality located in the west of benguet, bordering ilocos sur and which, following the carnage that was pepeng, was disconnected from the rest of the cordilleras when an important bridge fell, its supporting anchors swept away by raging waters.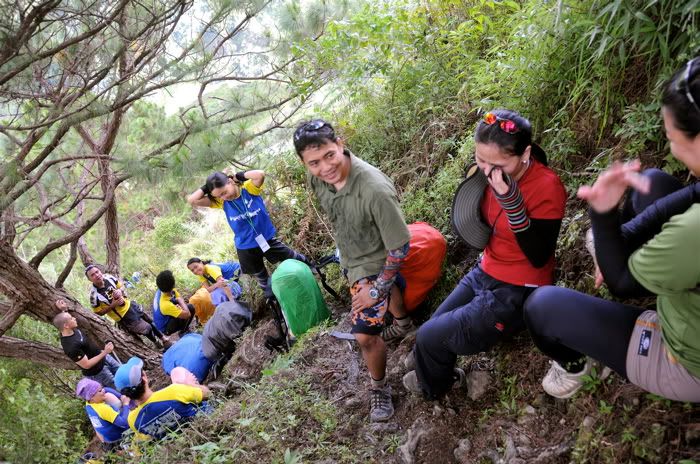 the trail begins at the same spot as the 2006/2009 trail, but instead turns left at the rice terraces just behind the two shacks that are at least a kilometer away from the nearest home, but still manages to maintain a humble inventory in its store. the trail moves along the narrow path of rice paddies and ends at the river, where a hanging bridge marked the beginning of a long, tiring ascent. when we moved out of the shade, we were welcomed by the enormous mountains, and the trail that disappeared in the distance. we were walking very gingerly at the time, feeling the added weight of the sun bearing down upon our tired shoulders. few of us slept well getting to the jump off, but we were overly compensated by the majestic views of which kibungan is not in short supply. from the tanap river until lower buga, it is possible to turn around and see huge terraces hemmed by walls of mountain and hedged by rows of pine. somewhere in the distance are clumps of houses and the municipality, and leading away from it is the dirt road, like a careless scribble drawn by a child; it is so winding it might even resemble an actual unintelligible signature. up ahead, it is so steep that the top of the mountain isn't visible. some parts of the trail have been reinforced with a concrete path. reaching lower buga, i was surprised to find it in the verdant state it was, when less than 5 months ago,
the mountainside resembled a big chunk of charcoal
. the bush fire is still evident from the charred trunks of pine trees, but other than that, nothing can be taken away from this part of the mountain: the trees cover a whole spectrum of colors, from green to yellow to orange, and subtle hues in between. the once black cliff climbs up upper buga like a green wall of life.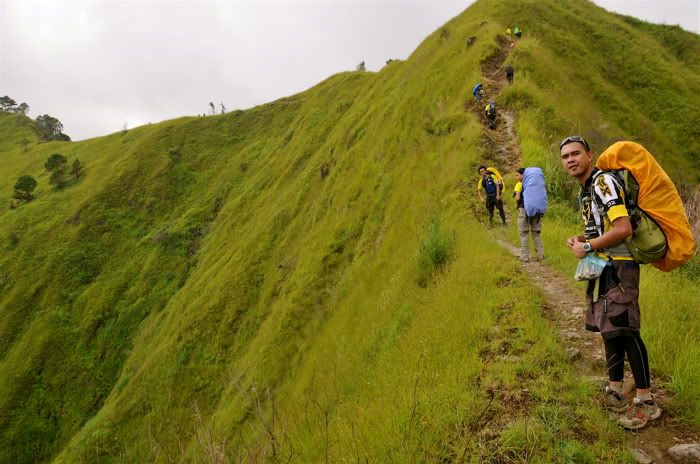 from here, i loaded 4 more liters of water on top of what i had already carried. by this time, i had asked all my trainees to go ahead as i was suffering from a severe case of muscle cramps which prevented me from trekking continuously. it bothered me for a long time, but i seized the opportunity to soak in the sights. i was surrounded by so much to see, i didn't know where to begin. the river where we began our trek was already way below, and our destination seemed to totter on the tip of the head of sphinx-like shape on the mountain. how it was possible to get there the first time boggled me then, and still boggled me now. i have seen these views before, and yet, kibungan has that distinct, eternal quality that you wouldn't mind looking again and again. i may have stared longer than may have been acceptable, and i imagined kibungan's puffy cheeks blush. they actually bruised, and on our way to the rockshade, a slight rain began to fall. by this time, i had recovered from my muscle cramps and had regained my normal pace, leaving behind my trek companions by at least 15 minutes. i took solace in the cleft on the mountain's rockface: it seems to have been made by a karate chop of a massive hand. last april, this is where we took refuge from the rain, where we even managed to heat water for coffee and cook instant pancit canton.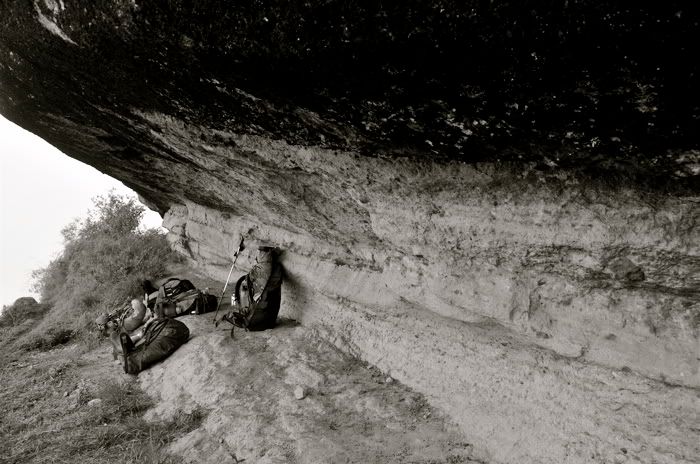 from the rockshade, the campsite is less than 40 minutes away, where a portion of the trail required us to balance on crude footholds carved from rock. we crawled up and found that our group's camp was the first to be seen on mount tagpaya, where tents were arranged horizontally on its flat spine, extending way into the back. once i pitched my REI quarter dome plus, it was the first thing that anyone else arriving at the campsite would see. this camp was different from the one we used the last time: it was a little up on the mountain, and away from the cliff that was only 5 meters from any tent. as we waited for night to fall, we readied dinner. it was an indian theme for the group, and i planned on a spicy curry, a chicken tikka masala, and some roti pratha. i apologized for its simplicity and lack of creativity. but they seemed to like it, and we quickly moved to our socials: swapping stories and revealing top 3s. i'm not sure who originated this, but it seems to be the standard getting-to-know-you spiel nowadays, at least where my group is concerned, and i myself have had to confront it with honesty and candor (since i also figure in other people's top 3s, ehem. smart is the new sexy. that is attributable either to "big bang theory" or the belo medical group).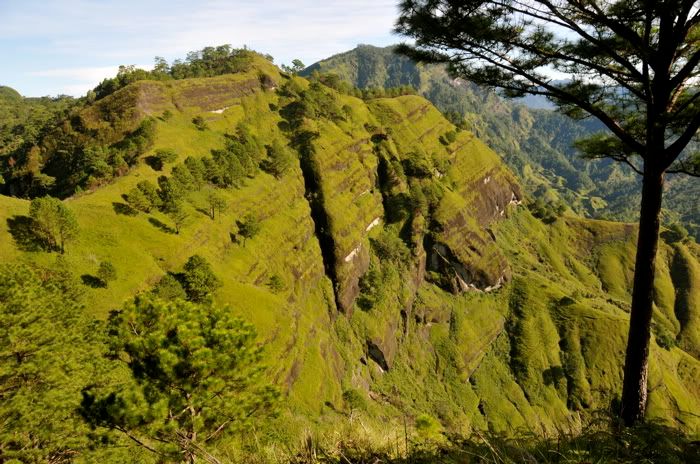 at precisely 10pm, i sent my wards and the trainees who dropped by our kitchen to sleep. despite the slope where my tent was pitched, i slept soundly that night and woke up a few minutes before wake-up call in order to fold my sleeping bag and roll my thermarest. after 5 years of climbing, i've realized these two take the most to fix. everything else can be just stuffed into the bag. i crawled out of my tent to rouse my group even as the climb staff was announcing that it was already 5am. we had bacon, mixed delis and martin's beef salpicao for breakfast and lunch. the teamwork was so efficient that no one was not doing anything at any given time. rice had already been prepared the evening before, so while food cooked, bags were packed and tents were disassembled. by the time most of us were ready to trek, the lead pack was already rushing, because they had to get a head start. it was a beautiful morning besides, and much of it was spent taking pictures, admiring the view. the sun peeked from the horizon consisting of rows of mountains, and later winked slightly above the ranges and through the pine needles as we had our group photo taken. and before 8am, sir manny was already hot on the trail of the lead pack.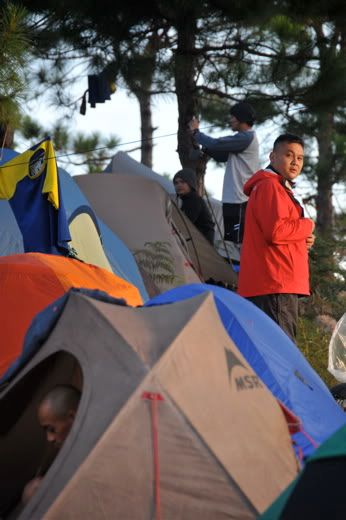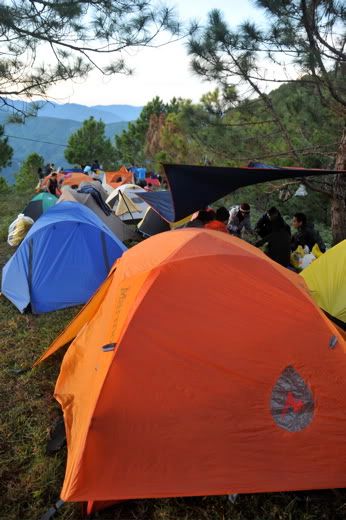 we weren't necessarily rushing, but we were so strong that there was no appreciable distance between us and the lead pack. normally, i would accept rest every hour or so, but everyone was just in a mad rush, i was surprised. kibungan is imbued with enough beauty that it would be folly not to pause and look around. those who marched forward with haughtiness and haste missed so many things. i would notice many things and point them out: the trails from the previous years, the pitcher plants under the bush, the shape of clouds, the flowers blooming on a wall of rock. i had to remind my own group that we were in no hurry, that we were not involved in a race. getting to tangongtongaw, supposedly the oldest pine tree in kibungan, the trail was easy. there was a steady breeze despite the steady glare of the sun. at lower bulalakaw we loaded on water, and we scrambled up towards mount oten. this was designated as our lunch area, but since we were a little ahead of IT, i decided to move lunch further to geday 1.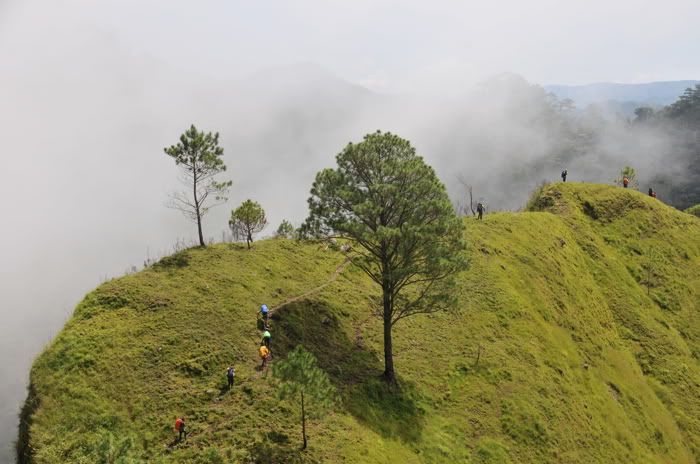 but an incident happened at the foggy ridge between mount oten and geday. this part of the trail is terribly beautiful, and almost mysterious.
in the last 3 times that i've passed there
,
a fog rose from one side of the steep ridge
, while the other side was clear. looking at it from mount oten, i remarked that i hadn't seen both sides clear, but as we drew closer, fog began to move in with the speed of a curtain closing in on a stage. the fog immediately dissipated when it reached the other side, causing only a shutout of one side of the ridge. it was a very slender ridge, and anyone less careful could face an untimely, not to mention, embarrassing, death on either side. once i got there, i found martin looking down to a dead log about 20 meters down. he said he dropped a small bag. i wanted to go down and get it, although i was discouraged by the absence of a trail. i had to be less cavalier since should anything happen to me, i wouldn't only injure myself, i would also compromise the entire team. i told martin all the things he lost could be replaced, then he says that the swiss knife that tumbled down was given to him by his dad when he was in third grade after their first camping trip, so it was sentimental. when he found one group resting about 5 minutes away from where we planned to eat lunch, he dropped his bag and decided to stay. normally i would not have accepted that and ordered him to continue, but considering that losing a small knife filled with more sentiment than actual monetary cost was sapping him of energy, i decided to stay with him along with a few of my trainees. i asked nelle to chase janice and the rest of the group.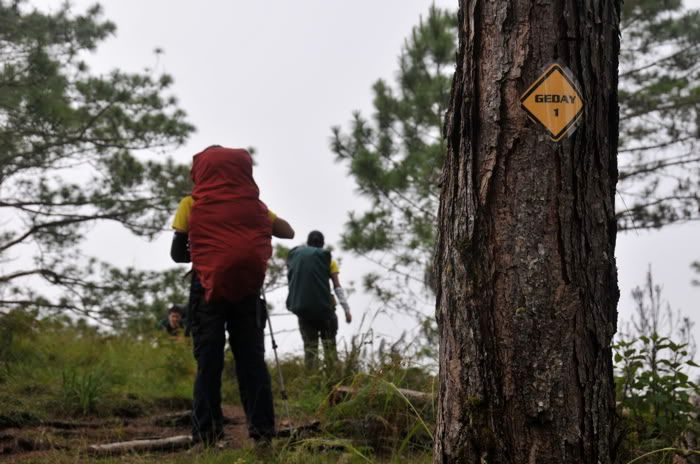 while we had lunch, however, a guide arrived and i told martin to ask him (the guide) if he (the guide) would agree to go down that ravine and fetch his (martin's) little sack. they went back and 15 minutes later martin had regained much of the enthusiasm he lost when the sack fell down from the ridge. i told him to be more careful not to lose anything, particularly things of value. we picked up our bags immediately and proceeded to the last ascent. i informed them that from geday, it would be just slightly over an hour to the campsite. in order to get to the mount tagpew campsite, we had to descend a steep path where we met locals carrying sacks of rice, flour, and noodles hanging from their heads. we gave way, and they didn't seem to tire. mommy emily noticed with delight how they didn't slip despite wearing only slippers, nor complain about the cumbersome weights despite not having load-shifting technologies built-in to the slings that went over their foreheads.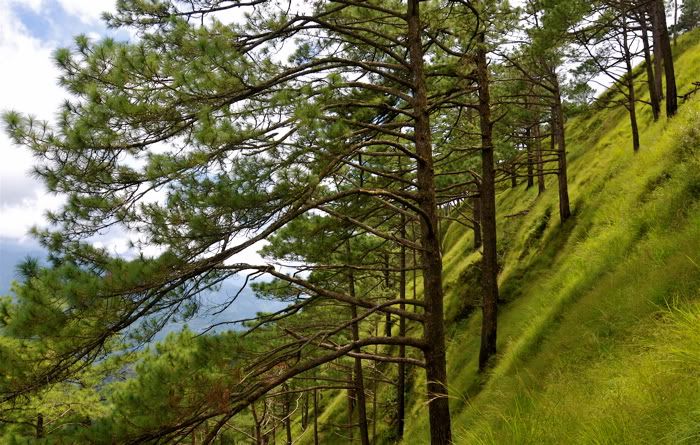 from there, it was the last push up towards the mossy forest. there was something new about the ascent: it had transformed from a craggy, crumbly trail, into a deliberate path carved with steps. i remember this to be the place where i dropped my bag and asked owen, unable to catch my breath: why do we climb mountains again?
owen pointed to the view and said: because of that
. yes, the views were fantastic, and they were as consistent as breathing itself, as present as shadows when there is sun, and cold drafts during brief spurts of rain. they were everywhere: the ground we walked on, the forest we looked up at, the other mountains on the other side, the sky above. if everyone came back from kibungan with beautiful pictures, it is not because everyone is gifted in the art of photography. in kibungan, one cannot go wrong. one can snap blind and still get something worthy of being framed.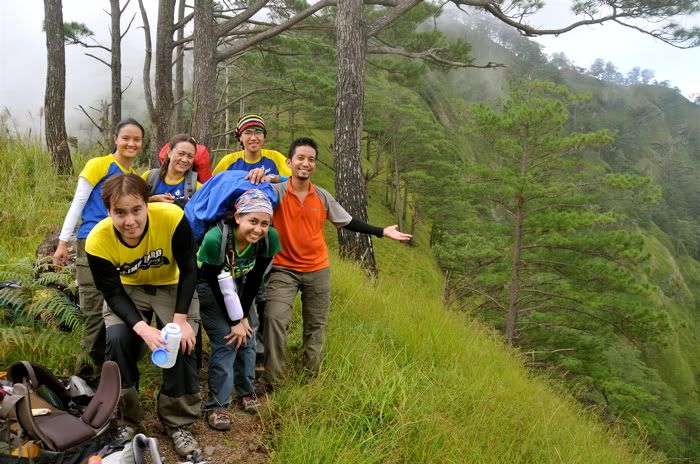 we arrived at the entrance to the mossy forest still an hour and a half ahead of the itinerary. and i encouraged the 3 trainees with me by saying that we would arrive at the campsite in half an hour. so we went inside the charming little forest, which was cold and dry, it felt exactly like walking into a building with large airconditioning vents. in less time than i expected, we found the house which was also our water source, and trekked the rest of the way to the campsite. many other groups had already arrived, incomplete, and whose only sole purpose was to get juicy spots. i was not so concerned with being first, since i was more interested in the quality of my experience rather than the speed of my trek. i kept reminding mai and mommy emily, who frequently apologized for their slow pace, that as long as we were ahead of IT, i was going to be a happy camper. however, i quickly realized that we had to clear additional space for our tents since cogon had encroached on the flat areas. but just as i was about to pitch my tent, a steady drizzle began to fall. people retreated into their tents, and i was left to squat under another group's tarp, while mike shivered uncontrollably beside me.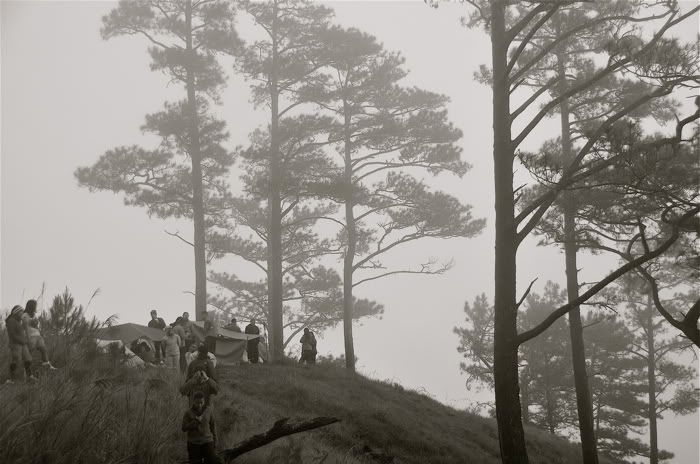 a little after 5pm, more than 2 hours since we arrived, i managed to set up my tent, change, and throw instructions to ready dinner. i wanted a lean team and said everyone else could just stay indoors. between mai, mommy emily, myself, and martin (with francis acting as an extra peg for the parawing), i prepared dinner. it was a well-loved pasta alio e oglio ala pomodoro. i threw in generous helpings of macau sausage and sun-dried tomatoes. i didn't know it would have such positive effect on everyone that despite the rain that dampened some energy, we quickly regained whatever we lost and were soon scraping morsels of garlic and extra virgin olive oil from the pans with pieces of focaccia bread. it was probably too good that some of my members wanted more. i confessed that i unceremoniously spilled some of the pasta on the ground.
and then it was a repeat of the previous evening. trainees from other groups started appearing in our kitchen and sharing in the stories, the music, and the friendly banter. we didn't invite anyone, but they were more than welcome to listen as we joked about kisses and hugs on the trail, bites at the campsite, germaphobes and slightly homoerotic but probably asexual and merely factual observations. by this time, the group's number had grown that martin would not let go of the fact that we should have had a bigger parawing. this lasted until 10pm. by the time the TL had to remind us of lights out, everyone had already been sent home, and i asked permission to cook rice for the following day. it took mike and myself 45 minutes to finish.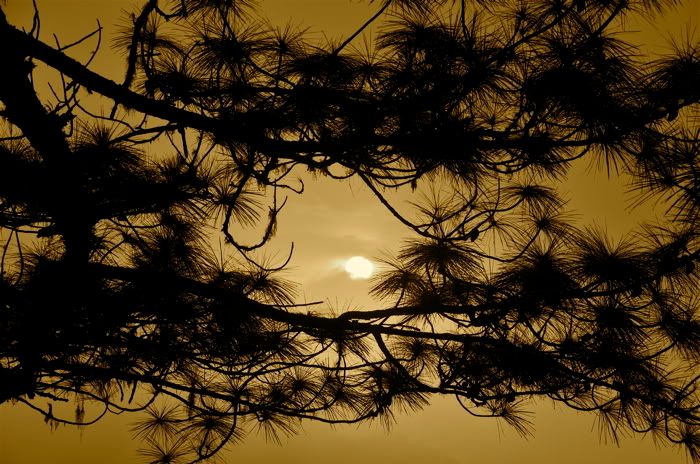 in the morning we briskly began the business of breakfast and breaking camp. due to the wet conditions, and since we also prepared lunch, we weren't as quick as the previous day. by the time we finished, many other groups had trekked ahead of us. i wasn't bothered by any degree. it was nevertheless a glorious morning and everything else seemed to interfere with just admiring the sunrise. through yawns and stretches and half-asleep grunts and greetings, we boiled water for coffee, fried danggit and longganisa, heated adobo, and returned the campsite to better than its original state: some of us picked up trash left behind by locals. sir manny left ahead of some of us, and i waited until everything -- the chaos and colors that is the campsite -- had been returned to the backpacks resting on our shoulders.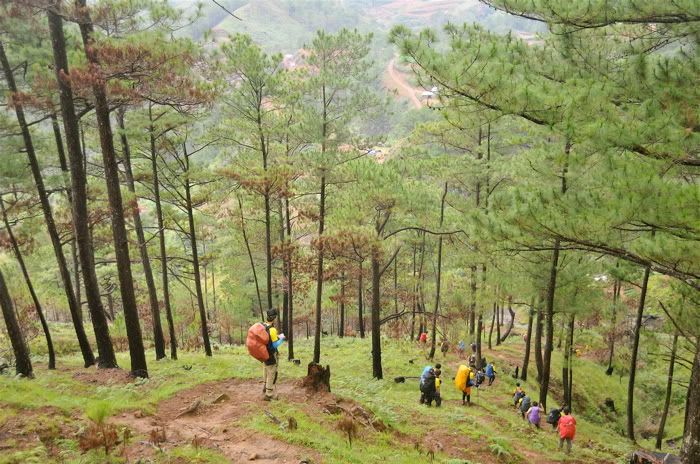 the start of the trek is a steep descent towards bilis rest stop. there was a fog the entire time, and it wasn't possible to see beyond 20 meters. somewhere along the trail janice tripped and sprained her ankle. being the trooper that she is, she continued walking without giving up any part of her load. my usual clique of 3 had increased to a party of 4: all the singers doing medleys and back-to-back renditions of favorites, filling in forgotten words. before long, we were already on the road, walking towards the church where we caught up with a huge chunk of the climb team. i said that there would be a challenging descent from the bato view deck going down to the river. so we marched on, a little disappointed we couldn't see tagpew's rockface, and the waterfall that scars its cheek. nevertheless, other views were available, and we found them at bato, which jutted out from the trail, hanging over paddies 50 meters below, looking out into the palina rice terraces and mount kilkili, which is said to be a dead volcano. the terraces appear like a busy weave of riprap and paddies dotted with the occasional zinc house while the dead volcano pierces the sky like a sharp totem.
from bato, it was one final descent towards the mayos river. in april, it was a scorching summer going down: the trees were bare, and the grass parched, so the trail was evidently scary. nature has undertaken some changes since then, and although it was slow and tentative, i was still in full control of my impatience. so while mommy emily heaved her last sighs at the long trail, i assuaged her with the promise of a cool river dip and the end of the trail not 10 minutes away. we stayed only very briefly in the river, since the next jeep needed 20 warm bodies to make the trip back to the poblacion. still dripping, we crouched below the trusses for the sayote plantation and found the road and the awaiting jeepneys. before long, we were already lurching back to the municipal hall, and i kept reminding everyone that this was a much better way to end a trek, rather than endure an hour-and-a-half's ascent on the final day.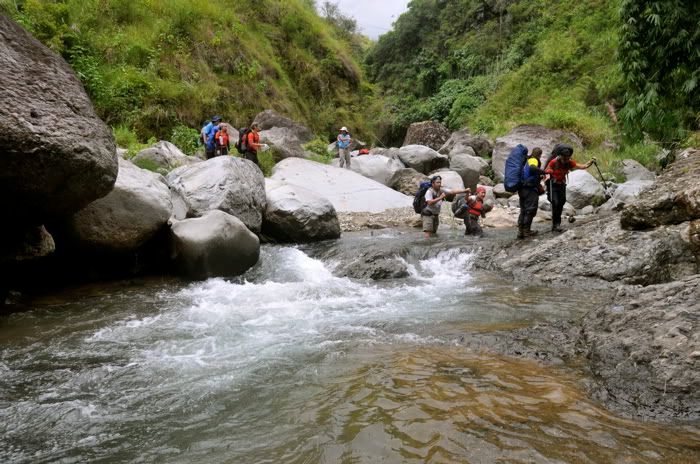 there was quite a long wait at the municipal hall. one member got injured and although we planned a 2:30pm departure for baguio, we only managed to leave after 5pm. nevertheless, we managed to clean up, eat, and say goodbye to the town that has welcomed us warmly these past 5 years. i promised kolbel that i would be sending 8R photo printouts of kibungan's best views. several strangers have left very encouraging messages on my blog, thanking me for talking about my kibungan experiences, insisting that i visit other places, discover other delights. i have been here many times, but i will not tire of it. looking at the 3D relief map made by PAFID of kibungan, i can see that the potentials are rather endless. one could spend a whole week just traipsing from village to village, admiring nature's architect and his grand design, unraveling the geological forces that gave rise to the unique landscape that is kibungan, realizing that true beauty is beautiful approached from any angle, and remains beautiful under any conditions.
and this is why i climb, endure hours on the trail despite lacking sleep, risk injury and bad skin: because in the mountains, everything is simplified. i become less jaded, and realize that life is uncomplicated. i appreciate the small things and am amazed by the littlest of gestures. when sheltered kids become domesticated adults tending to the kitchen and picking up after themselves, i realize that this is what it's all about. i like what the mountain does to me, and to others around me. i can only hope that we keep much of what the mountain has imbued in each of us, even when we have returned to the plains.