buendia is uncharacteristic at 10am on a sunday
i will drop a brick over anyone who accuses me of being unpatriotic simply because not a strand of hair in my body cared for pacquiao's fight with the taller and more arrogant margarito. anyone who is proud of being filipino only when pacquiao wins a boxing match is no different from someone who conceals to the point of denying something obvious and true, but ends up declaring it when it becomes convenient, or beneficial, or trendy, or cool, or fashionable. the instances when such pride is declared come unfortunately far and few between.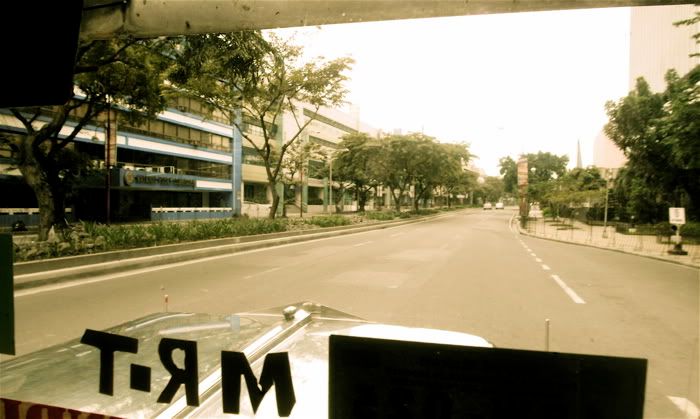 buendia is unfamiliar at lunch time
i declare that i am filipino even when being filipino is an inconvenience. i have never been embarrassed by the fact that i am from a nation of sometimes appalling imperfections. rather, it gives me reason to say that there is much more that i can do. here. right now. i do not wait for a time when the conditions are better to return. i have decided to stay and contribute something concrete to nation-building. and not the tenuous argument about helping make the economy more robust by what i send home. choosing to remain when there are opportunities elsewhere is also a sacrifice. but i do not wish to call it that. i might, however, describe it as a duty.
not a creature was stirring on the MRT's buendia platform
i am a filipino and i wear it on my sleeve, proudly. i do not wear my nation's symbols nor the shape of my country's islands only because it is fashionable: i do so because i wish to declare where i have been; where i am from. and i have done so long before it was fashionable to appear to be patriotic. in my travels, i tell strangers to visit the country. i know more foreigners than filipinos who would say the same; others are quick to dismiss the thought. their ignorance leads them to conclude that there's nothing to see here.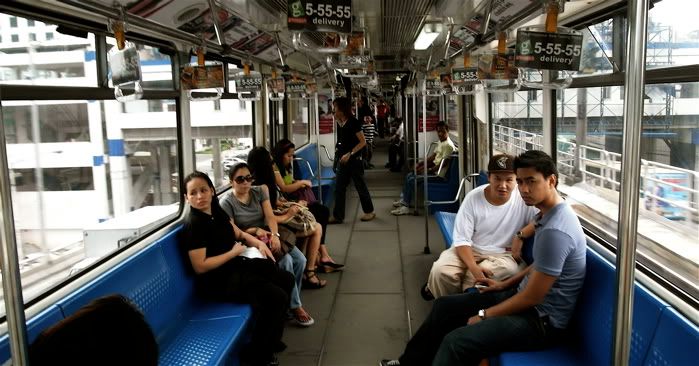 i only find the MRT in this state during holy days
i do not wish to belittle the fact that the nation benefits from pacquiao's fights. the taxes from his winnings can build several classrooms and pave a few kilometers of road. and everything else is exaggerated, and quite frankly, irrelevant. the slight improvement in the stock market is at best artificial: it cannot be sustained, unless pacquiao fights (and wins) every month. the dip in the crime rate is blown out of proportion, and the remarkable improvement in traffic conditions throughout metro manila is temporary. fact is, the world's impressions of filipinos have not vastly improved because of pacquiao's victory. they even snidely remark that this pugilist will be the next president of the philippines, an affront to the sensibilities and intelligence of filipinos, and also probably snicker about his status as hero, icon, and congressman.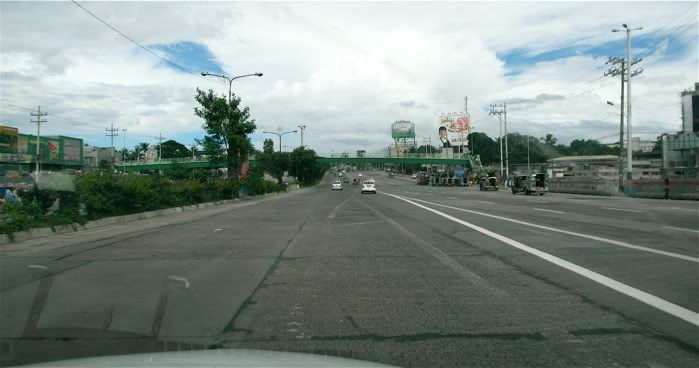 the forecast was right: clear skies and streets over commonwealth
we cannot thank pacquiao that several other countries think the philippines is more safe to visit; they still regard the threats to be real regardless of the his positive exposure in global media. the world does not have a higher regard of filipinos because of pacquiao: many still think of the philippines as a country of highly-skilled workers and very talented musicians and the home of the world's greatest pound for pound boxer. not much else.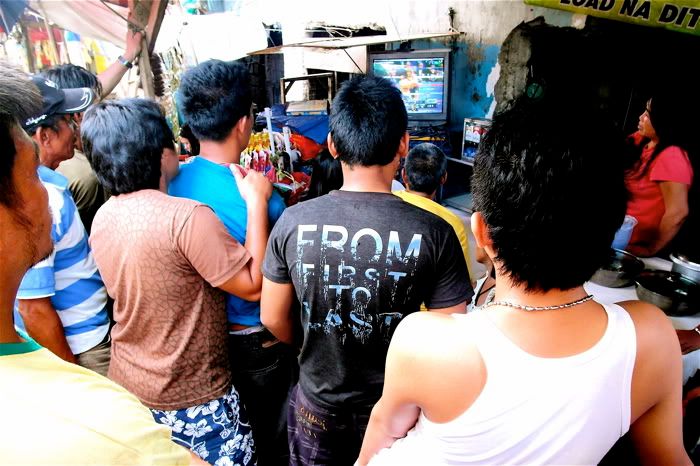 those who cannot afford pay-per-view crowd around the telly already aware of the results
not that his victory is not something to be proud of. or that this event is not something worth mentioning. or even celebrating. i do not wish to take anything away from real boxing fans who are truly moved and inspired by pacquaio's speed, agility, and intensity in the ring. but to equate this event as an occasion for the world to stop and take notice because the filipino has arrived and is bound to conquer everything, is misplaced patriotism. nevertheless, i thank pacquiao for this day. vicariously, unlike most filipinos, i very much enjoyed all the temporary, artificial, exaggerated benefits that resulted directly from his match. i was quite productive.