monday felt like a friday, and tuesday had that sunday vibe. all thanks to the oddly-placed holiday that squeezed itself in a busy week. not that we wanted our muslim brethren to move their day of sacrifice to some other part of the week, but it certainly made for mixed feelings after a whirlwind weekend.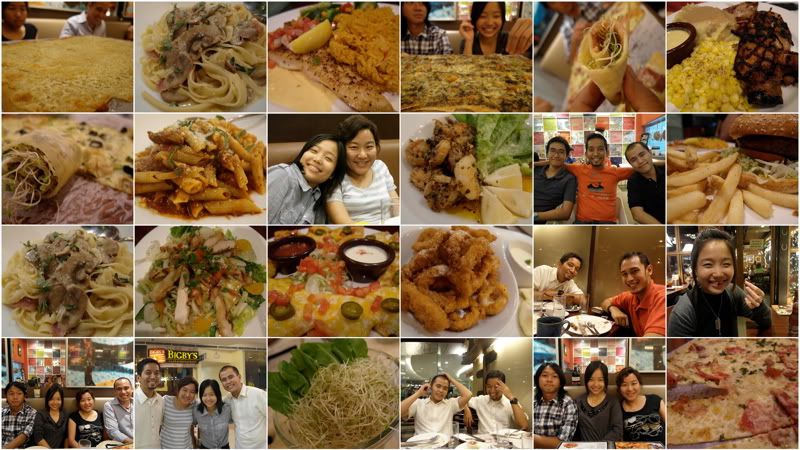 on friday, i had dinner with my IC group at roadhouse grill, which is described as poor man's friday's (TGI friday's, that is), although i still forked over half a
mille
for a really good meal. but i would have paid much much more for that precious company, particularly because we had agreed to brave ortigas traffic on the promise of sampling martin's apple pie. i told martin i didn't know he baked, but he said it was a very forgiving recipe from an uncle who used to own a restaurant. he arrived at el pueblo fashionably late toting a green basket perforated with little hearts. it was hilarious. and the pie wasn't half bad.
and it seems that we can't have enough of each other, because when we returned from leyte, this same group had dinner at bigby's, and then at focaccia. we had twisted kurt's arm to treat us after we over-exaggerated our hunger following the missing meal, over and above the fact that we did miss his company during the IC. they all slept over at my place afterwards, while we had wine, brie, a movie, and a game of scattergories.
speaking of games, i just had the most rib-tickling taboo session at mica's resthouse in tali beach this weird tuesday, courtesy of kuya mar and sherry. here are some precious exchanges.
word: ORCA
me: he is the owner of expedition plus.
kurt: oca!
me: insert a letter between the first and second letters and he becomes this sea animal.
mar: kokak?
word: BAYONET
kurt: janet...
mar: basco?
word: MOJO
mar: another name of bojo.
word: COUNT
me: 1, 2, 3, 4, 5. what did i just do?
mar: 6!
word: QUIT
mar: when you are tired of BMC, you are mot.
word: HYPE
mar: haaaah! haaaah! haaaaaaaah!
alman: crazy?
word: HOMER SIMPSON
mar (whispers): hindi ko kilala itong is homer sison.
word: CADDY
mar: friend of tiger woods.

see it for real in this
video
.
i've never heard of tali beach before. it's a nice private resort development in nasugbu, batangas, past the hills that take you to punta fuego, where i've been at least twice. we left manila at 10pm and experienced horrendous traffic in alabang before cruising through santa rosa, tagaytay and nasugbu, and arriving in tali with mostly 2KX friends at the dead hour of 2am.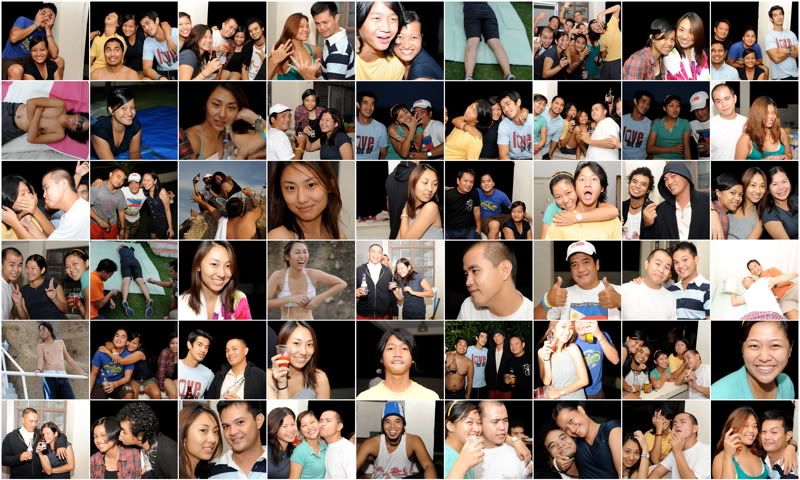 but despite lack of sleep and the tiring drive, we did not let the odd hour get in the way of our fun and we began by uncorking poisons and letting go of inhibitions that lasted till the sun was high up in the horizon. i took care of a drunk guy and woke up at around 9 when jason attempted to write something on my leg. i'm a very shallow sleeper and unless i'm plastered, the smallest sound awakens me. they did succeed in making doodles on nearly everyone else: niko woke up with whiskers and sperm cells circling his nipple; jun was completely pockmarked; mike had a snake and a scrawny woman on both legs; kuya mar had shit on his feet. never get drunk in the company of 2KX because you'll end up a graffiti wall. at least now they aren't using permanent markers.
we dropped by the beach briefly and had to leave with kurt in the afternoon. which was a good thing since he would have gotten lost without my sense of direction. before 8pm i was already back in makati, and after a while, i stomped my class against xenon in back-to-back rounds of words with friends (a scrabble-like game) on my iPad. it truly was a good sunday. i mean tuesday. what day is it anyway?