my arms hurt after about half an hour
the highlight of my visit to boracay was the hour that i assisted canada-based photographer stuart dee in a sexy photo shoot of christine, who in her prime posed for playboy magazine. now nearing 40, she is coming out again on what she called FHM, or fucking horrible mothers. of course she was joking, not about the part that she came out on playboy, but about the magazine where the photos are going to see print. how i got the job of reflector boy can be attributed to the fact that i was nosey, and happened to be at the right place at the right time. i was walking along white beach at a little before 5pm, looking for things to photograph. there wasn't much: the sky was somber, the water cold, and the wind, chilling. it wasn't strange to see people walking on the beach in a sweatshirt. and then i saw this shoot taking place. the girl who was assisting christine looked familiar: she worked at the massage place right beside my guesthouse, so i nonchalantly asked her: what's going on?
"ate, lumalabas nipples mo"
without hesitation, stuart turned to me and said: could you please hold this reflector? i raised my brows momentarily, and said, sure why not? i didn't know i would be part of small commotion. after less than 10 shots, christine removed her bra, and i was like: oh, she removed her bra. people gathered in front of us and took pictures. since few of them got really close, i was pretty sure some part of my body, if not the huge reflector, was also included in the frame. pretty soon, i wasn't sure whether i should be proud at being this close to someone who was nearly naked, or be ashamed that i was actually part of something that was a little too titillating.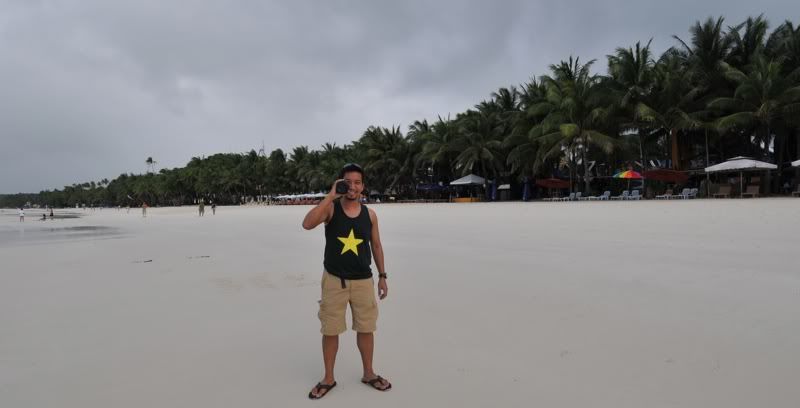 how i put my 3kg tripod to good use: self portrait
nevertheless, i performed my task as reflector boy with dignity, stuart was almost embarrassed to realize afterwards to find out what i finished in school. i said to think nothing of it, and that i was happy to have picked up a few tricks about how to talk to your model. stuart is going to have a talk about travel photography in next week's photoworld manila, and i'm glad to have been given a brief workshop for free. i learn best by osmosis, and i wouldn't mind being made assistant in a shoot by another photographer more talented than i am.
the macbook pro wasn't part of the nightly tariff
the other highlight of course were the two nights at summer place where i seemed possessed or drugged or both. i decided against bringing a camera altogether, partly because i didn't want any of that documented, and partly because i wanted so much to not worry about anything. i was hoping to get really plastered. besides, taj guesthouse where i stayed -- which isn't too shabby, really -- was only two cartwheels away. i may have struck a nerve with several people there because quite a few asked to dance with me, asked for my name, asked for my number, asked for my email address, asked to be my friend on facebook. all that because i shed all inhibitions, and didn't care if i looked like a freak. because it really was a circus out there. at least now i have contacts between marikina and maguindanao, the netherlands and taiwan. in fact, this guy from taipei is involved in exporting bikes. he offered to sell me a bike at cost. how good is that! yes, i'll take that award, mr. congeniality!
extra whipped cream please
boracay really has transformed since the last time i was here. one of the oddest things i found there was starbucks. but then again, it shouldn't be such a surprise because you already have pancake house, shakey's, mang inasal, andok's, etc. it's a very urban place: except there's lots of white sand and palm trees. walking along the beach, i found several people sunning themselves while fingering their iPads and kindles. wi-fi is widely available, so i really didn't just stay inside my room. i was outside, digging my toes into the sand, and twittering away. and although the weather wasn't at its kindest while i was there, it also had a sense of humor. finally, after days of gray, there was a lot of blue on the day that i was to return to kalibo. i don't know if it was bad luck or irony smiling down at me. but i guess this just means i should be back again, when the weather is better. there's next year's ati-atihan.