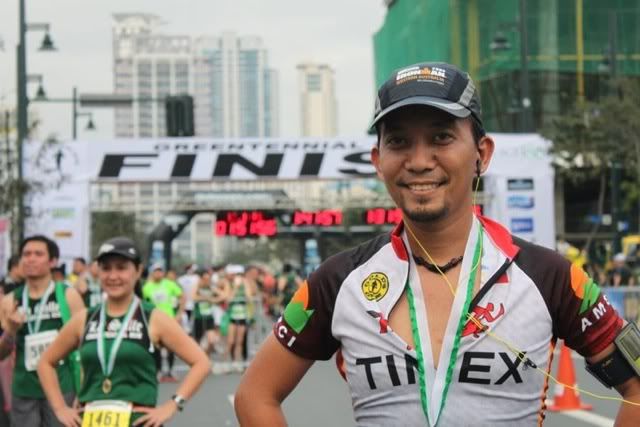 team timex represent... or maybe not
why is it that when i talk about my race results, i normally proffer excuses and alibis for not meeting goals, for not performing according to even my own expectations? probably it's because i am seldom at my best at race day. when i predict how well i would do on any event, i base it on how i've done in the recent past. so i set out to do a 1:35 15K at the greenetennial run at the fort last sunday.
i had already done that distance last year at 1:33
, and just two weeks prior,
i did 16K at 1:41:55
. it clearly was possible. but i hadn't accounted for many other things: that more than a week prior to sunday, my only exercise consisted of wild dancing on the
streets of kalibo
and in the
sands of boracay
. i did attempt a beach run, but the tide was high that afternoon, and the slope was steep, so there was more pressure on one foot, compressing my liver more than the usual, resulting in one of the worst side stitches i had in over a year. also, i am hurting in the region just below the right knee, and the pain became profound during that sunday.
with the delicious ail ty
there were other factors that affected my run: although i managed to decline every invite to go out the previous night, all the anxiety got to me, and i ended up without sleep. i was just rolling around in bed, imagining a good run. i had already dressed in my running attire, and i may have ended up embarrassing timex as i donned the bike jersey i got before christmas. i decided against wearing the cheap singlet that la salle included in the race packet. for the benefit of the one la salle scholarship fund, the greentennial run had a lot of new gimmicks: RFID timing chip that didn't have to be attached to the shoe, live race video coverage, a separate contest for photographers, jump shots, point and look back shots... la salle's students and alumni have such novel ideas, really. but they should've just invested on a good shirt. i hardly ever wear the event shirt, and i've been asked why: i don't want to burn my nipples. so many event organizers seek to make a bundle out of a race, and they scrimp on a good jersey. so unless it's a
KOTR adidas singlet
, i'll wear something i've worn before in an actual run.
so other than the general lack of practice, no muscle memory, lack of sleep, and pain radiating from just below my knee, i once again encountered gas. it really is an awful, uncomfortable feeling: having something inside you bounce with each stride. it's heavy and could even be a little painful. in running, i've had my good days. and i've had my bad days. the last 5 kilometers last sunday was one of my worst days! i was still doing good the first 9 kilometers of the race. up at the kalayaan flyover on the return, i was doing fine, still within my personal cut-off. but when i got down back to BGC, it was a struggle to even jog.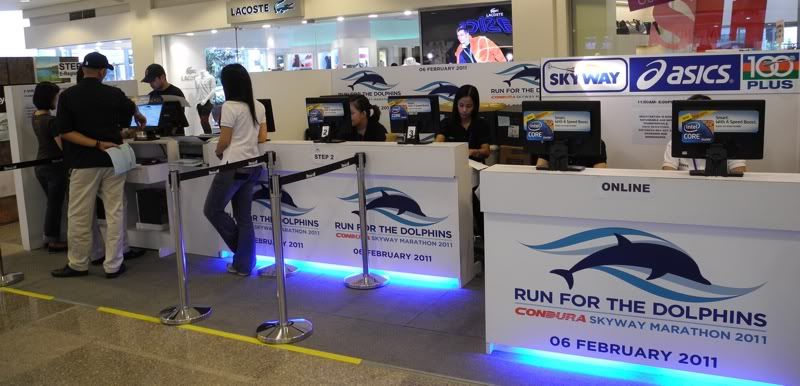 online and electronic registration put the condura run many steps ahead of other races
the outcome of my poor performance at the greentennial run is this: against everything i know to be reasonable and sound, i registered for the 16K category of the condura skyway run for the dolphins. i was not eager to join due to the prohibitive price tag (considering only P50 would go to the conservation of dolphins in bohol -- the standard chartered marathons in SG and KL are even cheaper), the shirt which doesn't come in all sizes (so what if it was designed by team manila? for the standard chartered race in SG, i actually got an asics singlet), and also because i have to be in tagaytay that same sunday in the afternoon. but i was so frustrated by how just 5 days of vacation could result in such a bad run. lesson learned here is that there ought to be no rest for the wicked.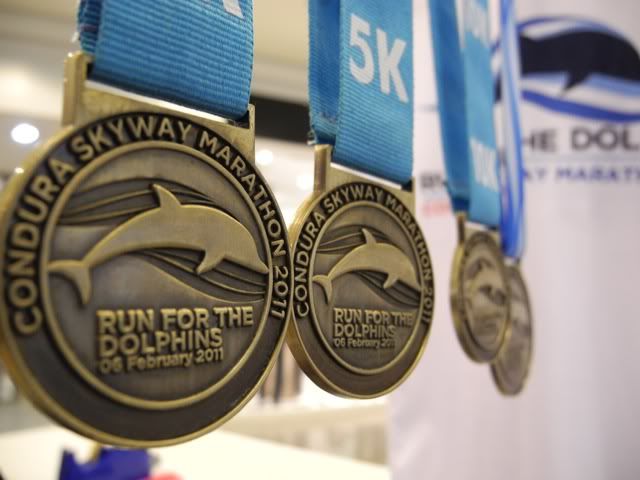 race medals are for underachievers who didn't get any in school
but sometimes i want to rethink the reasons why i run. certainly it isn't to reap awards, or to collect singlets which i don't wear, medals hammered from cheap metal, or crumpled race bibs that collect dust. i run because running is part of my lifestyle. i do it to keep fit and to keep my heart beating, and keep myself healthy. but i have heard of very sudden deaths of people who supposedly lead very active lives, not few of them marathon runners. i begin to wonder whether my choice of sport and exercise has any significant contribution to my well-being. just before christmas break, a colleague forwarded an e-book which criticized all forms of extended aerobic exercise, particularly running.
last year, i met two friends from long ago, a married couple. i was most surprised to be told that dan (not his real name), who is maybe only two years older than i am, and who ran more frequently than i used to, had been operated on. he's now partly bionic: a pacemaker was installed inside his chest, whose function was to "jumpstart" his heart with a mild electric shock each time the heart rate went below normal. it's like having a built-in defibrillator, whose battery only needed to be replaced every 5 years or so. he had become so athletic that his resting heart rate was alarmingly slow. this really disconcerted me. i was concerned not just for my friend's condition, but for everyone else's. what is our guarantee, that all this exercise will help in extending our lives, or if not, in making sure we are far away from disease?
much unlike certain things, there is no warranty on life. there is no guarantee that any of us will live past the next day. regardless of how much we invest in our health and well-being, how much we plan the future and organize our calendars so that we can find time to do all the things in our always changing lists, we can never tell what the future holds. if there is one. that is why although i often think about tomorrow, i try not to let it get in the way of living today. i do these things even when there are no assurances because they make me feel good. so i rest in the knowledge that i have seized the day, that i have sucked the marrow out of life, and that i shall not regret anything.