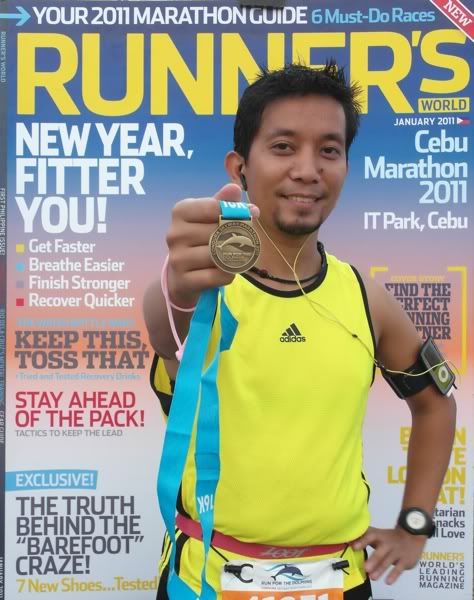 let me disabuse you now: this isn't a real magazine cover
the area just below my right knee hurts, and it has already been 9 days since my last run. the pain isn't debilitating. i can still walk properly, although i couldn't help but fear that my knee would bend the other way. i first encountered the pain immediately after i ran 16K at the condura skyway marathon the sunday before last. i had lowered my expectations for the race. 1:45, i reckoned, given lack of sleep from the previous evening's
high school homecoming
, and lack of practice due to pains associated with using a different set of muscles running barefoot. and i am happy to report that i met my goal. i finished in the top 295, with an official time of 1:45:33.

i was not supposed to run this year's condura run. i found the price tag a bit prohibitive. i forked over P1,050 for my category, which is kind of atrocious since i paid much less for the half marathon category of the standard chartered races in both
singapore
and kuala lumpur. i've been told that it's for a good cause, but if you read the manual closely, you'd find out that only P50 actually goes to the dolphins. a huge portion probably went to paying the skyway, which lost a significant amount of business that sunday when it closed both lanes to traffic for over 5 hours. but then again, if you have over 13,000 runners participating in the event, then you'd collect over P650,000. that can do a few things for these intelligent creatures, which i am told, like man, have sex for fun. still,
run for change allocated P100 to your choice of charity
.
waiting to get a back issue of men's health
after about an hour's worth of sleep, i got up and jogged to ayala avenue. in this year's edition, the 10K, 16K and 21K racers start outside of ayala tower 1. which is brilliant, i think because then we could cover more of the skyway, unlike if it started in BHS. also, it introduced us to the amorsolo ramp, which is steep. apparently, other racers were critical of the different venue for the race start, but i think these are participants who drove cars. of course it was inconvenient for them since they parked in ayala and ended up in BGC. i didn't mind it at all since it made for a much more interesting race route. also, it was very well organized. i didn't encounter any choke points (unlike in SG), and the hydration areas on both sides of the street was a stroke of genius since i didn't bump into oncoming traffic.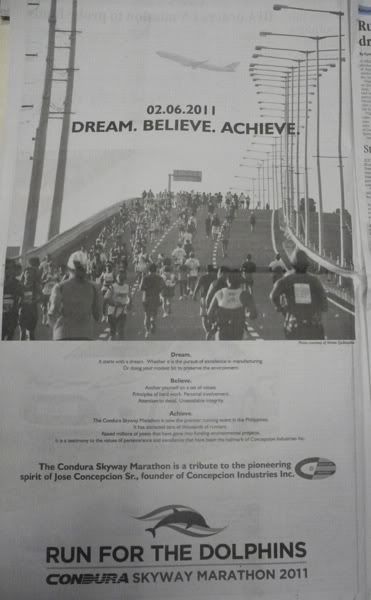 previously seen on the front page of the philippine star; last sunday, it was featured in a full-page splash in the pages of the philippine daily inquirer
i ran rather well in the first 11K of the race, until the time i encountered elvis on the skyway. i began to slow down due to general laziness more than anything else. i could not attribute it to any pain. i was even thankfully spared the usual gas. but i trotted for a few hundred meters while along buendia, and was very tempted to walk parts. i struggled against that longing, and picked up speed when i turned towards 9th avenue (whose surface didn't seem to be appropriate at all for running). i sprinted my last 200 meters and finished in the time that i had envisioned. had i caved in to my own lack of industry, i would have missed my goals again, and it would have been the third time this year.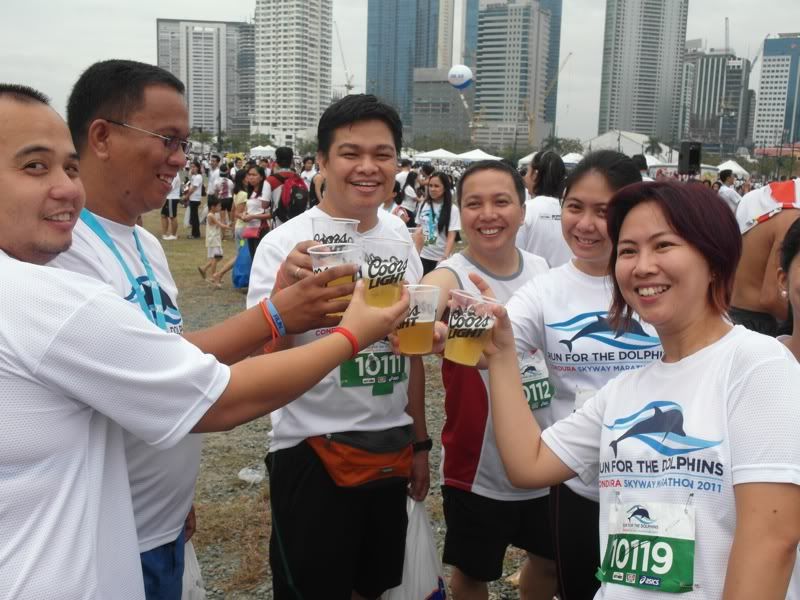 the calories in beer make it a good post-run drink
immediately after the race, i wandered around the condura village, lined up for a magazine, had a photo taken on a poster (and made it look like an authentic magazine cover), claimed my bag, had a glass of coors light beer, and claimed my loot bag. they handed me my finisher's medal and a few goodies in a white plastic bag. i had to be reminded that this race was for the conservation of dolphins, and yet, they contributed to
one of the causes for dolphin deaths
: the ingestion of plastic bags thrown into our oceans. it was a huge irony for me. in both the
bull run
and the
greentennial run
, we were given environmental reusable bags which require less carbon to make, and are more recyclable. of course you can reuse plastic as well, but the process of making them is far less environmental. and besides, the non-biodegradable material has many adverse effects on the environment.
friends from tri-clark show off their plastic bags
i refuse plastic bags as much as i can and bring my own bag to the grocery, and the rest of the civilized world is reducing the use of plastic bags, or banning them altogether. so getting a plastic bag in this event made me think that the advocacy was kind of shallow, or at best, misunderstood. certainly you can argue that making plastic bags isn't the root of all evil. it's the irresponsible disposal that's to blame. but if we want to make changes, we have to also shape people's habits. handing out an object that for many is synonymous to pollution does not at all contribute to your intended objectives.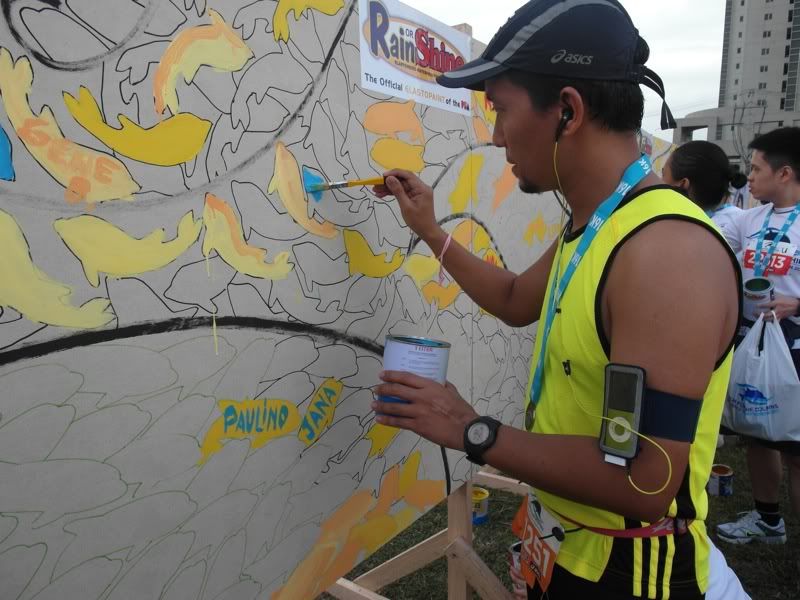 artist in residence: painting blue dolphins
i ended my stay at the condura village by painting 3 dolphins at AG saño's wall. he wanted to set a record for the most number of dolphins painted. with the help of volunteers,
AG has been painting dolphin murals in protest of the slaughter in taiji, japan
, and he achieved his goal of painting 23,000 dolphins across hundreds of murals during last year's UP lantern parade. but he continues his advocacy through art because the slaughters continue. right now i'm not primed for a run anytime soon. i better have my knee checked, and i can only hope it's nothing serious.