by lunchtime of sunday i had been completely awake in excess of 24 hours. i left home the previous day, about the same time, to rendezvous with friends en route to bataan. we drove through NLEx and SCTEx under sheets of rain. if the weather keeps, mannie told manny at the time, then this'll be a cinch. but that painfully sunny sunday was the total opposite: not a strip of cloud was present in the sky, and the wind was conspicuously absent. we were waiting outside our rented van along a dug up portion of the national highway in pampanga. passing cars blew dust into our faces, and i was busy heating a salty batch of chicken and pork adobo. we were somewhere past the kilometer 80 marker, and our friends had covered the equivalent distance of nearly two full marathons.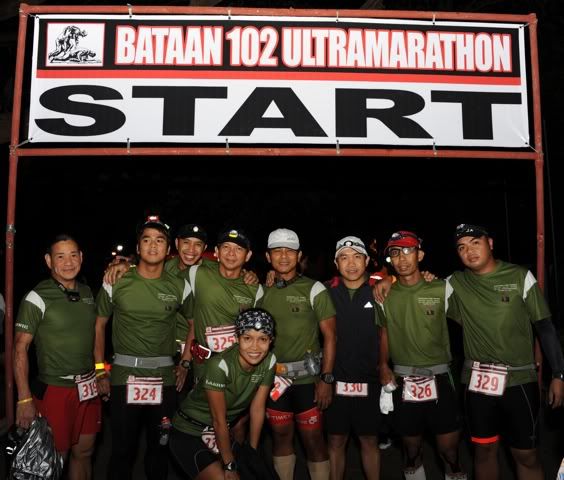 the ordeal started at a few minutes past 10pm the previous saturday, at the kilometer 00 marker in mariveles. a little over 150 people were decked in running shoes, reflectorized vests, and headlamps to embark on a 102 kilometer race to san fernando, pampanga for the 3rd bataan death march ultramarathon: both a competition and a memorial run for the war atrocities committed by the japanese imperial forces against american and filipino soldiers and civilians following the fall of bataan. i had 10 friends participating in the event, all of them positively crazy. crazy because i cannot even get myself to training for a marathon, and yet here they were, eager to do two fulls and a half. crazy because they were stretching the limits of human endurance. crazy because they had gotten me to help them finish the challenge.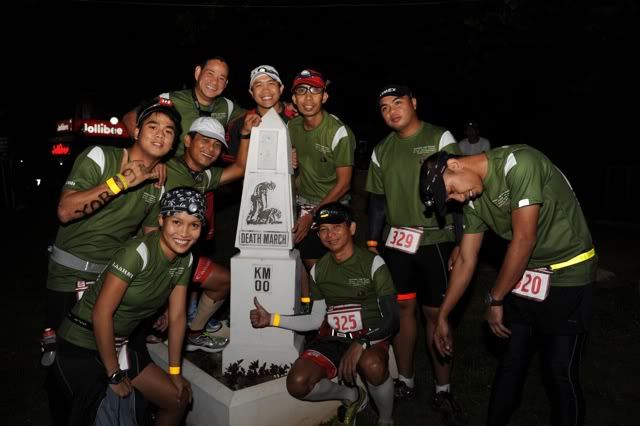 after the singing of the star-spangled banner and the national anthems of japan and the philippines, the runners went off for an easy trot towards the 102 km marker. the first challenge was a winding, uphill battle towards kilometer 7, where we first waited, loud music blaring from a mobile speaker, and ready to hand out serving portions of cold water and gatorade. shortly before the race, we organized ourselves into an efficient assembly line, preparing nutrition and packing hydration into easily-accessible single-use plastic bags which we picked up along the route when our runners dropped them not far from where we waited. we were screaming and dancing each time our runners arrived and we wondered whether we would manage to sustain the energy till late in the afternoon of the following day. under cover of night, we scheduled our stops every 5 kilometers or so, and readjusted when the sun came out at kilometer 50, where our runners had a steaming cup of noodle soup and a 10-minute snooze. and precisely at this time, their burdens multiplied: they had to share the road with more vehicles, some of them marauding provincial buses who normally have no regard for pedestrians, much less for those running on the street.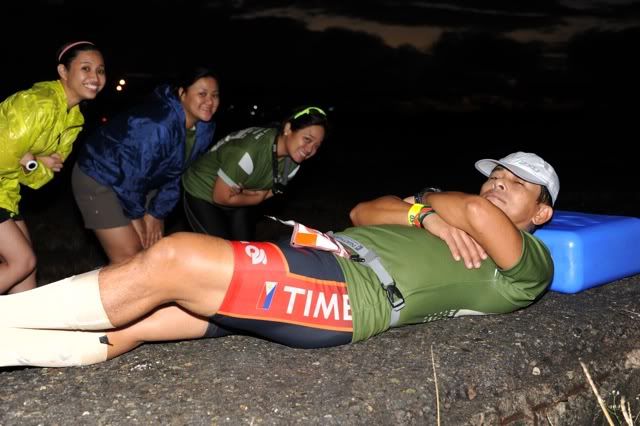 with the exhausting heat drying up our runners' reserves, we adjusted our strategy and scheduled stops after every 2 kilometers. eventually, we had to assign nelle to another car since her boss, rienzi, had gone ahead, leaving us behind by at least 10 kilometers. it was going to tax not just the driver, but us, if we had to get ahead of him, and go back again for the two mannies. this would be the cumbersome routine we willingly submitted ourselves to. every few hours we stole a nap inside the van when our runners weren't stuffing themselves silly with isotonic drinks -- at one point manny had complained he had gotten bloated from overhydrating. but it could not be helped -- it was just extremely hot, and they alternately poured water on their heads or chugged a bag to ward off a cramp or a blackout. by 2pm, they had significantly slowed down, slow running in spurts, and walking kilometers at a time.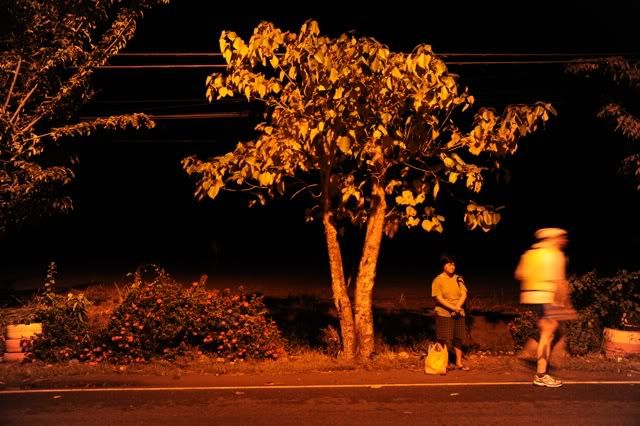 the BDM ultramarathon is probably the worst-organized race i have ever seen. it has strict rules about not assisting runners, requiring them to run on the left side of the road against oncoming traffic. but there is absolutely no way any of that could have been monitored. at the starting line, they had put up a pathetic arch, and the organizer carried only a megaphone to make announcements. throughout the course, which for most of the route followed the national hi-way, and only seldom sauntered into municipal roads, there were hardly any marshals, except at 4 or 5 checkpoints where they handed out multi-colored bands. there was even no way the organizers could have confirmed if the runners had not received any form of assistance, whether they hitched a ride for part of the route, which major jun complained about rather vocally.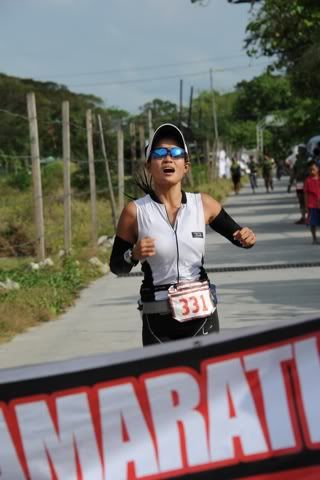 despite having paid a hefty registration fee, the runners had to provide their own logistics: a vehicle, a driver, a support crew, refreshments, food. i was thrust into the race at the last minute, obviously enticed by the nice green shirt. rienzi had funded the entire thing: the runners just had to bring in their legs, and drag them, if necessary, all the way to the finish line. if there was any good that came of the event, it made me want to read up on the history of the BDM. all i knew is that a march took place. how, when and why, either i could not remember, or was never told. my own research resulted in a short write-up which got published in AMCI's yahoogroups (see below).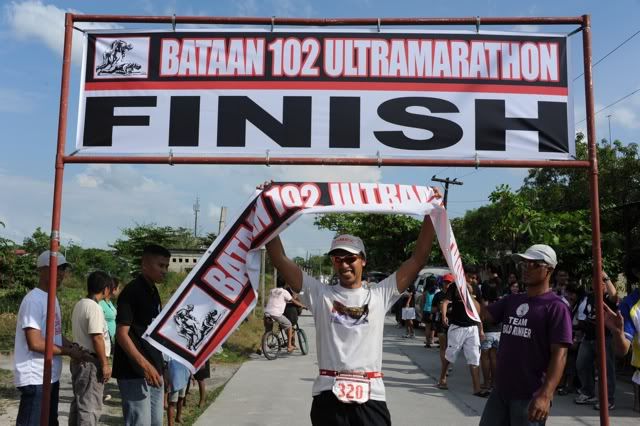 the other good thing about it is that it got me interested in ultramarathons. not that i have imagined myself participating in one -- i most likely never will -- but that i picked up a book about it. i'm now currently reading "born to run" by christopher mcdougall, an account about a hidden tribe of superathletes: the tarahumara in mexico. i'll talk about it in more detail some other time. as of now, i'm already prepared to support a new batch of friends who want to elevate their status next year and distinguish themselves from all of us, and be dubbed ultramarathoners. and finally, let me just say that i never knew there were countless delights in being part of a support crew.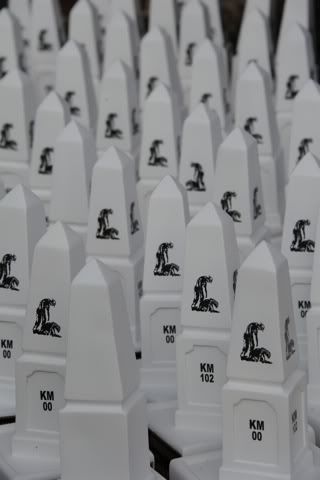 Nine (9) AMCI members have just stretched the limits of human endurance by successfully finishing the Bataan Death March 102KM Ultramarathon over the weekend. The race started at precisely 10:09PM, Saturday, 05 March 2011, at the KM 00 marker in Mariveles, Bataan and ended outside the old San Fernando Train Station in Pampanga, the site of KM 102, the afternoon of the following day.

In April 9, 1942, now remembered as the Fall of Bataan, Major General Edward King Jr. surrendered more than 75,000 soldiers and civilians to the Japanese Imperial Army. This sparked the beginning of what has been described as one of the worst forms of atrocities to have been committed during World War II. Out of all those who began the brutal march, only around 54,000 reached San Fernando. It is difficult to account for the precise number of deaths, because some managed to escape their captors. But thousands of Filipinos and Americans died from exhaustion, disease, starvation, disembowelment, and decapitation, and many more perished under inhuman conditions when they were ferried into box cars and at Camp O'Donnell in Capas, Tarlac. The forcible transfer is considered a war crime, for which ranking members of the Japanese military were tried and punished.

The BDM Ultramarathon remembers this bleak moment in our history by tracing the same route that was traveled nearly 70 years ago. The following AMCI members can now rightfully claim that they are not merely long-distance runners, but ultramarathoners, having finished under the requisite cut-off time:

Rank Name Time
27 Romulo Doctolero (97) 14:36:05
54 Rienzi Del Rosario (2k2) 16:00:40
62 Manuel Dela Serna (2k7) 16:25:22
63 Francis Randy Hortellano (2k9) 16:27:18
71 Barry Red (2k9) 16:54:12
85 Emmanuel Torralba (87) 17:20:20
89 Oliver Templo (2k7) 17:25:44
98 Laarni De Guzman (2kx) 17:30:50
101 Fernando Cunanan Jr. (2kx) 17:37:28

AMCI's ultramarathoners endured sometimes inhospitable conditions along national hi-ways and municipal roads to finish the race with pride and dignity. Deprived of sleep and a proper meal, they fought off fatigue, muscle cramps, sunstroke, sidestitch, and in the case of Oli, an uncooperative stomach, to achieve what only few of us can even begin to imagine.

In a race with barebones logistics, the runners' fellow members from AMCI provided support one might expect only from devoted friends, handing out hydration, nourishment, liniment rubs, dance numbers, and documentation. AMCI salutes its newly-minted ultramarthoners and their cheerful and energetic supporters.

Trivia:
* This is Fr's second BDM Ultramarathon. FR decided to join only 20 minutes before the start of the race, his main purpose being to support fellow runners.
* Inductee Darwin Maramot made a valiant stand all the way to KM82.
* AMCI's runners were part of Team Pedro, a composite team of elite runners from the Philippine National Police and TMM-Timex's finest.
* Rienzi's grandfather, Pedro Bravo Tan, is a survivor of the Bataan Death March.
* Three (3) of Team Pedro's runners finished in the top, ranking 1st, 2nd, and 5th.
* April 9, which marks the Fall of Bataan, is also known as the Day of Valor, a national holiday in the Philippines.