this seems like the best time to write this story. i don't know how many times i've told this to anyone who may have bothered to listen, but i have never gotten around to writing it. i write it now because at the moment, more than 4,800 people can relate to what i have to say. i went through exactly the same awful feeling eight years ago when my intestines wrapped themselves around my stomach like a hive of constrictors coiling around an already dead prey. i felt gravely ill. it was one of the worst sensations i had to go through recently. i was playing games on the PC even though a pleading's deadline was dangerously hovering over me like a newly-sharpened axe. but what i anticipated was something far more dreaded: the results of my bar exams.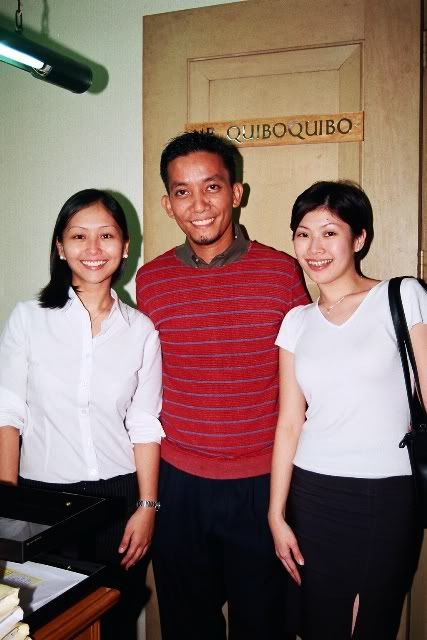 with summer interns at the pecabar, where i was briefly a junior associate.
it was february the 28th, 2003. i was a junior associate at the ponce enrile reyes and manalastas law offices in makati. and i was waiting for news. i had no basis to know whether what i would receive later that day was good or bad. one of the partners had just returned my pleading with numerous corrections, but i let the document sit on my desk untouched. i caught my cheek with a limp fist and took online tests. someone came into my office and tapped me on the shoulder, and said: it's going to be okay.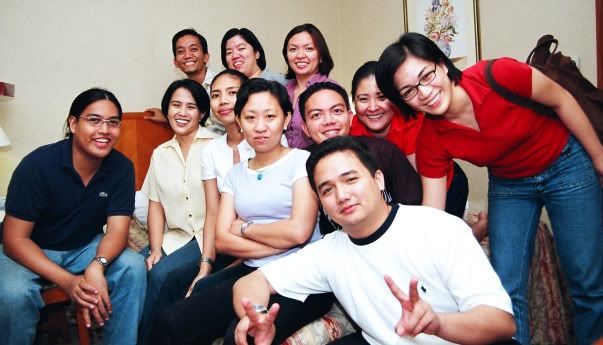 my law school barkada. several of these lawyers are now distinguished in their own way.
i've been lucky all throughout law school
. i'm not the most studious person i know, and i've preferred sleep over finishing readings, but i've managed to pass all my subjects, if not because of the forcefulness of my arguments, then the beauty of my handwriting. but studying for the bar was breaking me, revealing the gaps in my style, exposing the sham that was my luck. all throughout my review, i've showered my mom with complaints: that i don't understand anything, that i'm not able to finish my codals, that i don't know jack, that i don't remember shit. always she responded with a home-cooked meal. she knew exactly how to nurse my bleeding wounds. and she kept cooking for me the week i was taking the bar, when even at her best,
everything tasted like paper
. i had gone through reams of readings, and my mom's lasagna, her steamed chicken, her fresh lumpia, her empanada felt like everything i devoured each night while i was burning the midnight oil. it was a miserable time, taking the bar,
and the happiest moment was the last day
, when i walked out of st. miguel hall, into a noisy taft avenue, and a policeman shouted my name.
forward to five months later, i was going through the same rigmarole of thoughts and feelings. i kept entertaining what if's. i could probably deal with the embarrassment failing would deal me. but the cost of putting my life on hold for another year. i was unsure of that. i was not willing to go through it again. i wanted to pass, not only for myself, but also for my family.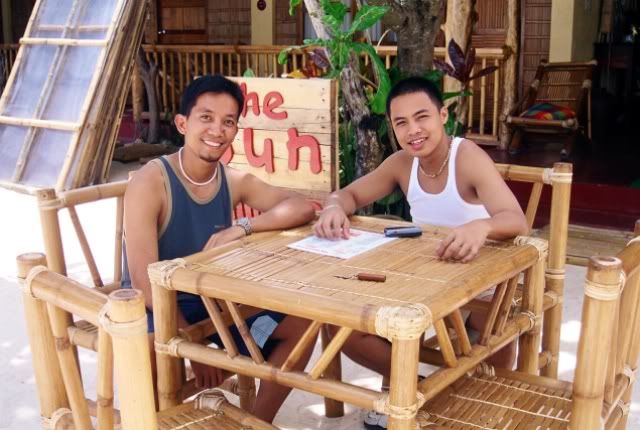 with jufil at boracay, a few months after we passed the bar.
towards the end of that day, my officemates -- four of them also awaiting the results -- were asking where i'd be waiting to hear the outcome: if i wanted to go to the supreme court or spend time with batchmates at the national sports grill. i picked the latter. my law school best friend jufil joined me. the mood at NSG was festive. everyone there was chipper and laughter filled the air. in stark contrast, jufil and i were morose. then we both realized that apart from the two of us, nearly all of those who had gathered there were either members of the order of the purple feather, or people who ranked higher than us at school. so we decided to leave, more because we didn't want them to commiserate with us if we flunked. we didn't want to dent their celebration when one of them found out he or she had topped.
so we asked ourselves: where would we be going? we finally decided to flock to the supreme court. but not too near. maybe robinson's manila. jufil had just lost his phone a few days previous, so he had no way to keep tabs on what was going on. we were silent in the cab, and each of us looked the other way. and then i received a message from my friend lowell. he said he passed the bar. i told the same to jufil, and we both said: ok. good for him. i didn't even text a reply to congratulate him. normally, i'd be happy to receive news like that. but since i was also anticipating similar news, i couldn't jump for joy. yes, a friend passed, but how about me?
when we got off the cab, jufil and i went to buy drinks at starbucks. while in line, ava called me up to ask if i had received news. my voice was heavy, and my words were dragging boulders. i said i hadn't. i suspected ava already knew she passed, but was sensitive enough to ask whether i had passed as well. she told me to be strong and be confident. but i was nearly as cold to her assurances as my venti frappuccino. just as i was about to take my first sip. i received a message from an unknown sender. it just said: congrats. i immediately told jufil this, but i said i didn't want to believe it. i didn't know who it was. well call that person, jufil insisted. then i received another SMS: congratulations attorney! still from an unregistered number. oh my gawd, i said. but still, i was not sure if anyone was just trying to pull a prank on me.
the third message that arrived within a minute of the last was the charm: it was from a lawyer friend who worked in the supreme court. i called her back to confirm: is it true? is it true? please tell me you're not kidding! i said, my voice close to shouting, if one could shout while on the brink of crying, or screaming. she said yes yes yes, congratulations! i made fist pumps inside the mall, knelt down and screamed, thank you Lord! oh my God, i kept saying. i'm unsure now if i did a cartwheel. a complete stranger came to me and said: congratulations. thank you, i replied. and while i was celebrating, there he was, jufil, disconnected from the rest of the world, standing not far away, his shoulders dropped.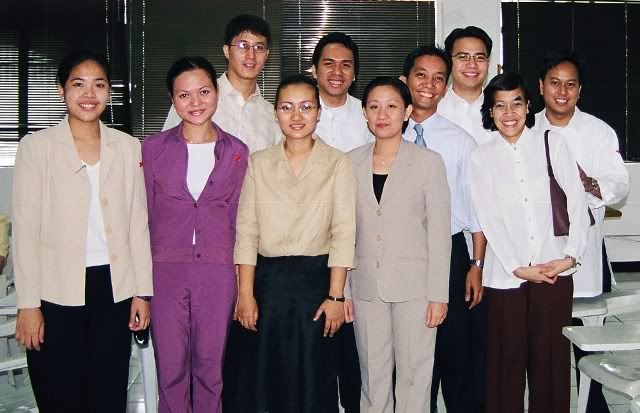 new lawyers are always beaming with pride. oddly enough, three of those pictured here are practicing in japan. see you guys soon!
when i went up to him, he whispered congrats best friend. he was completely sapped of energy. i told him: pumasa ka din, i'm sure. i wasn't sure. but i dragged him nevertheless to pedro gil so that we could check for his name. i had to literally pull him so that he'd move -- it was as if he had been planted where he stood. hindi yata ako pumasa eh, he lamented, and i cut him off. pumasa ka. pumasa tayo. i just wanted us to celebrate together. i kept pulling him until just outside the entrance of robinson's place. he would not take any further step. on the street, people were sharing sheets of paper. some were crying. many were celebrating. many more were heaving profound and collective sighs. i made a bee line for three people leafing through a list. i knew none of them, but i took the sheets -- rather rudely if i recall correctly -- while they mantraed: ay hindi pumasi si... naku wala si...
i quickly went to s. looked up siquian. bang. he passed. and i screamed from the top of my lungs, about 60 meters away: jufil, you passed! you paassssed! jufil leaped from the steps and bound over to where i stood and hugged me and we completely took the sheets from the three very sad girls. buti pa kayo, they said. of course, jufil had to confirm if his name really was on the list. i actually did the same. we both made it, and we walked merrily to the gates of the SC, not sure if any of our friends were there, but we wanted to celebrate. to gloat. to look up our friends' names. i called up my mom, and i choked as i broke the good news. i spoke to my entire family. my brother called me up. when she arrived, i twirled mynes around in a scene that to this day people describe as cinematic. we were all laughing and crying and screaming (and whispering when we couldn't find the names of people we knew).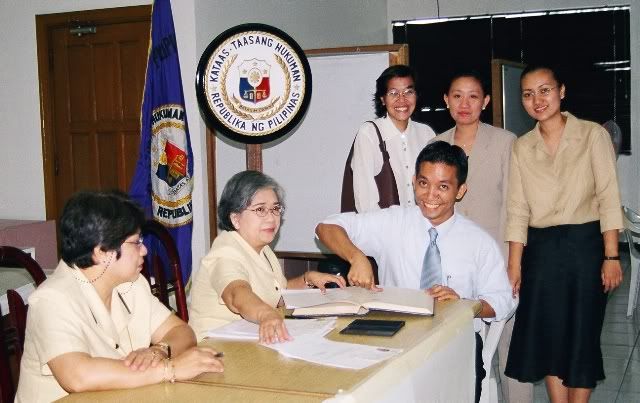 signing the roll of attorneys at the supreme court. behind me is atty. gamez who placed sixth in the 2002 bar.
it was the happiest day of my adult life. and everything else was downhill from there.
before this day ends, 984 people will be celebrating just as we did: at some bar, outside the supreme court, at home. someone will be interviewed for getting the highest scores. one school will have a year's worth of bragging rights. for the nearly 80% who won't make it, they'd have to endure more episodes of twisting intestines and uncertainty. good luck everyone, and may all your efforts bear fruit.