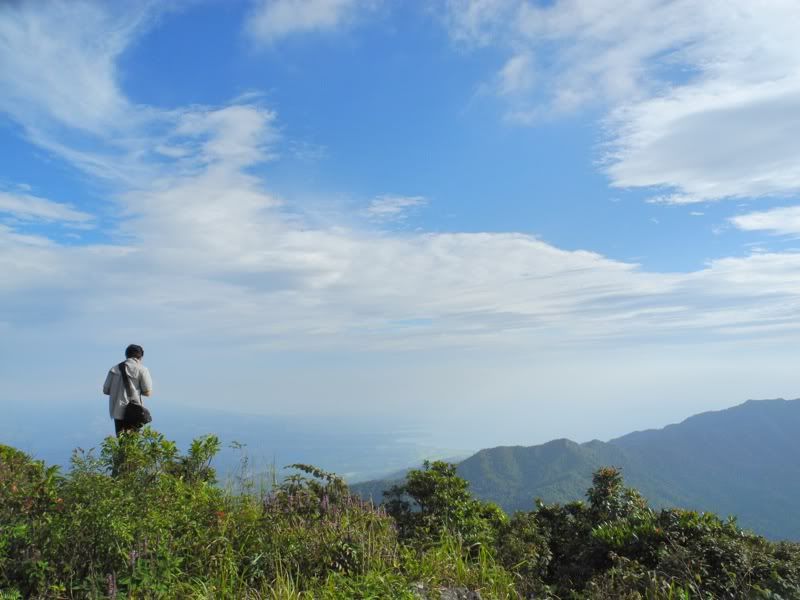 it was ernest who asked me, sometime in december, to organize a climb to mount natib. in the last three years, i had been there three times, and it has turned into some kind of annual peregrination on my part. i credit bojo for having taken me there first. the following year, leo, on christmas break from his MBA at babson, asked that we climb a new mountain. and last year, i took B2K9 and a few others up the mountain as well. but i had to tell ernest to wait a while longer because i've learned that the first few months of the year, while siberian winds were still blowing south, were not the best times to climb: the summit turns into a cold, dreary, and foggy campsite, without a hint of view. so i found an opening in my tight calendar just as we had transitioned to summer and hoped everyone else's schedule was not yet taken up.

since i've made frequent trips to this place, i've made adjustments to the IT and established a few contacts as well. i realized that it isn't necessary to take that rare bus to orani; any bus leaving for mariveles would do: just get off at the intersection that takes you to bgy. tala. there, mang louie's jeepney was already waiting for us. we had been informed that a large team of about 20 plus climbers were scheduled to climb at the same time as us, so i instructed my team that we were going to have to leave early, and trek faster than usual. which is not to say that we scrimped on having our mandatory breaks along the trail.

the road leading to tala from roman highway has undergone a recent facelift. kingmaker and jueteng lord bong pineda, who owns a rooster farm in bgy. tala, has funded the concreting of the two-lane road. in fact, the first few minutes of the trek is filled with the charivari of 5,000 fighting cocks, all confused about what time of the day it was. the small sheds dot the slopes of a fenced private space, and even as the sound of cock-a-doodle-doos (or tik-tilaoks) fade, the trail continues its steady uphill rise. the path until battlefield used to be paved for 6-wheelers, but it has undergone some changes since they've realized that the dormant volcano didn't produce enough steam for a geothermal power plant, but it was obvious that workers were trying to make the dirt road more passable. the following day, on our way down, a tucson and a pick-up were driving up the path. mang louie said that prospectors were visiting the area, wanting to build resort homes somewhere. even mang gorio's hut had transformed: from a ramshackle house of light materials, it now has concrete walls and a zinc roof.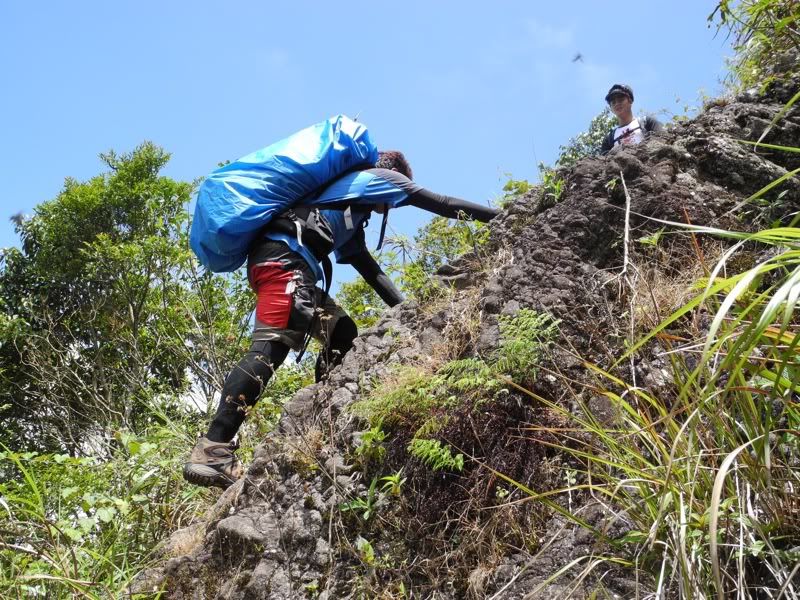 from mang gorio's, the path narrows and turns very pebbly. by this time, my foot was starting to hurt. my salomon hiking boots had mysteriously shrunk, and my left pinky rubbed against the toe box creating a hotspot. but we reached the battlefield way ahead of our itinerary. the vegetation was more green and less profuse the two previous times i visited. and there were also cows chewing on grass. but what we instead found was a wide brown expanse, where the stalks were taller than the tallest among us. when everyone had arrived, we agreed to skip lunch altogether and begin the assault: a 300 meter ascent to mount natib's summit campsite.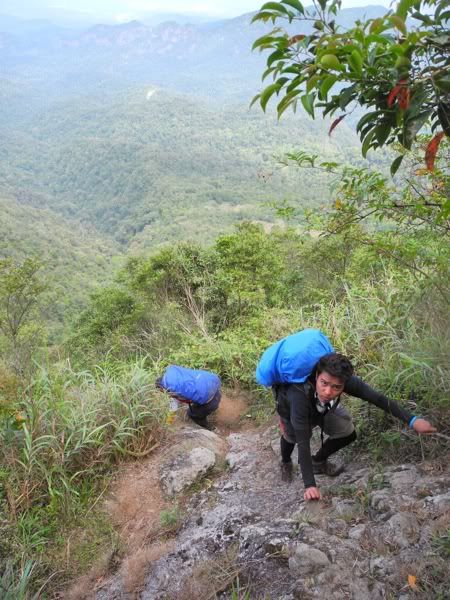 i had recently purchased a 12-meter rope precisely for this climb. there are portions of the ascent that were both very steep and slippery, the going down was more difficult. however, i found it unnecessary as nameless good samaritans had tied permanent lifelines in these crucial areas. going up, the mountain's flora turns interesting, and there are frequent signs of animal life along the trail, like civet cat poop and birdsong. there are also parts where the view is amazing, and you can see all the way to subic bay and its mountains. in slightly over an hour, we reached the campsite. the group of 5 who had gone ahead of us was already there, pitching tents under the 1PM sun. we just put up a parawing and took cover while howling winds blew clouds overhead. swifts sliced through the air, and birds of prey soared above us. the sun was blindingly bright over manila bay, nearly obliterating the view of mount samat and the mariveles mountains in the north.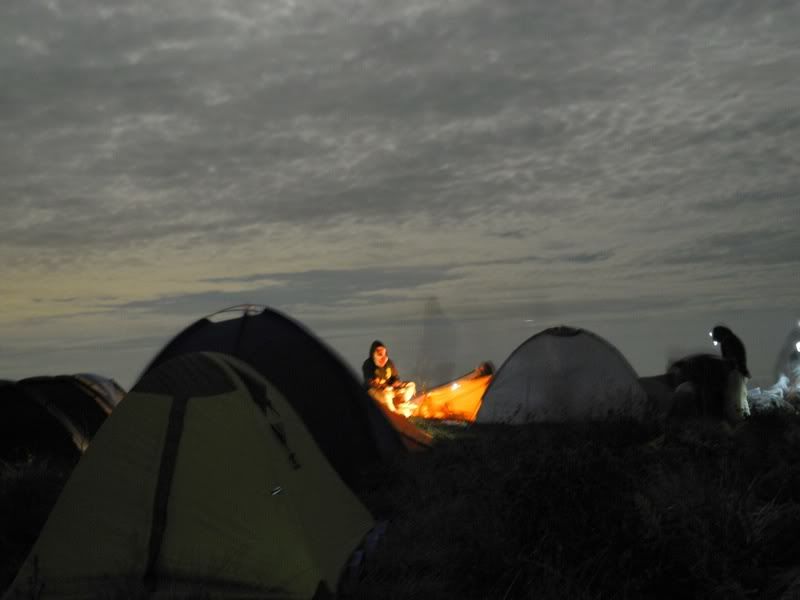 after a while, we cowered under the parawing for a snooze, finding it difficult to believe that it was bitingly cold despite the afternoon sun. the wind was furious. somewhere in bataan, jason was trying to find a way up the mountain. just before 5, while the big group of climbers from parañaque started to trickle into the campsite, we decided to start pitching our tents. it wasn't long after that jason arrived and we could finally start on dinner, although we had started on the alcohol a few hours earlier. dinner was quickly served and very quickly gobbled up. soon after, we cleared space in the kitchen to start this ritual of passing a jigger from lip to lip as we allowed spirits to invade first our cerebral cortex, allowing us to talk and laugh about things that we normally would keep silent about. after a while, the alcohol traveled to our hippocampus, resulting in things we'd either forget or regret the following day. by the time we opened niño's bacardi oro, the ethanol had reached our cerebellum.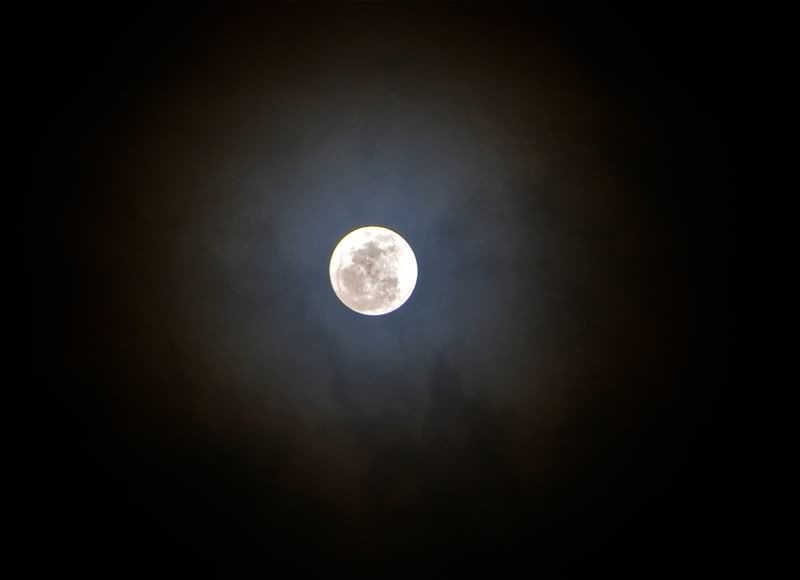 before any of this took place though, we howled at the full moon which shone brightly above us for a while after being hidden in layers of clouds. it was a supermoon -- a rare occasion when the moon was closest to the earth (perigee), and was full (syzygy), making it appear more than 10% larger -- although it has to my naked eye appeared bigger on other occasions, not necessarily while i was up on the mountains.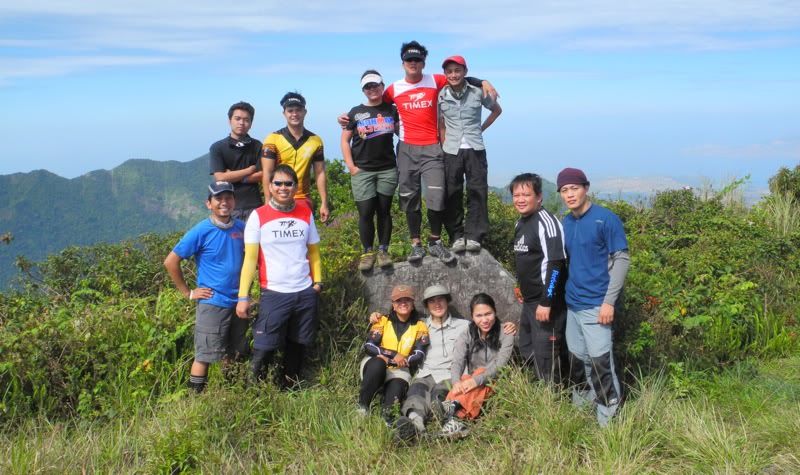 the next thing i realized was hearing some noise outside my tent. jason was heating water for coffee. we all woke up a bit late, served barely cooked rice, but had a fun time pumping our chests to ke$ha's "blow". we worried, actually, that the bigger groups might cause traffic in the descent, but we ended up leaving the summit ahead of everyone else. and this is where we realized that we had a situation: few of us had any water left. it could have been the miscalculations the previous night, or a case of the missing bottles, but we were beginning to feel like we were in a desert: our throats were parched and we were partially hallucinating.


when we reached mang gorio's hut, we collected water to pour over our heads, but some of us were so thirsty, we courted an upset stomach drinking from the suspect stream. either that or we faint. it was very hot sunny day. prickly even, and it was sapping us of energy. somewhere just after pinagbutasan, i took off my already painful shoes and started trekking in my slippers. water had collected in a small bubble of skin on top of my pinky toe. niño asked if were near. i said once you start hearing the roosters, then we're almost there. and about 200 meters from a hot lunch, we found an oasis: someone was serving buko juice and several of us had more than one cup. finally, at mang louie's, we had tinola and fried tilapia, and a lot of soda.

after all of us had washed up, we were ferried to the highway and reached manila before sunset to eat dinner at JC's. you can never tire of good company.