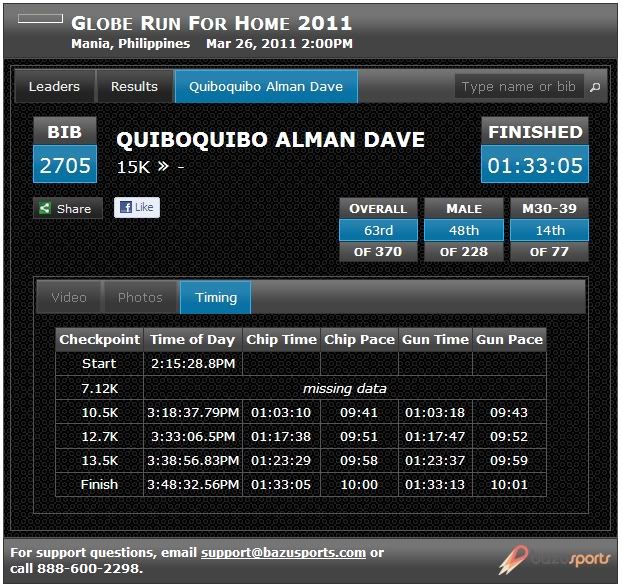 my new PR in the 15K distance


it actually crossed my mind to give up my race bib for the globe run for home 2011. since after the condura run for the whalesharks, i've endured some pain in the upper part of my right shin, just below the knee. the pain isn't so profound, but it does affect me in the strangest way: my gait has been clumsier than usual, and i tend to throw my right foot forward. as a consequence, i've had less training runs since then. in fact, between february 6 and yesterday, i only had an aggregate distance of slightly over 21K, spread over 3 evenings. so going into sunday, i was very concerned: i was far from prepared, and even much less conditioned, for the challenge, regardless of it only being 15K. i decided to not post any predictions. i didn't even have a goal, since we all know how i've failed in many previous ones.



i also did something drastic. i decided to wear my vibram five fingers KSOs for the race. i've owned the KSOs since june of last year, and have used them many times. however, my nike+ sensor isn't calibrated for them (or generally don't work with the VFFs), so i've been using them less since i was interested in documenting my training and getting accurate feedback about my distance and pace. so it was a brave move for me to switch, particularly because the longest i've used my KSOs has been 10K. and i've never used them in a road race. also, since i got the bikila last july, i've practically tossed the KSOs into a pile behind all my other shoes.

but i decided on this particular pair because the seam that connected the sole to the bikilas' soft uppers tended to rub against my skin and encouraged a hotspot, which i remedied by duct taping the arch of my foot. nonetheless, i've noticed that as i ran, the tape peeled off, making my soles candidates to two painful blisters. with the KSOs, however, i could wear toe socks, which was not possible with the bikilas which fit snuggly like a glove.



my training prior to last year's globe run for home, which took place on march 21, 2010


the first question that i get asked when i wear my VFFs is this: does it hurt? of course, they're not asking if the pair is painful to wear, but rather, is it painful using them in a run. the question stems from the countless years that we've been told that cushioning is an integral part of the running shoe. i've had my foot as well as my stride analyzed twice and i've learned a few things, such as that i have a low arch (nearly flat-footed in fact), i'm an overpronator on my right foot, and also a heel striker. my running shoes need to provide both stability and cushioning. apparently, all that we've believed to be right about the technology surrounding running shoes may be wrong. i have not had occasion to read anything in depth about barefoot running, but i had heard about it before i happened to walk by a stall in rockwell last year, and decided, at the drop of a hat, to purchase a pair. i'm not sure whether i need to read up on literature about it to be convinced either, because after having used the VFFs these last few months, i've come to the following conclusions:
the soles of your feet won't hurt at all. instead, other parts of your legs may hurt at the beginning: your calves, your quads, your hamstrings. it's because your muscles are getting used to a different way of running, getting used to being used differently.



you feel a strange connection with the pavement, the road, the trail. the VFFs have no cushioning at all, but this does not mean they don't provide protection. you become suddenly aware of the world around you as the soles of your feet begin to encounter textures which were alien in the past, such as cracks on the sidewalk, gravel scattered on the road, depressions on a tiled or cobbled street.



oddly enough, it is this "connection" which makes you faster. i've been consistently running faster by more than 30 seconds per kilometer when i wear my VFFs.



VFFs are ugly things which get stared at a lot.
despite these conclusions, i was unsure about my decision to wear my VFF KSOs on this race. at the time, i was debating whether it was a stupid thing to do. you don't change horses midstream. i should just stick with what i'm used to, the way i refuse to wear a singlet i have not worn before, or find it difficult to run when i'm without music. but early in the morning when i got up, i was inserting my toes into the VFFs, excited about running 15K.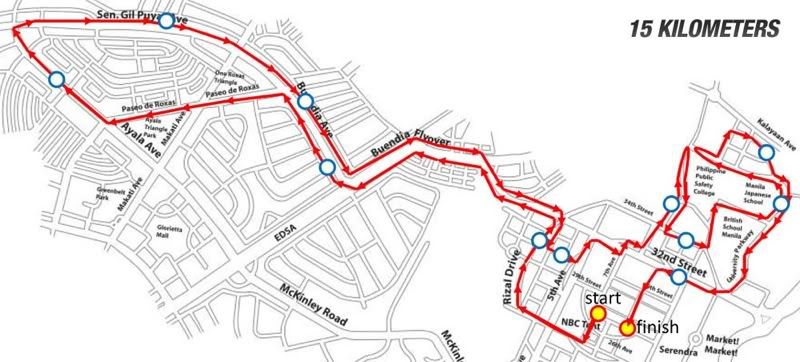 the race started at the BGC. i was actually hoping they'd repeat the previous year's race course, which began at paseo de roxas, alongside the ayala triangle gardens. i really liked that route: it was refreshingly different and less circuitous, unlike this one, which had us going in dizzying loops after you get down from the buendia flyover on your return. i really had no expectations of doing well at the run, and judging from my previous results in this distance, i was not about to break new ground. i just wanted to see how far my experiment would take me. it didn't help, of course, that my nike+ was giving me inaccurate feedback, so i just judged my performance based on the kilometer markers along the route.



when we turned right from paseo de roxas into ayala avenue, there were these call center workers having an early morning smoke. they were shouting cheers to the runners, which included me. "go kuya!" someone shouted as i passed and i acknowledged them by tipping my hat and saying thanks. they all howled and laughed for some odd reason. when i turned into buendia, the top runners in the 21K category just passed us. at about this point, i began a seesaw run with two women who may have been older than i am. i would overtake them at one point, and they would run ahead of me when i slowed down. i kept them within distance until i finally felt the first signs of my drastic change at the 12KM mark outside the manila japanese school. i actually felt heat instead of pain on my sole. but it didn't slow me down, i just realized, even after caressing the rough asphalt of the flyover, and skipping to avoid small pebbles on a portion of the street near the british school manila, that my feet had no cushioning.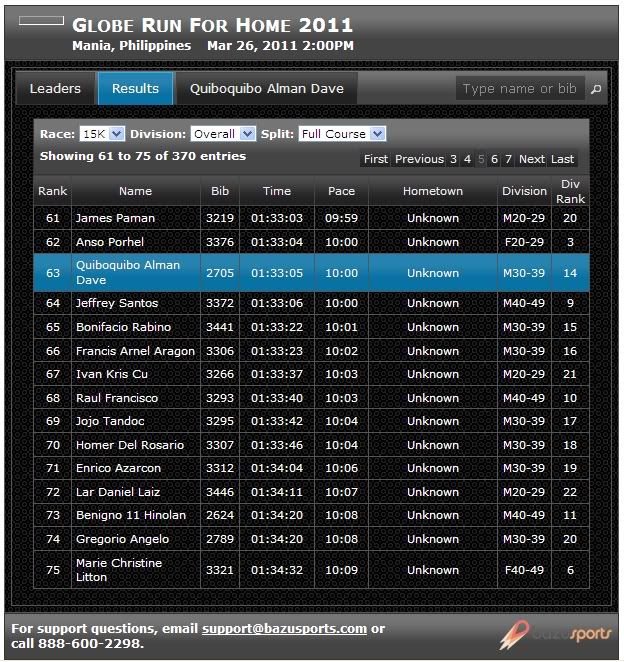 i had 3KM left, i kept telling myself, so it was something i could very well do, so i fought the urge to walk. it was also at this point that i decided to check my time. only 1:14 had elapsed since gun start, so i was well on my way to matching my previous record in this distance if i kept my 6 min/KM pace. i was feeling amazingly light footed at the time, and i sprinted the last 300 meters -- and the VFFs were not made for sprinting! nevertheless, i finished just a shade below 1:33, nearly a minute better than my previous time (although my official gun time is 1:33:05 -- i hope they release my chip time soon). while waiting to collect my loot bag, most of which ended in the trash bin, i pulled off my VFFs and slipped on my slippers. the KSOs were also not made for walking on gravel. or maybe because i just ran 15K and the nerves on my sole were a little too active. also, i've improved my ranking: i finished 63rd overall in my distance, 48th among males, and 14th in my gender and age category (male, 30-39). wow! better than last year's by a mile!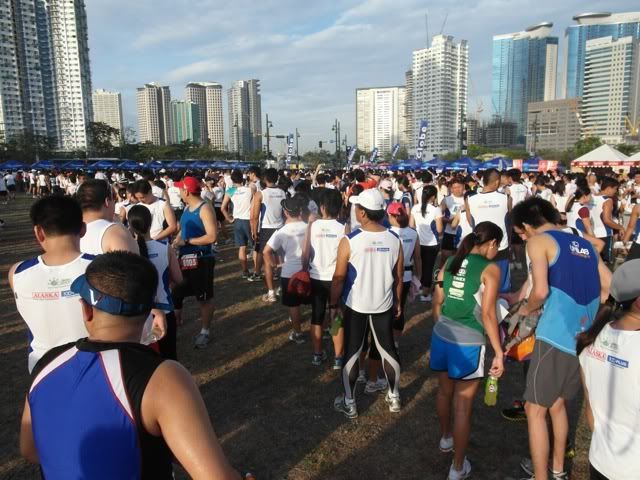 runners lining up to get a few useless GCs, some pills, and a bottle each of 100 plus, summit mineral water, and fit and right


i actually enjoyed the race and appreciated the fact that the volume of runners wasn't exaggerated -- it may have something to do with the fact that it's grossly overpriced. i only decided to run again because i found my pet distance in this same race last year, and i will be running more 15K's in the future. but i do sincerely hope that we can send a message to race organizers that we are well aware of the fact that they are enriching themselves at the expense of the running public, taking advantage of the growing enthusiasm with running.

the question now, it seems, is this: if i managed to establish a new PR despite lack of training using my VFFs, will using them more consistently while training yield better results in the future? should i continue to use my VFFs and become one of its few ambassadors? will my mind change after i finish reading "born to run"? we'll see. anyone who bothers to read the blog will know the answer.