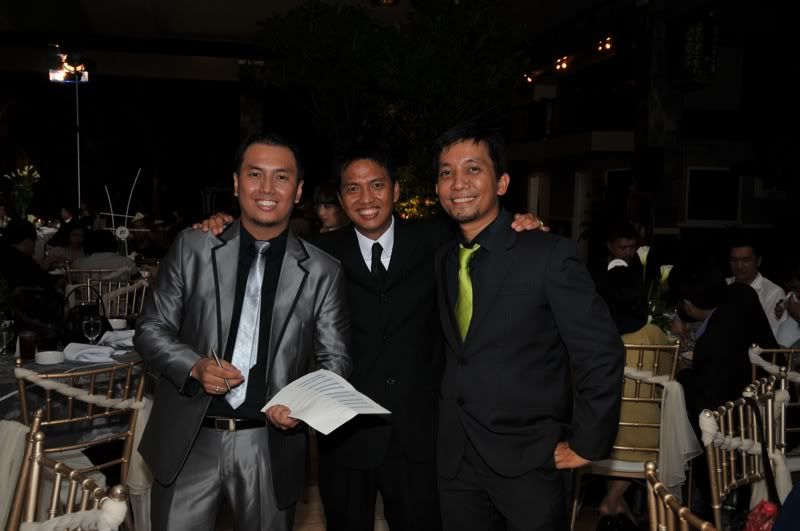 the brothers garcia: i've known norman since 1993, long before i met howard in 2008
i have attended 6 weddings in the last 8 months, and the mileage on my showpiece barong and charcoal-colored suit has been such that i no longer regret the initial investment: i've heard nothing but good praise about the intricate barong, if you consider these praise:
parang kakabugin mo yung groom
,
ang taray!
,
kumusta naman ang curlicues?
. the weddings have so taxed my barong that the intricate embroidery on the delicate fabric is starting to fray. the suit, however, is holding up, and will see not just a few more weddings, but many more formal events, although i do plan to get a second set.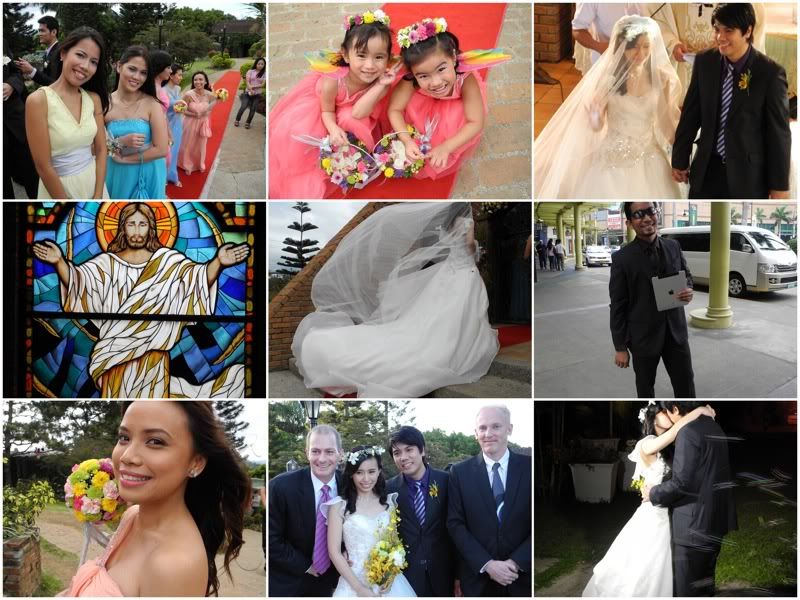 everybody pretty
the thing about weddings is the pressure on both the bride and the groom to be something they might not always be: for the bride to be ethereal and blooming and glowing and beautiful on her wedding day, and for the groom to be cool and calm and composed and relaxed when he walks the aisle and commits to a lifetime with just one woman. they both have to be these things for one day, but all days leading to this send bubbles of stress to the surface: there are the expenses, the guest list, the entourage, the venues, the clothes. the bride wears a dress that she only gets to wear once in her life -- and in all likelihood, this will be the most expensive dress she will ever wear, courting starvation just to fit in something that's smaller than her when she had it made.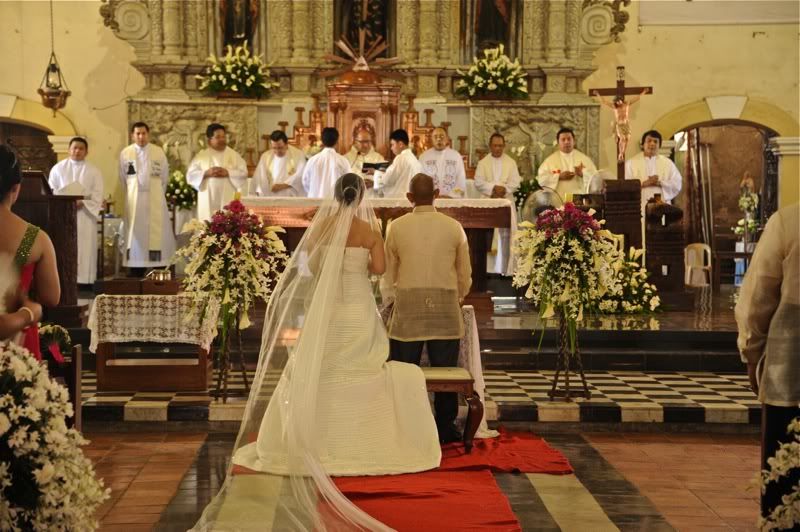 there are 9 priests here, one of them a monsignor
of course, i have not had any first-hand experience in planning a wedding. my participation has been limited to reading a passage from the bible, playing the part of best man to my brother, and hosting the wedding reception. and since july last year, i've cracked jokes at new couples 4 times already. i do this for free, and for friends exclusively. i've been asked many times if i'd like to do it professionally, but i prefer to host only the weddings of people i know. i think familiarity -- and even close friendship -- is what makes a wedding host (and perhaps even an officiating minister or priest) good and effective (well of course we assume that he's already eloquent). everyone else could be either too dry or downright comical. i just can't imagine hosting the wedding reception of strangers. how can i banter, share anecdotes, coax the audience to smile, or to even laugh a little? i might just get in a fight. my jokes might be seen as insults. not that they aren't, but they're usually veiled.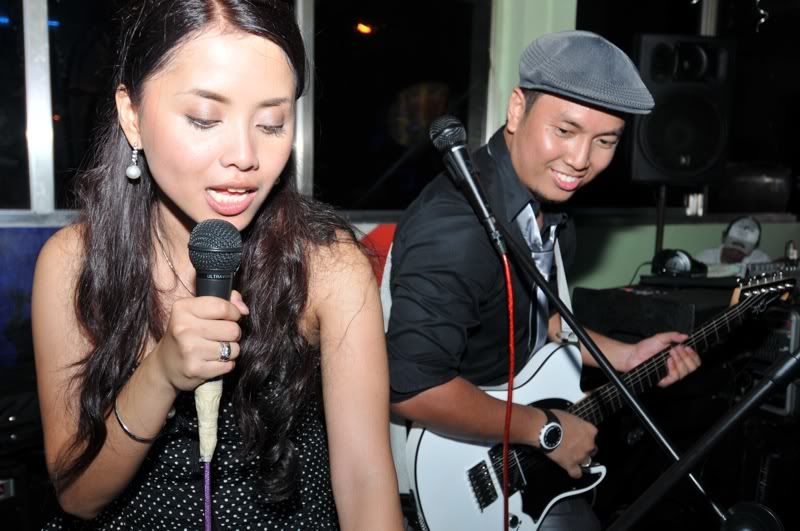 howard and ghera had a post-wedding reception party at a bar where we played music, sang, and got drunk
the first wedding reception i hosted last year was howard and ghera's. i did it on my own, which was kind of hard, because i prefer to have someone to speak to and engage in some light conversation. it's my way of transitioning to things that i'd like to say about the next part of the program. much like i say something in this sentence to prepare you for what is about to be said in the next paragraph.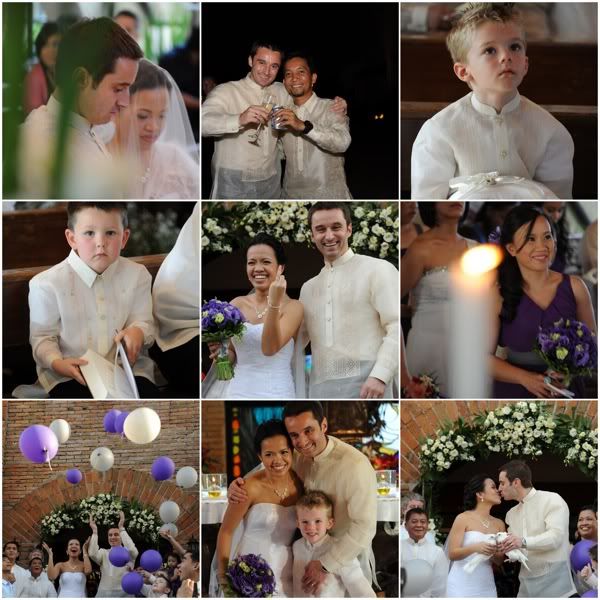 one of the things that i notice about weddings is that it brings out the best in many of us, at least in so far as the couple is concerned. i have never heard anyone -- girls in particular -- make catty remarks about the bride, her fully-beaded, sequined wedding dress, her bouquet of flowers. i'm an exception to this rule because although i spare the couple my comments, everyone else is on target: everyone who walks down the aisle, who stands beside the newlyweds, who gives a speech.
speaking of speeches, up until now the promises that my friends ava and brian read to each other still linger in my mind for their poignant poetry. i have never cried at a wedding, but i can recall the specific emotion i felt at the time. i was overwhelmed by the beauty and sincerity of the words that were said, and i hope whatever ava and brian committed to each other at the time still hold true to this day. the speeches said at melay and marcus's wedding were also very interesting. well, it helped a lot that the speakers had british accents.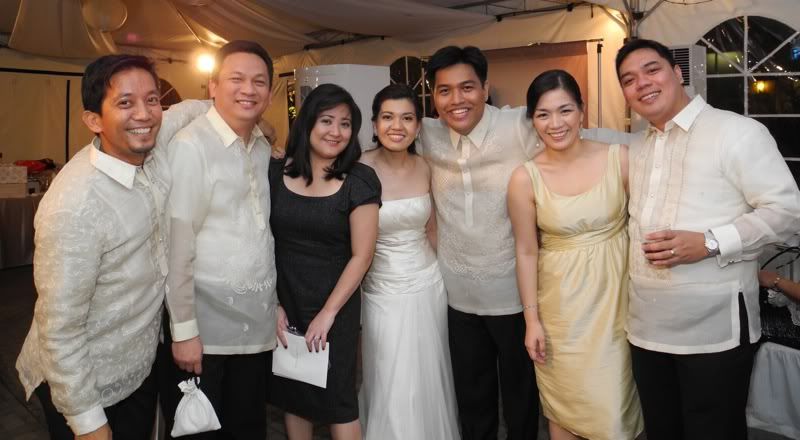 i've also heard wonderful, funny things said during omar and lian's wedding: everyone was just articulate, and said things that mattered, that meant something. i also remember that wedding in particular because nearly everyone followed the dress code. i think that guests who intentionally ignore what's indicated in the invitation are disrespectful. unless you're an artist or a rock star or have amazing personality that you can just get away with anything, you should just have the decency to check the invite and the courtesy to dress appropriately.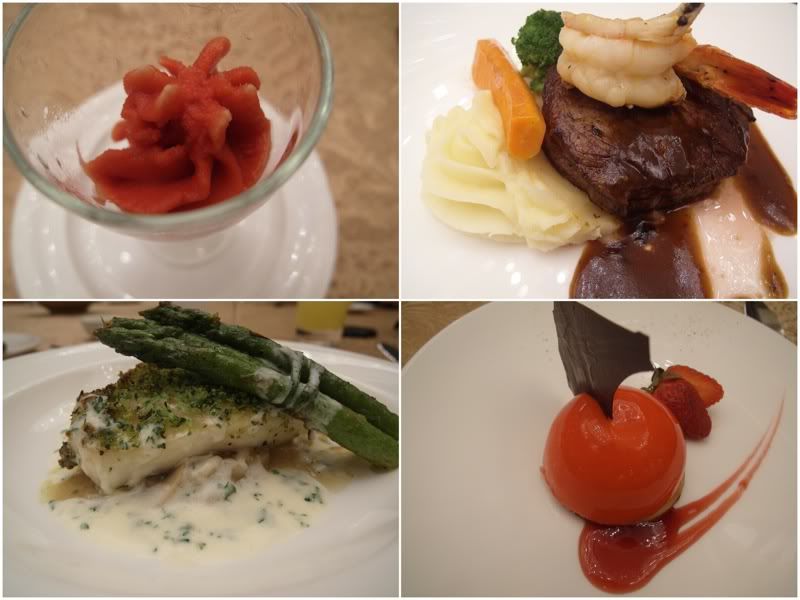 the meal stages at the shangri-la during ava and brian's reception
i have to take note that i've attended many weddings, but it was at these two that we didn't have a buffet. and i have to say i have never been more satisfied with the food than when we just sat and waited to be served. buffets are just a bit too messy, i think.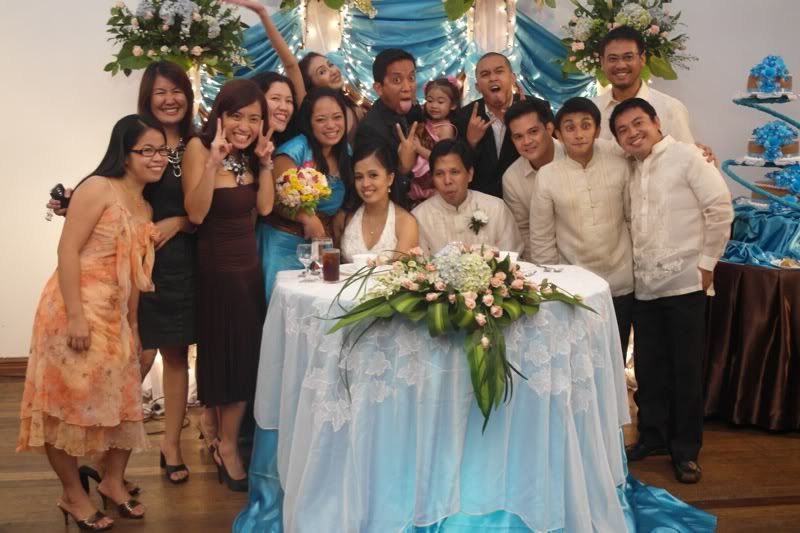 i also appreciate couples who do not embarrass their friends with these silly games that are played at weddings. i know that some people spoke for days about the sexy dance i did during nat and neri's wedding, or the fact that i was overeager in smooching mommy beng and bringing the garter up her leg, but my own research at wedding traditions and customs has shown that these archaic beliefs are so far removed from what we think they represent. i make it an effort to explain why couples do things like cutting the cake, releasing poor, malnourished doves with clipped wings, gulp down glasses of champagne.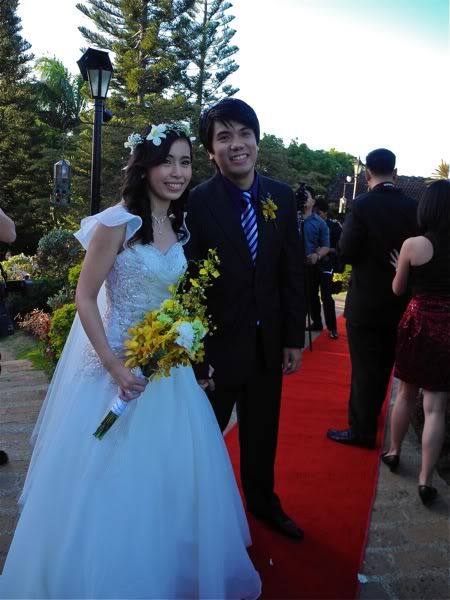 catholic ceremonies are rigid: they follow a template, a script: sometimes, all too redundant and repetitive. in the last two weddings i attended at the caleruega for example, the priest's homily was the exact same thing! there were only very slight changes: the names of the couples, and the places they were from. i actually thought the homily wasn't bad when joui was at the altar -- i think her natural charm was rubbing off on the priest at the time. but when i heard the same things being said, i was aghast! if melay had been any less amazingly beautiful that day, i would have been completely distracted by the self-plagiarism. the homilies at omar and lian's wedding as well as of chris and lorena's, were prepared for the couple. i actually bothered to listen.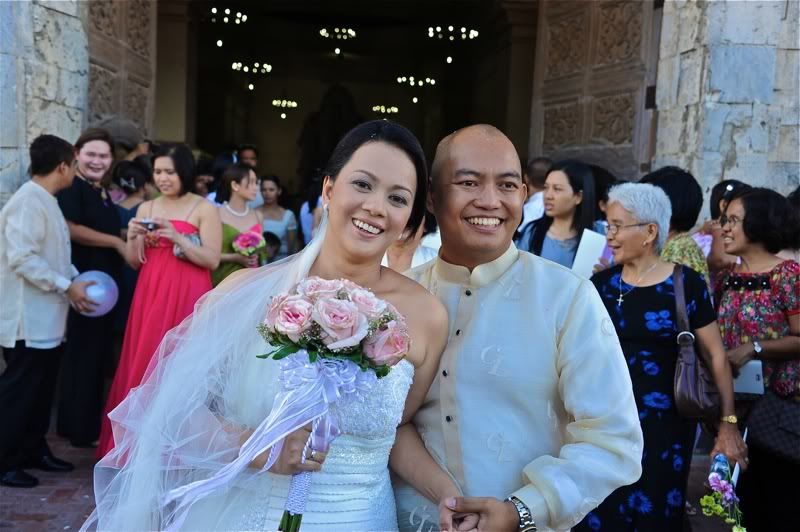 that is why i appreciate couples (or their wedding coordinators) who have fresh, original ideas, who aren't afraid to shock their old-fashioned parents and defy a misunderstood tradition by introducing new, exciting elements into their wedding reception. i sang "macho gwapito" during omar and lian's wedding reception at the rockwell tent, courtesy of the rockeoke, and the showband at chris and lorena's had us dancing till... 8:30PM! weddings in far away places finish really early! and the guests come in droves! it was my first destination wedding, where i had to fly, be billeted in a hotel, and sleep over, just to witness a friend get hitched. the old chapel in panay was amazing! although, if it had been two degrees hotter, we all would have burst into flame.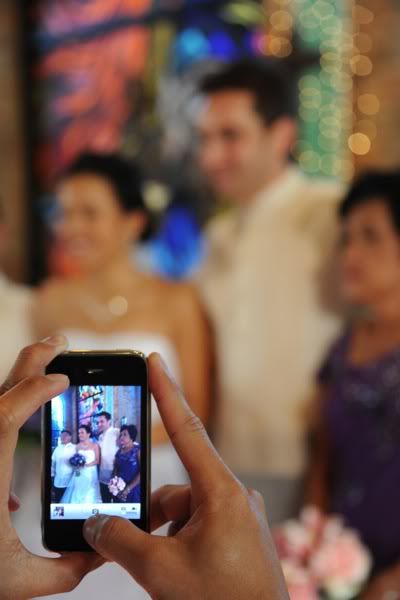 i know i should have blogged individually about all these beautiful weddings, and the beautiful brides and handsome grooms that made each one of them supremely magical -- and i didn't just say that because they are my friends, but because they're all true. maybe girls -- who are normally catty -- do not become unnaturally generous during weddings. perhaps there's a hormone which makes everyone glow during these days.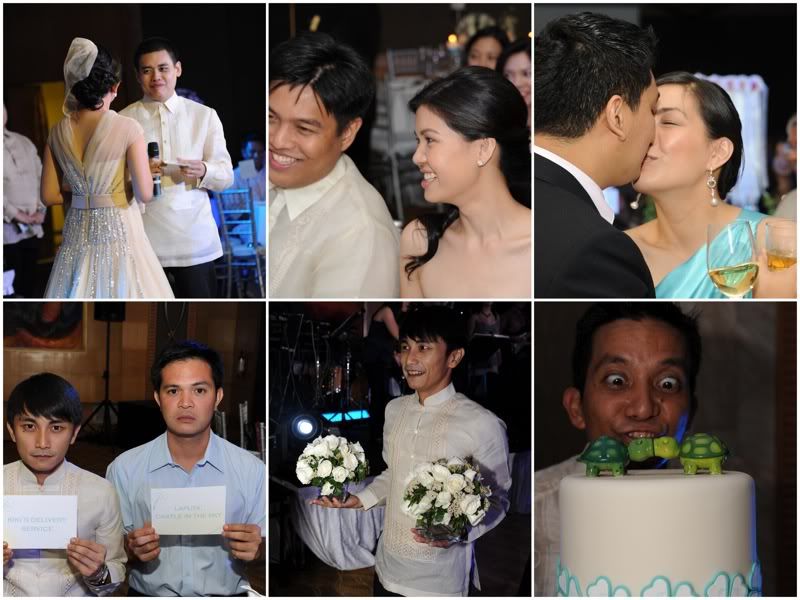 so to all my friends who have decided to wake up beside the same person for the rest of their lives, i say congratulations. and may you all share a love that would shake the foundations of the earth!