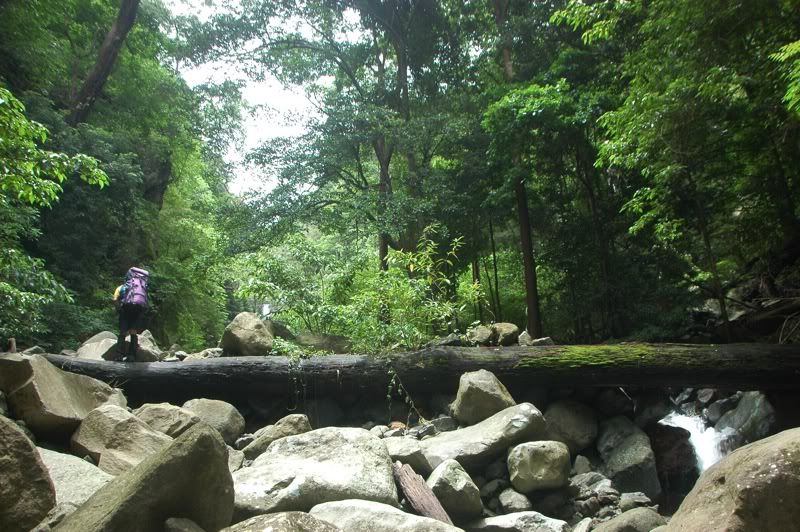 i was a bit struck by reno's comment while we were waiting for the others to emerge from the bellows of the paniquian river. he actually said two things: first, he was amazed at how cheap the climb fee was considering they also had a very nice souvenir shirt, and second, that this is the first invitational climb of AMCI he had ever heard of. he had this impression that all our climbs were exclusive. i replied by saying that our invitational climbs aren't meant to make money for the club. we just charge the actual cost. i also said that the BMC climbs are exclusive to members and trainees, but all other climbs, which are mostly organized by members are open to everyone: they aren't just advertised, and only friends of members get invited. i told him though that there have been few invitational climbs organized by the club. since i've been a member, i've only heard of 4. and 2 of them i masterminded.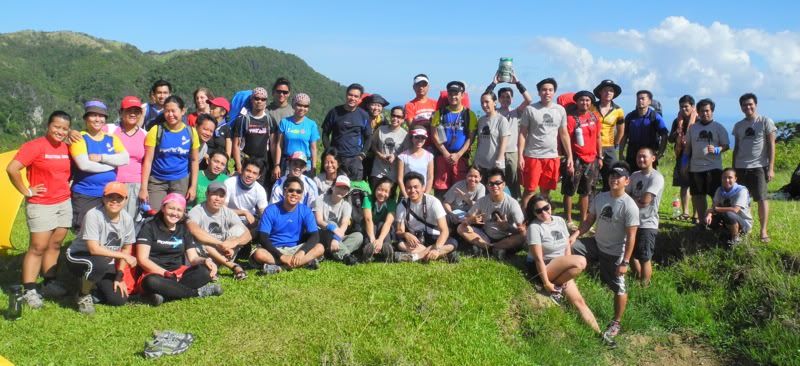 last month, i put together a fun climb to mount malasimbo in talipanan, puerto galera. there were 46 of us in that very easy climb. we bought an entire bus from pasay and took two boats to talipanan. we relaxed for a bit before starting out. it was too easy, in fact, that we decided to start the trek at half past 2. but then again, maybe we didn't give the mountain enough credit, and only realized that an hour under an unrelenting sun could be worse than 8 hours in a forest. the first part of the trek, just getting past that short incline, was amazingly difficult, i may have nearly fainted.
the first time i climbed malasimbo
, i was sick, and had to unload a liter of my water load. i didn't have to resort to that this time around, but i did stop often. the trek was slow and easy and we reached a huge clearing past the duhat tree, which has been called the toma campsite. this is where we pitched camp, and before sunset, it had turned into tent city.
i was grouped with two guests whom niel tricked into buying vegan cake from pipino bakeshop in quezon city. we were the REI neighborhood that weekend, and we cooked up a simple meal just for the 6 of us. the 4 other groups were huge, and due perhaps to the nature of the climb, they managed to bring up all sorts of meals. dennis even carried a keg of heineken. the guests were also varied. we had a couple of foreigners, a lot of mountain virgins, and several AMCI members who could not be prevented from uncorking bottles of their choice of poison despite the persistent rain. several times the howling wind sent us cowering under our parawings, but we crawled out immediately after the drizzle was over.
i don't know what time we decided to sleep, but i remember waking up at 4am, and worrying about the consistent rain that pattered on our tents. i worried not for me, but for the others who were in small dome tents without any rainflies. eventually, we snuck out of the tent and prepared breakfast. it was quick and easy, and before long, we were going down to the road, took a shortcut to the beach, and walked back to mengie's resort for beer and a quick dip. for lunch, we had a whole lot of luca's. some members of the climb team had become belligerent at this time because the plates came in phases. also, i underestimated the appetites of the people, because there didn't seem to be enough pasta and pizza. before sunset we were already back in batangas, waiting for the bus to leave for manila.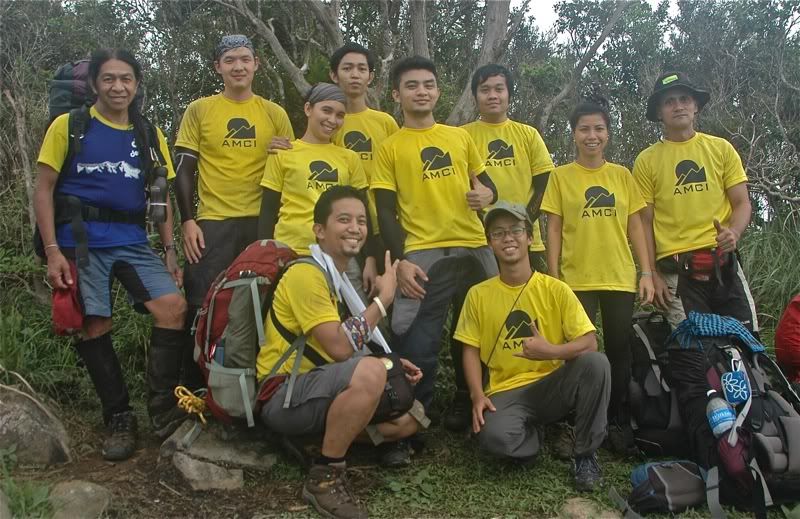 the second invitational climb took place just over the independence day weekend. initially, we wanted to align it with the freedom climb, but later decided to hold it on our own. personally, i didn't see the value of the vainglorious attempt at breaking a world record. it really is a short-sighted and vapid attempt at being inscribed in a list of mosts, without regard for the environment. why would anyone want to gather hundreds of mountaineers in a place that can accommodate less than half of that? that was exactly the case for tarak ridge. so we decided to go to the same mountain, but use a different trail: a traverse via the paniquian river.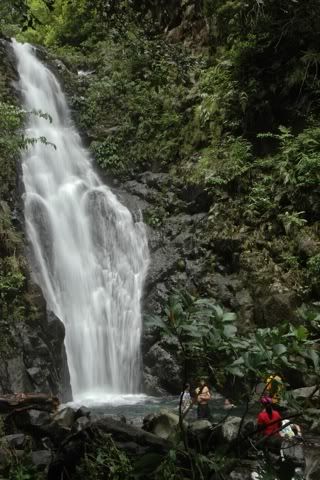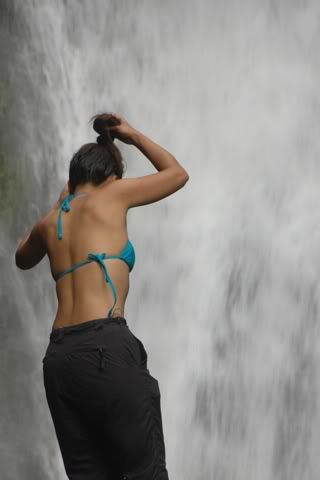 so this climb was also significant because it brings to fruition sky's plan to open his trail to other groups. of course we approached the idea with some trepidation. it's not that we think we are the only ones who can manage the difficult trail. it's just that we have no assurance of the level of skill of the others. we were unaware of their experience, and were concerned that they might not be mentally prepared for the escalating challenges that presented itself in the nearly whole-day affair. so the pre-climbs were just a series of warnings and mental conditioning.
carlo sent his guests links to my blog
; it apparently very vividly described the trail that they managed to attract more interest from other people. which i found surprising, since given my predilection for the dramatic, i would've scared not just a few people.
but this was a strong group. it's likely when you're young, full of energy, and reckless. i recall that during the river trek, two of our guests refused to get their shoes wet and went to great, sometimes dangerous lengths just to avoid stepping into the water. it was kind of silly to see. we reached the SLLAJ waterfalls slightly after lunch, and i informed sky that there was a sign welcoming us to rouvia waterfalls. sky had already been informed about it weeks previous and he had asked nanay cording to take it out. she said it had been removed, but our trip that weekend proved otherwise. a quick search into the net showed that this person is apparently a very rich man in bataan. he builds yachts.
sky was so incensed by what he saw that he took the sign down and tore it apart
. he also disassembled a bench being built on a clearing beside the falls. a sack filled with trash was already there. this is a disappointing find, and probably one of the reasons why we've been keeping the paniquian river trail a secret all these years.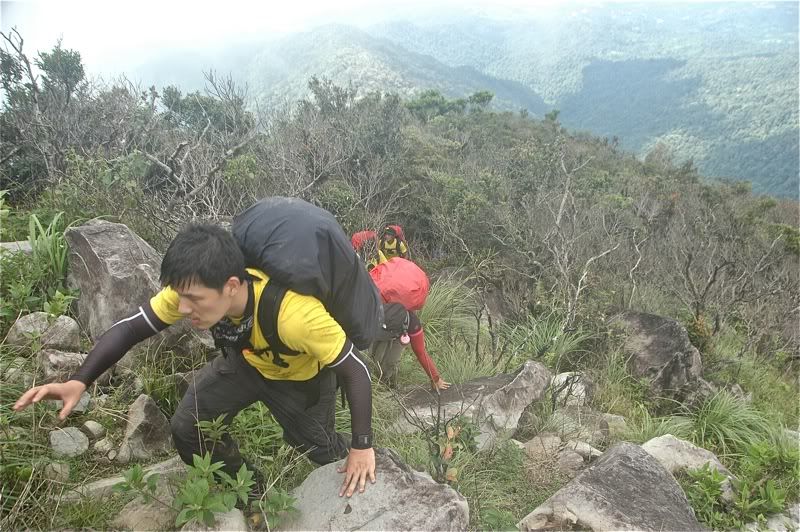 from the falls, we went up the papica-jerez boulder, where some of our guests blazed a new trail, went up to the last watersource, and looked upon the featureless slope of the magellan trail, where no trail could actually be gleaned.
i had a little accident here
, but we still managed to reach the campsite before 4pm as i had predicted. we had an early dinner, and if i had been better rested, i would have lasted longer for the socials. the following day, with my sling, i followed sky up the japanese garden and went down the ridge. along the way, we met several "freedom climbers" going up the peak. some of them asked what happened to me, and i got tired of explaining. "ingat ser," was their usual goodbye. despite my injury, i overtook several groups between the ridge and papaya river, where we had lunch and where i decided not to wear a sling anymore because it was attracting too much attention. we reached MC lodge by past 3PM and raffled off all of sky's trail signs to the participants.
i think it's important that AMCI shed its reputation as this parochial group of people who climb exclusively and who are unwelcoming to outsiders. to some degree it can be true; those who are used to the AMCI way might be shocked to find that other mountaineers have such strange habits or notions about mountaineering, but that we do not invite guests should be changed. i'm glad to have led two widely-advertised and well-received climbs so early in the year, and i hope the enthusiasm can be sustained in the coming years. although AMCI can very well survive on its own, it also has to recognize a much larger mountaineering community, and share what it knows, its unique approach to climbing. only then can outsiders realize that the skewed ideas they've harbored about the club are not true at all. i think we achieved that in these last two invitational climbs.