i've said before that so you think you can dance is my favorite reality show
. there's just so much talent on display in a little over 80 minutes (no commercial breaks since i download my episodes). and the latest performance show (episode 18) of season 8 was just amazing! i know that's not a very well-chosen word to describe this show because it's thrown around too often it loses much of its currency, but that's what it is: just a fantastic and endless buffet of excellent dancers and fantastic choreographers in all styles from b-boy to ballroom.
lady gaga guest judged the performance show and she was insightful and very helpful in her advice. i honestly feared she would just utter barely understandable gibberish. but she channeled her insanity elsewhere: her outfit was just outside the scales of anything. and those 8-inch boots. when she stood up to applaud a performance, she hovered over nigel! haha. at one time a fly assaulted her hat and it was clearly seen on television.
this season is particularly appealing to me because there are two (yes, two) pinoys (yes, pinoys) in the top 6. i was happy to find them go all the way to vegas and crash into the top 20, but to be among the last 6 dancers dancing is an amazing feat. now i just don't love them because of their lineage. i love them because they're also very very good dancers. and of course because they're pinoys.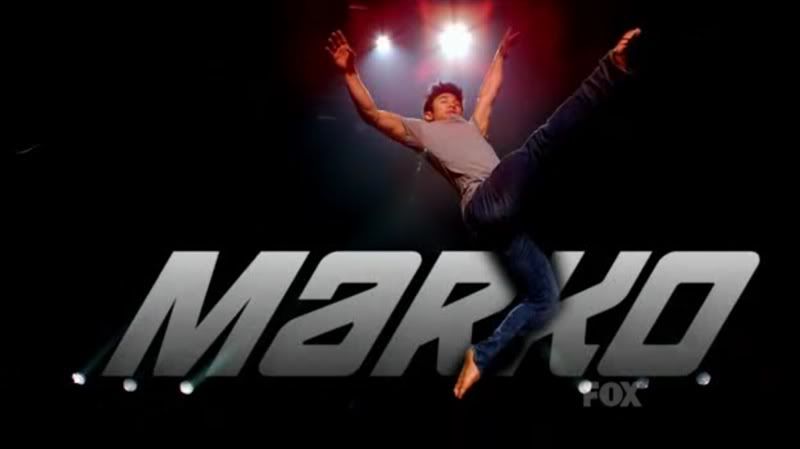 marko germar is a 22-year old dancer at disneyland. he's from guam originally, but is obviously filipino. he sounds like he's sick, but he isn't. that perpetual sore throat sort of grows on you. this is marko's second time to audition and he got cut in vegas last season. when he auditioned, he wasn't immediately given a ticket to vegas. he had to prove himself again that he could do choreography. it almost surprises me that he wasn't good enough for the judges when now, he hasn't gotten anything but praise.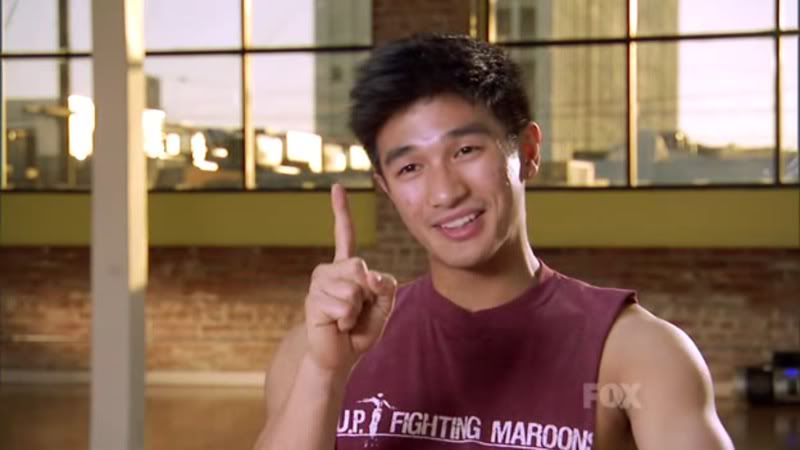 but he's back to prove he can dance all the way to the top! marko has an interesting story: he got shot during a robbery, and the bullet is still lodged in his bone, close to the shoulder joint. and it doesn't show at all in his dancing because his lifts are effortless. he's a very strong, believable and reliable male dancer.
during the first few episodes marko was paired with melanie (my other favorite in this season), and it was a match made in heaven. but together or apart, both melanie and marko are stars. in his last sonya tayek-choreographed contemporary piece, marko danced with all-star allison to jeff buckley's "i know it's over". the judges gave him a standing ovation, and he managed to make lady gaga and mary murphy cry. i felt it too. easily one of my favorite routines this year, and certainly one of the most memorable across all seasons. it was so moving and sincerely felt that marko popped a pimple during the performance.
the judges also gave an ovation to melanie and neil haskell (who obviously put on weight, but is still among my all-time favorite dancers across all seasons). it should be noted that melanie and marko are the only two dancers who have not found themselves in the bottom. neither has had to dance for his or her life. i'm really hoping both of them are in the finals.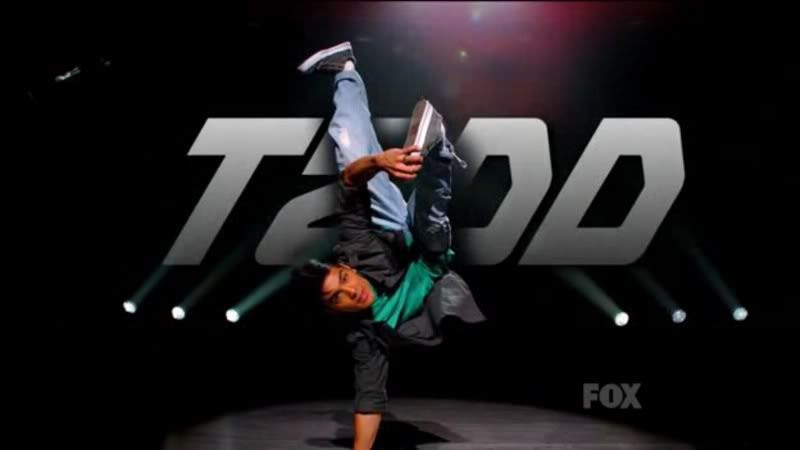 of course the other pinoy dancer i'm cheering for is tadd gadduang, a 25-year old psychology student. when i saw his audition in salt lake city, i didn't immediately think he was filipino because the host, the beautiful cat deeley, pronounced his last name gahd*wang, when it should be ga*du*wang. he did a very entertaining number and was sent straight to vegas.
tadd is really proud of his being filipino, it's almost like he's rubbing it in. when he's performing his solos, or even during rehearsals, he's representing his roots: the blue, red, stars and sun are always present in some way or other. one might easily dismiss this as a tactic: courting the filipino-american vote, but i think he's very honest about it. he admitted that growing up in utah, and being the only asian-american in class, he thought that he -- like all his classmates -- was caucasian. but he has embraced his ethnicity and wears it proudly!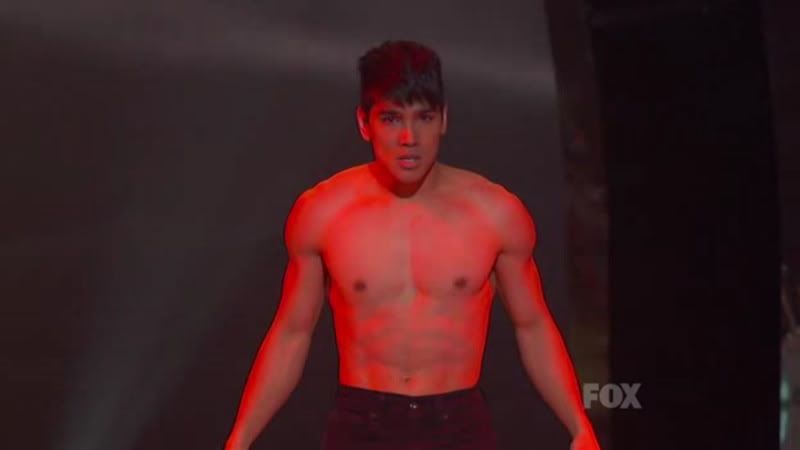 being a breakdancer, tadd has a disadvantage: he doesn't naturally follow choreography, counts, and lines. it's all about tricks. but when he dances, whether it's hip-hop, jazz, or ballroom, you forget what style he does. of course his kicks can't match ricky's or even marko's, but man, can this boy leap!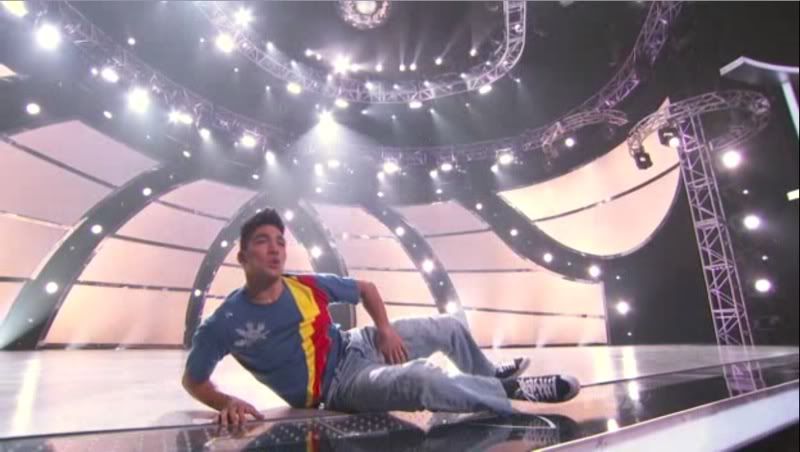 i haven't seen the results show but since i like spoilers, i looked it up. yes, i already said they're in the top 6. ricky's gonna get cut for sure, and the producers will find a way to give both marko and tadd the right style and the right choreographers to make them shine. you can't have two contemporary dancers in the top 4. as for the girls, my money is on melanie. loved her from the very beginning. i wouldn't be so sad if either of my boys don't win, as long as she gets it.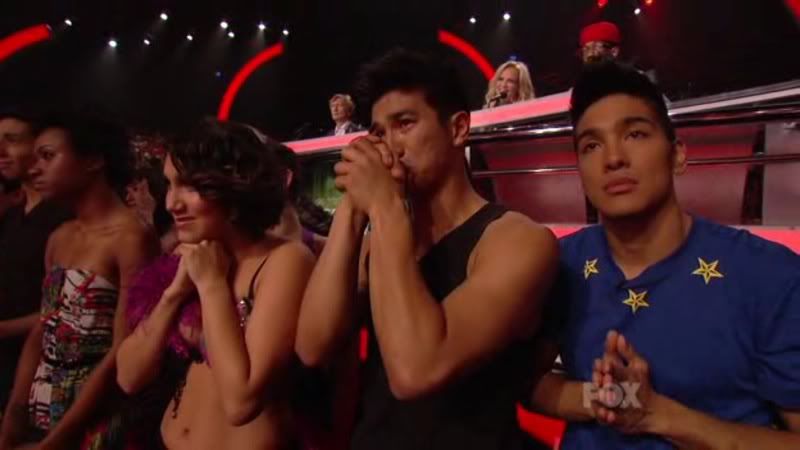 other fil-ams have also made it to the show. all-star melody was runner-up in season 1. alexie was in season 7 but was first to be eliminated in what was perhaps the most carefully-selected top 11. all-in-all, i'm just happy watching this show. and since they've featured neil and robert in the all-stars, i hope the next have sabra and mark kanemura.