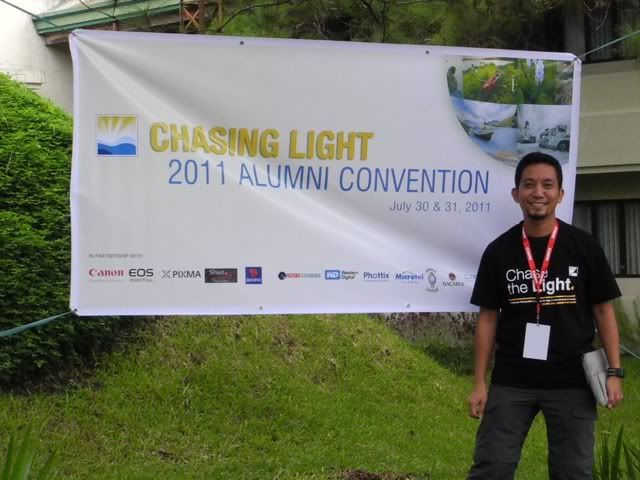 there were scores of macbook pros, iPhones, iPads, D300s, D700s, 5D mark IIs, 7Ds, and everything in between during the two rainy days well spent at the phinma training center in tagaytay for the chasing light alumni convention 2011, it may very well have been a gathering of gadgeteers and geeks. but we were there not to brandish our shiny toys, but to brush up on our skills and knowledge in landscape photography. the chasing light workshop series is a masterclass for photographers interested in capturing enduring landscapes, conducted by two canon brand ambassadors: my good friend and pilipinas sierra batchmate jay jallorina and edwin martinez.
i was part of chasing light 2.0
(an early adopter, obviously) and i apologize that i have not been faithful to the tradition -- nay, passion -- popularized by ansel adams.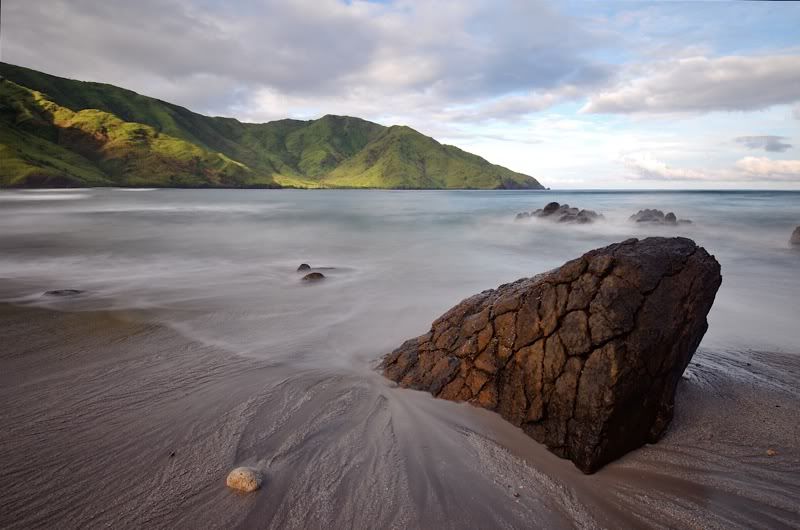 between that time in may 2009 and now -- throughout which a total of 15 batches in luzon were minted into this esteemed list of alumni -- i've had few opportunities to shoot landscapes.
there was that time in nagsasa cove
, where i spent more time in the kitchen than in the field. it was a game-changer for me: realizing i didn't have the tenacity everyone else displayed in those two days, i concluded i wasn't a landscape photographer, but a snapshooter, a term which jay scoffed at in the early workshops (although he now mentions the term without any hint of derision: a sign of maturity, perhaps).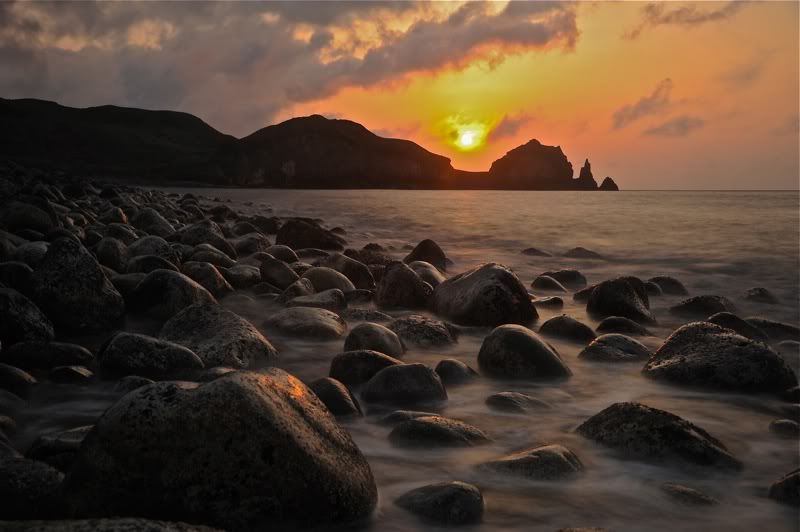 there was also a failed attempt at shooting landscapes while in batanes just this last holy week
, but i was shorthanded by
the trip to the repairman of both my 12-24mm UWA DX lens and my nikon D300
. it was difficult, to say the least, to compose my shots with a 24mm lens, even if i was shooting with my full-frame D700. i just couldn't get enough of the scene, and couldn't create that illusion of distance that comes naturally with an ultra-wide.
this was my same problem in capones island when i joined jay and his friends for a shoot
-- this was the time before the age of chasing light workshops. it was a working shoot for me, and i learned a few things just watching jay at work. this was the time i started calling him sensei jay.
during his opening lecture, jay displayed a picture i took of him when we trekked to batad; here's another one from the trip
i remember us encouraging him to get into teaching photography. and not just any workshop at a time of affordable DSLRs when nearly everyone with a camera calls himself a photographer, and everybody else is a self-styled photography instructor, but landscape photography, an area which requires not just a camera, but many other things. it was the same thing i told him when
we went to aurora for a landscape shoot
and i ended up cooking. i recall assuring him that he had a captive market: he was already very popular in multiply and in the DPP forums, and no one else (at the time, at least) was teaching the subject.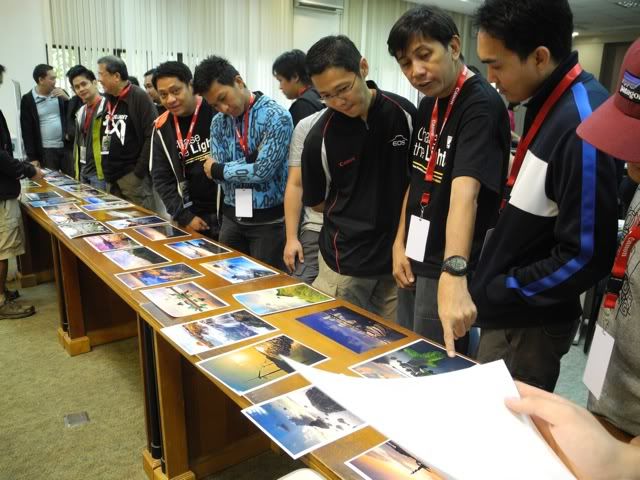 CL alumni admire the submissions to the CL POTY contest
a few years later, that little suggestion has become the most successful photography workshop series. i say that because its graduates have had their images appear on glossies and dailies and popular websites, not just here but abroad as well. that is why when edwin and jay announced that they were going to hold a contest for alumni, i didn't even exert any effort to join. i simply had nothing worthy to enter the competition. and it was a wisely-made decision too, because when i saw the other entries, i wanted to give up my UWA, my ND filters, and my heavy tripod altogether. i would have done the workshop a disservice. i best leave landscape photography to those who perspicaciously chase the light.
the top 3 finalists in the CL POTY. patrick ong (second from left) won a year's worth of bragging rights
i had a conversation with alvin about the qualities of a good landscape photographer, and i drew the following conclusions: first, one must have the right gear. just thinking about intervalometers and graduated ND filters makes me nauseous. second, one must have the tenacity and devotion to capturing the right light, which might mean getting up early, sleeping late (bernard billedo's exact words), skipping meals, endangering oneself and exposing equipment to danger. sensei jay was right: landscape photography is not for the lazy. and finally, one must have loads of time and money. being a landscape photographer doesn't just involve skill, but the nerdy obsession with capturing one good image, whether it means returning to the same place (say, batanes) again and again, and the geeky passion to drill down to such fine details that normal people like myself disregard.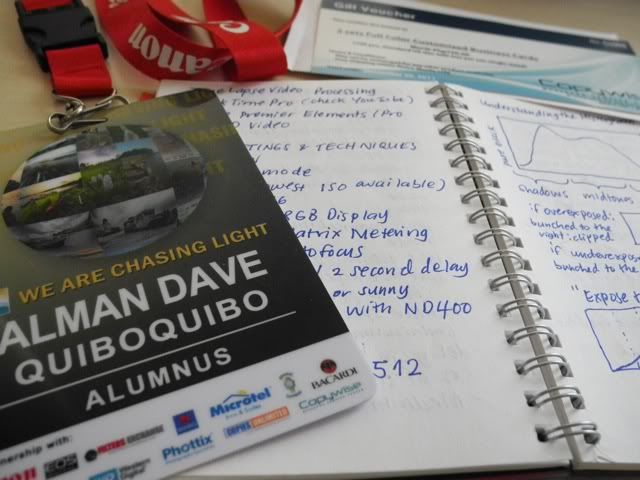 i confess to have none of those. i'm in the wrong place. i felt i didn't belong. while i found the lectures on visual design and composition to be very helpful, it found me writing notes voraciously like it was my first time to be hearing them, i admit i sort of tuned out when they began talking about post-processing. i don't know if it's my natural aversion to using photoshop to enhance my images, or my pre-conceived bias about how far we push the envelope of digital manipulation, but i was truly lost in a maze of tricks and workflows. when edwin asked who was still unfamiliar with masks, i had to resist raising my hand since i would have looked like an idiot. admittedly, i do no more than adjust brightness and contrast and add sharpness in iPhoto. it's easy. i'm lazy. we go well together.
like i said before, jay started out with a canon A320
a lot of the alumni turned up for the convention, and it was really great to see how many of us have decided to embrace the discomforts that are married to landscape photography. but a select few have truly mastered the craft, they themselves could hold workshops. but like with all homecomings, speakers are often indirectly ignored because some people are more interested in catching up than stopping to listen. there was a place for that: the evening's fellowship night. after an uninspiring dinner, jay asked me to get the party started by singing a song, to which i gladly obliged. i almost did not notice how red i was from the bacardi and the bombay sapphire. one of the participants told me she dreamed we were still singing and dancing. as usual, i was one of the few who closed it out.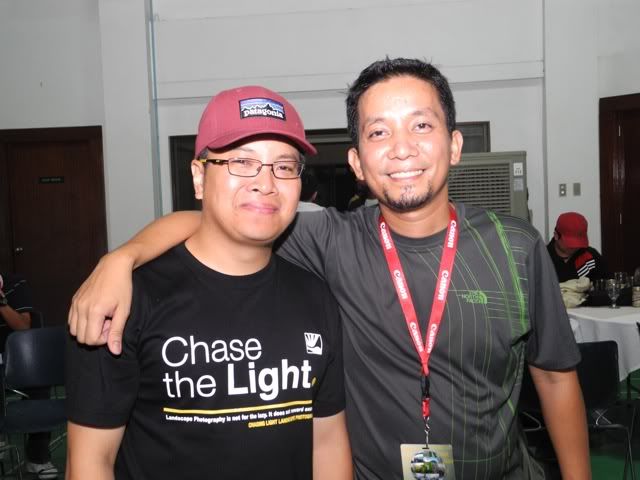 i hope this isn't the last of the alumni conventions. i'd probably attend every time, to try to convince myself that i'm a cut above normal snapshooters. of course i could always say that i'm primus inter pares, but i could never stand up and compare myself to my peers in the chasing light workshops. the CL POTY showed me just how far away i was from doing any significant work in this field. but like i said, it was a wet weekend well spent: everyone came home with a prize. i almost almost won a phottix intervalometer, but ended up with a gift cheque for 200 pieces of full color calling cards (must think of something witty for the design), won a canon lens mug but gave it to alvin, had two pictures printed on 8x13 paper (which i'm told would last 300 years!), made new acquaintances, and possibly, photographers with itchy feet whom i could shoot landscapes with.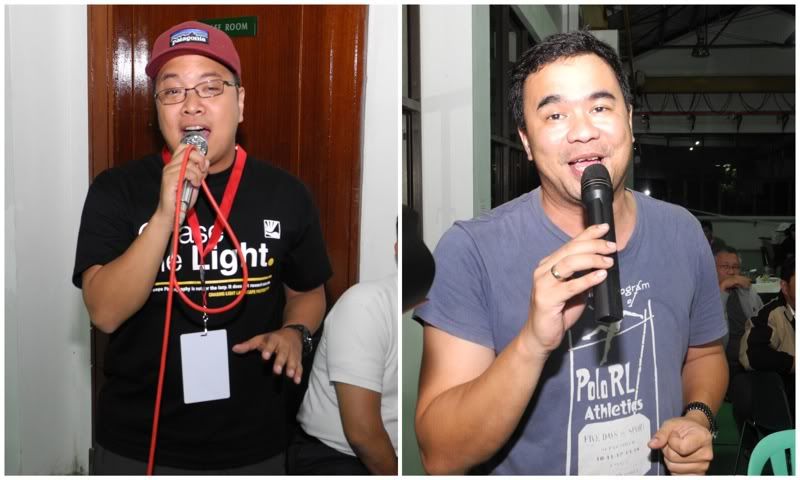 to my mentors, congratulations! we have not fallen far from the tree. although admittedly, some of us fell because we were rotten. and it ain't so bad being called a snapshooter. that's me.