i've been struggling for a few months now with my runs. i haven't put in any significant distance. my longest run since
setting a new personal 15K record at the globe run for home
last march was a pathetic 5.5km in june. my training was interrupted by a series of vacations: i did not hit the pavement at all in all of april when i went to japan,
bagasbas
, and
batanes
, during which time i may have gained a few (okay, obviously not just a few) additional pounds, inevitably slowing me down each time i've decided to go out and run.
so i've been trying to revive my life as a casual runner. this ideally should be the perfect time for me since the BMC is well underway, and i could just rise up early on sunday and accompany the trainees on their morning runs, or suit up on a wednesday evening when the club descends upon salcedo village like a mass of deranged gazelles. but i've tried that and it hasn't really worked for me. to think that early this year, i was raking up at least 25K in a week, and that was just me trying to be physically fit. wasn't training for anything in particular, or attempting to impress anyone. it was just for the love of working up a sweat, and this delusion that exercise prolongs my life: with the pollution i inhale when i'm out there, i'm not so sure. it's so easy to let go of fitness, even though it's so hard to achieve even the most modest goals.
early this year, i was gunning for an average pace of 5:45 per kilometer over distances of at least 10km. i managed to achieve that somehow. and just as i was about to go back to a sub-55 minute 10K, i got lazy and found more excuses to postpone a workout, than reasons to keep running. so here i am, dragging my feet at a slothy 6:40 per kilometer, getting really worked up when i reach 4km, and quitting just after finishing half an hour's run. this isn't where i want to be, to be honest. it feels like a cycle, actually, since at about this time last year, my running was also very unimpressive. it hasn't even helped that i got myself the
nike+ sportwatch GPS powered by tomtom
through johnny air last may (since it's not locally available yet).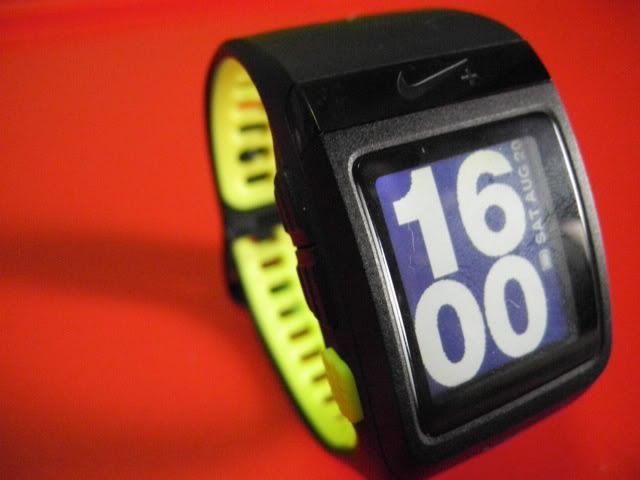 i already have a GPS accessory in the form on my sunnto t6c's
GPS pod
which provides very accurate information regarding distance, elevation, and pace, but i found myself still wearing my nike+ on my iPod nano just so i could upload my runs and interact with this huge running community and compare my workout with peers. this really shows that i'm not such a serious athlete. i'm a social runner, who burns asphalt mostly because i can tell my friends about what i do when i'm not at work or at home. it also makes for good conversation: i was telling this person i just met that i ran about 15K a week and he seemed pretty impressed. of course that's not much to crow about particularly compared to my friends, but then again, like i've said, my training has been sidelined by so many things.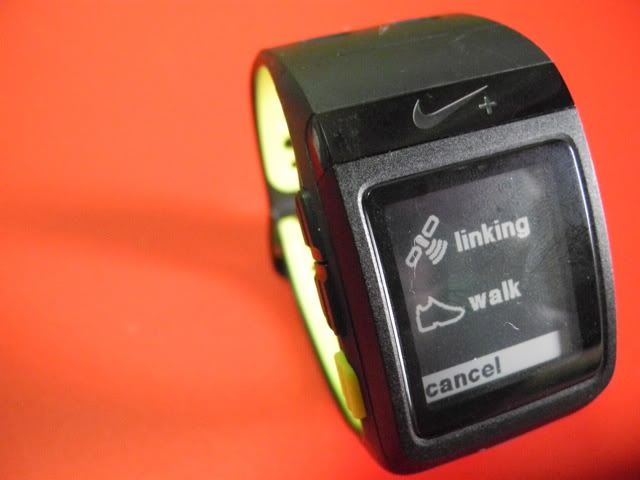 the nike+ sportwatch is a nifty device: it gives you feedback on speed and distance and allows you to upload these workouts to your nike+ account on nikerunning.com where you can compare your workouts with thousands of other users. i've been a nike+ user immediately after it became locally available, although on my page, you can only go as far back as 2009: i actually deleted a whole year of awful running because it was pulling down my average -- besides, there were many inaccurate readings back then when i was just relying on the pedometer attached to my shoe. the nike+ sportwatch and its GPS-assisted measurements should ideally be an improvement on what is otherwise an estimation (or worse, guesswork): with the aid of satellites, the precise distance and time is measured.
so how does the watch measure up? first, let me just say that the nike+ sportwatch is a beautiful thing, the odd green color aside. compared to other GPS watches from garmin and timex that look like scientific calculators sitting on your wrist, this one actually looks like a very nice watch. there are only three buttons on the watch itself, and navigation is pretty easy: the manual in fact is just one page. after adjusting time by syncing it on the computer (there's no other way to change settings), i went out for my first run. i was so excited i totally forgot to plug my ears to my iPod. oddly enough, i can't seem to run as efficiently without them. the watch has some interesting touches to it. you tap its screen to make it light up. during the run, you also tap it (i use two fingers: the middle and the index) to mark one lap. the yellow button is pressed to start a run and pause it. cleverly hidden in its strap buckle is a naked USB for uploading run times and workout distances. it's also used to charge the watch and update the firmware.
the faint orange path is the actual route i ran
getting linked to a satellite, however, has not proven to be as quick as other machines. one time, i decided to run when it was very cloudy. i stood for about 20 minutes outside and it was unsuccessful. on most days it just takes less than 3 minutes, just enough for me to walk to my starting point. the thing is, while the distance that's measured by the watch is remarkably accurate, its precision when plotted against google maps is terribly wanting. on the map of my last run, it was certainly impossible for me to run through buildings. i don't have that superpower. one particular reading was pretty bad (it rained that night), and it showed me zooming all the way to urdaneta village. i think not only does weather have a role in the accuracy of the GPS reading, but also the presence of tall structures: since i run along a street lined with buildings, the GPS signal must probably fluctuate. incidentally, despite signal fluctuation, the accuracy of the distance traveled is aided by the sensor attached to the shoe; linking to it is of course optional -- which reminds me: maybe if i just link to a satellite, i can get a better reading. should try that some time.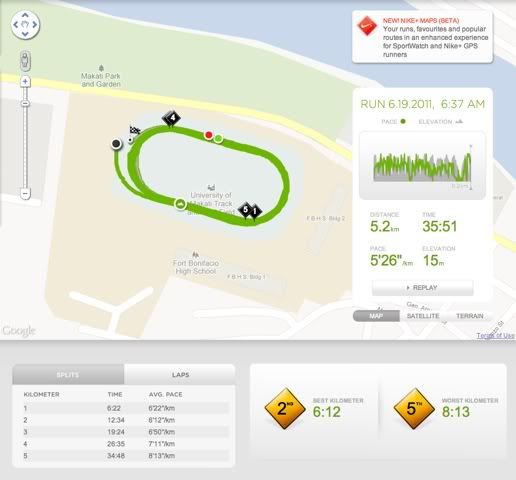 i don't know jack about how these really work in detail, but the thing is, the readings around the university of makati are incredibly precise. i haven't had the nike+ watch at a race covering a distance over 10km, so i will still have to reserve judgment after i've truly put it to the test. i agree with initial impressions from other early adopters though that it should at least provide feedback on current pace. i really should have come out with a much earlier review of the product since i know of no one else who has it. it's possible i've purchased a useless object: what use have i of another watch anyway? i run on defined areas, where i've plotted the routes and measured the distances. i know how far i go each time. is this really necessary? honestly, it wasn't. but it's certainly nice to have.