i would normally think that a musical had a profound effect on me when i leave the theater humming a tune or actually singing a stanza from at least one song even if i hadn't previously heard the soundtrack, the same way i left the GSIS singing "seasons of love" and "i'll cover you" after seeing RENT for the first time many years ago, or when i was reciting "i'm just a sweet transvestite... from transsexual... transylvania" as i left the rocky horror show, or when i found myself saying "ikaw ang superhero ng buhay kong ito..." after zsazsa zaturnnah. this is normally easy for me because like i've said, i have very good auditory memory, and i can easily remember and even repeat things that i've just heard, particularly if they were meaningful to me in some way or other.
when i stepped out of the carlos p. romulo theater in RCBC after watching "in the heights", i wasn't sure if i managed to consume more than a few bars of song. some words and phrases were playing in my mind: paciencia y fe, calor, respira, no me diga. lines from different songs, but not substantial enough to mean anything. in fact, it just sounds like anything anyone may have picked up from watching sesame street or dora the explorer. a tony-award winning musical, "in the heights" is the story of spanish-speaking immigrants in a close-knit neighborhood in new york called washington heights. usnavi is the main character, born of parents from the dominican republic, he was named after what his parents first saw when they came to america: a US navy ship. it proceeds with the unraveling of the individual problems and histories of the people around usnavi: problems with not having enough money, concerns about not meeting expectations, about loss and disappointment. but the musical ends positively: there is hope after all, and it's not about winning USD96,000 in the lottery. it's about making sacrifices for people you care about, doing something selfless for others, it's finally telling someone how you truly feel.
with director bobby garcia and chair arespacochaga
nyoy volante topbills the cast as usnavi, and he has a deep pool of artists to support him. felix rivera (princeton in avenue Q), jackie lou blanco, calvin millado (roger in the first staging of RENT and dr. frank-n-furter in the rocky horror picture show), ima castro, and and this pretty newcomer k-la rivera. the cast was excellent. nyoy was almost unrecognizable as a rapper, i was so surprised, although he went from very clear and crisp to almost mumbling towards the last few freestyle rapping. calvin no longer has the body he had when he played dr. frank-n-furter, and he seems to have aged less gracefully than other models of his generation, but at least he has talent. ima was fantastic: a buxom beauty who conveyed so much emotion with each verse she sang. k-la's voice was just amazing, and i was so carried away by her rendition of breathe. i must admit though that she seemed less confident than the other cast members. felix, on the other hand, was all over: i'm not sure how old he is but he can certainly carry an entire show.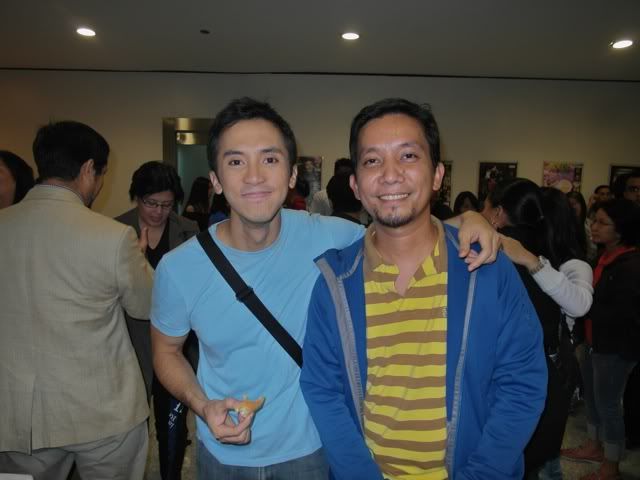 felix rivera was the first member of the cast to go out, and the first thing he did was to grab a donut
i say that because i don't find nyoy as the leading man type. i felt he was a supporting character who had been given far too many songs and a much longer screen time. i don't dislike the guy. i think he's a great, amazing singer, but he just lacks a certain stage presence, if he isn't singing, i wouldn't notice him. my main criticism about the staging is that it didn't feel like i was watching a community of latin immigrants in the US. of course i don't know much about latin neighborhoods except what i've seen on popular media. the accent, the rhythm, and the vibrant feel were just not there. shouldn't they have gotten a better accent coach to make them sound more authentic? the spanish lines sounded memorized, came out routine, almost like when you're first learning a foreign language.
i understand a little spanish, so it was no problem with me when they didn't translate (inutil: useless or respira: breathe), but i'm not sure whether the rest of the audience appreciated it as much. one comment about the audience: they're all so well-dressed, smelling good, speak the language of the privilege, and for that particular night, a big chunk of them were from the filipino-chinese community. interesting! although it was obvious some people just got dragged there without knowing what to expect. i heard this guy behind me asking: so is this a musical? to which his companion replied: i think so. but this is the clincher: this guys says: is it like RENT?
i missed one other show last july here in RCBC, which is a pity, because i did get to see "next to normal" and "defending the caveman" in the first half of this year. there's going to be another run of "next to normal". i'm going to go see it. well, at least i made good on my promise to revive my appreciation of theater.