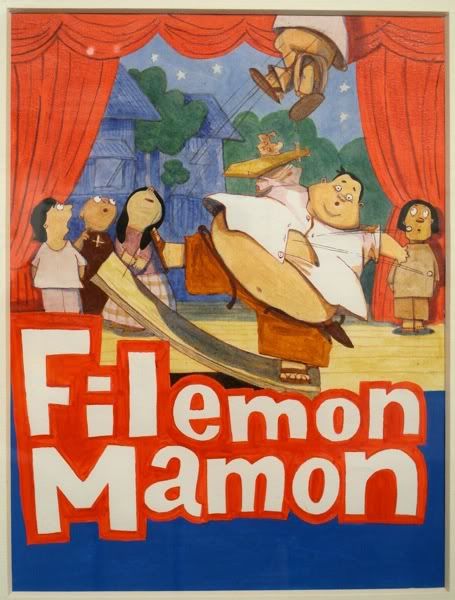 my friend jason invited me to attend the opening night of ilustrador ng kabataan's 20th anniversary exhibit at the ayala museum. i arrived late of course and missed the cocktails that were served, but i managed to see familiar faces and familiar works of art.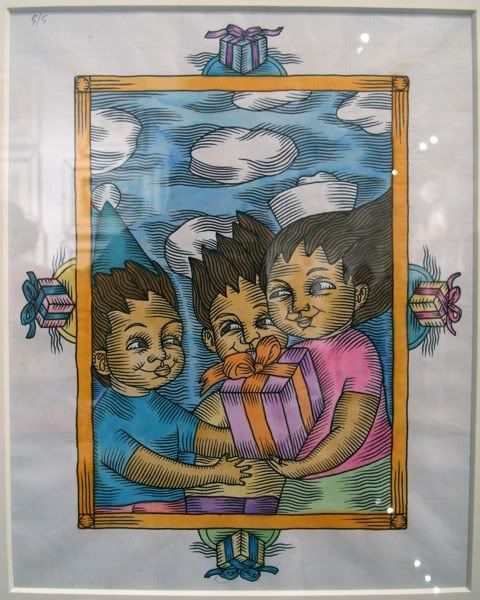 among them are the hard-to-miss lines of eric roca, who was an artist in the philippine collegian when i was a news and features writer. i've always liked eric's woodblock style. he and arvie villena remain my favorite kulê artists of all time! incidentally, there were several other members of the collegian graphics section present at the exhibit. i have not seen most of these guys since 1998!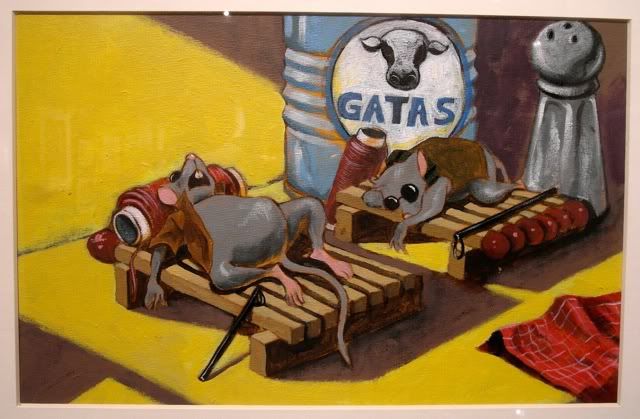 finally i also got to shake rommel joson's hand. i've known rommel virtually for some time now through his LJ alter ego, cynophobia (that account has been purged), and became a fan of his doodles immediately. i may have seen him in and around RCBC a few times but was too shy to say hi (although we both recognized each other). he's smart and is very talented, so it's rather unfair.

also, it is not a little known fact that i am an alumnus of the UP writer's workshop, which i joined in 1995 when i was just 18 (don't be too impressed: i wasn't the only 18-year old to make it to baguio, and there were 2 kids from southridge younger than me). the theme for that year's workshop was children's literature, and we were each paired with an artist from INK. mine was dindo llana, and i immediately spotted his familiar art at the exhibit.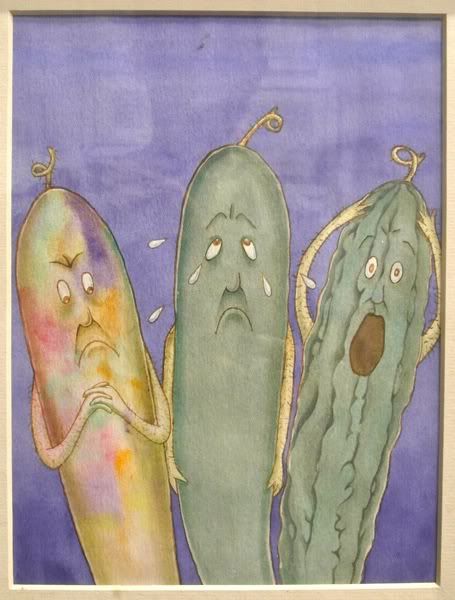 one of the best works to be produced by the 1995 workshop was the "alamat ng ampalaya", which eventually got published. it was illustrated by the same artist who was paired with the writer. this artwork is almost 15 years old!
it is no secret that i've somewhat coveted the idea of being a visual artist. i can draw. not very good at it, but better than some people. i attended fernando b. sena's summer art workshop when i was 12 and learned the basics. my notebooks from school are nice to look at because they have little drawings on the margin, and i would have focused on art if i hadn't discovered words, although it helped that i realized my older brother is really the more talented one. so i looked at a lot of these works with envy and awe.
here are a few other illustrations that caught my eye. i particularly like the layered, 3-dimensional artworks. they're probably quite difficult to do. and for reasons which are more obvious than they are apparent, i am drawn to things done by hand. nothing beats a real brush!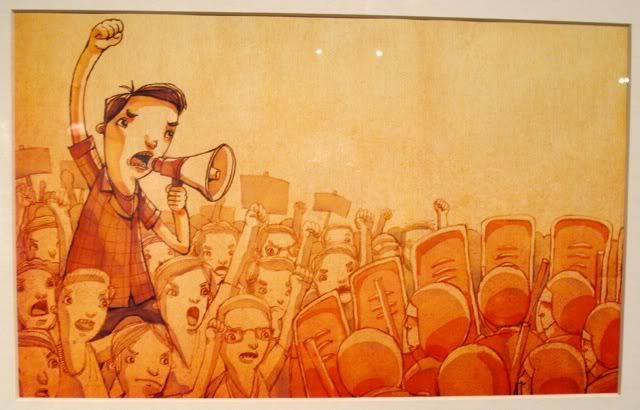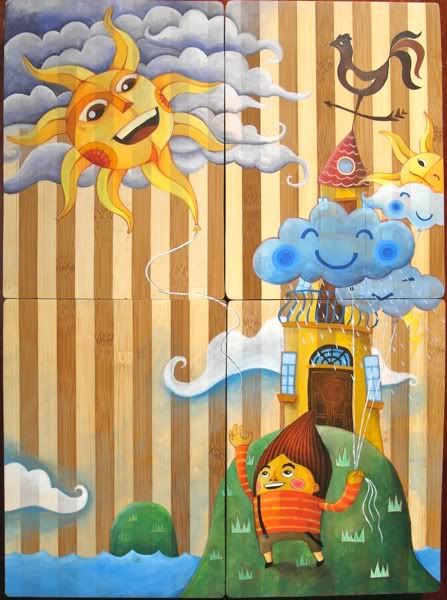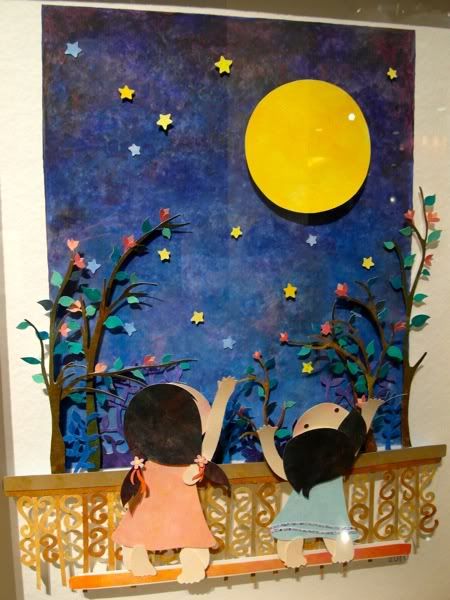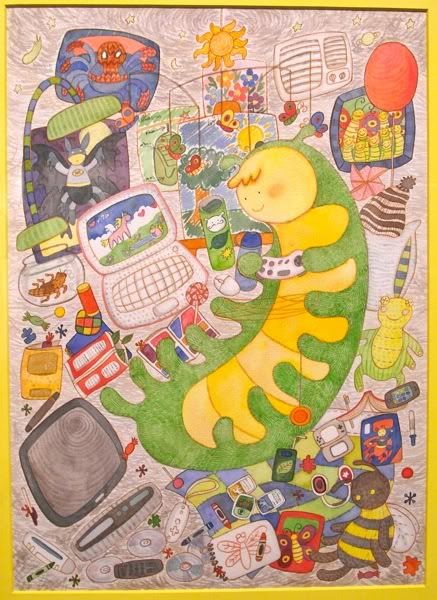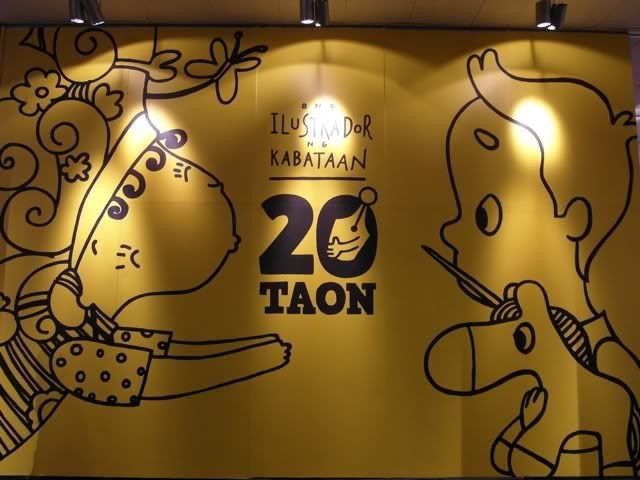 jason told me that the boy with the unicorn doll was drawn by robert alejandro. without knowing it, i've been a fan of robert's art since i was 13 and papemelroti was all the rage. too bad i didn't get to see him in person! visit the INK's exhibit at the ayala museum. bring your kids. i think entrance is free.