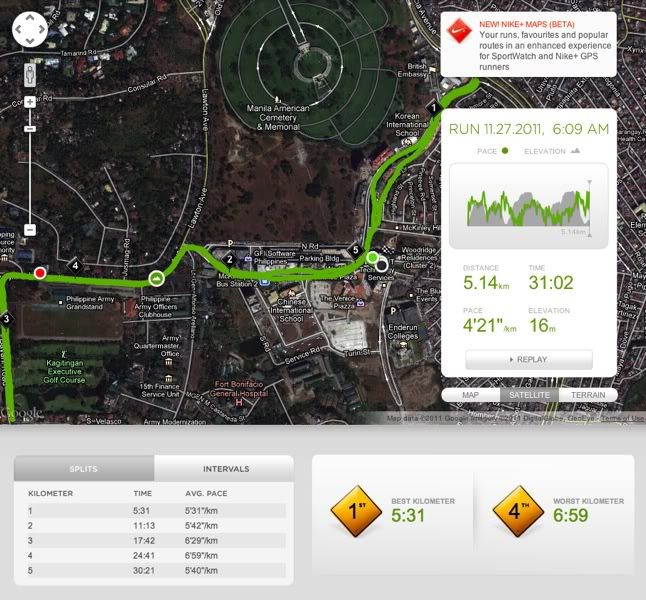 i barged into the top 30 overall in my sunday run, not good enough to crash into the medal standings, but worthy of some personal pride since it comes less than 24 hours right after my saturday run. of course i'm leaving out the part where i just did 5K this morning, and 10K the previous day, and also the part where most of the elite runners and the chase pack were at another run in BGC. but more importantly, this short run caps my pseudo preparation for the half marathon next sunday in singapore.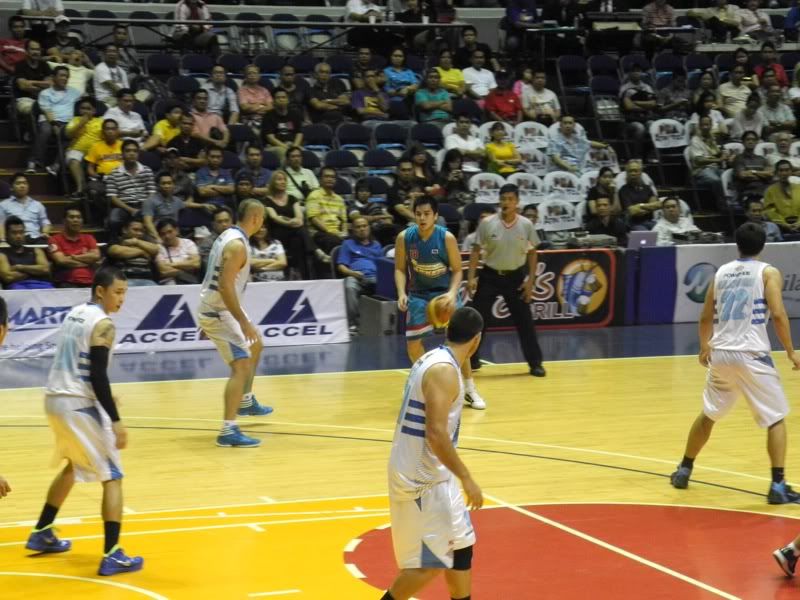 on friday evening, i was at the araneta, watching a PBA game, cheering for a listless shopinas.com which has been suffering a string of losses (they haven't won, in fact) with my friends from AMCI SB. the second game between rain or shine and b-meg was a lot more exciting. it was so close to the last few seconds that if either team had been the bgy. ginebra kings, i would have suffered a heart attack. it's only my second time to watch a PBA game live, and both times it was courtesy of donna. i'm still trying to see if i can score patron seats on a day when my team plays in the main game. but i've never realized how fun it is to watch any sporting event live with a group of loud and crazy friends.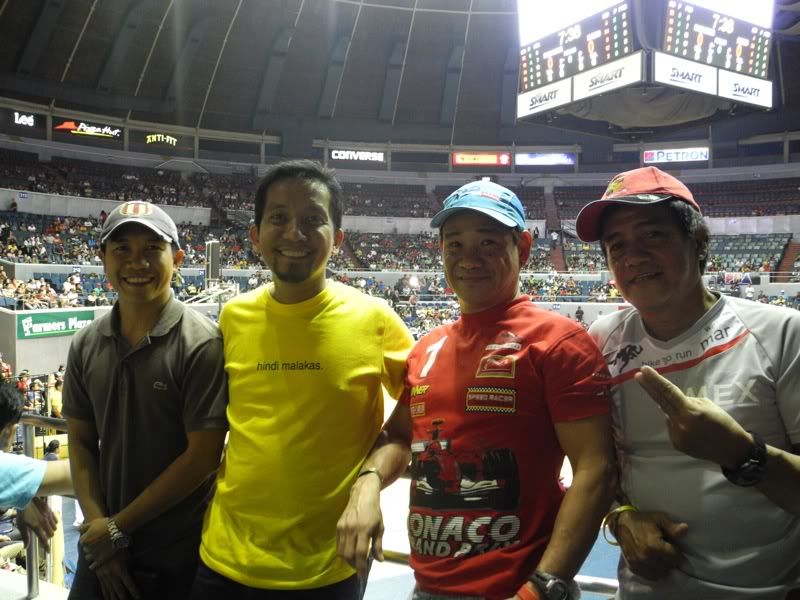 immediately after the game, we went for some oysters and beer. i had planned to leave early for the HSBC anniversary fun run the following day, but due to my inability to say no, i ended up in mannie's house trying to figure out how this replica of an ancient wine goblet from greece worked, sipping really disgusting chivas regal, and talking about envious strangers who are talking about us. finally, we left his house, and i only had enough time to go home and get ready for the run. i went straight to MOA still looking distressed from lack of sleep and an excess of alcohol.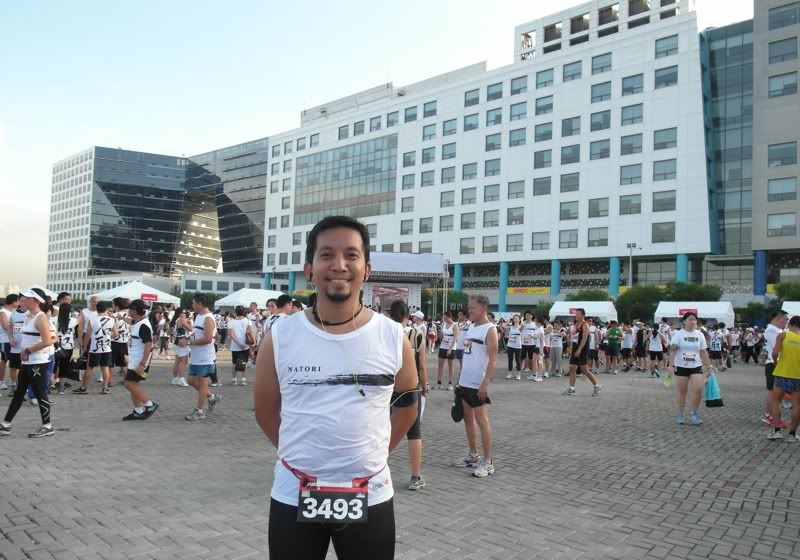 the run started at precisely 5:45AM. there weren't that many people there. perhaps it was a weird day for a run. i had registered for this only because i wanted to force myself to run and rack up some miles before i actually do a half marathon. this was officially my third 10K in 3 weeks. in fact, i've had 10 runs since after i returned from palawan, which is so unlike how i prepared for any of my previous half marathons. i did well enough in the first 3 kilometers of the run, but slowed down when we crossed the bridge towards the dampa. i was put off by the stench of manila bay and the smell of rotting food. besides, i lacked sleep and was severely dehydrated from the beer and the chivas regal. i didn't have that many, but the few that i had were good enough to prevent me from being at my best.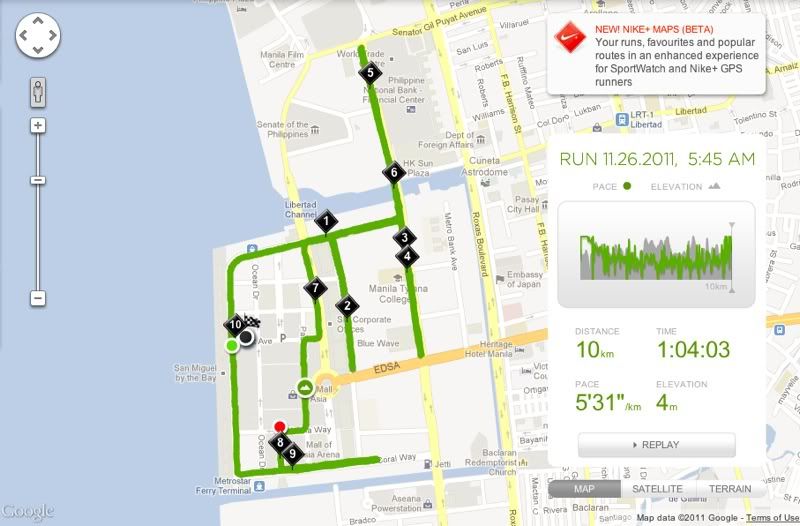 i actually wanted to walk. i decided to forget about doing it in sub-1, and just survive the distance, possibly just better than my first 2 10K's. i wanted to walk after the 6th, but immediately after crossing the kilometer marker, a voice inside my head would tell me to push it another kilometer. but the 7th and 8th kilometer markers went by and i was still not walking. i wasn't running very fast, but still i refused the temptation to let other runners pass me by. too many have already done that since the turnaround at the home depot. i finally had 500 meters left to the finish line and decided to hasten my steps and lengthen my strides. i crossed the finish line in 1:04:03, still off my ideal time, but better than my last flat 10K (because the nathan ridge run is a different animal altogether) by 5 minutes.



the HSBC run had a few attractions. winners received tickets to hong kong, and they also raffled off two tickets to london. i actually waited in the vain hope my bib number would get picked, but i'm not that lucky. but one of the things they used to lure runners was to proclaim that the singlets were designed by josie natori. which is a lie, because the print on the back was a calligraphy from the house of natori. the actual jersey was by universidad. nevertheless, i went against tradition and wore the race singlet on race day since i had tested it before.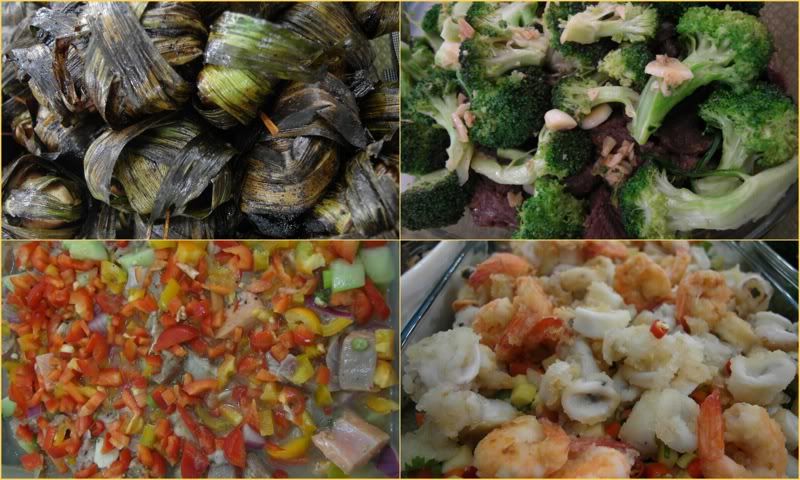 i went home after the run and slept almost the entire day (except to steal a few hours in parañaque for really good food at orland's house as a send-off to our triathletes competing in the timex 226). and this morning, i peeled myself out of bed at 5AM. at least i thought i did, but it turned out i was just dreaming the whole thing and actually stood up at 5:30AM. i already told janice i was late when i checked the starting gun online and i still had half an hour. i was in mckinley hill with time to spare! and a good thing too!

i decided to just run the 5K category in order to trick my legs that i actually did a long run. i'm sure they're smarter than me, but the bib was for free, so when janice told me to hurry because there were lots of freebies, i zoomed to the starting line. i didn't know how well i'd do, not having rested my legs yet, but i just wanted to do a good run despite the terrain. i slowed down during the short uphill stretches, but found my cadence in the last kilometer and finished strong, still a little below my ideal time. i'm not sure whether my constant running hasn't been paying off, or if old age is really slowing me down. perhaps i should get a coach!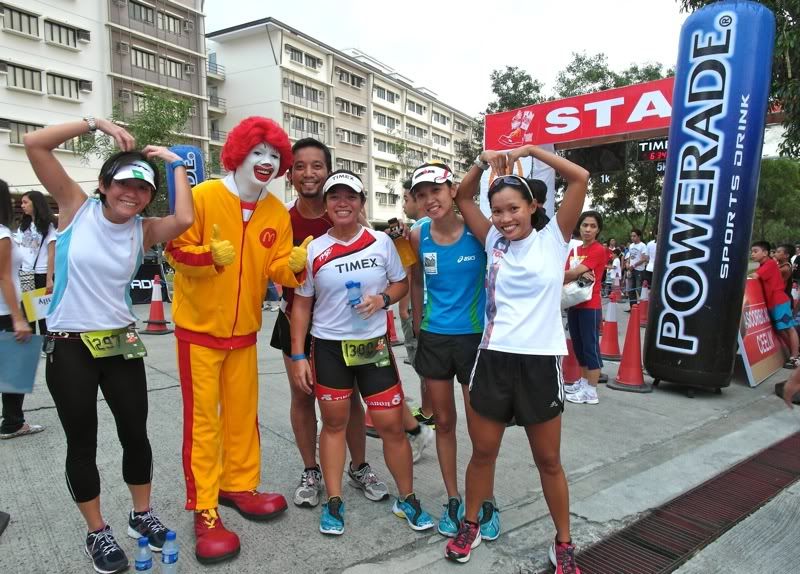 still, i enjoyed the run. if i had known there was a side-event for the best headdress, i would've so made it a career! someone just pinned the boxes of his last mcdonald's meal and he got an iPod nano. i already have one, but i won't mind getting a spare! it was really a family event: people came in costumes and there was free milk, free ice cream, unlimited coffee (like that perks me up) and an unhappy meal! i didn't know mcdonald's now offers zesto. but the finisher's shirt looks nice. fabio ide hosted with jackielou blanco and frequently i had to wonder what it was he was saying. his portuguese accent is so overpowering. but i love accents, even thick ones, so he's excused.


despite the low turnout of runners, mcdonald's announced that they were able to raise 1 million pesos to help disadvantaged elementary school children to read (the HSBC run also benefitted education), which makes me wonder. other races have bigger turnouts and yet they've been giving less to their partner charities. although, you could still argue that the mcdonald's house charities received the money, which mcdonald's the corporation could always use as some sort of tax break (ako na ang cynical).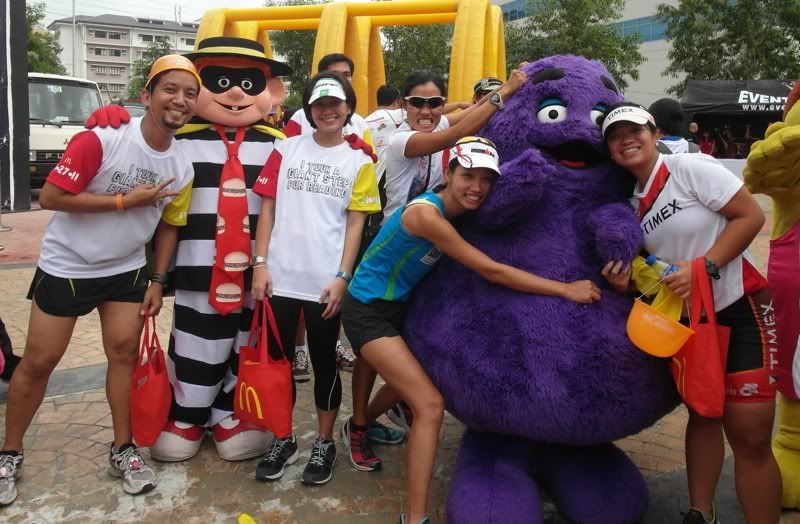 i was going to start this blog entry by proposing that i've now turned into a fitness monster, like some of my friends, who do back-to-back races and still look as fresh as a well-rested elite athlete. but i can't seriously say that without hitting myself on the head with an iron pan. yes, not many people will do 10K on one day, and 5K the next. some people won't even do 10K in a week. but the people i know, some of them do much more than that, i can hardly consider my training as abuse. honestly, i haven't racked up enough kilometers. but i'm hoping it all pays off.