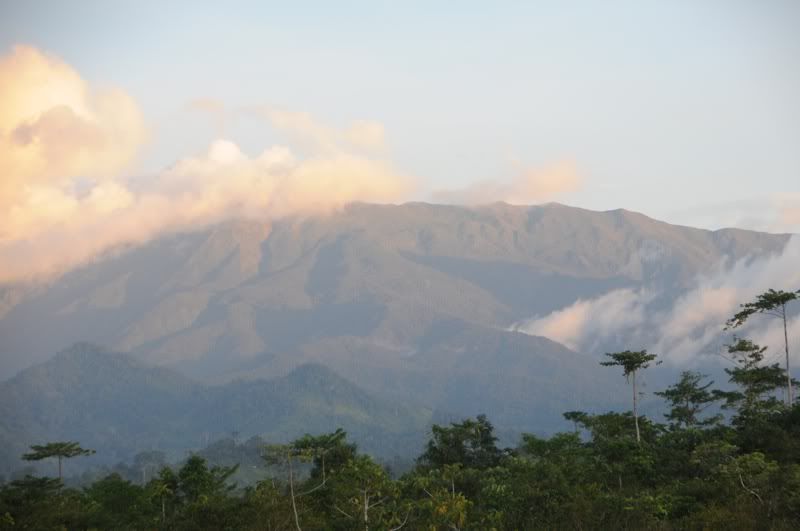 mount mantalingahan in southern palawan should be made a required hiking destination for all adventurous filipinos serious about the sport of mountaineering. i had imagined the opening sentence of my blog entry on my reconnaissance climb to this mountain to read something like this: hasty, sweeping, and arrogant. we were fording the kadiklayan river en route to bono-bono in bataraza. rommel, our secondary guide promised us touchdown on what passes for civilization in this part of palawan a little after 1PM, "at our pace". since the beginning of the trek three days earlier, our primary guide, panglima eldino goling, kept telling us we were the fastest mountaineers he'd ever taken to the mountain. the recognition was apparently getting to my head, and i was arrogating upon ourselves the salutary honor of being the first mountaineers to haul their own bags to paray-paray, and traverse to the other side of this slither of land separating the west philippine sea and the sea of sulu. immediately after we left the kadiklayan river, rommel changed his estimate: we'd reach bono-bono by 5PM. and sometime after 4PM, i asked panglima if he could carry my bag. i was feeling very weak, not having eaten much for lunch, expecting to reach the end of our trek early enough to have something along the highway. he gave me a piece of camote to chew on, and about half an hour later, i was asking to get my bag back. he refused, but i was adamant: it was a matter of personal pride.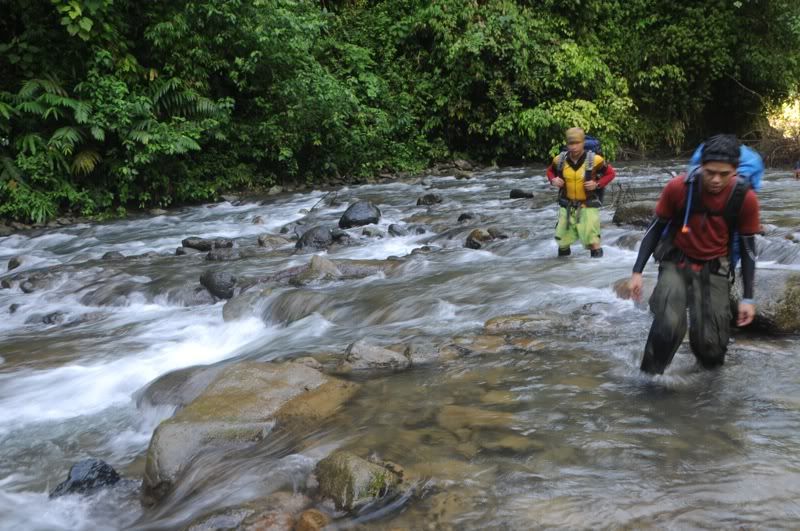 darkness fell upon us as we raced towards bono-bono: the plains were already visible: irrigated squares reflected the sunset in the distance, and powered by camote, we sped towards our quarry, stopping only to change a headlamp's batteries. we crossed a small dam, and along a rough, narrow road fringed by rice paddies, our service pick-up arrived, like two unblinking lights that symbolized our day's savior. at some point, i was already regretting having even suggested a traverse, because it looked impossible to do in 5 days. we had just crossed in excess of 10 hills, and i was beginning to imagine how it would be so much more difficult for the bigger team i intend to bring with me here. arman had subtly suggested that rommel may not have been trustworthy, whether it was possible he was leading us astray.
and it did seem like we weren't going anywhere. the forest that surrounded us was lush and verdant, unlike anything i had ever seen. giant trees the circumference of 10 grown men with outstretched arms sprouted everywhere. it was a primary growth forest, and some of those trees may have already been there for hundreds of years. along the way, we met native palaw'ans: one wore nothing but a loin cloth, who fashioned a backbasket with freshly-harvested rattan. two others were young local subsistence farmers with funky haircuts who rolled cigarettes with tobacco leaves and old, fading strips of newspaper. they kept their leaves and lighters dry inside self-made bamboo containers.
how we found ourselves here is the result of a series of serendipitous events. after being elected president of AMCI, i was thrust with the obligation to choose the destination for this year's induction climb. i knew it had to be something new, something different. something that will be remembered for all the right reasons. then early in the year, a report on a project funded by my office landed on my desk. i was intrigued and began looking at maps. i consulted google. there was scant information on the mountain, and the data that was available didn't give me the answer i needed: can the mountain accommodate a team of about 40 mountaineers? the answer came when
i actually visited the south palawan planning council in sofronio española in june
. someone who had actually climbed the mountain told me, yes, the campsites could possibly fit 20 tents, and yes, it was possible to do a cross-country hike. and so it was decided: against criticism, opposition, and doubt, mount mantalingahan was selected as the venue for this year's induction climb. that early, i already knew who i wanted to join me in the recon. i would not have done it without dennis and TJ, who are two of the most reliable mountaineers i know. but TJ was sidelined by a radial nerve palsy which debilitated his right arm, and after screening several interested applicants to become part of the recon team, i was happy to have had arman on board.
the recon did not start auspiciously: we arrived late in bgy. ransang amid pouring rain. our coordinator kuya jimmy met us at new site and introduced us to three guides. i asked why three? i had only expected one. he said panglima was the lead, rommel was aware of the traverse, and the third one was added so that they'd each carry one bag. i was aghast. but kuya jimmy and the guides were even more surprised when i said we'd carry our own bags. are you sure? they asked, suggesting that it was going to be 4 days of long hikes. there was no hesitation in my reply. besides, i said, we only have food enough for 6 people. it turned out that our two local guides had the appetite of 4 mountaineers.
due to the late hour and the pouring rain, we decided to stay the night at bgy. ransang, in a house that stood at the corner of the dirt road that rolled into sitio ogis. three hours after leaving puerto princesa, the tree-lined stretches of concrete highway crumbled into pock-marked open dirt roads with more potholes than a golf ball peeled into a strip. but this didn't slow down our driver, who drove the toyota hi-lux that the SPPC loaned us for both the recon and the IC like he had stolen it. there is as yet no electricity in this part of rizal. but the evening light was provided by a generator that the store owner next door operates with contributions from the neighbors for the fuel. the kids left to watch "iglot" and i busied myself with dinner. we pitched the tent inside the house. at the time, it was unclear whether we were more afraid of contracting malaria or climbing a mountain we had little knowledge of.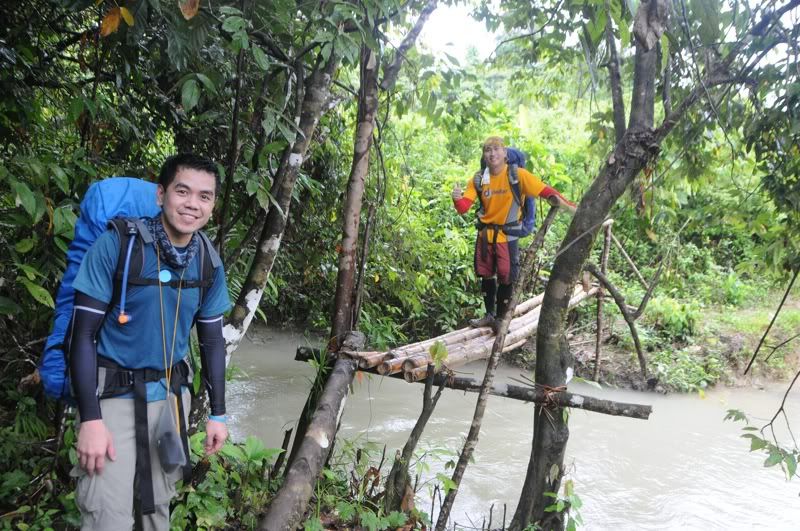 the hinulugang alman bamboo bridge
the following day, we started at 7am, and came to ogis after exactly 2 hours. the road funneled into a flooded trail after just 2 kilometers. during the IC, the weather cooperated, but bare feet, boots and carabao-pulled sleds battered the trail into a long muddy path. when i crossed the second of 3 bridges, my weight bent the bamboo below me, and i held on to the wooden rail on my right, which quickly went unfastened, and i fell into the slow-moving stream below. in that brief moment, i actually managed to contemplate many things, including how i could possibly survive the unknown depth, or whether a crocodile lurked underneath. a hard thud and a splash of water snapped me back into realizing that it was only a little over the ankle. i lost my nalgene bottle in that fall. 5 days later, panglima would find my bottle wedged in the embankment a little downstream. when he showed it to me, i didn't ask for it to be returned.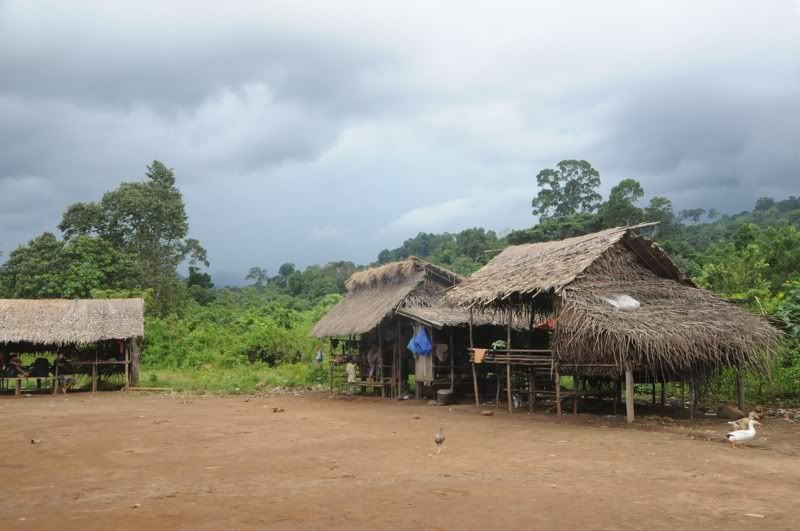 ogis is a small sitio that had a small square surrounded by squat houses and a slightly larger hall where the elders presumably gathered. beside it was an abandoned basketball court, and a little further away, the school. this would serve as the first campsite for the IC, which we all reached after ploughing through the mud in an evening filled with lights: both artificial and celestial. i had never seen a more dazzling evening sky. it was less starry during our recon, but it felt as though we had 3 nights with a full moon which was so bright i sometimes felt a giant spotlight was outside our tent.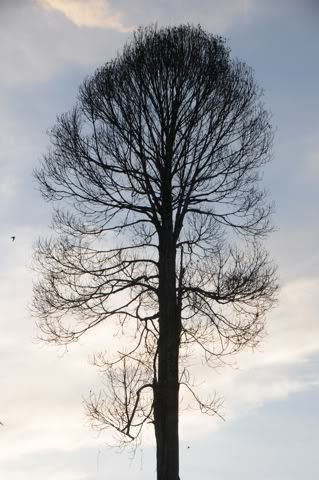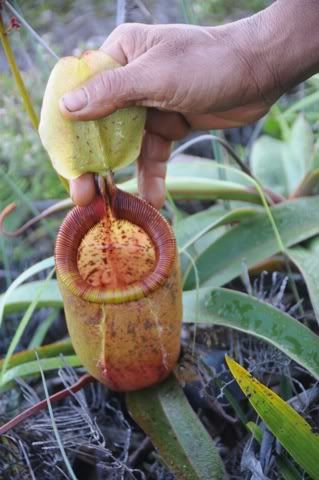 i had warned everyone that we'd be sharing campsites with the locals, that noise should be kept to a minimum. walking a few meters away from the main group, i couldn't believe my ears: this was the quietest campsite i had ever experienced, considering the number of people present. i smiled knowing many cooperated: people avoided alcohol not only because there was this unfounded belief it was a contraindication for anyone taking anti-malarial medicines, but also because it weighed heavily on everyone else: true enough, not all induction climbs spend 4 nights in the mountains. but as early as our first trek through mantalingahan, i knew that this was not going to be like most climbs.
from ogis, we plodded our way to baluing through the citronella trail. i called it that because at every opportunity, dennis smothered his arms and legs with the oil that presumably warded away mosquitoes. we dropped our bags often, and sat on logs and big rocks at regular intervals, munched on chocolate bars and snacks, nourishing our tired but excited bodies. when i repeated this trail, i could not understand why i was so weak between breakfast and lunch. i seriously wanted to lie down on the trail and sleep. i pushed a tasteless and uninspired beef stroganoff into my mouth and swallowed what tasted like masticated cardboard. while i regretted not having interfered more with the meal plan, i have to confess that i found my pace immediately after that early lunch and overtook everyone on the trail: i started from just in front of the sweepers to just behind the lead pack.
this trail isn't so long and difficult, but there are portions that are slippery. although the elevation gain was over 600 meters, there were brief uphill and downhill portions. between the campsites, we stopped by magtanor, another sitio in bgy. ransang. when we first got there i heard music playing and asked where it was coming from. a young father had an old cassette player powered by 4 D alkaline batteries. at the time, an unfamiliar tagalog tune competed with the hiss of the passing wind. i took pictures of children and promised to return with a fresh set of batteries, and i did. immediately after i gave him juice for his player, he turned it on, and i was surprised to hear "la isla bonita" break the humdrum of trek conversation.
on our recon, i was first to descend upon baluing where i found two abandoned houses creeping with little cockroaches that somehow found their way into the crevices of our bags, some of them flying all the way to manila with me. we pitched the tent inside one of those houses, even as the bamboo slats broke and creaked underneath us when we stood. since we had no alcohol, arman brought with him a DVD player, and because my pirated DVDs were incompatible with his machine, we settled on watching "the last airbender" with a robotic male voice describing everything that happened. the movie was bad enough, but this new cinematic experience wasn't worth repeating.
but we passed baluing during the IC, and headed for kebgen. i muttered to those following behind me that we were only about 2 hours away -- it took us slightly less before. but even i was getting impatient because i expected the helipad to unveil itself at every turn. finally, at exactly 4:20PM, i found dennis and niko pitching a tent. only 3 persons had arrived ahead of me and already there were 6 tents there. a quick look at the nylon shelter that stood there before even any of us arrived revealed that others had been here. i surmised that the group that went a day ahead of us decided to set up camp here. but they were nowhere to be seen. i spoke with dennis and we concluded that they had gone for a summit assault without backpacks. at first we found the idea incredulous. it would take them 16 hours at least to do the whole thing, and if they left at 5AM, they would be back by 9PM. as a matter of fact, they began an hour later, and trickled into the campsite after 10PM, loud and boisterous, not the least bit surprised that more tents had mushroomed, and that at least one of their tents, which they left unpegged, had moved by 4 feet to the right.
our own group had only been completed by 9:30PM. the last of our group arrived 5 hours after the lead pack, which i found a little absurd because i passed them all as late as 1PM. i wondered how and where the build-up happened. apparently, the IT appeared to them bloated in the beginning, but tight in the end. during the IC people had commented about the inaccuracy of the itinerary i made: that at times the actual trek was longer, at times shorter. my response was this: the IT was based on just one experience. it was already adjusted based on the actual pace of the recon team, and would have been reasonable for any average climber. to my mind, an adjustment of more than 4 hours was more than generous, and by some standards, would even qualify as bloated.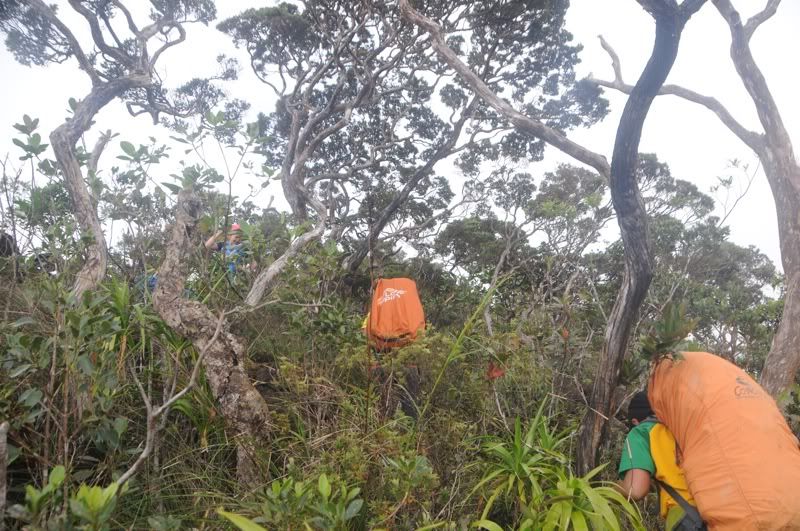 but it was very early in the trek when the air was began to thick with complaints. i brushed these aside until i found my time allotments to be so exact on the last day, that if anyone paused even briefly, or lingered, then delays would certainly pile up. as was my habit, i called the group leaders each night for a meeting to apprise them of the next day's challenges. i warned them that day 3 -- the unforgiving assault up mantalingahan's paray-paray campsite, would be a struggle. indeed, it was here where i contemplated the immense difficulty of the climb, and worried that some people might find themselves floundering along the jagged boulders of the bonsai garden trail.
so for the next four days, the team had to be up by 3:30AM, and trekking 3 hours later. i hoped the cushion would allow them to get past the 2 mans' assault: an unending climb, where the total elevation gain is about 500 meters. if lunch had been my savior during the trek between ogis and kebgen during the IC, it was lunch as well that undid me during the recon. i normally could not bare to chew more than a spoonful of my own cooking, so i ended up getting very weak in parts that i rested every 10 meters up. many times i had to ask our guide if there was any water along the trail, suggesting a bivouac somewhere. it didn't help of course that kuya jimmy had inaccurately pegged the altitude of paray-paray at 1900masl. at our steady, exhausted pace of 250 meters/hour, i predicted we'd get there by 8PM.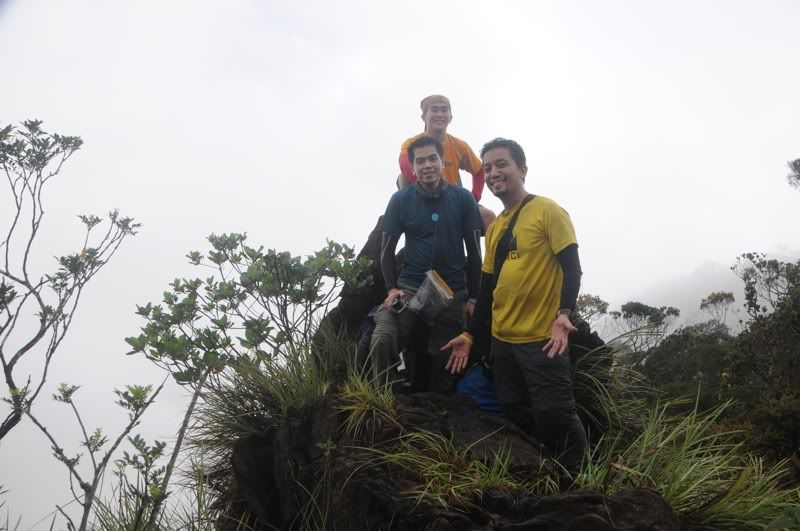 dencio's rock marks the beginning of the bonsai garden trail
but dennis was as solid as the rock we named after him, and insisted that we push for the campsite. his resolve to keep trekking was a psychological tether that short-roped my easily-surrendering self. along with arman, who frequently stuck his tongue out to express his exhaustion, we forced ourselves up past the view deck we named after him, into the sacred grounds where the guides said the cannibalistic but now extinct tau't daram once buried their dead (or was it their meals?). i had found some strength in this part, and so we named the next portion the second wind ridge, which opened to a foggy sky creeping over what seemed like the edge of a primitive saw.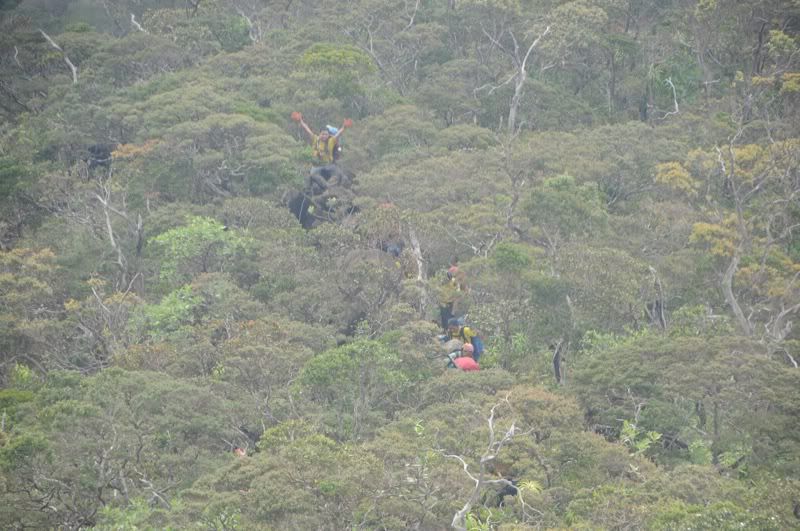 the bonsai garden trail was so named because short, twisted trees enveloped in moss grew between the cracks of boulders that had been sharpened by acid rain. the forest cover was sparse because we were taller than most of the trees that had been shaped by the movement of the wind. it was easily the most beautiful part of the trail, and when i returned here, i spent 2 hours sitting on a blunt boulder near its end, looking at climbers dotting the length of the garden trail with their colorful shirts, like beads of a broken rainbow necklace.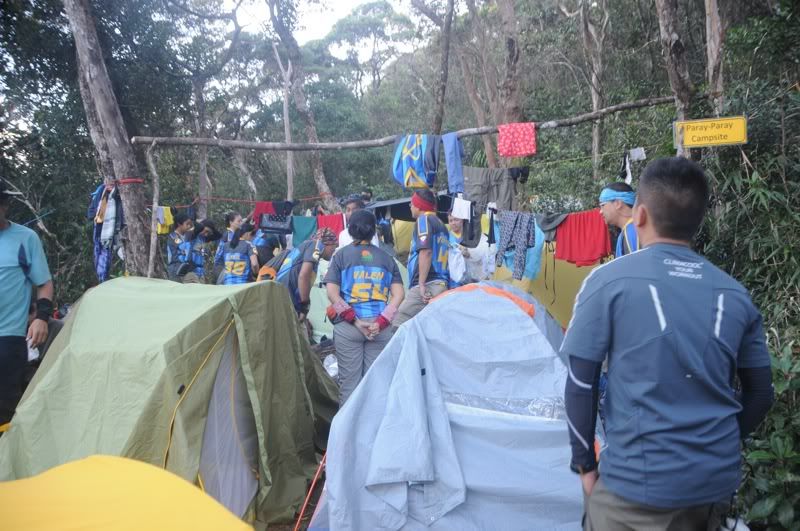 from here, paray-paray was only about an hour away. at 1610masl, it is not very high, but the feeling you get when reaching this place can be compared to very few things. we first reached this place just as the sky was squeezing the last drops of light. but during the IC, everyone was in with lots of time to spare. the campsite itself is quite small, and very early on i informed the team that only about 12 tents would fit, and not comfortably. but the guides flattened areas and dug out rocks to accommodate more tents, and 14 tents stood there, with space to spare.
we had dinner in the company of moonlight, and although this was occasion to be jubilant, we still treated the place as though we had neighbors not used to our noise. save for the suppressed laughter from exchanging unverified gossip and flatulence, it was a quiet evening. water was abundant, and so was good cheer. with contribution from other members, i revised the next day's itinerary and decided that the induction would take place much earlier, and not at the birders' area just above the campsite. so at 3AM, alarm bells were sounded and by 4:30AM, 24 new members were added to AMCI's growing family.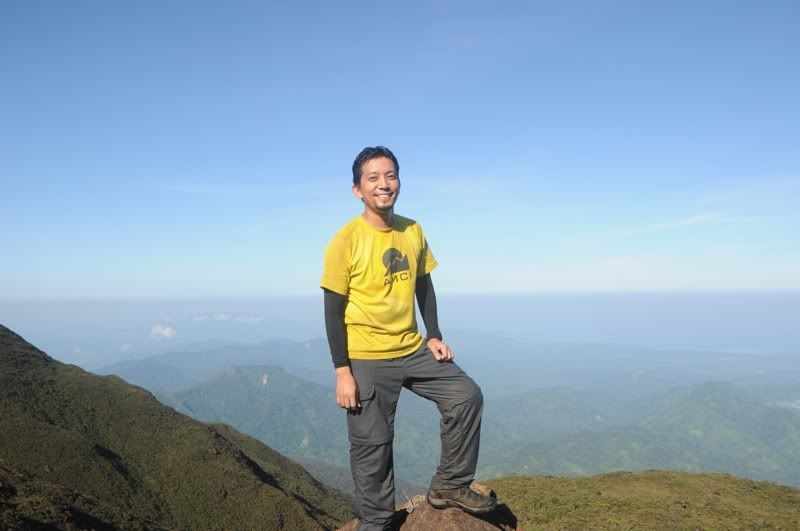 by 6:30AM, the few and the brave were already scrambling through thickets and tottering over chunks of rock on a ledge that resembled the teeth of a crocodile. not everyone was eager to start a summit assault. many were happy with the view from the water source. i informed everyone that the IC was no different from any climb: the summit is always optional. but going home is not. standing on the roof of palawan was a choice that one had to consciously make. less than 2 months before the IC, i almost made the decision not to go there, but dennis was adamant. and thankfully so. i followed our guide panglima as he took us up. he jumped barefoot from rock to rock, some of which were cracked in places that pieces could have been used as knives. they could easily cut through meat. my boots were severely nicked.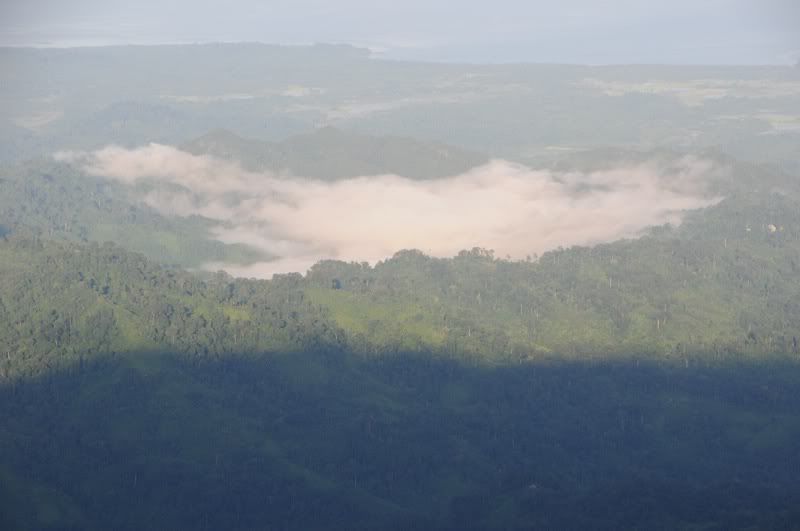 rising in elevation, i found the view commanding in so many ways. behind me, a pancake of cloud collected just above this crater-shaped hill that the locals called kawa. on its lip members of the tau't bato tribe live, and in its very heart, a mystic river flows. half an hour from the campsite, the trail winds through a forest, unmatched in the depth of its green moss. suddenly, it opens into a vast area sloping to the summit, although the highest peak is still over an hour away. here, the plants are stunted and so thick that often, you either walk on them, or stumble over them. i reached the summit exactly at 9AM the first time, exactly 2 hours after we left the campsite, and in the time panglima predicted.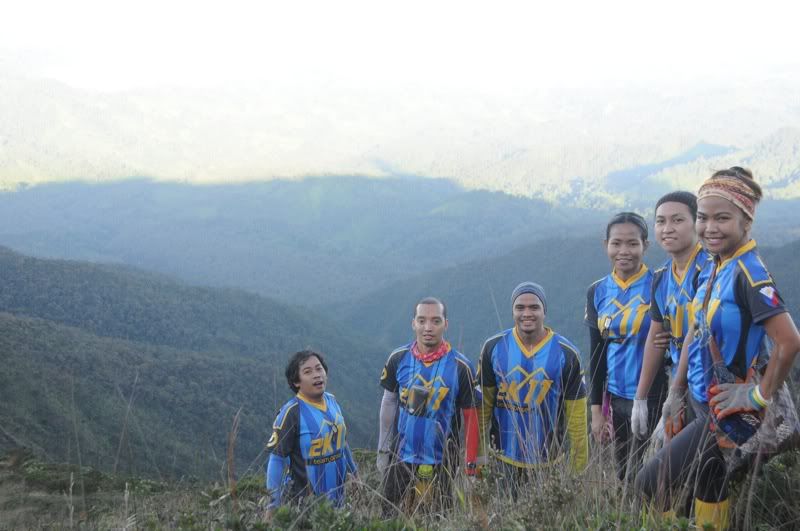 but panglima wasn't around to take us there for the IC. he asked another guide, who unfortunately knew another, less direct, way. he said he wasn't aware of the trail that panglima took, so we turned left when we should have been going straight. nevertheless, after some clever maneuvering and lots of dexterity, dennis and i were screaming at the top of our lungs. we couldn't do this the first time because the other side of mantalingahan, which looked down to the towns of brooke's point and bataraza, was covered in dense fog.
but this time around, we stood on the very spine of mantalingahan's summit -- not its highest peak -- but able to see both the west philippine sea and the sulu sea: endless bodies of water that rippled into the distance. the mountain draped away in sheets of lumpy green, fading into cultivated patches, scored by streets. the summit ridge was an imposing blockade of earth that fell into a steep curtain on its south face. a wispy cloud was being stirred just below us, and we embraced the warm but ferocious wind that passed over us. it was such a blessing to be there, to be just a little over 2000masl, and yet to feel like you're on top of everything; to feel so weightless but so grounded at the same time. it was no easy business getting there, and the 15 of us who managed to reach it within the cut-off time i imposed belong to a small gang who returned to paray-paray feeling accomplished.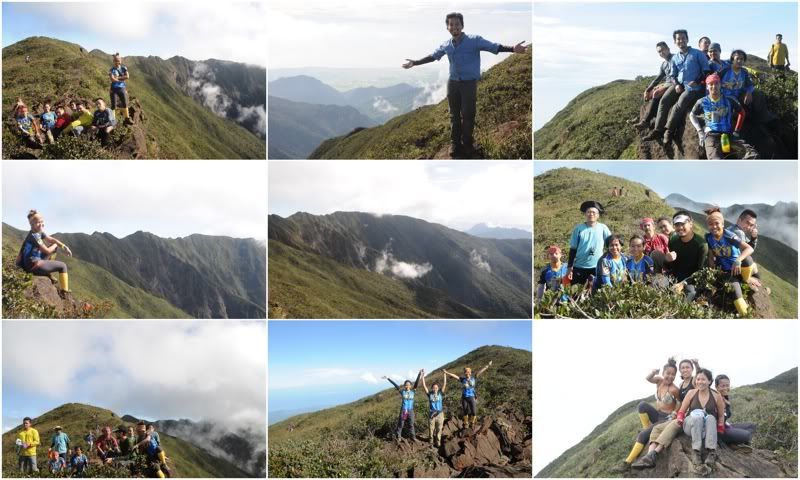 i do not think any less of the climbers who didn't reach the summit (or what passed for it), but i certainly distinguish between those who didn't even make an attempt. before noon, we had all eaten and packed, and ready to return to kebgen. i knew this was going to be a quick descent, regardless whether rain would accompany us. as usual, i started from the end, and worked my way to the front. i trekked alone, which is not something i would recommend to anyone, but it was a privilege of being TL: i had to make sure everyone was ready to leave the campsite, but also had to make sure that i was at the next one to receive everyone. so one after the other, i passed members of my team. everyone had been this way just the previous day, so i was confident no one would have any false expectations about the distance that had still to be covered.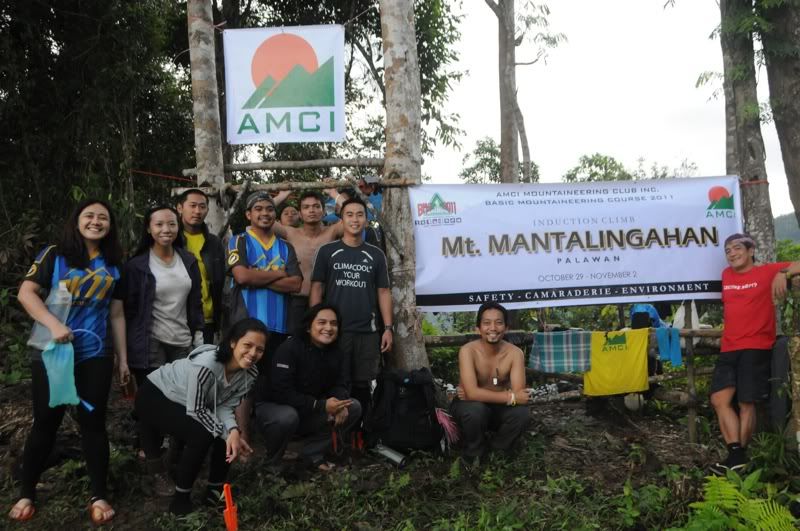 in four hours, i was already at kebgen, although i was expecting to be there earlier. i confused a clump of houses just after kawayan for kebgen. like i said, this part of the trail would be more difficult on the return because of the uphill portions -- even i was a little frustrated the campsite wasn't just beyond the bend. two tents were already pitched at kebgen, the one i shared with dennis and TJ included. the kitchen was reinstated to its proper occupants and i was heating water for soup so i could offer members of my group something warm when they arrived. it rained only briefly although i expected worse: a rolling thunder shook the brooding sky several times.
then weng arrived. before her bernard. i began to wonder where madie was: she was the last person i overtook before reaching the campsite. i caught her resting at the clearing, and i asked her if she was alone, encouraging her to quickly follow suit. i asked those who reached kebgen after me if they'd seen her. they didn't, and neither did the 4 persons that followed. we had a situation. she had gotten lost, i was sure of it. very quickly, i imagined scenarios and laid out some options with dennis. we asked what equipment she had with her if ever she had to endure one night alone. dennis phoned arman to tap his military connections. i sent two hesitant guides back to see where she may have taken a wrong turn. suddenly,
flashes of halcon in 2004 came haunting me
, and even as i had already decided to stay behind to search for her, i sneeked into the tent to pray. it was already 7PM.
then suddenly, i received news that she'd been found: that in fact she lost her way, but by the time she had realized it she was so far into the trail she blazed that she couldn't go back and find the way to kebgen. she ended up in a river, which i caught a glimpse of just before i reached kawayan. she rummaged through the forest, shouting "tulong" at regular intervals, until someone heard her. before 8PM, she was already at the campsite, and told me about her "very negative experience".
so i relaxed a little after that very real scare. we still had one full day ahead of us, and the final night was just as sober as all the rest: little or no alcohol passed around the campsite. we just amused ourselves with stories which we said in hushed tones. no unnecessary shouting, no boisterous laughter. almost alcohol-free and quiet. so unlike AMCI, i thought. but then i realized that AMCI isn't so much known for its noise or its threshold for poison. rather, it was known for its pioneering spirit, the joy its members derive from doing difficult things, and its methodical precision in climbing mountains. to the guides, however, we were quickly gaining a reputation for having sent so many women carrying their own backpacks up to the mountain, and for having done so in less days than most groups.
but then again, those conclusions are made a little too early. we hadn't returned home yet. on our last day, a few people left the campsite later than the IT, so i warned them they'd probably have to trek well into the night. i left the campsite after a prayer at 7:15AM. nine hours later, i would reach the end of the road. in between, i stopped maybe 4 times, including a 20-minute lunch in magtanor. i wasn't really fast, but i wasn't taking any extended rests either. several times i fell on the muddy trail, but i quickly picked myself up and continued plodding through the trail. it was long, and at times, i dragged my feet. finally, i heard the sound of roosters. i sat on a stream to rinse my pants. i rested on a bench in ogis and asked the guides to wait for someone to arrive before resuming the trek. it was just before 2PM, and i was certain some people would reach the highway at past 8PM.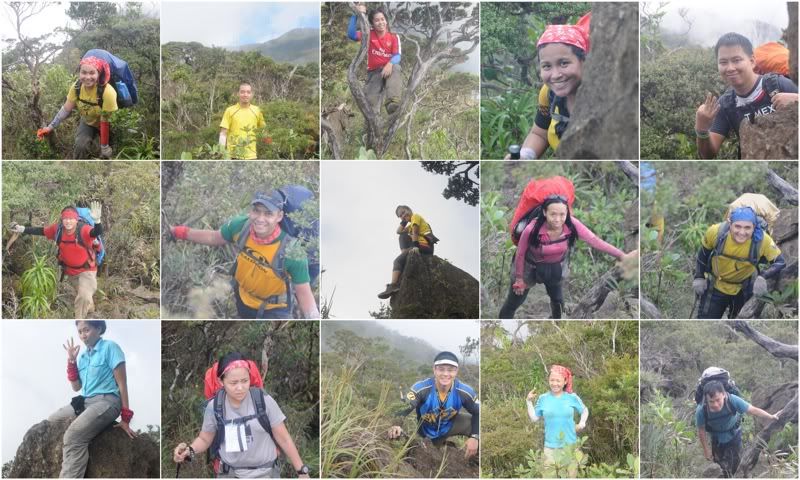 i was wrong. the last two persons on the mountain reached the highway by 8AM. the following day. how that happened i can only imagine, but frustration and exhaustion can become a lethal combination. after having cleaned myself at a well, i tried to find ways to make life more bearable for the tired members of my team, who trickled in batches between 5:30PM and 9:30PM, by which time i had already heard far too many surly words, including threats, veiled or otherwise. i had 30 packets of pancit canton cooked, tried to appease a group of very irritated drivers, and made very difficult decisions. the first was to let the main group leave ahead at 10:45PM. by this time, 7 people were still on the mountain. based on information i gathered from climbers still on the mountain, it was estimated that some of them would reach the highway by midnight. so i took the pick-up the mayor loaned us to the edge of the trail, the farthest it could take us, and waited for them to arrive. at 1:30AM, niko and kuya jimmy woke me from sleep. it took me a moment to react as i thought i was dreaming. he said he was just with kat, angie and lester less than 30 minutes previous. he estimated they would arrive in another 30 minutes. we waited that entire time under cover of darkness while mosquitoes feasted on our exposed legs, talking about plans that had gone awry. but no light could be seen at the end of the trail, not until half past 4AM. when we were finally at the highway, the food i cooked had already gone cold.
at a little after 5AM, i left some money with kuya jimmy and asked him to take care of TJ and VP who spent the night in ogis. angie still had a flight to catch at 9AM, and although nilo drives like he was racing, there was no way we'd make it to puerto princesa before the counter closes. throughout the ride, i wove in and out of sleep. i was too tired and too worried to rest, actually. i only received news from TJ when we were already near PPS. at the time, they didn't expect to reach the capital city in time for our 5:45PM flight. the bus they boarded moved at a snail's pace and stopped frequently. i suggested they transfer to a van when they reach quezon.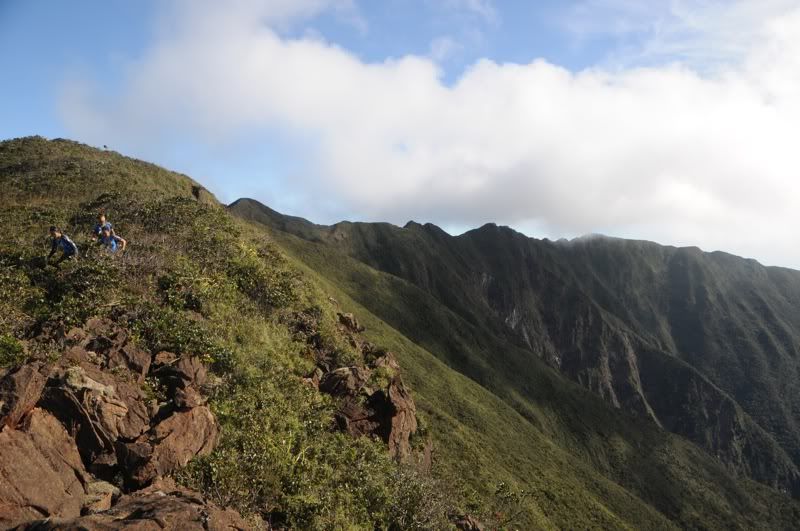 meanwhile, we were deposited at our supposed wash-up area, and although we were saddled with several pains and concerns, we still managed to peel ourselves out of bed and enjoy some local delights. the dormitory was virtually empty: two separate teams had left for a tour of either the underground river or honda bay. those who remained in the city went to the market and carted home sun-dried fish. TJ and VP were doing an amazing race to the airport. we just went through what may very well be the most difficult climb in the last few years -- so difficult that kuya mar was prompted to say that i had restored AMCI its hardcore status -- and yet resting was farthest from anyone's mind. each of us was involved in some form of adventure, as if the one we had just endured (or enjoyed, depending on one's perspective) wasn't enough. this is the AMCI i know: we submit ourselves to enervating excursions because rest is for the weak.
at the airport, i waited outside for the sweeper and his client to arrive, but i wasn't quite expecting to see them there still in their trekking attire. apparently, they could spare no time to wash-up and change at ransang, because the bus was already there when they finished the trek. VP was smiling, although he dragged his bandaged feet that made him look peculiarly pitiful. an airline crew member asked if he had been in an accident. he had sores in places that didn't even touch the ground. i was feeling some phantom, sympathetic pain. i too came down mantalingahan almost limping the first time, unable to keep my feet inside a pair of slippers, although my injuries were of a much lesser degree. that he could manage to smile despite his condition, and dismiss our expressions of concern was a testament to the attitude all mountaineers should cultivate: that your happiness or suffering is very much within your power to control.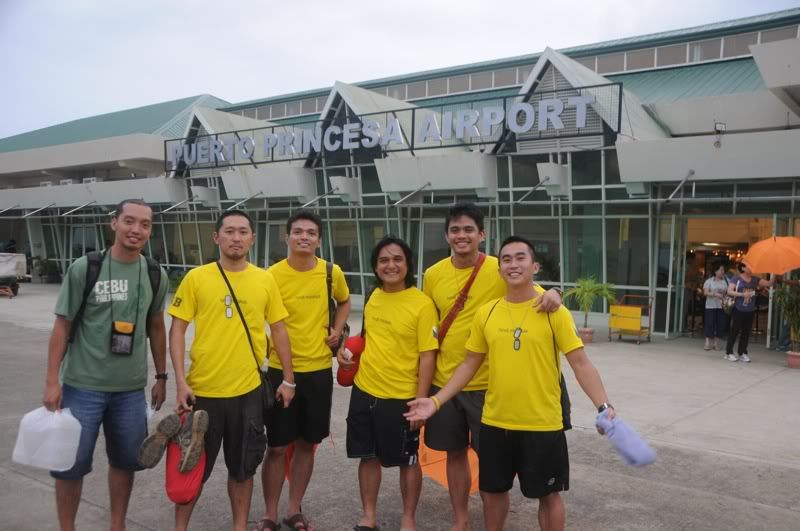 TJ and VP slip into their SB hindi malakas (malakas na malakas) t-shirts at the PPS airport
by past 7PM that evening, most of us were already in manila, eager to return to our own homes, happy to have put behind us a giant of a mountain albeit unable to face the mountain of work that waited for us in the plains, laundry included. i had mellowed since my first climb up mantalingahan. i had all the reason to celebrate and indulge in some self-congratulatory praise for its success and safety, the little bumps notwithstanding. but no matter how large your accomplishment, you realize that most of it is because of the mountain's largesse. climbing mantalingahan has been sobering in so many ways, and not just because we refused the lure of alcohol. i am only too happy to have been allowed passage through this mountain twice, to have seen it at its most beautiful, at its most ferocious. it has given me reasons to doubt my own perceived weakness, to reassess my imagined limitations. but also, it has reminded me of the true value of my friends: how they inspire me and how both strength and determination are actually shared resources.