i've been giving up some of my weekends in exchange for running. i normally run during the week and hie off to some far away place on a saturday, but that has not been the case for the entire month of november, and most of january. not that i have gotten better at running. i was shameless enough to share my embarrassing performance in the 2011 standard chartered, despite what seemed like sufficient preparation. i entertained the possibility that i might already be too old at this and that my body can't handle the stress of running. but all i need to do is to look around me and realize that a PR isn't intrinsically linked to youth, but to determination and perseverance. so i put wanderlust at rest and decided to rake in some kilometers in time for the condura skyway marathon next sunday.

i did the 16K category of the timex run last week, and much like last year's
greentennial 15K
, most of my training for it consisted of streetdancing. although i did manage to sneak in a 5K run the sunday prior to the race, my muscles weren't quite primed for the race, notwithstanding that i covered that same distance on an almost similar route just 2 sundays previous. but my muscles forget rather quickly and i failed to equal my performance in the PSE bull run and finished in 1:47:53, almost three minutes off my goal. i was actually doing well in the first 4 kilometers of this race, being paced by my friend andri, whose record in the 21K at the ljubljana marathon is an impressive 1:43. but that proved to be my undoing because i got tired too early, and i basically just told him to go ahead somewhere near the manila japanese school. i wasn't even going up the buendia flyover when i started to slow down. i never managed to find my pace again after that, even though i had a decent 10K cutoff.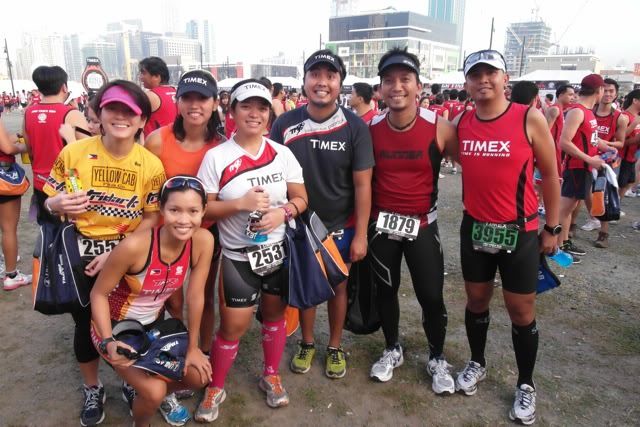 on the return to BGC, i squeezed an entire pack of organic clif shot energy gel into my mouth, and i immediately noticed that it tasted funny. i can't remember how long i've had it, and i wondered if it was already expired. i was already dragging my feet at this point and i was worried an upset stomach would force me to DNF. when i reached the 14km marker it was already 1:32, and if i wanted to finish in my ideal time, i had better pick up the pace and go back to 6 min/km. but the prospect of finishing in good time wasn't enough motivation for me, and i struggled with lead-heavy legs to finish 598th in a field of 1368 runners. a pretty bad ranking, but i'll take it.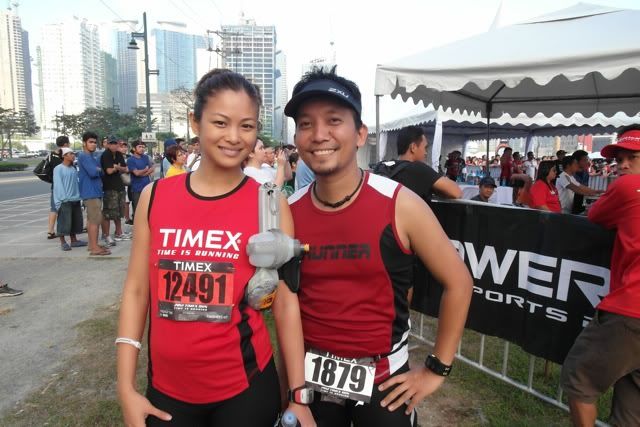 after the race i spotted some celebrities walking away from the stage. i was in a dilemma who to ask for a photo: anthony pangilinan, maricel laxa, or miriam quiambao? i decided to accost the former miss universe first runner-up instead. immediately after breakfast at trellis with TMM-timex, i went home and slept until after lunch. i knew i had some serious training to do for condura, and i promised to run some more in the intervening two weeks. this resolve ended up with a registration for the 15K category of the no speed limit run at the ateneo de manila university campus and C-5.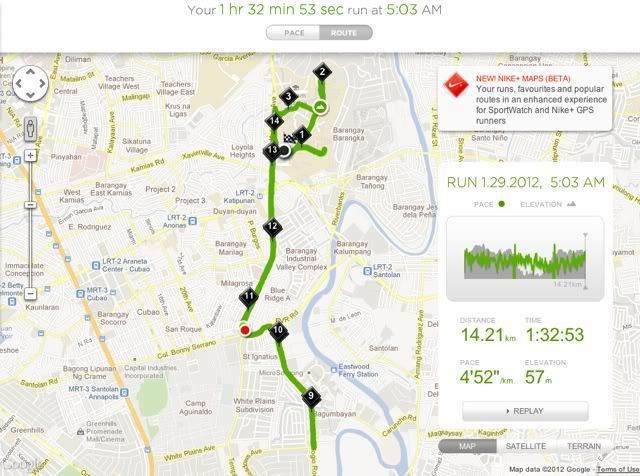 the route was very interesting: we ran inside the campus, starting just outside the blue eagle gym, down to the loyola school of theology, going back to fr. matherson drive past church of the gesu, turning around at moro sports center, going out to katipunan, over the aurora boulevard flyover, onto the libis underpass, spilling outside of eastwood, and turning around at greenmeadows. it was different from most of the races i've joined, certainly a change of scenery, but possibly the most dangerous: C-5 wasn't completely closed to traffic, and only a lane was reserved for runners. this meant that we ran alongside trucks and speeding vehicles. i worried the entire time i was on the C-5, that there might be a drunk driver on his way home from a gimik, who would plow through the row of runners and instantly kill them. i was actually thinking that the race title referred to the vehicles on the highway. one might think that morbid thought would make you run faster but it didn't. i was sluggish for most of the race. in fact, i was so uninspired in the last 6km that i expected to finish the race in the same time as my worst 15K.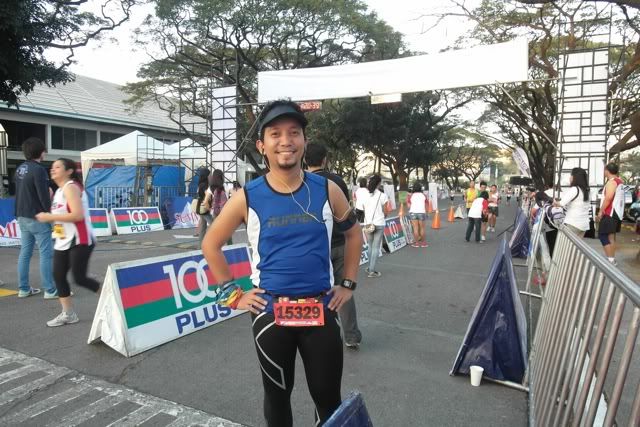 surprisingly, with a 1:32:53 time, i did rather well, which a lot less than my assessment of the race overall. apart from the interesting route (which was about 700 meters shy of 15 kilometers), this race was a huge failure, i'd suggest that the ateneo special education society never organize a race again. first, there were not enough marshals along C-5, considering how dangerous it was. there were not enough traffic cones to separate the lane for runners, or traffic aides to control the flow of vehicles. also, the race course was not clean, i pity the guy who ran barefoot. there were pebbles the size of golf balls and slivers of wood (possibly with exposed nails) in libis and eastwood that would have maimed anyone with the misfortune of stepping on them. also, the atenean race volunteers were kind of limp, it didn't make a difference that they were there. the turnarounds were also not clearly marked, and it was a throwback to the 90s when they handed out strings at key points. with a P700 entry fee, they could very well have hired the services of a professional. also, i was not able to get a singlet. i've written a lot about my low opinion of singlets, but the funny thing was that they offered me three options: 1) claim the singlet on february 3 (which meant going back to the ateneo campus on a workday; 2) get a P50 refund; and 3) get a full refund. had it not been for a good cause, i would have gone for option 3) but still run. there are already a lot of very experienced race organizers out there who have been hammered by previous mistakes who could have done a much better job than these rich college kids.
which brings me to an assessment of my performance in the 15K/16K distances. i've said before that i prefer these distances over the 10K (provided of course that i'm primed), and my performance overall has been encouraging. for the 15K category, my average for the past four races (
2010 globe run for home
,
2011 greentennial run
,
2011 globe run for home
, and 2012 no speed limit) is 1:35:25, or a pace of about 6'21"/kilometer. what's more surprising is that in the 16K category, my average pace in four races (
2011 PSE bull run
,
2011 condura skyway marathon
,
2012 PSE bull run
and the timex run) is 1:44:52, or about 6'33"/kilometer. given just an extra kilometer, a difference of 12 seconds/kilometer is actually a bit surprising (of course this is assuming that all the races had the exact ditance, which is not the case most of the time). if only i can keep this average over 5 more kilometers, then i wouldn't always fret my results in the half marathon.