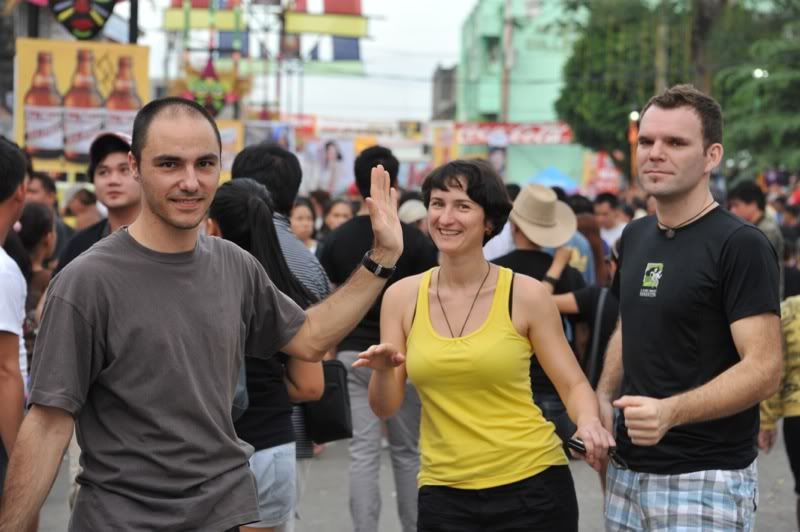 i am unsure whether people have so low a regard of me, or simply do not know me, that they ask the strangest questions whenever i am surrounded by foreigners. i have fielded the gamut of inquiries, from the seemingly innocent but stupid "tour guide ka ba?" to the subtly suggestive "san mo napick-up ang mga yan?" to the downright vile if not ignorant "booking ba yan?" i've responded very casually in most cases: no, they're my friends, and i am showing them around. i have not kept secret the fact that
i am a xenophile
, and that i may actually harbor fantasies about being a cicerone, but the truth is, i am drawn to foreigners visiting my country because i am curious to know what brings them here, to this nation of close to a hundred million people, against whom a handful of travel advisories have been issued by foreign governments. i am drawn to them because i want to know where they are from, what language they speak, and what they think about this country, whose streets are littered by tumbling plastic bags and children with dirty faces and no underwear. why the philippines? and perhaps by getting answers, i can somehow contribute something to nation-building.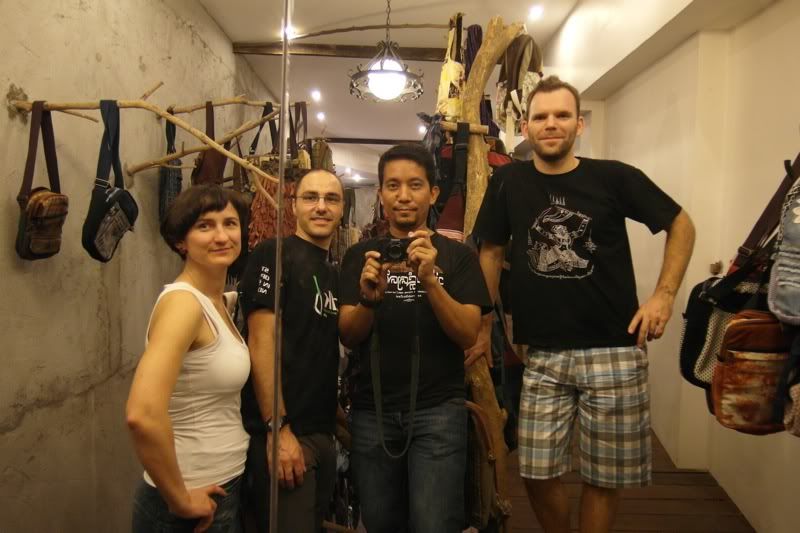 last month, i hosted 3 slovenians who came to the country to escape, primarily, the freezing winter that is sweeping across of europe.
andri has visited me before
, but this time around, he brought with him two more. sometime last year, andri asked me what i had planned for january, and although i wasn't jumping off my seat at the prospect of receiving any visitors, i informed him that i would be going to kalibo for ati-atihan. a week later, andri was providing me with information so that i could buy them tickets on the same flight as mine. i whisked them from NAIA terminal 1, brought them to makati, and spent the next few days thinking what i could possibly do to keep them preoccupied.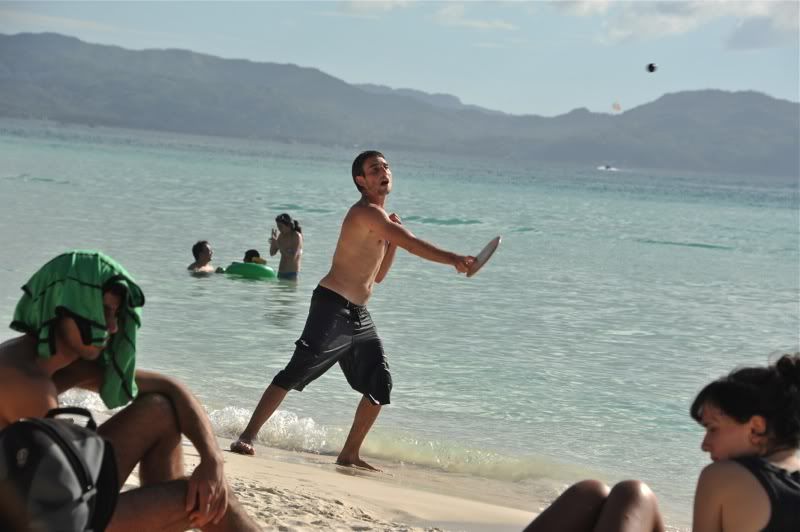 immediately after
ati-atihan
, we took a bus up to caticlan, hopped onto a boat, and were gently cruising to boracay island. i had planned this trip for my lonesome self, so i really had no specific activity in mind. i had done a few of the touristy things one might do in boracay, and wasn't keen on feeding fish or riding a glass-bottomed boat. honestly, i just wanted to get really boozed. and by my humble calculations, during those 5 nights of debauchery since arriving in kalibo, i may have consumed over 30 beers. still, nothing comes close to
last year's decadence
, but understand that this year, i was actually baby-sitting some foreigners. not that they needed to be watched, but that i felt responsible for them. so most of the things we did, we did together.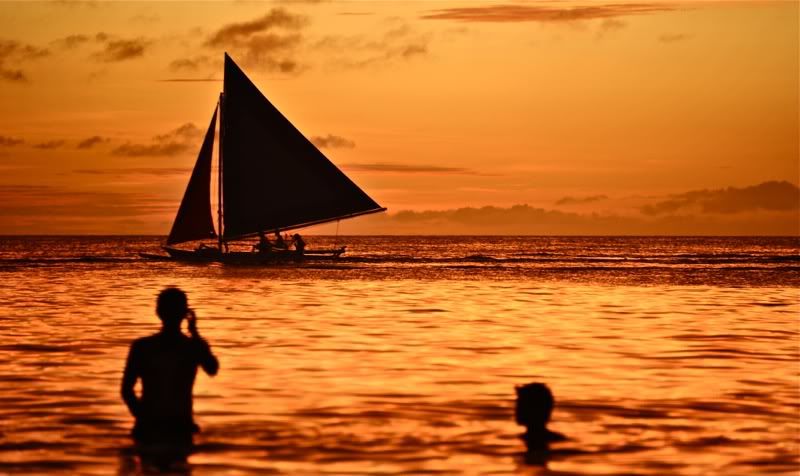 as usual, i slept for most of the day and peeled myself out of bed at noon. i stepped out into the beach to just look around and watch people of all forms and colors do what most people are expected to do in paradise. boracay island looked a little crowded, but not as crowded as holy week when truckloads of tourists are dumped on its powder-fine shores. mostly i just waited for the sun to set so i could watch as the sky turned orange while paraws sailed across the horizon. and then i rested after dinner so that i could dance the night away until i am exhausted from drinking, or drunk from exhaustion, and walk home with my head unbowed, a silly grin plastered on my face.
after boracay, andri decided to stay in manila a while to have his first taste of a foot race in tropical weather. his half marathon time in ljubljana is impressive: 1 hour 43 minutes. their race starts at 10AM, and the temperature is a pleasant 10 degrees. here, it's 25 degrees even before the sun rises, and there's humidity too, but despite stopping at every hydration station, he still finished in exactly 1:30. after the run which left both me and my guest really exhausted, we went to get full body massages. i'm not sure what the standard in europe is but at one point, andri revealed that he entertained thoughts that it was an erotic massage because the masseuse was kneading him too close to his private parts. i guaranteed him that it was normal in the philippine setting, and that if he was interested in a happy ending, he should have said so because i may have some ideas.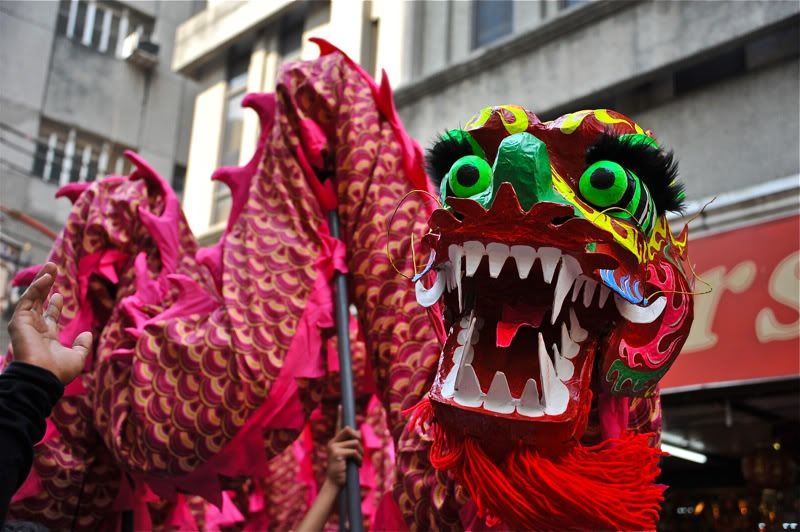 i also took andri to binondo for chinese new year, where we got lost in seas of onlookers and people with cameras. i wanted to eat some hand-pulled noodles at lan zhou la mien but i couldn't find it at benavidez street anymore. the space it used to occupy was now a david's tea house, so we transfered to dong bei dumplings, where we were driven out literally, despite not being half way through our meals because ivan man dy and his group were already there. i like what the guy does, but i'd prefer that his tours not interfere with other people's happiness.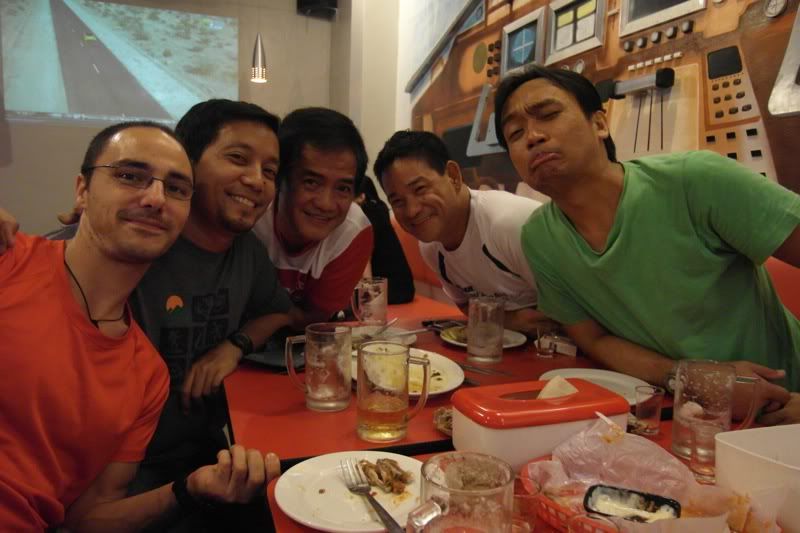 for the rest of andri's stay, i took him to what i usually do when i'm not visited by strangers from strange lands: mostly to places around my neighborhood, ending each night with at least one bottle of beer. he eventually met many of my friends, toasted glasses
na zdravje
with them, and educated them on the finer points of slovenian cuss words. of course everyone else had a difficult time pronouncing those strange slavic phonemes and it made andri laugh so hard because the meanings had been changed. i normally don't encounter such difficulties, which is probably a direct result of my prolonged exposure to foreigners: i am used to the myriad of ways a or e or i is said in different languages. i have an extremely good ear, and an equally flexible tongue.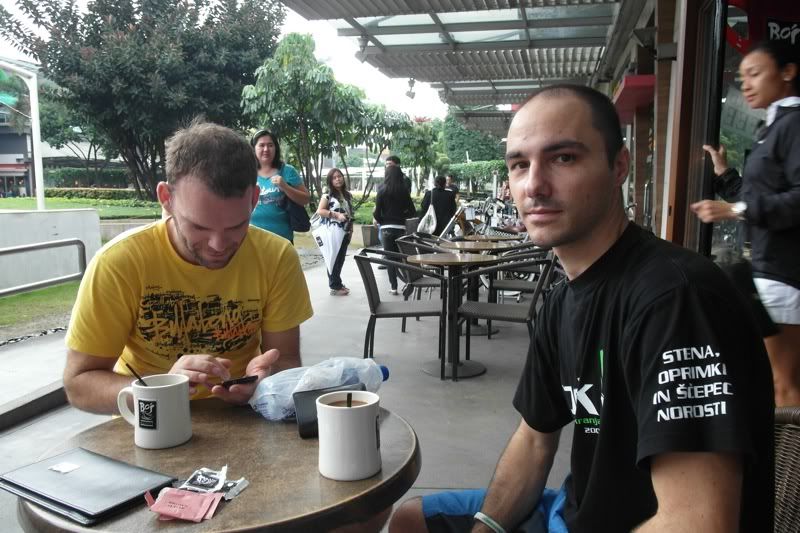 during andri's stay here, he's had occasion to share with me his minute observations about the state of this nation. now i'm not onion-skinned nor easily affected by sour comments about the pervasive poverty, or the crippling corruption, or the lack of foresight that plague this otherwise beautiful archipelago. i didn't react in the same manner as most people when philippine medical schools were insulted in an episode of "desperate housewives", or when claire daines had unkind words to say about manila, or when one foreign blogger described his experience here as disastrous, or when a website described NAIA's terminal 1 as the worst to sleep in. in most cases, the observations are based on truth, based on fact. i am often more incensed by generalizations made by filipinos about their own country: that there's nothing to do here, that everything is better than elsewhere.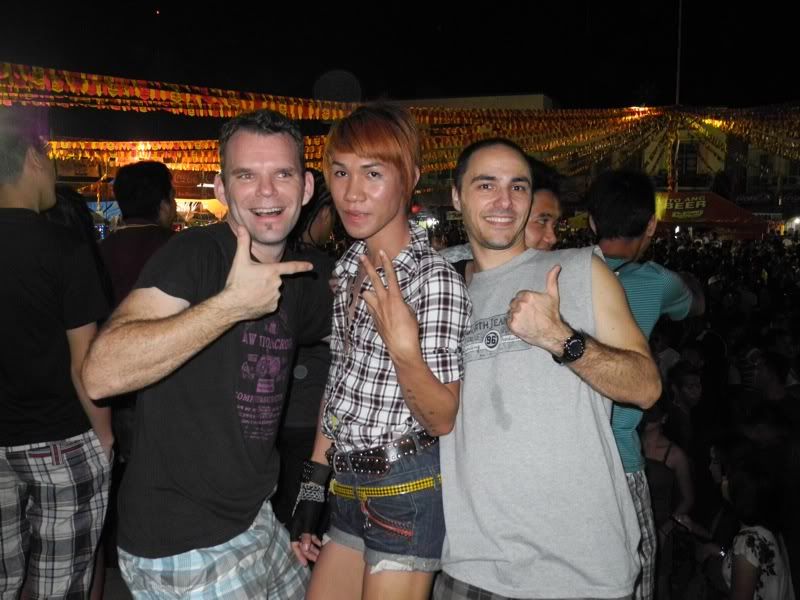 the slovenians were popular with the ladies
that is why i was a lot surprised when i was affected by andri and his quips about how filthy the philippines is and that filipinos were lazy. to put it into context, here are the stories: we were walking back to our resort in boracay when i spotted a creepy crawly on the pavement. he said they don't have cockroaches in slovenia, to which i replied that well, it's a common sight here. and then he concluded by saying it's because the philippines is so dirty. his second observation was about the lack of bus stops in most places outside makati. he lamented the fact that the bus hadn't moved more than 10 meters when another passenger shouted "para!" he blamed lazy filipinos for prolonging his ride. no one will deny that cockroaches don't exist in manila, or that commuting filipinos have no regard for proper areas to stop a bus. but oddly enough, i took personal offense, as though the comments had been directed at me: that i'm dirty, i'm lazy. i found it hurtful, particularly because they're coming from someone who has been to this country six times. if the philippines is crawling with cockroaches and filipinos plagued by a general lack of industry, then why do you keep coming back? is it because people here find you good looking? or is it because we're cheap and you're able to stretch the value of your euro far? i actually did ask him these questions, and maybe it was his limited english because i never found a sufficient response.

so playing the role of an unpaid tour guide is one of my contributions to promoting philippine tourism (others being writing about travels and photographing the beautiful places that i've been to), which, despite the rise in visitors, is still clearly floundering and flagging if compared to its neighbors. i have not earned a single peso from doing any of it, but it makes me happy, knowing that i have shared what i know, and i talk about this country in a positive and encouraging tone, regardless that sometimes, i have to shovel through layers of muck to show that beneath the surface, this country is so much more amazing, a lot more incredible, and has countless beautiful people, than what its reputation suggests.