as our elf truck rumbled noisily along a road shaped by clumsy hammers towards a community hidden in the hills, i wondered whether the uncomfortable ride was one of absolute necessity. i hadn't bothered to read the itinerary -- a rare habit of mine which shows up only when i wish to surrender to the surprises of an unknown adventure. i only knew of a few things about the climb: the treks will not take long, and there would be no abundance of difficulty. the last one i gleaned from descriptions of the trail during the pre-climb meetings to which i lent only half an ear. i surveyed the area around me. there were no prominent peaks, although we were rising steadily in elevation.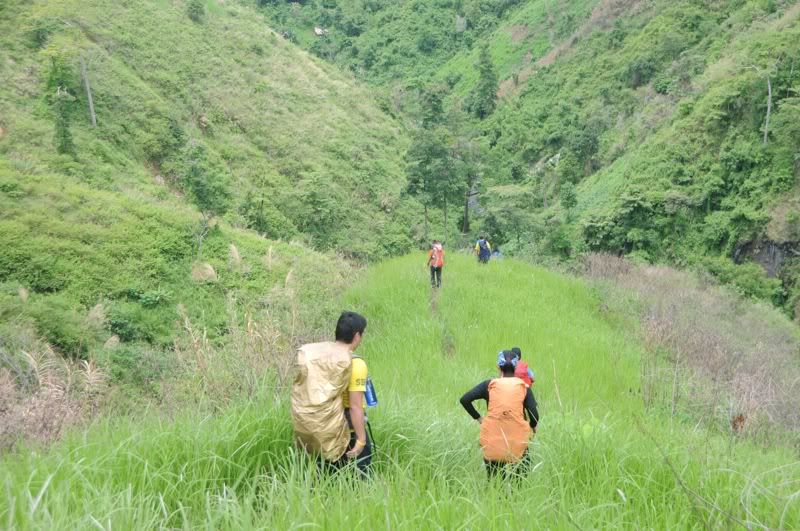 the trek started somewhere along the road, where houses suddenly appeared after we rolled for about an hour and a half. after waiting for our guides -- who insisted they were
unat
(straight haired, to distinguish them from the
aetas
who had curly hair) -- to get equipment (ropes, water bottles, and a small pot), we descended to a stream somewhere, and i couldn't remember any previous experience with mountains where the first half hour of the trek left my knees trembling wildly -- normally, i encounter this on the last day, going home. the ground was also hot, as if the trail was lined with coals. i will admit that i couldn't recall suffering so early into any climb. thankfully, it didn't take long for us to reach the stream where we cooled off for a while and had lunch. i opened a bottle of bangus ala pobre and poured it on a ball of rice i got from mcdonald's.
getting to camuiling in tarlac was smooth: most roads were well paved. we had earlier gathered at shell in buendia and took several vehicles all the way to tarlac. i slept almost the entire time, skipping the chance to watch our views convert from urban blight to rural plains. i was poked from slumber just as we were parking beside a basketball court. i had no idea where we were, to be honest, and was curious to find out that some parts of this hilly barangay had been designated as relocation sites for aetas displaced by the eruption of mount pinatubo.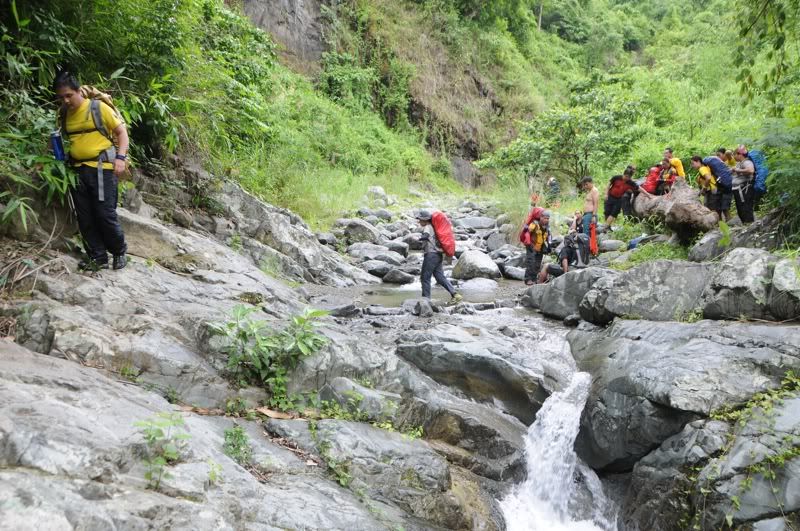 after lunch, we walked shortly along the shallow stream and began to climb along the steep trails on the hills in the right. the mountain wasn't particularly unique, although we had to walk with our heads bowed as many parts of the trail were canopied by leaning bamboo. there were portions where the trail opened up, and we stole many minutes resting, which apparently irked mar, because he often insisted on continuing. the guides talked about the last time they had taken climbers here: how they had a difficult time, begging to stop, inquiring whether they could be carried, reaching the campsites well after the sun had set. and yet here we were, demanding that we continue the trek because we weren't too tired to take prolonged breaks. it must have confounded the lead guide because he actually asked: "hindi ba kayo nagpapahinga?" my conclusion was that he may have been used to other climbers who are wont to puncture their treks with frequent stops.
finally, the guide climbed a tree and pointed to the summit: a sharp pyramid that pierced the sky. he said our campsite would be just below it. he was up a tree, contemplating the view, when we decided to go on without him, so he finally relented and led the way. in less than 10 minutes, there we were on a ridge that allowed us a view of the endless plains of central luzon, unhindered all the way to beyond pampanga. mount arayat was a shrouded mound in the distance. on the other side were hilly sections of tarlac, and possibly pangasinan. we quickly pitched tents because the sky was hinting of a downpour. by a little after 3PM, we had converted this slice of earth into a colorful palette, and we began on our spirits after wolfing a huge pot of instant ramen. the guides went off to get more water and it was beginning to rain just as it was getting dark.
jason took care of dinner, and we gathered under a parawing to enjoy stories while the heavens cried. i had realized that i had forgotten to bring extra clothes for camp, although i managed to bring a jacket and a shirt. my going home clothes were in VP's car. after a while, the folks from the other campsite joined us until the batteries of my iPod had been drained, and the last drops of alcohol had been consumed. the campsite was dripping wet, and a steady wind was whipping the rainflies of our tents. i quickly went to bed although i knew the others would be left behind to do some more shenanigans. i would wake up several times during the hours after midnight, as i heard a constant rattle outside my tent. the furious wind pounded our campsite with such force, the sound of a rainfly resembled that of an explosion.
the following morning, i finally sneaked out of my MSR hubba when i had confirmed that the rain had stopped. someone outside kept talking about a sea of clouds, and how the rain obscured the sunrise earlier. we moved at a snail's pace while preparing breakfast, watching as this sheet from the sky moved into the wedges between the hills, like the mast of a slow-moving sailboat. eventually, the expanse of central luzon's plains were covered in a fluff. we were no more than 650 meters high, but we were triumphantly looking over clouds.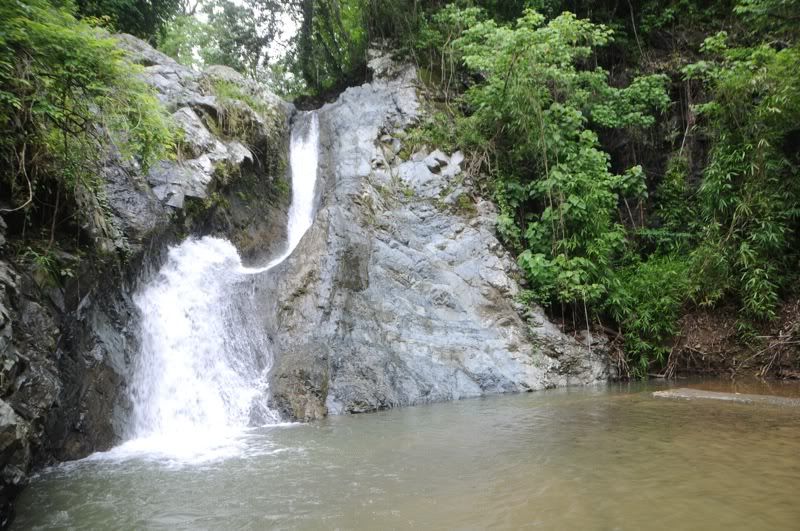 i had no idea how long the trek back home would last, but i decided to dog the guide closely. the rains from the previous evening had mushed the trails, turning the soles of our feet into magnets for mud. we passed by the summit, scooped down to a stream, and found two waterfalls. on the way, the guide frequently asked whether he should attach ropes to the trail, and for the most part, i said it wasn't absolutely necessary. unless there was a real danger of falling into a cliff, i said, we could always hold on to the flora. unfortunately, our fingers, palms, and arms were nicked by the blades and thorns of whatever plant it was that surrounded us, until finally the water allowed us to rinse.
we had waited a while on the shallow stream until the guide confessed that the waterfalls weren't so far away. the first one was rather curious-looking: a wall of rock had been erected in its path, and the water cleared a vertical column that stopped midway, causing the stream to jump out before landing on a bed of gravel. there was another small cascade just before you behold the damas falls: about 100 feet of thundering noise -- a narrow white line that spread out no more than 15 feet at the base. the pool it formed at the bottom wasn't deep at all, and the clearing was expansive, i wondered whether the entire area gets flooded during the monsoon. here, we decided to prepare lunch, and left after 2PM.
the next hour was very challenging: an extremely steep ascent, and a drop that required us to resort to our butts. most people sat down on the trail so they wouldn't fall. it reminded some of us of the character of the mountains during the BMC's training climb 2. after that, we trekked briefly on the stream, then walked a trail back to where our cars were parked. on the way, we met the aetas walking back to their homes perched in the hills. this part was surprisingly long and a little boring. the trail opened up a little when we found a school, and then further own, homes started to sprout. before 5PM, most of us had reached the basketball court, and had cleaned up for the journey home. daddy tony's guests were the last to arrive, one of them having issues with his knees.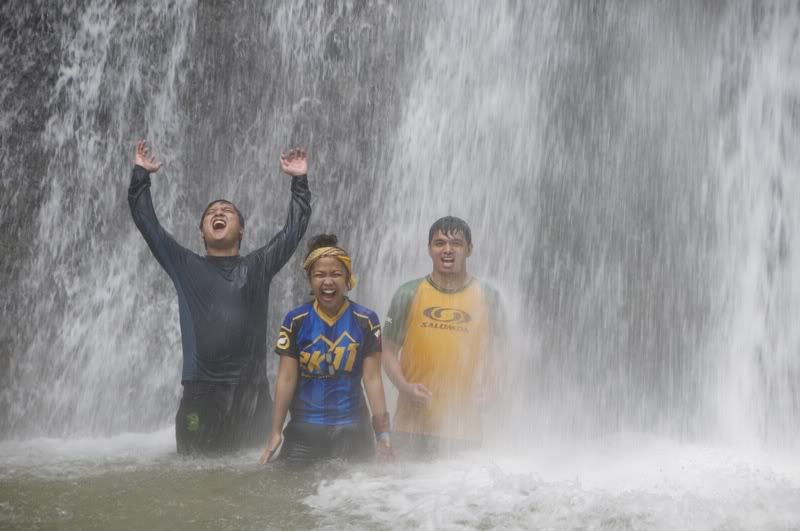 we drove to gerona, tarlac to have dinner at isdaan. i always pass by this huge restaurant when i'm traveling to baguio and was often curious if the food there was good. it wasn't that bad, although the service was superbly poor, and rather ironically, they had no fish at all when we dined. by 11PM we were back in manila, and i still had time to empty my backpack before going to sleep. i am not ignorant of the geography of my country, but i probably would not be the first person to think that there were mountains in tarlac. probably not the most impressive range, that is certain, but worth a glance. standing on the campsite, and looking around at various peaks nearby, i wondered whether there might be a few more places there that are a little less explored, although i'm sure that the mountains of tarlac won't qualify as one of the last wild places in this nation of islands.