i'm not sure if it was originally a part of my intentions while in bacolod city, but i violated every imaginable diet plan in my short stay there. i skipped breakfast all together, but ate an entire day's meal when i had my early lunch, and ordered food good for 3 people during dinner. what surprised me really is that while bacolod is such a small town, it isn't short on offering many delectable choices. i've already been to a few good restaurants in my two previous visits, and i decided to eat in some old favorites this time around.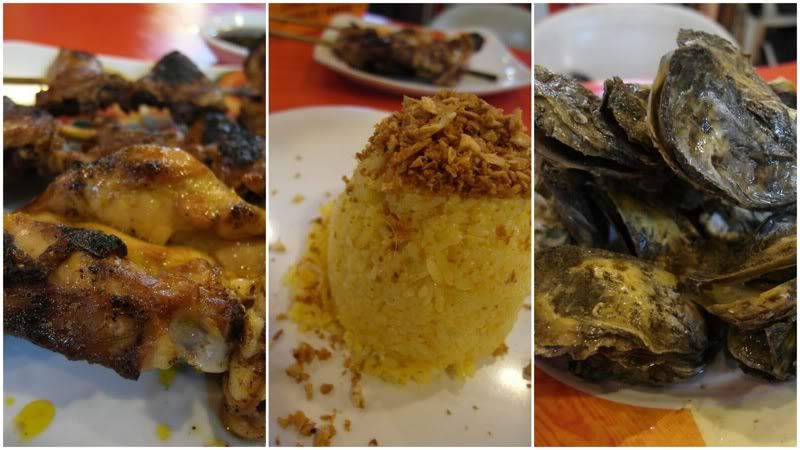 the evening i arrived, i left my bags at my pension house and went immediately to manukan country. it's a row of restaurants separated by screens of metals offering essentially the same thing: chicken inasal. i didn't know which one was good. as usual, i didn't do research. i just plunged in there. i just looked for the first restaurant which was almost full and stepped inside. it turned out that the one i chose also had a branch in makati cinema square. they're so good they've imported the recipe to metro manila! i ordered a stick of chicken bottoms, chicken breast, garlic rice, and a bowl of oysters which cost me P40. it still looked like it had just been plucked from the barnacles growing on a reef, but i didn't care. i love oysters! and the chicken? well, it looked a little burnt in parts but yum!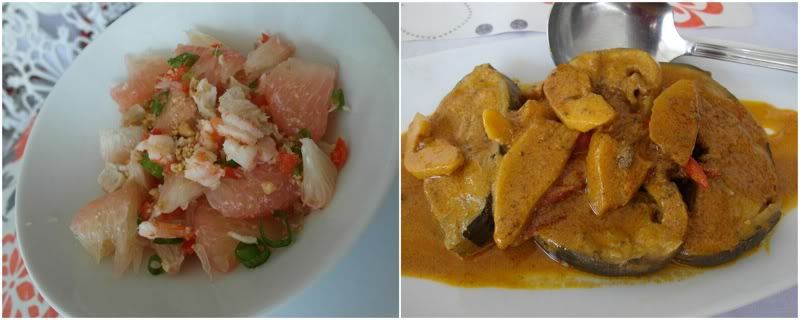 i stayed near lacson avenue, where the side streets are numbered. i was on 11th, and it went on to 27th. most of my restaurant choices were focused here since i didn't want to go too far away from my pension house in case i get really full. i could just burp my walk back. near 14th there's a restaurant called cuayx. i initially though it was pronounced kuway-eks, but a friend corrected me: kwayks. just one syllable. when i went in there was just an elderly couple who seemed like they had ordered too much food. i got myself catfish in coconut cream and a pomelo salad, both of which i loved. i had three hito steaks, which are probably really sedentary fish because they were the fattest i ever had, and the sauce that settled under the salad was a good counterpoint to the usual tartness of the pomelo.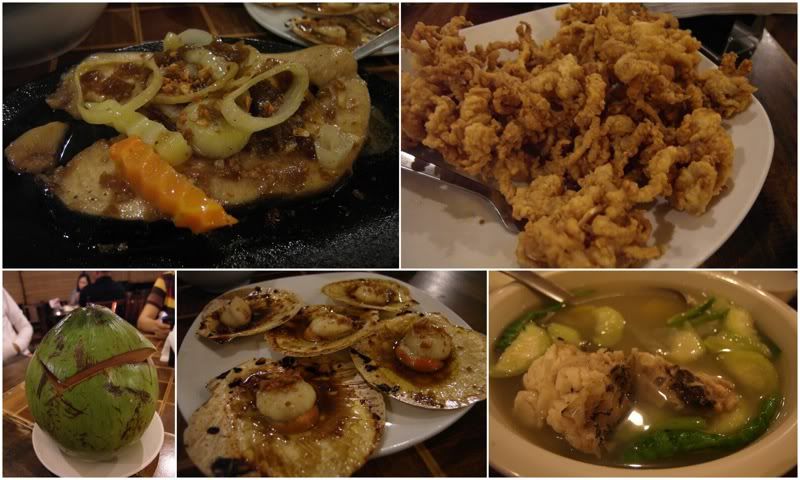 my friend alett also took me to imays on the 6th, which she said forced gerry's grill to close down. i love the food at gerry's grill but if imays were nearby i'd eat there every week! they had the best fish steak and fried squid heads i've ever had. and the coconut shake was delightful. if i had known that alett would pay for dinner, i would have ordered more -- although we did have a lot, much more than the 3 of us could handle, and i helped myself to the leftovers, cleaning out the serving plates with gusto.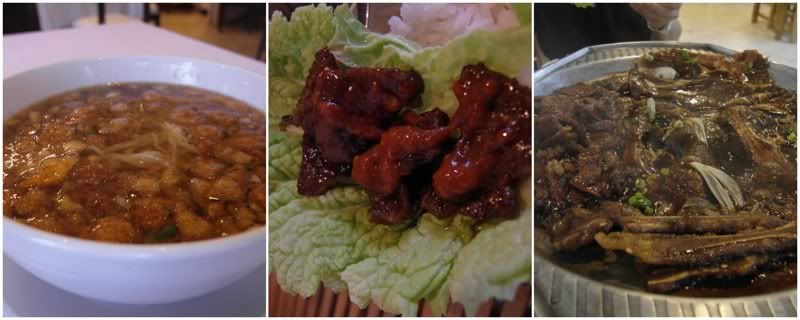 alett also suggested that i try the batchoy in 21 bar and restaurant (which is on the corner of 21st) at around 5PM when they've just cooked up a fresh batch. i arrived around 6PM and already they were out of the special. i had a regular bowl at P75 and it was actually kind of good! i mean, i wouldn't give batchoy too much attention and it can be had anywhere, but if i were ilonggo, this would easily be my favorite comfort food. a local told me you could have really good batchoy at just P20. but at least 21 had impressive ambiance. it looked expensive. i also found myself walking into a korean restaurant where i just pointed on the dish that had lots of meat in it. very good stuff, i should have asked how they marinated the pork! i balanced the overdose of meat by wrapping them in cabbage.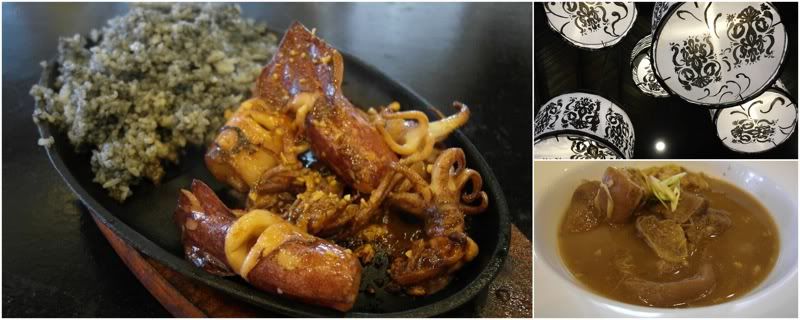 bacolod also has some famous restaurants that have been there for a very long time. i decided to sample bascon on the 27th. i ordered sizzling squid with squid ink rice and a bowl of humba. i'm not sure if my tastebuds weren't accurate that day but i certainly won't be heaping praises on the dish. well first there was hair on my rice (but hell, it happens even in the best restaurants) which i asked to be replaced. while the squid was good, the humba wasn't there. it tasted like a very ordinary lechon paksiw. and the meat wasn't very tender either. i was actually kind of disappointed.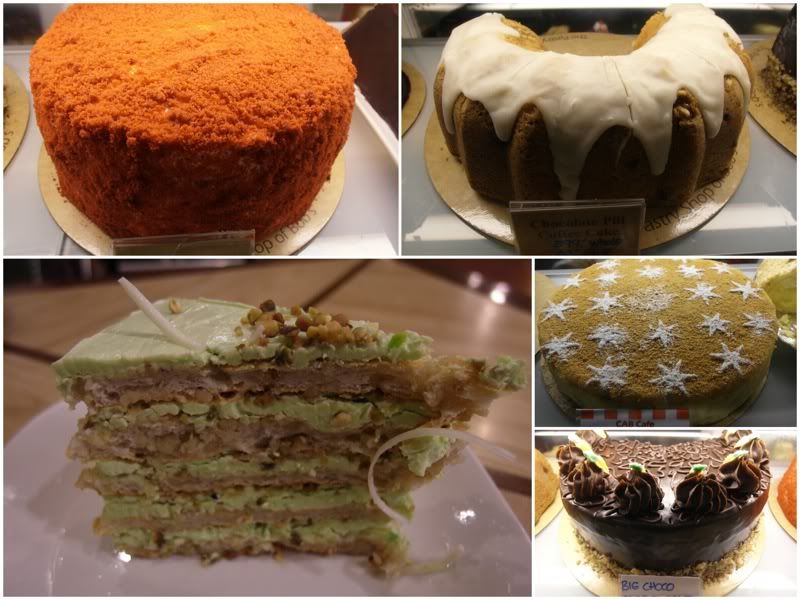 bob's cafe is another bacolod institution, and the children of the original owners opened the pastry shop. i was actually eager to try the new dessert place in l'fisher, but alett's sister said it can be missed, so they suggested i try bob's instead. i'm sorry to say but their pastries too can be missed. maybe i should have had dinner here instead; the restaurant next door had brick oven pizza. but who to share it with?
of course no trip to bacolod would be complete without a visit to calea. anyone with a sweet tooth should make it a part of his itinerary. besides, they have a new, roomier, brighter spot in balay quince across of l'fisher, although i understand they still have the old place in 16th, which isn't even 250 meters away. i had a caramel pecan pie because i love caramel. but i brought home 12 slices of cake so that many of my friends would help me consume all those calories. when i offered it they asked if anyone had a birthday. i just wanted to enjoy the cakes, even vicariously!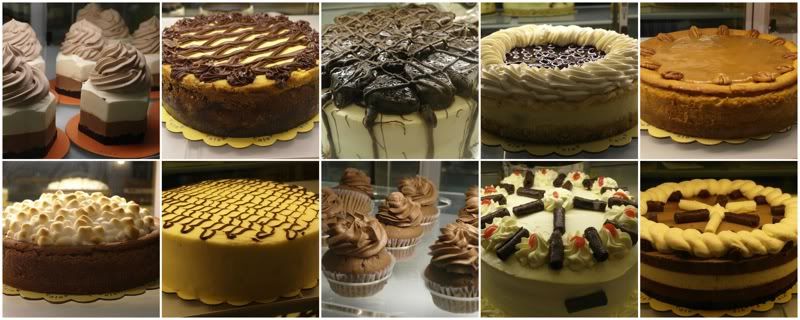 so that's how you ruin a plan to shed some pounds: by going elsewhere on a weekend and pile on calories and carbohydrates. i felt so awful after eating so much that i ran on tuesday, wednesday, and friday. oh but don't get me wrong, i regret nothing. except maybe i shouldn't have traveled alone -- only so i could order more!