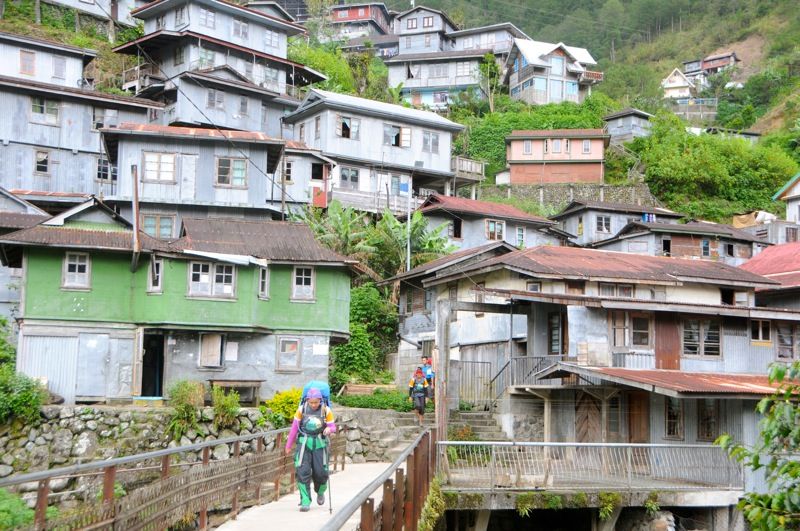 the snarl along stretches of the national highway in nueva ecija had delayed us by at least 4 hours. although i wound in and out of sleep during the 13-hour ride, there were moments when i would wake to find the bus parked on one side of the road, the steady hum of the aircon piped into the dark cabin, and a long queue of vehicles ahead and behind us. it was already well past 7am when we reached aritao for our second mandatory bus stop. under normal conditions, we would already have arrived at our destination: banaue. i was reminded of how a spill on the road had also delayed us the first time i climbed mount amuyao, and
how terribly miserable i felt during that 6 hour ordeal
, when slight rain and unbearable cold accompanied our slow ascent. i also remember how i promised never to return there, but contradicted myself immediately the year after when i trained with AMCI and
i climbed it again, traversing through the villages of cambulo and batad on our way home
.
it would take 7 years for me to go back again to mount amuyao, not so much because i made any wild statements about not returning (
i rather enjoyed my last visit
), but because there seemed to be little incentive to go: it is just too far away, the tab for guides in barlig is ridiculously high, and the campsites aren't the most accommodating. but it was this BMC's fourth and final training climb before the IC happens in mount apo later this month, so i was at least assured of the quality of women and men who would accompany me during the 3 days of toil. although many climbs have taken place since i was last here, my memory of the details of the difficult trail remains fresh, and it was with a tinge of doubt and a huge dose of excitement that i anticipated getting back up the summit and balance my footing on the narrow riprap of the many terraces we would be crossing.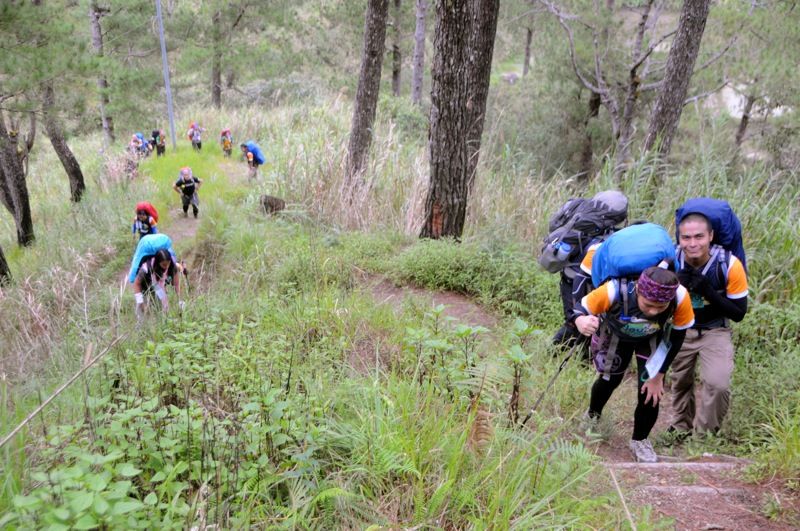 we arrived in banaue a shade before 12 noon, and soon left for barlig 3 hours away. we started to trek only after 3PM, and we were certain of spending most of the hike in darkness. we were assigned two young guides by the tourism office. i was ahead of the pack for most of the hike, just a few steps behind the lead pack. i put my kidneys at risk when i gave myself a shot of sodium before we started, and took two more capsules of salt during the break. i always battle a bad case of muscle cramps during the early part of any trek, particularly on the ascent, and it can sometimes be debilitating. as we crawled uphill, the lights went out early as a fog creeped over us just before we reached the shed. i couldn't say what's worse: not knowing how much more of the mountain you are left to climb, or walking in sunshine but looking up at an interminable staircase. for this is how amuyao looks: it is an unforgiving ascent that feels never-ending in parts. i would announce to the people behind me the progress of our climb, reminding them of the vertical distance left for us to finish. it was reassuring that after a few difficult steps, we shaved space between ourselves and our goal by a few meters.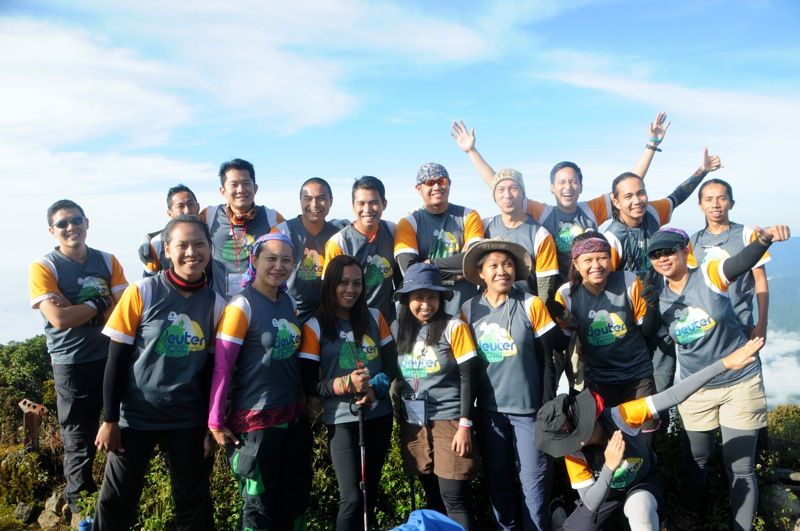 when we came upon the wooden escalator, i began to feel my hamstrings stiffen. i ignored the creeping cramps as best i could, but eventually my legs folded after a radiating pain erupted just above my left knee. i dropped my bag and asked everyone behind me to continue as i desperately searched for my last remaining salt sticks. i was fresh out of them, and i remained there, motionless, for about 15 minutes. i tried to chase those who had gone ahead, and caught some of them resting on rocks or on any of the crude steps that took us higher and higher with no visible end in sight. suddenly i saw a flashing red light and i encouraged them to continue. the light seemed to float further away as we dragged our feet across the trail. it was already very cold, just a little after 9PM, and our labors for the first day continued.

finally, as i passed a few more climbers, all dealing with their own burdens, i could tell the silhouette of the relay station that occupied amuyao's summit. the outline of towers anchored by guy cables suddenly appeared, and the hum of a generator was within earshot. we had finally reached our quarry for the day. i found my group on the edge of the old bunkhouse. a borrowed stove was already burning under a huge pot of rice. since our GL was still on the trail, i started to organize our kitchen and asked for all the food load to be pooled under our tarp. i had a vague idea about what needed to be cooked that day so we scrounged around for the ingredients and found the packs of ramen for our soup and singapore chicken and the cans of pork and bamboo shoots for dinner. by 10:30PM we were already crouched under our low-lying parawing, shivering as the wind whistled over our heads, peeping at the dark sky speckled with countless stars, contemplating whether to wait for jason to arrive before we started munching dinner. it was already past 11PM when all of us arrived at the summit, by which time most of us had changed into warm clothing. i suggested that we move our kitchen into the abandoned bunker and have our socials inside instead. since some of us only finished dinner at midnight, we ended up drinking well past 1AM, notwithstanding the fact that we had to rise early for the long trek the following day.

when i sneaked into the tent, i wasn't as sufficiently covered as i normally am at altitudes above 2,500 meters, but my full body warmers were efficient. besides, the vodka had caused my ears to burn, and i wasn't bothered by the fact i forgot to pack a bonnet. then at 4AM i was startled by my phone's alarm, i struggled to turn it off with my gloved hand. i slowly deflated my therm-a-rest and rolled my sleeping bag, and stepped outside the tent to start on breakfast. the constellations have shifted, and i don't remember seeing this many stars in the sky since i climbed mantalingahan. soon after the trainees from my group began popping their heads out, some complaining that they hardly slept a wink that evening due to the cold. pretty soon, we were eating breakfast, while waiting for the sun to rise and shed a light on the sea of clouds that surrounded amuyao's crown of metal thorns. the TL had earlier planned to push for cambulo so we would have a shorter trek on our last day, on the condition that all of us arrive in pat-yay before 3PM. i thought it would be a stretch because we had a few very slow trekkers, some of whom bucked injuries and a recent discharge from the hospital just to complete the requirements for induction. the dedication of some people to the training is amazing, and i can only hope that they find their sacrifices worthwhile once they become members.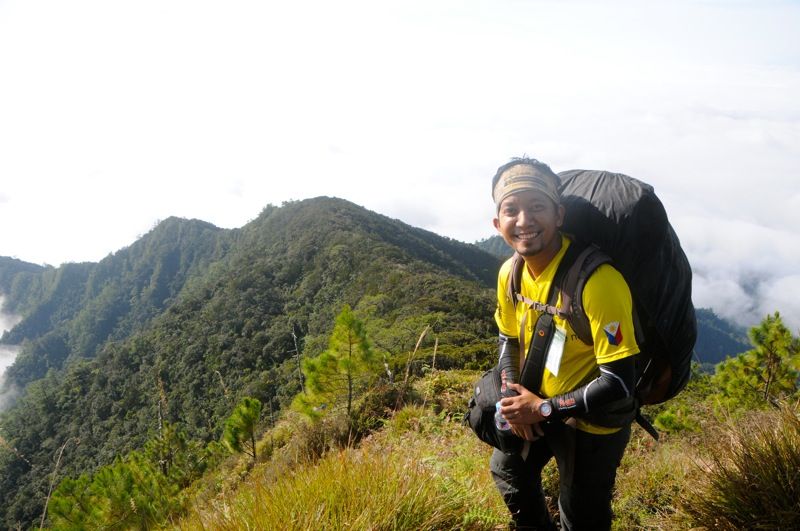 after an extended photoshoot on the summit, we began the steep descent to pat-yay. the trail down is easy to miss. a mound of trash had been piled beside it, along with a discarded water closet. the trees near the summit are dwarfed by the biting cold and the sometimes battering winds. as we made our way to pat-yay, bushes clasped their little branches over the trail as if no one had passed ahead. when i reached a clearing, the ridge of the forest i was going to descend into plunged into the fluff of clouds that stood below my feet. then suddenly, the world around me began to change, as trees grew taller, and leaves the shape of spades or webbed feet and the size of umbrellas grew around me. the trees were twisted and gnarled, and clothed in layers of moss. sunlight fell in hazy shafts onto the ground, which was springy. each time i dropped my foot on a web of roots covered with forest detritus, i would bounce off, as though the trail were covered by trampolines. this part of the trek was clearly my favorite, even though there were times we had to duck under leaning tree trunks. if i had been an inch taller, it really would been a challenge.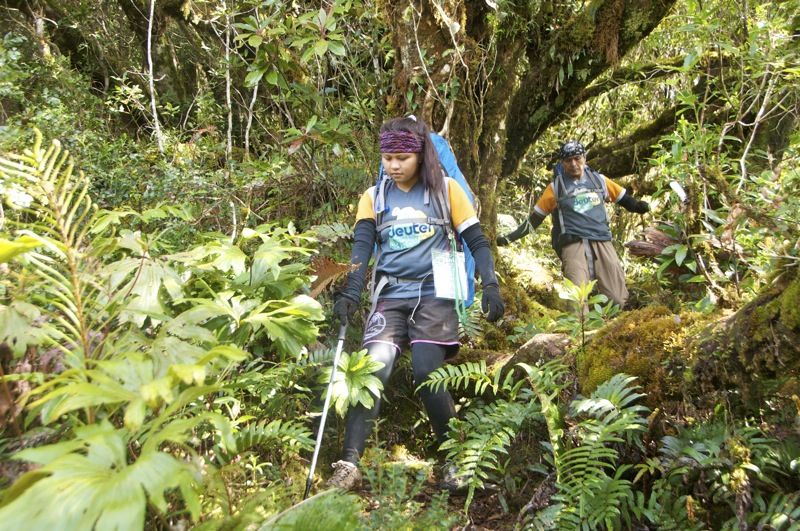 it was immediately after the waiting shed 2 hours later that the dreamy and magical trek through the mossy forest transformed into a nightmare. suddenly, the trail had narrowed, and teetered in many places alongside a cliff, which had us clinging onto branches and roots on one side. there were portions, in fact, where ropes would have been helpful, but none had been fixed. a few times i had to exert more caution than i usually do, which to my mind makes less experienced mountaineers tremble in fear. i would often find the distance between me and the trainees expand, even though i had already slowed my pace. too often i would stop to wonder and wait, a gnawing worry distracting my focus on the trail. at a quarter to noon, with pedrito's waterfalls nowhere in sight, i decided to have lunch while little flies buzzed around. i caught one between my eyelashes -- not the first time it happened. i normally don't eat a lot along the trail, so we were back descending the steep and slippery trail after 15 minutes.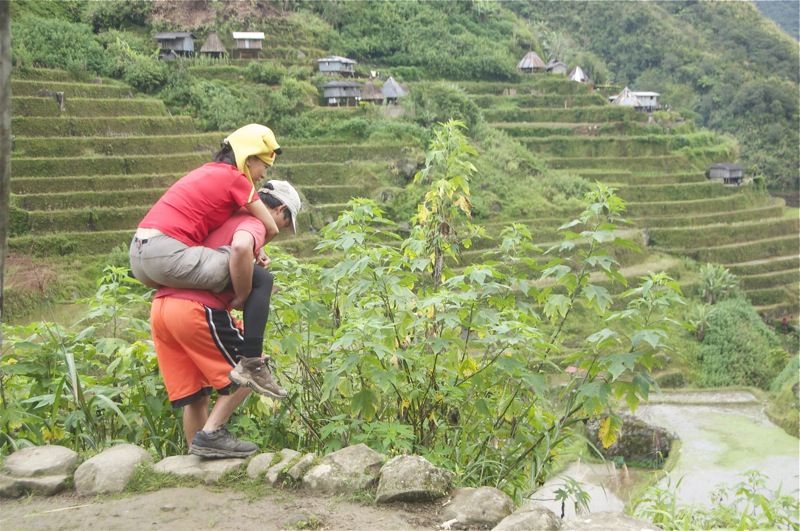 after pedrito's waterfalls, we did a few river crossings where my only goal was to keep my boots dry, and i marginally succeeded. at one point, i had to pull a trainee out of a deep ditch where she had fallen into, and suddenly came upon the kamote plantation which either looked different in the fog, or had changed drastically since i was last there. the trek through the pilapils was spent in silence. we could not see much around us, as if we had walked into a mysterious mist. i just focused on balancing myself and my 38 pound backpack, lest i fall into a muddy and embarrassing grave. we came upon a small hamlet of homes -- no more than 5 by my count, where we decided to spend the night. the ground had been leveled with rocks, and it was going to be a challenge to peg the tents between the cracks. while we waited i heard over the radio that one of the members was injured. "nag-freeze yung paa nya" were the exact words that were relayed to us, and we had to send back one of the guides. i didn't think much of it until i saw for myself that she had to be carried by piggyback into the campsite, which was a challenge greater than anyone who has not been to the area can imagine.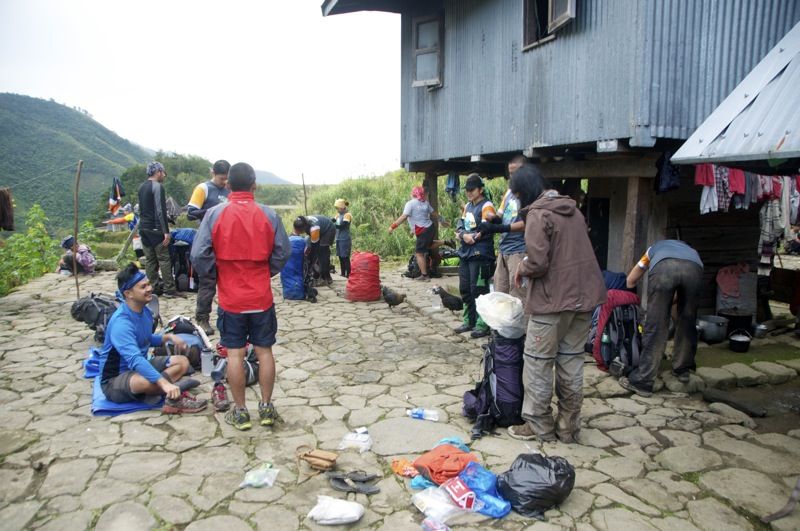 we arrived early even as the rest of the team trickled in. a discussion began about revising the itinerary for the 3rd day, given the change in circumstances of one of the members. it was decided that we would buck the shorter but more challenging trek through cambulo and batad, in favor of the longer but more established path to mayoyao. we shifted our attentions to preparing dinner even as the thought of getting severely delayed, and possibly extending for another day, clawed at my insides. the tents surrounded two homes that stood on stilts. although one was more traditional than the other, the materials were no longer as indigenous. the people of pat-yay now prefer to use galvanized iron sheets even for walls, since they don't need to be replaced as often. because we were immersed with the locals, we had to tone down our voices a little. just a little. you cannot prevent a group of campers from laughing off bad falls and painful cuts, because this is how we make sense of all the self-inflicted torture and the sometimes inhospitable conditions that we voluntarily subject ourselves to: that the closer to misery we are in the mountains, the more profound our experiences become, the less jaded we get with the usual urban concerns that occupy our weekday lives, and the better we appreciate the little comforts and joys that most people take for granted. we slept earlier than the scheduled lights out. besides, we had all dried our bottles of alcohol and geared for a long trek the next day.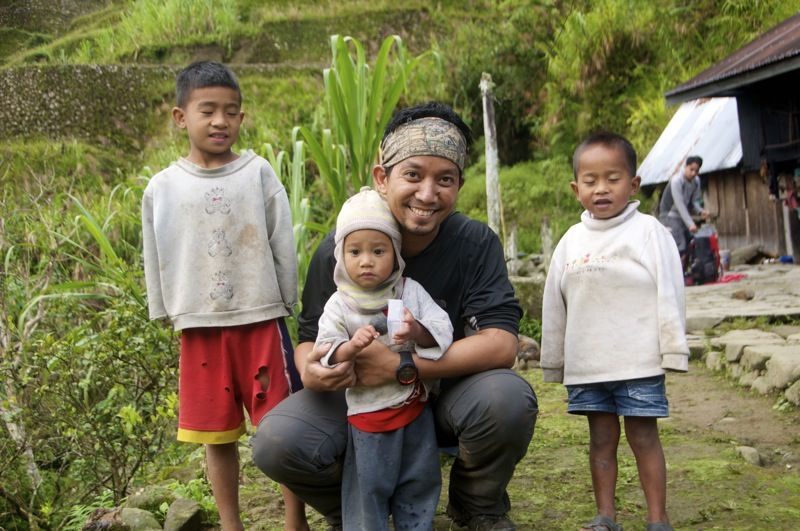 at a quarter to 4AM, the roosters outside our tent began to crow, and other roosters within earshot began to echo the alarm. this happened like clockwork, and it was futile to feign sleep when the wake-up call had no snooze button. i went out of the tent and started early on breakfast, and the trainees in my group were among the first to rise, fetching water, keeping themselves busy in the kitchen. while we were eating corned beef and fried rice, the mist that surrounded us began to lift, and we laid eyes on the mountain of terraces that rose across the river. there were clumps of houses there as well, and the paddies are gray and empty, awaiting the next planting season. shortly thereafter, the guides left with the injured ingga towards mayoyao. although i was affected with disappointment at not being able to see either
cambulo or batad
, i was at least curious about what the view was like going to this other ifugao village, whose terraces are also inscribed in the UNESCO world heritage list. we cleaned up the kitchen quickly and queued for our turn to start the trek. we walked along the concrete catwalk of terraces, passed the area where we camped back in 2005, and went up towards the ridge, then plunged down towards the trail that would take us to mayoyao.
i am not familiar with any of the barangays we passed, and none of them were marked on the itinerary. i only noticed that one village was called maga, while some parts noticeably already had electricity. the change in the itinerary was necessary, it seemed, because the guides preferred to carry ingga through this trail, rather than through cambulo and batad, which, although shorter, was trickier, and probably even perilous. there were options the night before, and this was the decision that the climb staff and the GLs chose. it may have deprived us of a more challenging hike, although there was nothing easy about the first 2 hours of it. it was only after we had descended 200 meters through a concrete staircase that the trail began to level out, and still, i wondered how it was possible for the guides to have carried ingga through some parts of it. we walked through a trail peppered with little houses, crossed bridges, and looked at a river muddied by siltation. there frequently were people walking the opposite direction, or sometimes towards the same way, and we often asked how far away mayoyao was. we were given the same responses most of the time, and i cautioned my trainees about not relying on the locals' inaccurate estimates of time. besides, i said many of them don't rely on wristwatches or timetellers, but on movements of heavenly bodies.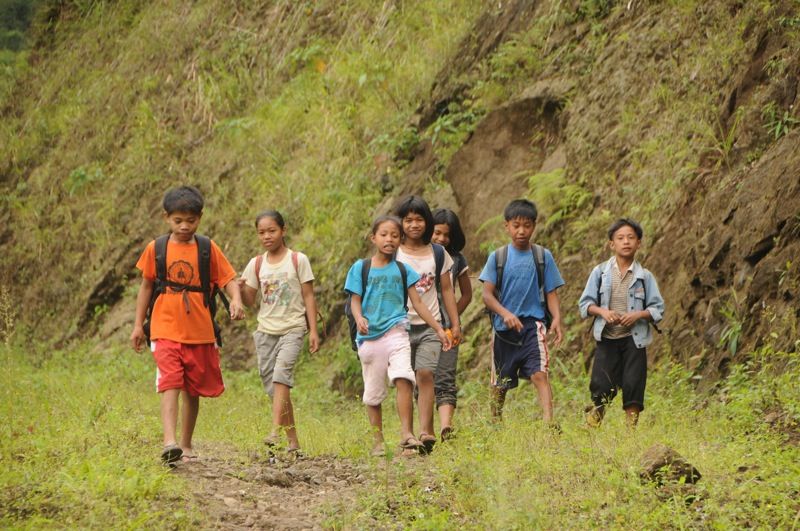 at around 11:45AM, we decided to have lunch over a concrete box culvert, and when another man told us we were just half an hour away, we picked up our bags and prepared for the last hour of the trek. a little later another man told us that the highway was 5 minutes from the bend, i warned everyone to calibrate their expectations. in fact he was right. we finally reached the highway, and at the end of the trail were the guides and the lead pack, lining up at the toilets to get cleaned up. there was lukewarm coke available, and a long enough wait for the jeepneys to arrive. the entire team in fact arrived shortly before 1PM, and although the spot where we waited was dreary, we at least had snippets of views to accompany us on this diverted route. i will not debate the decision to change the IT. in fact, it may have oiled a longing to do the ifugao villages trek again soon, perhaps when roadworks in nueva ecija have been completed.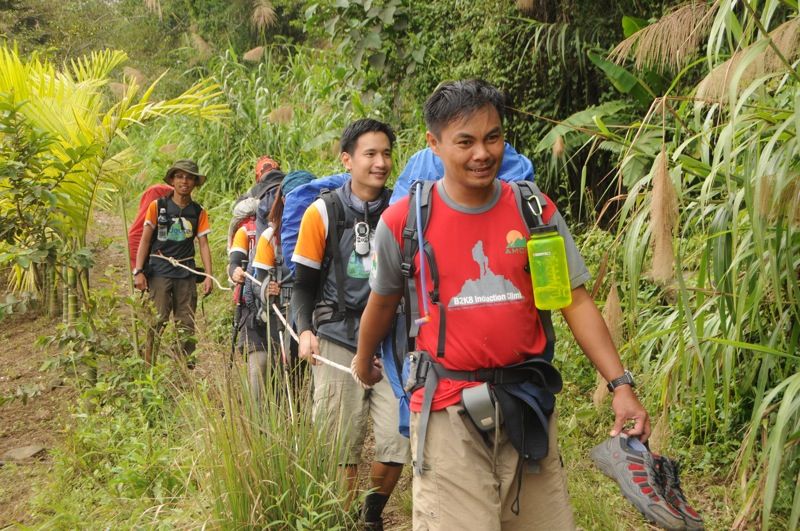 on the long and bumpy jeepney ride from mayoyao to banaue, we toasted to our travails the last previous days. no one would be going home without taking a piece of amuyao with them, and the souvenir might be temporary: muscle pains, scratches, bites that would not stop bleeding, even a really bad injury. but we all return to our places under the sun with something that would last a lifetime: it is a realization that our weaknesses are only as huge as we allow them to be, and that the size of a challenge is determined not by one's physical limitations, but by our willingness to push our individual boundaries. congratulations to everyone for achieving amuyao, and for proving what's possible.