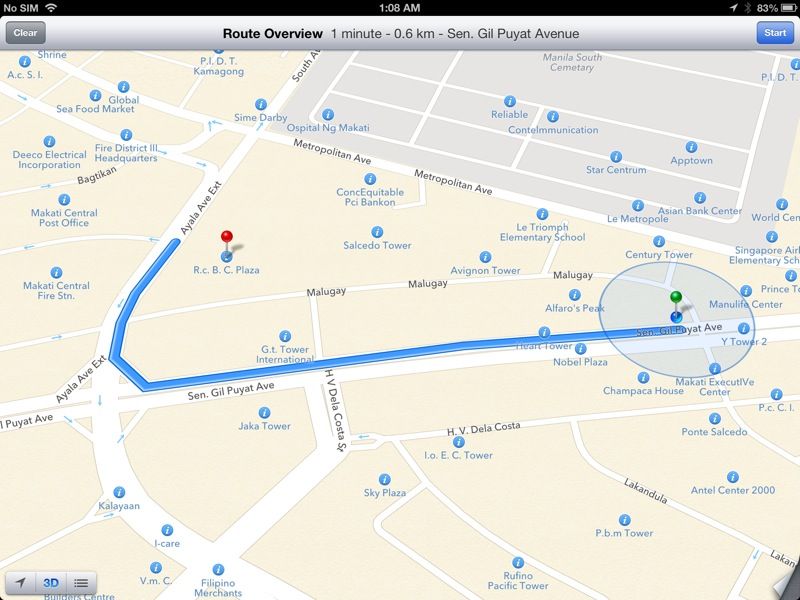 so tim cook has apologized for the errors in apple's upstart map application, which comes bundled with iOS 6, following massive complaints from mac lovers and haters. while i do not necessarily think the flak is undeserved, i will not join in casting stones to apple's replacement for googlemaps. i didn't even bother to read up on the development of this app, and how mistakes of such a massive scale could have invaded apple, and escape the usually high standard of scrutiny they apply to their products. i upgraded to the new OS immediately after it became available, and while i did notice what everyone either laughed or ground their teeth about, i let it slip. but just to illustrate what the nature of the errors was, here's a screengrab of the map's suggested route i take from my house to the office.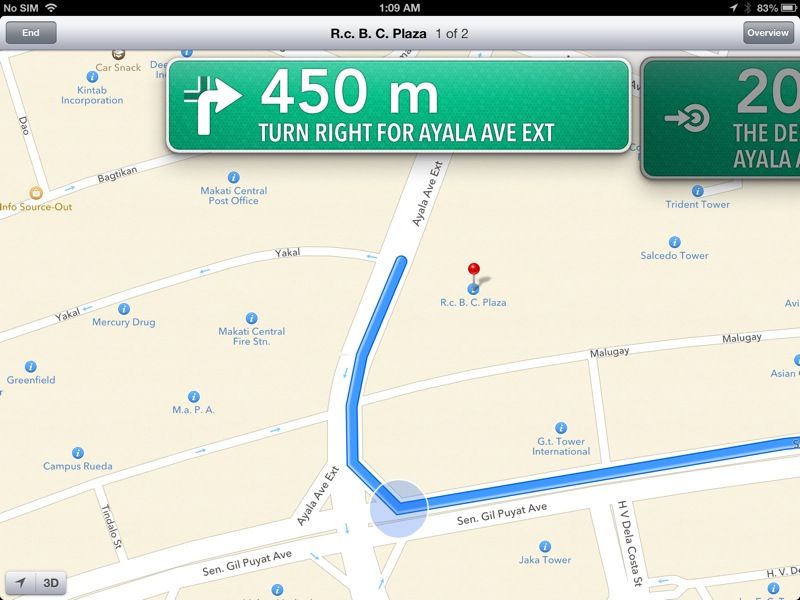 if i followed this route, i would have ended up on a construction site, where alphaland is building its makati place condominium. in fact, you'd notice that the building i live in is placed within the manila south cemetery. indeed, much work has to be done to make apple's native map application useful. personally, since i'm not always online, i use another map application which tells me where i am and where i'm supposed to go. the map has been downloaded and is quite helpful, but i do see the potential of the apple map if these kinks are addressed. i previously could not get directions on googlemaps -- that service did not seem to be available in the philippines.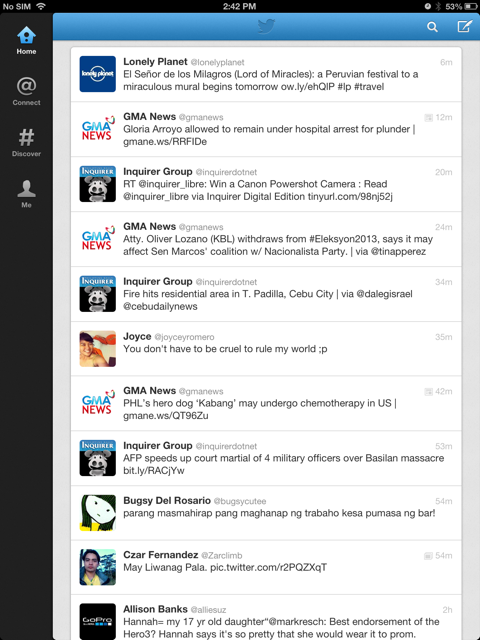 with the launch of iOS 6 were also a few notable applications, most of which i actually downloaded. now i have more-active-than-average life online, particularly in social media: i have a twitter account, which i use mostly to follow breaking news accounts and a handful of friends and products i use and also to tweet my own ideas and opinions. i don't use it for conversations or to retweet other people's postings, that's why i hardly ever reply to mentions. although i got my twitter account a long time ago, i was not very active in tweeting. to date, i've only had a little over 850 tweets, and am only followed by less than 150 people. previously, my tweets were just uploaded data from my youtube and nike+ accounts, which were both linked to it. now, with the FB-twitter link, i invariably tweet and carry on a conversation on FB.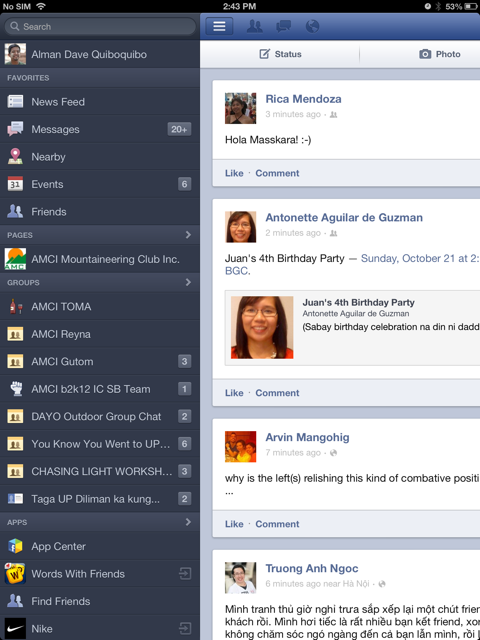 i also have facebook, which gets updated more often. i no longer upload pictures as much as i used to, much to the chagrin of my friends. i've always said that i do not wish to contribute further to the visual pollution of cyberspace, which i think diminishes the value of a memory and an experience. but i turn to FB rather than twitter when i need to post a photo, or a status update that requires more than 140 characters. i also find that less of the people i know have turned to twitter, with its limitations: you still have to launch other programs in order to read links to articles or to view pictures.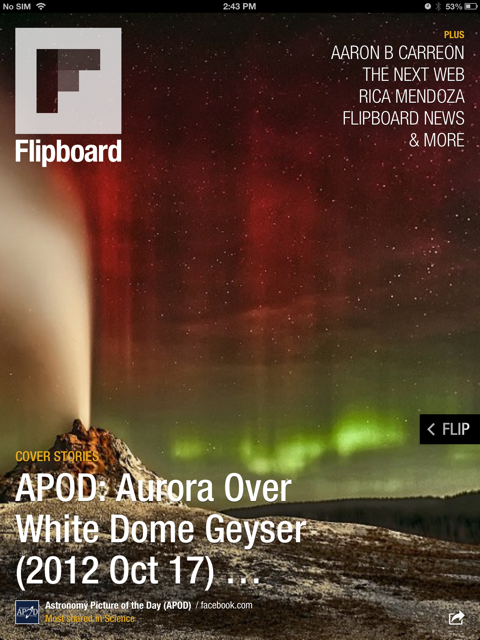 the flipboard cover page features some cover stories for each of my fields of interest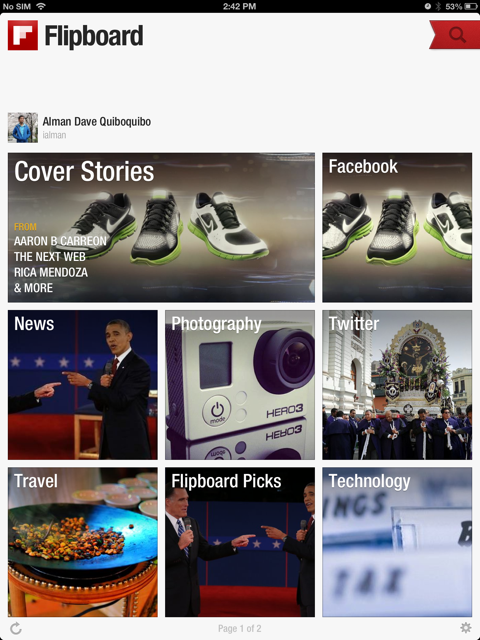 i can customize what appears on my flipboard
so it's a little difficult to shift between 2 social media platforms, not to mention other sites that i usually use (i haven't yet ruled out googleplus), so i was rather amused to find this app on iTunes along with iOS 6: flipboard. it's an application which gathers all your interests in one place, without the need for launching any third-party application to access text or photos. the presentation itself is really tastefully done, i wonder sometimes why neither twitter nor facebook have opted for this kind of layout.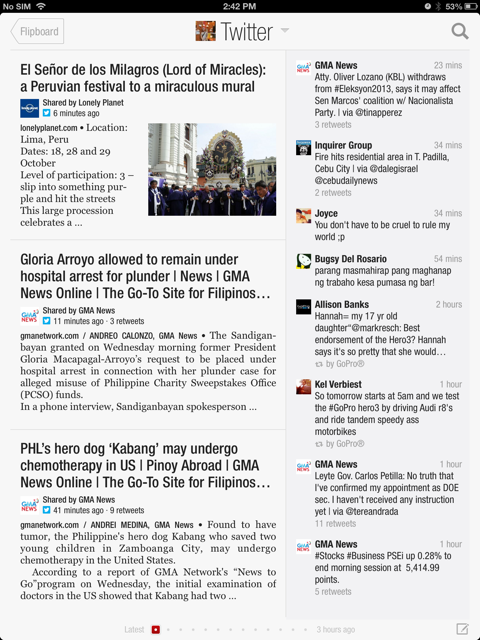 take for example, its approach to twitter. it contains the very same tweets from the grab above, but the information is more complete and compelling. of course one might argue that twitter on flipboard looks a little like facebook: too much text and takes a longer time to scroll through, but i would prefer to have more to rely on in choosing which tweet might be of interest to me.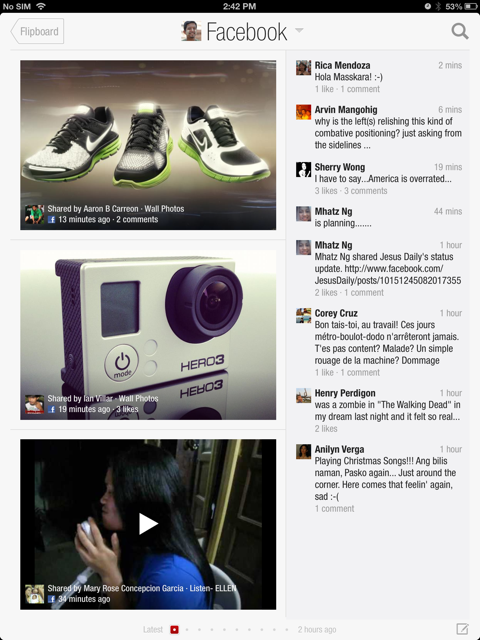 its revision of facebook is also more visually appealing. it's like having the perfect balance between twitter and FB: on the right column are normal text-based status updates, while the left column has phtos and videos. it might even be attractive to those who absolutely hate timeline. of course succeeding pages might look differently.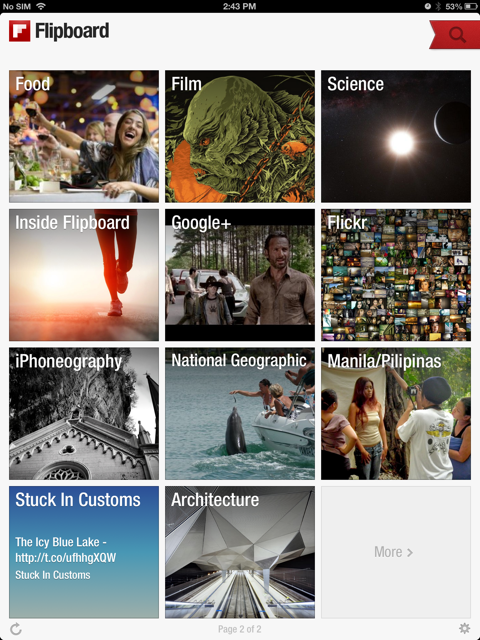 my current issue, which is a minor one i think, is that the information on flipboard does not get real-time updates, so the tiles for my social media sites or the other topics i'm interested in, take some time to change, whereas it only takes a swipe to have new tweets or status updates to appear on either twitter or FB. but really, flipboard might soon become my app of choice since i wouldn't have to switch to so many programs just to follow topics and things i care about.