it was highly uncharacteristic of me, but i put one of my principles temporarily out of the window to campaign for a comment i made on the cultural center of the philippines' facebook page about the role of theater in national development, which helped me snag a season pass to the 2013 national theater festival which just ended yesterday. this allowed me to see for free a total of 3 plays at the tanghalang aurelio tolentino -- i was entitled to 7, but my work schedule wouldn't allow me to watch matinées on weekdays. i almost always regret knowing about a brief run of some little-known but noteworthy production only after its last performance, so i was not about to let this year's NTF at the CCP pass without me seeing at least one play.
on a thursday evening i rushed to the TAT to catch the 8PM show of "william". i hadn't heard of this production previously, and it may have crossed my mind that it would be about shakespeare, but i wanted to be as less informed as possible; to dive into the festival raw and ignorant, without expectations. as a matter of fact, the PETA original was about the bard. the rap-musical revolves around the growing appreciation of high school juniors of the works of the greatest english writer who ever lived. at first i thought they would be rapping lines from a sonnet or some of the famous monologues, but the play was so cleverly-written and well-acted that the usual concerns of present-day filipino adolescents were seamlessly laced with famous lines and ideas from plays written about half a century ago. having taken an interest in shakespeare as early as high school, and having taken shakespeare under the judy ick, i have an appreciation for many things shakespearean, which served me well in understanding many inside jokes. but the play was not written for someone with pretensions about knowing shakespeare, but for people who confess unfamiliarity: people fear him and his language because they think him inaccessible, difficult to understand, but as the play brilliantly shows, the themes are simple and relevant, even in this day and age. my only complaint is this: i wonder whether i went to the wrong high school, but i don't recall us having so strong a curriculum as to include the complete works of shakespeare. but i hope they stage "william" again. it deserves a much larger audience, to include those who love shakespeare, and particularly those who don't.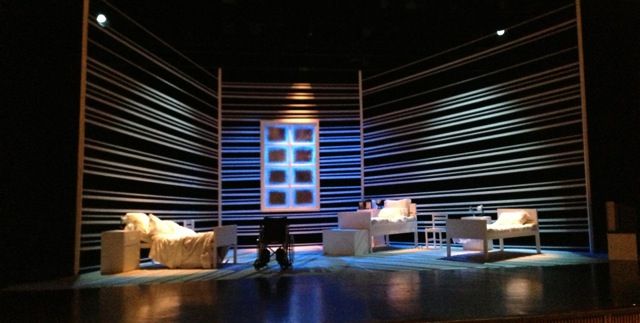 the following day i caught the matinée of "mind's eye". like "william", i had no idea what it was all about, but immediately after entering the theater, i found the stage design to be remarkably stunning. it was really very simple: three white beds, fogged window panes, and three walls consisting of horizontal lines. i would only learn after the play during the talk back that this was based on a novel for young adults, written by an award-winning children's book author. the novel was written in dialogue without any directing notes, so it wasn't meant to be staged. but the genius of filipino artists took this body of work and translated it into a play. the book revolves around the imaginary travels through turn-of-the-century italy of three patients, one of them being a young, beautiful woman paralyzed from the waist down following a horse-riding accident. she reads descriptions from a baedeker guide (think lonely planet) for an elderly but very well-read patient who has failing eyesight. the play is very highly intimate and cerebral. it's all dialogue, and the little movement that takes place is muted: what can you expect from characters who, because of their conditions, are unable to sweep across the stage. there were some powerfully-gripping scenes, such as the part where courtney burns a museum filled ancient greek works of art in her mind, and elva struggles to take away the book before the whole of rome is reduced to ashes. i will confess i nearly fell asleep during the play (i may have actually dozed off), but that's because i was up till late the previous night. but there's something to be proud of here: this was actually the world premiere of the paul fleischman's novel as a play.
immediately after mind's eye, i fell in line to watch joey reyes's "sayaw ng mga señorita": a play about old gay men. one after the other, gay characters portrayed by famous gay celebrities who may be bringing too much of their personal lives onto the stage appear for a potluck party of a friend who had just turned 60. they talk about their lives and their adventures, and there's a major plot twist when a former macho lover returns as a woman. i sat right next to the stage during the play and laughed as loud and as hard as anyone else, but i felt the story was thin and shallow, and the play itself poorly-acted. joey reyes worked with promising material, but it was written without any desire to discuss issues, but more interested in revealing them. but that exactly is the point: the lives of old, graying gay men isn't so taboo and secret that we wonder what their conversations must be like. we would be more interested in going into their thoughts, hear their regrets and be inspired by their hopes and aspirations, laugh at their well-worn, old-school jokes, and be moved to tears by their heartbreaks. instead, we are served a buffet of yesterday's leftovers. i was also disappointed with the long shadows cast by some of the performers, when others had none. direk joel lamangan and arnel ignacio were pointedly remarkable, where BB gandanghari and direk soxie topacio (were it not for his repeated kissing scenes with a young and good-looking actor) seemed almost absent. BB had a great entrance, with her flowing white gown, but she over-controlled the feminine inflections in her voice that half of what she said could not be heard. soxie forgot many of his lines; and in fact, it seemed a lot of them didn't do too good a job at memorizing the script since a lot of the thoughts were left unfinished. or perhaps it could have been because they had introduced too many ad libs.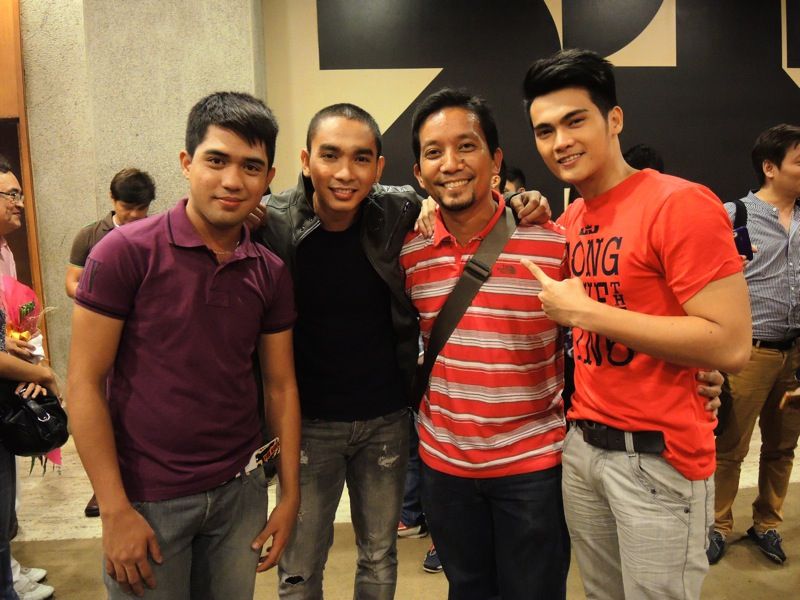 manny castañeda was just fine, but i felt any other gay celebrity could have performed his role better, particularly since he played the part of the closeted gay man: married to a beautiful woman, and already a doting grandfather, but fantasizing about wearing his wife's gowns. it really was a gay play because they also hauled a few young, straight men for some gratuitous (if maybe unnecessary) skin exposure. i would like to think this part was completely camp, because the acting was supremely bad. wooden, in fact, but i'd like to think of it as intentional; that would salvage the play from absolute irrelevance. for what role do straight men play in the world of gay men? despite this, the play was the most well-attended, so i heard. it was a box-office hit, and another run is being scheduled. but its lure is not so much its heaping contribution to the dwindling and decaying cultural landscape. not even the humor of the script. it draws its strength from its cast, notwithstanding the fact that i feared we'd find false teeth flying across the stage.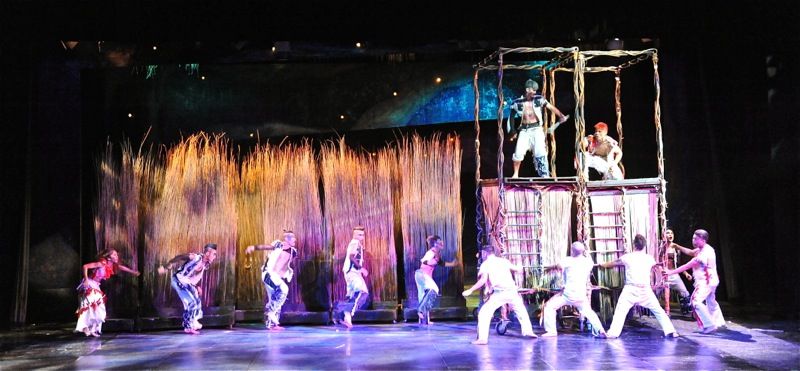 i took a well-deserved respite on saturday, just in time for perhaps the most adrenaline-filled play i have ever come across: "orosman at zafira". this was already the fourth staging, and a fitting end to the NTF.
i last saw the adaptation of this classic francisco baltazar komedya last year
, when they staged it in SM MOA. even then i was enthralled. this year, i was curious how they would pull it off with a much smaller stage, remembering how i was mesmerized and made to hold my breath by the rotating scaffoldings. if this had been a straight play, i would have fallen asleep after 20 minutes. although baltazar delves into complicated love triangles and shifting allegiances, the language is difficult to understand (who uses "sukab kong kapatid" these days anyway? i realize that tagalog may have evolved faster than english, because shakespeare's text could sometimes be even more accessible). but this adaptation takes the available material to unimaginable heights by emphasizing movement, and infusing ethnic music into the verse. which is all but appropriate. this epic story has three warring tribes, complicated relationships, and impossible love affairs. watching it in the smaller stage of TAT, i immediately realized that they had to reduce the size of the cast. but the more intimate venue allowed the play to underline the intensity of the performances. the battle scenes were even more gripping and palpable, i had to ask executive produrcer and law school blockmate darwin mariano if anyone got hurt. he said that a member of the chorus had to get 10 stitches during rehearsals and another actress got 5 on their saturday performance -- the play always requires an offering in blood, lest something go awry.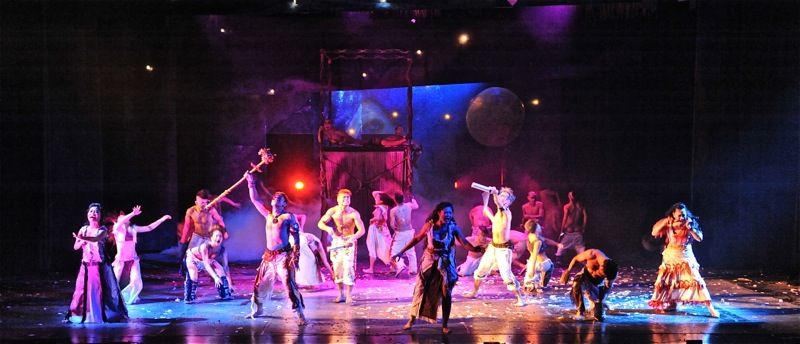 my seatmate told me he also watched the previous day's performance, and although he was blown away by it, he said that this afternoon's show was even more breathtaking. i could not help but compare the staging to the space that SM allowed, but the change in venue and even the difference in perspective (in terms of how the seats were arranged) certainly contributed to a much more surreal, if not visceral experience. i found myself tapping along with the live musical accompaniment, and felt the groans of the chorus gnaw into my skin. also because CCP is a lot more liberal than SM, many of the warriors walked off the stage naked after a grueling battle scene, although to be honest, you'd be too distracted with the emotions on the front of the stage to even pay attention to the buttocks and breasts slinking in the background. during the talk balk, someone asked what the director meant to convey in the last scene when orosman raised a scepter. i whispered to my friend greg that the entire play was about symbolisms, and the brilliant young director replied that there is no right or wrong interpretation to anything that they presented: you bring home and chew on whatever you take away from the play. one of mine is borrowed from theater critic gibbs cadiz: anyone who has no washboard abs in "orosman at zafira" dies in the end.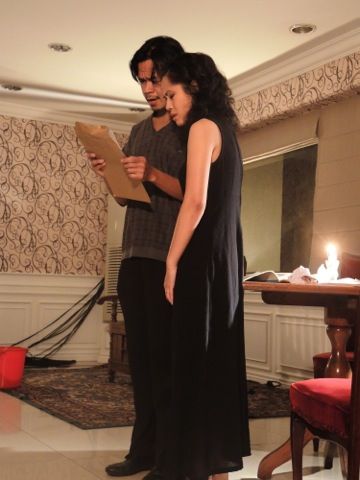 i actually saw an earlier play a week before the NTF started. it was an adaptation of select stories from tony perez's "cubao pagkagat ng dilim". it was staged by distiyero theater commune at an unusual venue: the orchid garden suites (where i stayed when i was taking the bar exams), and i have to say, it was an epic disappointment, i am reminded of a poorly planned student production; the people behind it should be meted the punishment of
destierro
. it was a good thing though that i bumped into my old friend charlie, who is teaching english literature at the DLSU-taft.