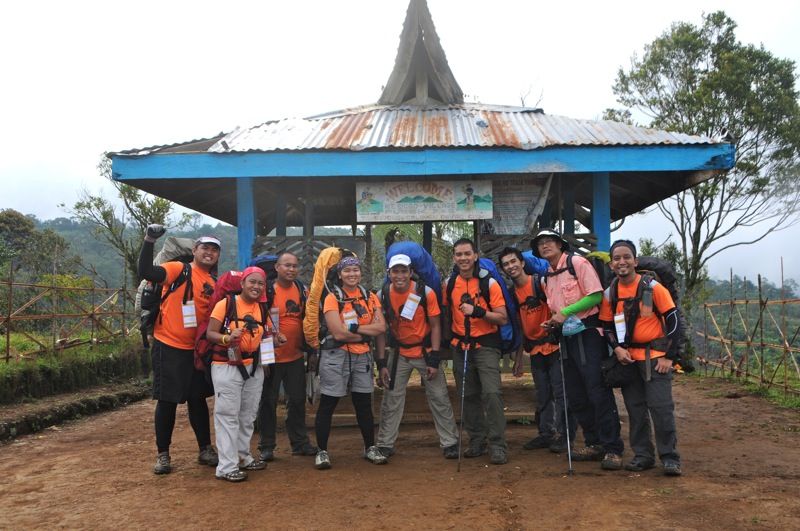 while we waited for the vegetable truck on the roadside in baroring, i approached a parked habal-habal as i quenched my thirst with a cold glass of RC cola and was almost startled to see my face reflected on the motorcycle's side mirror. in the last five days, i had no idea how i looked. frequently, i would be wiping the corners of my eyes with a finger or feeling my face with my palms for any sign that might alarm me: a breakout, a scratch, or perhaps even skin peeling from too much sun exposure. since i embarked on this climb, i have sat on rocks, balanced myself on fallen logs, crawled under them, straddled them, slid on mud, hugged trees, made love to the earth, whose savage, yet contrastingly gentle manner caressed me with cool waters and soft sunshine. in the evenings she embraced with with her cold arms and would not let go until dawn. as i went about my daily labors, she reached out to me to pat my head and touch my face with her leaves. she also provided me with many of the things i came here to see and experience.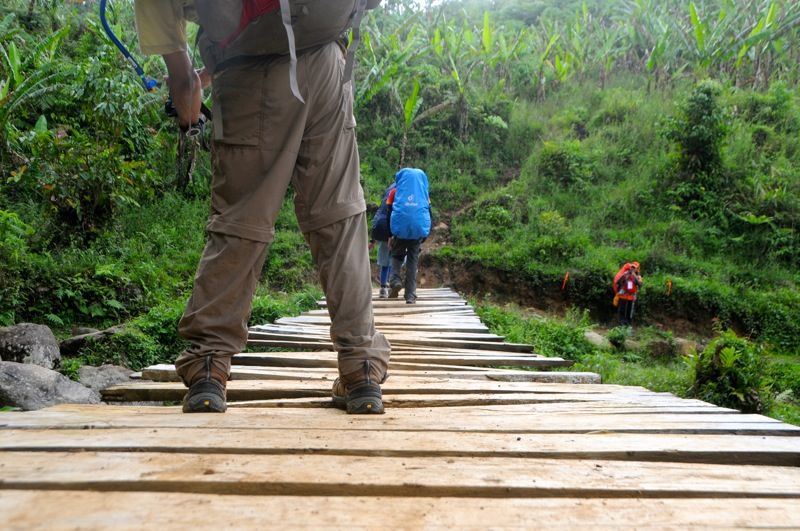 five days later, having reached a town in a province different from where we started, in a place that does not appear on the same topographic map as the blighted patch of earth which was still within the territorial jurisdiction of davao city, my primary concern was whether i still looked human, assuming of course, that i actually look human when i'm able to see my reflection more than once in the span of a day. i studied my palms, which were ungloved throughout the trek, and which held on to ropes, branches, tree trunks, roots, the hands of other mountaineers. amazingly, although i could use some time over the sink to wash them, there is not a scratch on them. i reached into the top pocket of my osprey argon 70 and poured the last of my trail mix on my hand, and popped them in my mouth.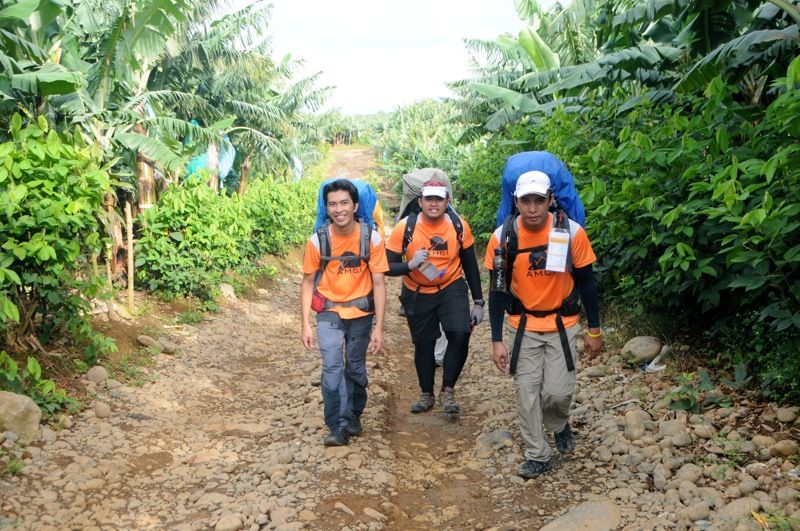 five days earlier, we gathered at the airport while the unrelenting davao sun stared down at us. this was a familiar feeling. i have been to apo three times before:
for my own induction climb in 2005
, then again for a batch climb in 2007, then
for a third time to advise the batang batibot in 2009
. i had learned my lesson from the last climb and booked a ticket a day ahead, although the 7:55PM flight caused more stress than i would have wished. suffice it to say that i left the office at 5:02PM, had to resort to a very expensive means of transport, and undressed while still on the elevator. while on my way to NAIA terminal 2, i had this nagging feeling i had left something behind. i was hoping it wasn't food.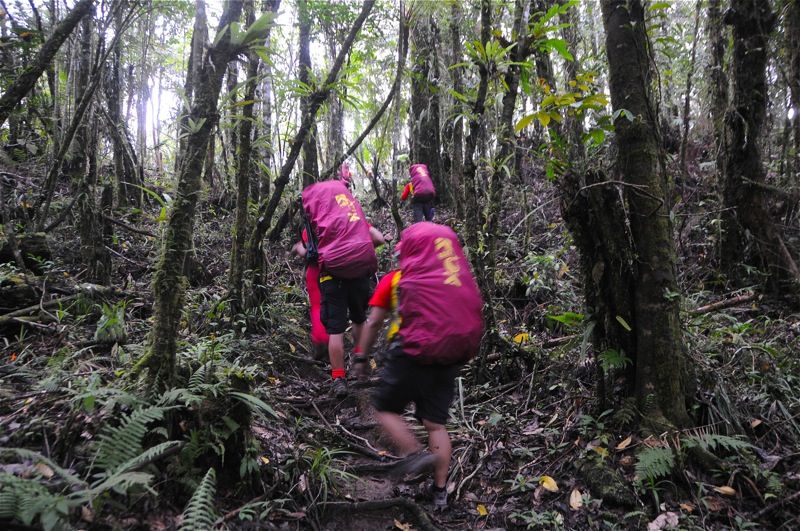 from the airport, we moved south to one of the businesses of the dagondon empire for a halloween brunch and party. although prior engagements prevented me from attending any of the pre-climb meetings, reading the itinerary informed me of two things: that we had to wear costumes and had to embarrass ourselves through an ill-prepared presentation. i was determined to win it only because i was invited to advise a group whose name cheekily suggested surrender, as though they had been formed neither by design nor by fate, but my ill-fated circumstance: they were surplusses, excesses, dregs, left behind. snagging a win would be an inspiration for everyone, and blossom an idea that they could compete with the dream teams as well, notwithstanding that they were, well, rejects. and in fact we did win. joyce had choreographed a simplified thriller dance and i devised a simple skit so we could maximize our costumes. and as our prize, we were promised a nice kitchen area at the first campsite, plus an airconditioned van ride to the jump-off. this year's trail would take us on a new traverse which begins in tamayong. we were dropped off on the edge of an unpaved road to walk through dirt paths that circuit plantations for cavendish bananas: a popular export, but locals feed them to pigs.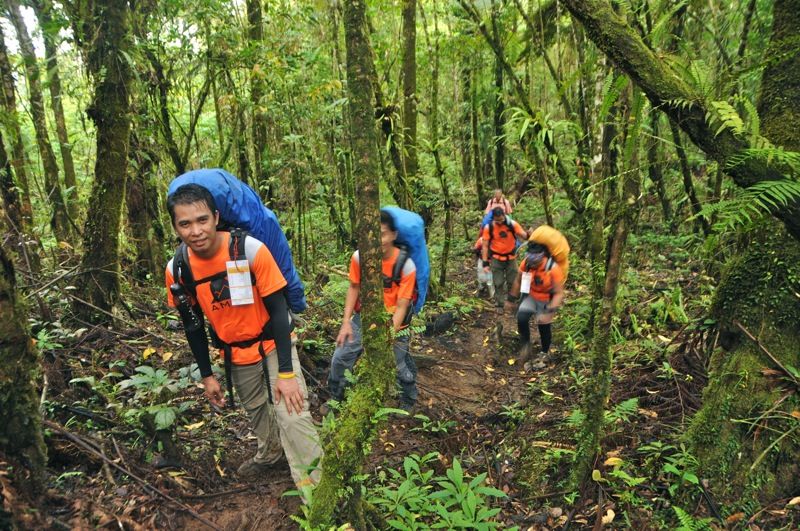 the trek was delayed by an hour, so when we arrived in the village of sicao, we prepared for a night hike. the trail funneled into a wispy forest which began to blur and disappear in the darkness that fell quickly in the foothills of the mountain. by 6PM, steady beams of light began to pierce the evening as we scrambled towards sitio utan. by half past 7, we reached the campsite, and turned the quiet little village into a palette with many-colored tents. the festivities that evening were still celebrated at a high pitch. one group slogged through mud carrying a 7-foot pole with a 6-kilo lechon. poisons had been uncorked, and the din of laughter and conversation hovered over the village well into midnight. i scooted over to a group of local mountaineers mainly to practice my failing cebuano and slept at past 2AM. when i woke up, the campsite was already extremely busy, and rice was burning.
we were the fourth group to depart sitio utan, already way behind the itinerary. at first i decided to place emerson in front of the group so that we could trek at his pace. he would actually pull away, erasing the trail with his humongous lumbering legs, and would pause to catch his breath often. i would catch up to him and hear him almost wheezing and panting. the trail to sitio dalag has no significant inclines, which i always fear as i am prone to cramps during the early stages of an ascent. nevertheless, the terrain was savage in every respect. there was a primal, if not prehistoric quality to the jungle: the fallen trees looked as if they'd been uprooted by giant reptiles, and green spades larger than our faces tumbled into the distance.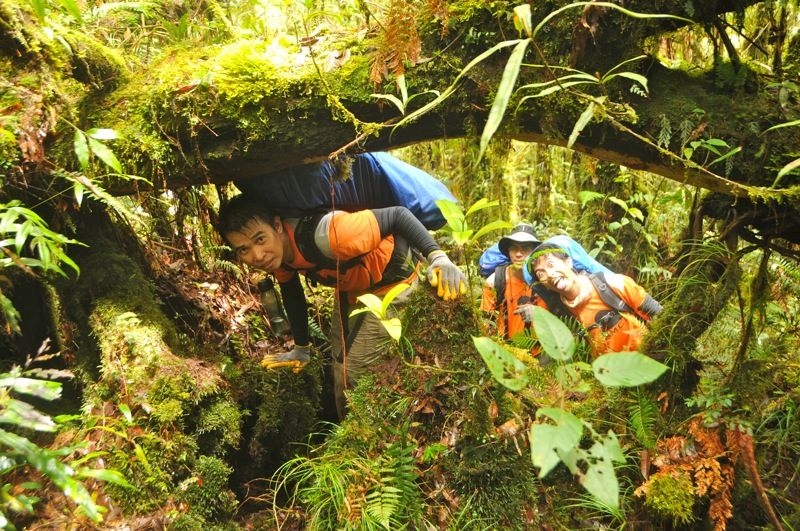 eventually emerson's energy was spent, and he slunk to the back, so i towed jerry and james to trek at our natural pace. at first we felt we were running after the IT, and only much later realized that we were on time: the talomo river landmarks turned out to be narrow creeks no deeper than my shin. the foliage changed very gradually, but its little nuances were remarkable. we had been warned that we had to duck often under fallen trees, and almost always this left me breathless. at times the trail tumbled down, and shoeprints scraped the earth: evidence that some trekkers fell or slipped here. at 3PM we spilled into the mab'bu river, and mustered courage to dip our bodies in its chilling streams. we lingered there a while and picked up our bags when the local mountaineers told us we were just an hour away. the rest of the trail had some technical portions, particularly the prostrate tree that fell on the edge of a cliff, but we were surrounded by so much beauty when the community trail began. flowers the same color as our trail signs guided us along the way and eventually we caught up with those who had gone ahead.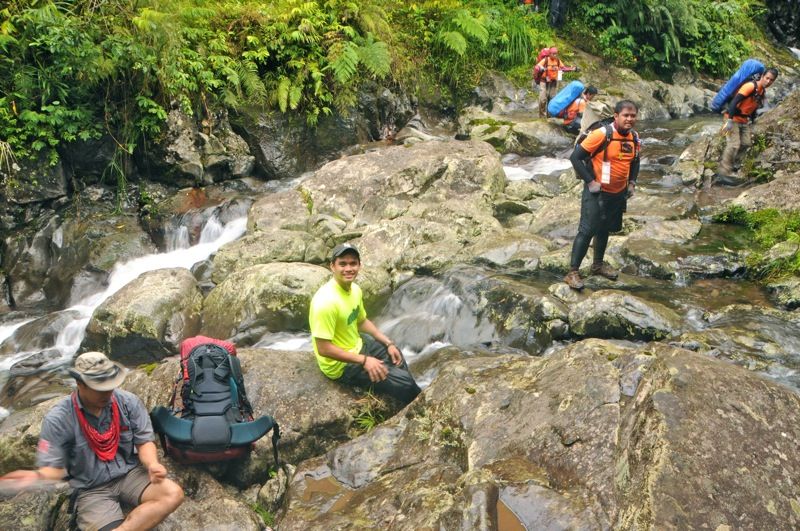 the campsite was the village square. the lead pack was playing hoops with local boys when i arrived. we immediately occupied a small corner of the vacant lot, but wound up relatively useless for a few hours, waiting for the rest of our group to arrive. we had neither a pot nor the ingredients to prepare even the soup. when night fell, i would frequently meet arrivals hoping to see butaws, and when they did, we managed to embark on the preparation of dinner: a rather simple tuna pesto dish, with foccacia on the side. the meal plan was designed to accommodate cecil, who does not eat quadrupeds, so we would be mostly deprived of meats during this climb. when it rained that evening, campers dispersed to secure exposed backpacks and other equipment left under the dark, chameleon sky. i was safely ensconced inside my tent when the worst happened, and when the downpour fizzled, those who remained awake began to complain about leaking tents and flooded floors. the rain almost single-handedly ensured that there would be no drinking that night. consequently, i was up very early the following morning to cook rice and organize our kitchen which had been left in shambles following the early morning rain. by 4:30am, i was whispering good mornings and giving instructions to start organizing backpacks. cecil, who packs light and slept under a huge tarp propped by a single trekking pole, was barraged by the same question about the water creeping in, and i suggested that he prepare an index card because he basically gave the same response over 10 times. based on TL niel's description of the trail, this would probably the most challenging day in our nearly a week's stay on the slopes of mount apo.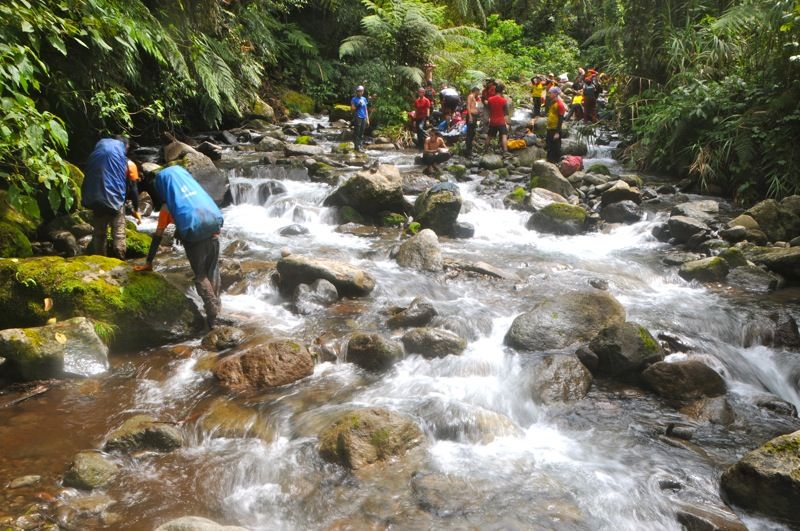 because the campsite was small, we would overhear conversations in other campsites, and it was a source of amusement for our group to listen to complaints about items and equipment being left behind. we had no similar issue, as we followed a load distribution matrix which ensured that we knew who had what, and carefully planned the minor details so that each one of us was unloading something everyday. we left sitio dalag just behind our sister group, and very early into the trek found ourselves stuck in long queues. there were portions of the trail which were difficult, but brief, and our pace was dictated by the slowest person ahead of us. we had to take extended breaks often so that we didn't have to take too many unnatural stops along steep portions of the trail, parts of which were lined with sad-looking abaca plants or bushes with violet-colored leaves. eventually, we caught the lead pack resting on the kabacan river. it was only 11am, but we decided on an early lunch. learning from our experience of the previous day, we decided to shuffle some of the group equipment, and three of us had to take on extra load. we were seriously concerned about the itinerary's prediction that there would be an "endless muddy assault". after just half an hour, we began the assault along a narrow ridge that rose steadily at more than 600 meters. we were spared any similar inclines the last two days, and i could only hope my legs were up to the challenge.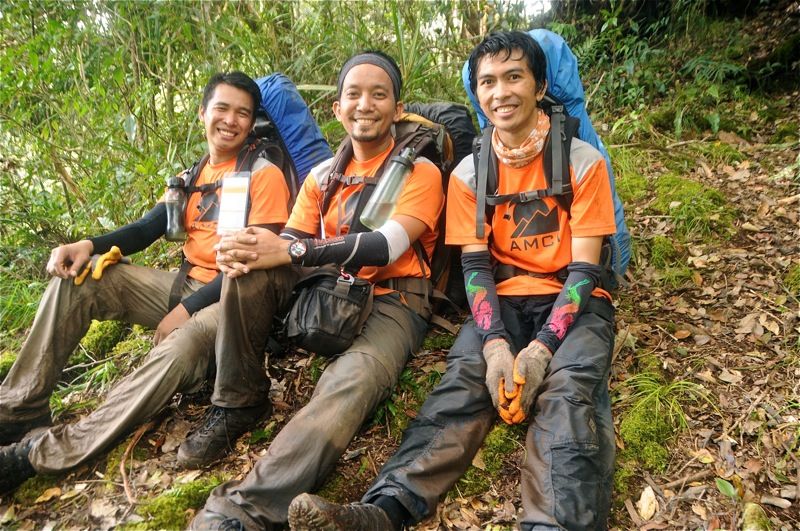 the ascent to the basingon campsite was actually pleasant, and had none of the awfully-bleak predictions of the climb staff who had done the reconnaissance climb in pouring rain. there was a steady breeze in many parts, and trees lost stature the higher we got. having no previous knowledge of the trail, i would announce the increase in altitude to somehow predict how close we were to our destination. by the time i had predicted about half an hour to go and less than 100 meters more to ascend, the guide announced that we were still about 2.5 hours from the campsite. it was still early but i figured that my altimeter must have been giving inaccurate readings. but immediately after that we caught up with marlon who said that we were about 45 minutes away. in less time than that, we were already hearing hacking sounds bouncing off the slender trunks of trees. the forest was lush, and the ground was veined with many overlapping roots. when i found the campsite, i wondered seriously about how we would fit tents for 80-plus people in the little space that was habitable. the guides pointed us to different directions, all of which had precious little real estate, and i worried about our accommodations. i decided to choose a spot separated from the main group. it wasn't the most ideal, but it turned out to be a much better alternative since all of us managed to pitch our tents and were spared the usual noise of too many happy campers.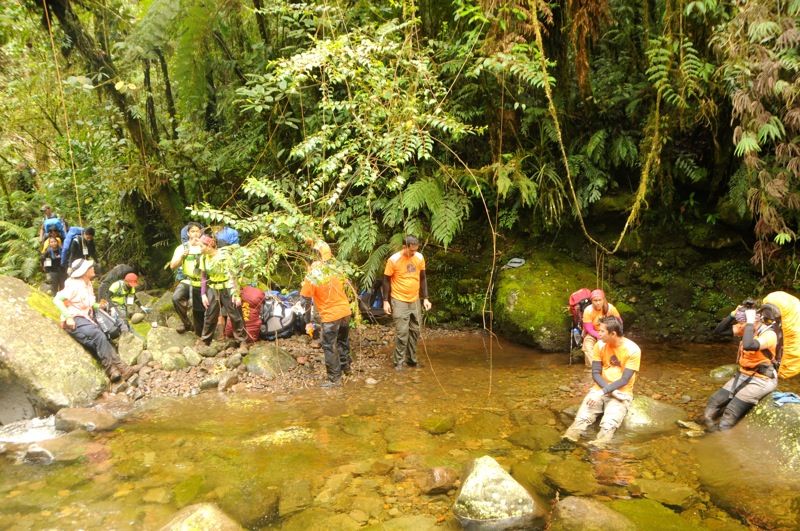 the last of my group arrived less than an hour after we did, and by 4pm, we were tying ropes around trees to hang our clothes, and organizing a kitchen in the space where no trees had grown. we had become the welcoming committee, as everyone who arrived late passed us before reaching the cramped main campsite where many tents could not be pitched. team career had to make do with the available space, regardless of the fact that they would hurt their backs come evening. a steady rain accompanied our after-dinner socials where we swapped stories about the last three days, and even the last few months of BMC. i was just interested in opening my bottle and having a liter less of load when i assault the summit. at some point i had passed out and was instructed to retire to my tent, and i dutifully did. i read something on my iPhone while traces of a raucous party crept into my tent, and i briefly debated whether i should visit the other campsite. i chose sleep.
i was first to stir that morning, and immediately i began my method of breaking camp. by the time i had crawled out of my tent, i had rolled both my sleeping bag and therm-a-rest and piled the color-coded stuff sacks near the door. i only called people to wake-up when i already had a huge pot of water sitting on the flame of my MSR dragonfly. tessa would rib me several times about cooking the rice, but i would rather have edible, if not perfect rice, than sulk secretly about uncooked but burnt rice just so the inductees may learn. my approach is a lot different, i suppose. we packed quickly that morning, and most of us were ready by the time the lead pack had left. GL joyce instructed us to re-group at bobong campsite, but our guide -- bobong -- was completely unhelpful in identifying any of the landmarks, so without noticing it, we had actually passed the small flat patch which was littered by trash.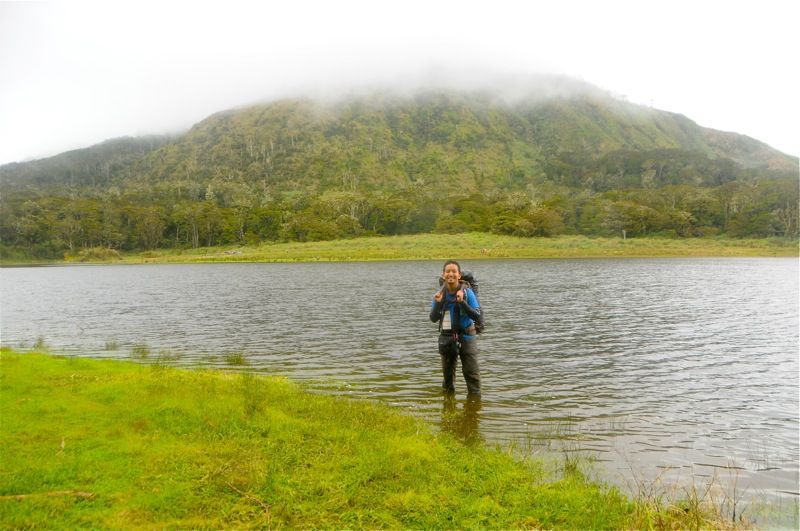 the trail from basingon is quite pleasant, although in parts there are fallen trees and mudholes. because of our guide's inaccurate estimation of time and distance, i was immensely concerned about our delay, until i came upon a spot with a small window to a sea. in front of me suddenly appeared a huge body of water. "venado" i cried, and we descended into a gully where ABG was fetching water. lake venado had swelled into a monstrous and mysterious pool. i ran towards it until its cool, tentative waters were past my ankles. i dared not go further. lives have been lost by similar foolish acts. across the lake were the lead pack and some members of the salubong group who had taken a 3-day trek to rendezvous with us at the summit. behind them rose the last remaining 900 meters of mount apo: a behemoth of earth and green, obscured by a low-lying, late-morning cloud. we went around the lake, sloshed through a swamp, and paused by the two stores selling 150-peso 1.5L cokes and 20-peso soft-boiled eggs to lunch and re-group. i smuggled a bottle of sprite into my bag to celebrate james's birthday at the summit, and waited over an hour before deciding it was time to depart.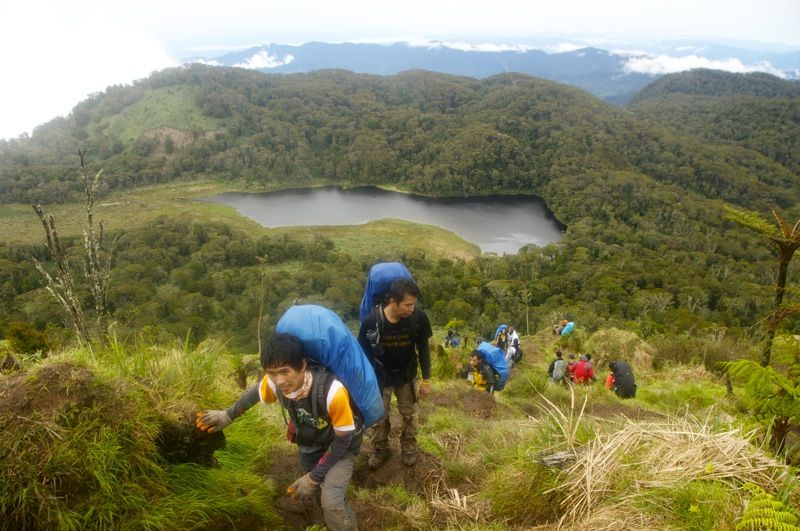 the IT had predicted that we would reach our campsite in 4 excruciating hours. my own estimate was that we would finish in 3.5, if we maintained a steady gain in altitude of 250 meters for every hour. we had already unloaded a huge chunk of our heavy loads the previous days, although they were replaced by items that we felt would do our group a lot of good if they were taken to the campsite ahead of everything. i popped the last of my salt sticks into my mouth and prayed that i would manage the assault without issue. with james and jerry closely behind me, we pushed for the summit with optimism. at the beginning of our trek we encountered hikers on their way down. many of them were oddly-dressed, and shod in inappropriate footwear. some of them carried peculiarly-small bags, i suspected they might have only been carrying trail food. we greeted all of them courteously, sometimes asking where they were headed. i am a little aware of the remaining trek to civilization, and their pace seemed to suggest that they would be doing most of their final trek under cover of night. eventually, barefoot porters with backpacks, sacks, pots, and even a guitar tied to their backs came bounding down the trail. i was aghast at the amount of load they were carrying, knowing how poorly-paid they are. some people want so badly to say they've been on the highest mountain in the archipelago, but want none of the responsibility that goes with it. they care not about the logistics of a climb, and think they can pay off people to suffer the usual difficulties they are unwilling to be burdened with.
in the meantime, our group of 3 was inching closer to the summit. i have to say that i cannot remember a better-paced assault. not once during this summit push did we put our bags down, and yet we had ample time to appreciate the view. as we got higher, the vista of the very still lake venado, whose dark, glassy surface was seldom disturbed by a passing wind, became even more interesting. the cloud had lifted, and beyond the forest, rows of blue mountains appeared. mount talomo and its swirl of clouds rose on our right, and the craggy crown of mount apo appeared. columns of steam rose from the wells of the PNOC left of lake venado. frequently we would look up and find the lead pack crawling up the steep incline. eventually, we reached a part of the trail which was unshielded by a forest, and a ferocious wind blew, magnifying the cold of that altitude. i asked if anyone wanted to stop to put on a jacket, but no one was so inclined, so i braved, rather foolishly, the last hour with just my trekking shirt. i tucked my hands under my armpits as i walked, and at one point, i could hardly feel my fingers, i wondered whether they had been deprived of blood and oxygen. because of the unbearable chill, we could not stop, and by the time we were upon the summit plateau, a local quizzed us about our trek and he made me realize it took us just 2 hours to reach the summit.
rather than the main campsite, where we were certain all other groups on mount apo would be gathering, we took the east peak, which is left of a toppled concrete cross. there was a flat area which i am sure gets flooded during a downpour, with a view to the PNOC's geothermal plants in the west, lake venado just below, and the city of davao and the davao gulf further east. when i arrived, the few who had gone ahead were just starting to set-up camp. we helped out a little, and i took james with me to fetch water at the main campsite, where many groups had already pitched accommodations. although this is my fourth time to be in mount apo, i have never seen the water source prior to that day. it was under a huge boulder. a halved bamboo acted as a pipe, and below the water was a pool, polluted by careless mountaineers. while i balanced between two rocks, i heard james say: "uy, mount mayon!" i said we are on the wrong island. "pero perfect cone eh," he insisted. i stood up, looked behind me, and regretted i was unable to bring my camera along. just below us were sleepy towns south of mount apo, and in the distant haze rose
mount matutum
, like a single finger pointing to the heavens. we returned to the campsite carrying about 12 liters of water.
while we busied ourselves with dinner, we discovered that we were missing some packets of soup and coffee. we quite literally had to beg from other groups so we could warm our stomachs as the evening turned the cold, barren camp even colder. under cover of darkness, people were still arriving at the campsite, hungry and shivering. we were finally gathered after 9PM for the induction rites, which took place on the hill just above the campsite. far away, the city of davao sparkled like a bed of yellow diamonds. in his opening speech, TL and AMCI president niel said that several of his batchmates were here again on the summit of mount apo not because we were required to be there, but because we were bound by an unspoken duty -- our presence was demanded by a feverish passion. as the wind howled, we welcomed 41 new members into the fold -- the biggest haul since 7 years ago. after the rites of membership were given, we went back to the campsite and celebrated the achievement. it is no small task, indeed, to be dragging your feet across kilometers of untamed forest while burdened by a backpack that is upwards of 35 pounds.
the following morning, i woke up late with a familiar sensation cleaving my head. but breakfast went on even without my contribution, and we were ready to leave the campsite at around 8AM. at this time, other groups were just about to eat. we left hurriedly, fetched water from the main campsite, but threw it away since it had a tinny taste to it. arriving at the west peak, the view of the boulders was obscured by clouds, and we were held up during the descent down the 87-degree wall. the crater on the left was flooded. i was towing 4 members from my group as we descended the boulders at a relaxed but steady pace, leaping from rock to crumbling rock, holding on to sharp edges of yellowing white chunks of the earth's bellows. eventually, we passed team career, which left an hour ahead of us, and caught up with niel, who was very glad to hand over his last remaining trail signs to me. at around this time i took very few photographs -- the fog would not leave us. in about an hour, we were already past the sulfur vents, and were headed to tinikaran. i have always wondered what this name meant -- i actually thought it referred to the characteristic of the small, cramped campsites. apparently, it referred to the tree species that is present here.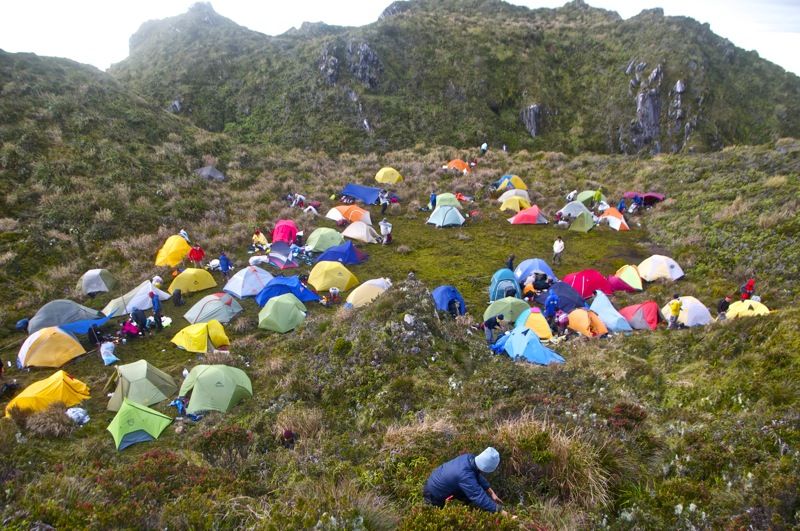 we had an extended stay at tinikaran 1 where we also had lunch and where i found my missing brunton titanium folding spork. shortly after alvin left, i picked up my bag and was immediately confronted by a conundrum. we didn't know where the trail was. i was about to ask one of the local guides where we were supposed to go when jerry called to say that he had located the trail signs, and i immediately followed. even at the start, i immediately noticed that the trail appeared to be seldom-used. although there were boot prints on the ground, the path was narrow and peculiarly clean. yellow ribbons were spaced every few meters -- our only guarantee that at the very least, we were on a trail. whether it was the right one i couldn't tell. suddenly i remembered that a guide mentioned while we were on the boulders that the yellow trail signs were used to mark the way for the boulder face challenge. trouble is i was unaware where it would end. the trail was also steep in parts, but everyone behind me was just as skilled in maneuvering them. eventually we came upon a dead-end: the forest had been cleared to make way for carrots. we asked a local farmer to point us to colan, and he said to just go straight. after a few minutes we were resting in tumpis, waiting for people to emerge either from the longer but easier trail, or the shorter, but more challenging one we blazed. in 2009, we spread this last part to our last two days, although my group could have very well gone down to the road well before nighttime.
we stayed another hour in upper colan before going down to baroring, only because the vegetable truck that would ferry us to kapatagan would not arrive until half past 4PM. i began to contemplate the past few days, the challenges that we had to overcome, the personal demons we had to vanquish, just to get here. it turns my stomach to know that people think of their successful ascents to the summit of even the most forgiving of mountains as conquests, as though they were pioneers, the first to ever reach a place. i just think that smacks a lot about their personal arrogance as well as ignorance. i have always thought of my climbs as personal achievements: that with a healthy dose of optimism and a good foundation derived from serious training and preparation, i am able to conquer my own limitations. in this particular climb i laid to rest the ghost of my imagined and my exaggerated weaknesses -- not recently in a climb so challenging did i ever feel more strong. this climb to mount apo, whose magnificent breadth and scope were only made possible by the grand ambition of its team leader, doused any doubts that i may not be in the best shape of my life.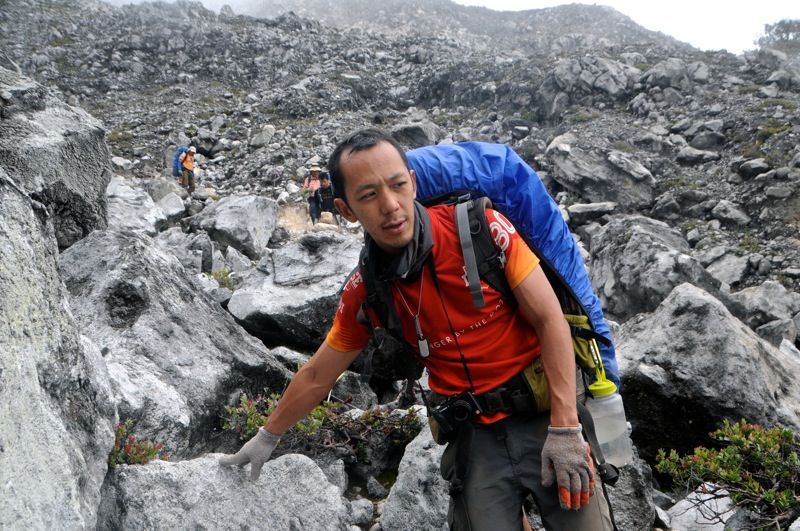 five days later, i studied my face on the side mirror of a parked habal-habal. i have not seen it since we started the trek in tamayong, and marveled at how little has changed outside. yes, a mustache is starting to grow, and my hair is a lot more unkempt than usual, but i am a different -- and dare i say better -- person than before the climb began. that i remain joyful regardless of the misery that surrounds me, that i become ever more appreciative of my blessings, and that i complain a lot less about the life's little bumps and detours: these make for a truly worthwhile climb. i don't necessarily think that everyone should leave the mountain carrying these same realizations. each one of us will have a different epiphany, whether good or bad, whether this inspires them to climb more mountains, or to stop climbing altogether, as long as you have one. but woe to those without, for it would have all been useless to not have a better understanding of things after an adventure of this scale.