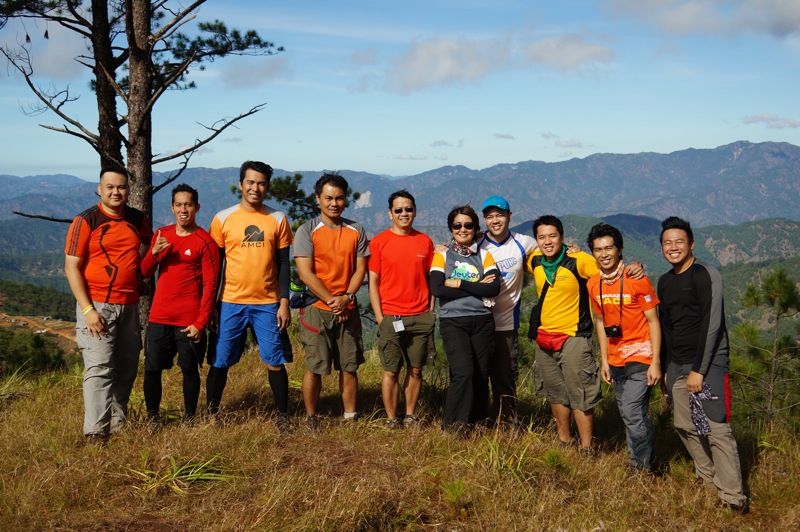 the mountain's unusual name was a source of curiosity for all of us, and on our way to the jump-off in japas -- a nondescript part of the highway somewhere in the hinterlands of benguet -- we discussed its religious and literary underpinnings, but quickly abandoned it because no one seemed to be an expert in the subject. when we met our guide, we immediately asked why it was called purgatory, but jonathan could only say that an american manager of a sawmill which operated in the area many years ago decided to call it that. the concept of purgatory does not exist in the religion i grew up with, and i confess to have not read dante's "divine comedy", so i could not contribute to the theory of how the mountain got its name. but the little i knew about the idea suggested that there will be temporary suffering before we finally enter heaven.

the trail begins with a steep uphill climb that winds its way to mangakew, a mountain community surrounded by cabbage plantations. the path is covered by pine needles, and ends abruptly on a fire road. this patch of road rises to more than 2,000 meters, before it rolls down again on its way to kayapa in nueva vizcaya. there are obvious efforts to improve road conditions in order to connect these upland farms to markets, but landslides seem fairly common, and portions are probably impassable during heavy downpours. a thick, wet fog had descended upon us just after we left japas, but we were in high spirits. another group whose members had conspicuously small bags had left ahead of us on an overnighter, but we planned to take it easy and trek over the course of three days, so we expected to reach all the campsites early, with plenty of generous rest stops in between.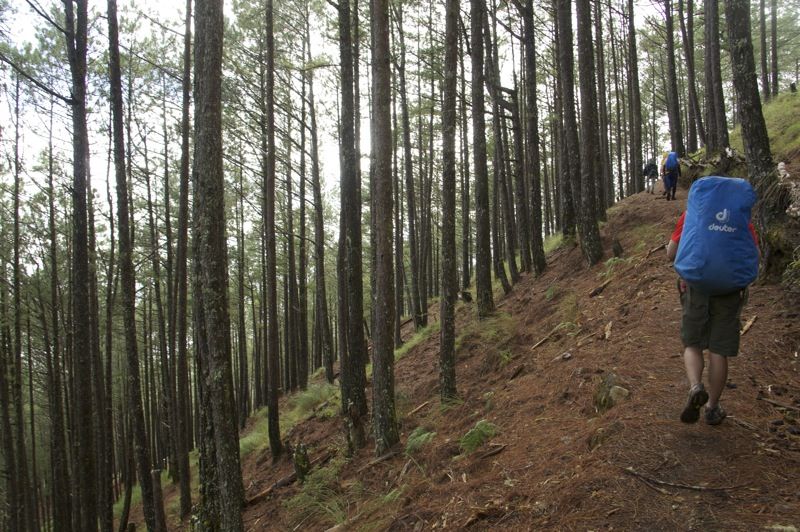 i had first heard of mt. purgatory when i climbed mt. pulag early last year. i had seen a poster at a roadside canteen and took a picture of it, but the affairs of my club took over and it became less of a priority. then last november one of the NGOs i work with found out that i climb mountains, so they suggested i try this one. they even provided me with contacts. i scheduled it at the end of the year, and hoped people would come with me. a lot of people expressed interest, but for some reason or other, valid or otherwise, they had backed out and in the end, our number was a manageable eleven.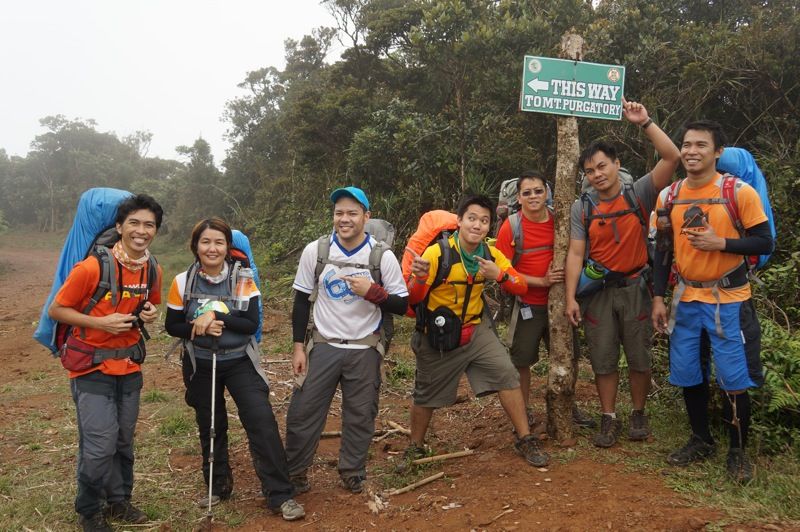 we continued on the dirt road, which wound up the hill, past the treetops. we stopped for lunch at a house by the roadside and had an early taste of how the weather would be like for the rest of the day: bleak and far from balmy. our guide informed us that the campsite was about an hour away from the house, so after a while we decided to resume our trek so we could start a fire and warm our cold bodies with coffee or soup. after just 15 minutes, the guide announced we had reached the campsite. there were some dogs barking near a shack, and an empty space behind another wooden cabin. the wind was furious at this time, and i managed to steal a moment when the drizzle paused to pitch my tent. there was water very near where we were, and heads of cabbage were neatly planted in the tilled land across the road. a steep cliff dropped beside my tent, and in moments of clear skies, we could see far away, where green and brown mountains arranged themselves into disorderly rows.


we all helped setting up the kitchen, and although i would have wanted a different configuration, we managed to fix a low-lying roof with a cobweb of guylines over our heads (having used all of paulo's nylon ropes, which from end to end might add up to a kilometer), enough to crouch under and work on some warm beverages. froilan and joshua had been given the sweetest balls of cabbage by some farmers, which they mixed into a pot of noodles, and this sufficed for an early supper. because neither the drizzle nor the biting cold would stop, and since it was still early in the afternoon, we all decided to sneak into our tents for siesta. it was indeed an affirmation of the fact that we were taking things easy, and that reality doused my original idea that it may be suited for a training climb. it was far too easy to do in 3 days, but possibly less fulfilling in 2: what do we prove by taking shortcuts, by hastening our steps, and by glossing over details that may otherwise make the experience more memorable?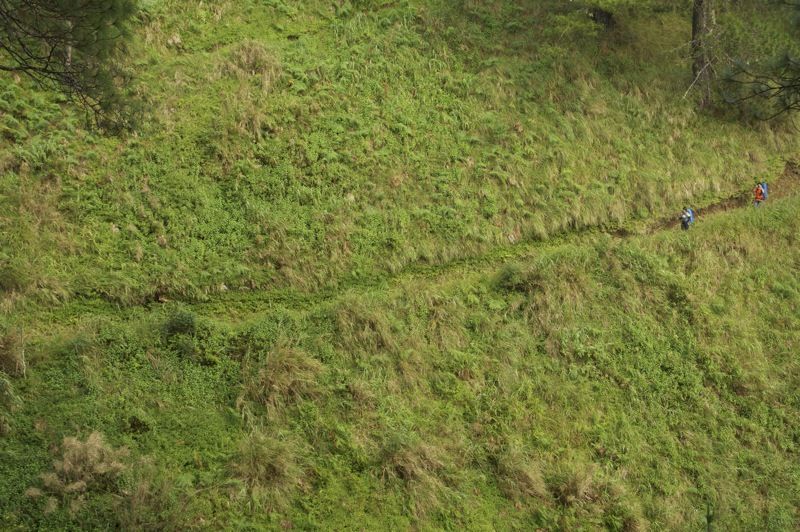 at 5PM, i emerged from my tent to start on dinner. the weather had cleared briefly and there was a hint of sunset in the distance, until the sky was once again swallowed by the imposing fog. since nothing could be done as far as photography was concerned, i got busy at our outdoor kitchen. for that evening, our meals consisted of a japanese miso soup with silken korean tofu, tuna pesto pasta, and a dry fruit salad (because i had forgotten to buy cream). the full moon was winking above the wispy tops of pine trees, spreading a mysterious glow on our slice of mountain. the heads of cabbage looked like beads on the earth, and the shapes of the slender pine trees kept me from wandering further afield. it seemed as though our campsite was being watched by a dark forest, and whenever our voices trailed off, the solitary barking of dogs would puncture the evening. we uncorked our bottles as early as 7PM, exchanging stories and playing silly games to try to forget that the cold was creeping into the seams of our jackets. snacks of all kinds were placed under the tarp, and when they were all gone, we were left with no choice but to retire into our tents.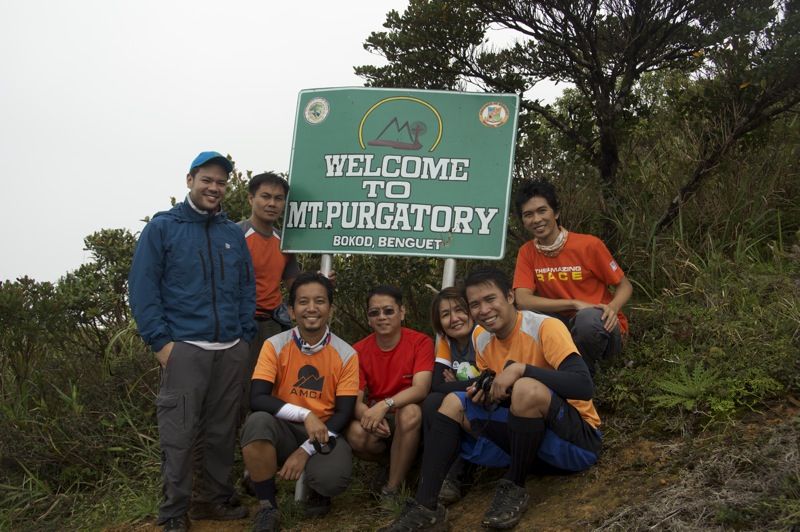 i didn't think i would be able to find sleep so early in the evening, but i did, and woke up only shortly after midnight because i needed to pee. when i went back into my tent, i shivered uncontrollably for around 10 minutes, until i shook off all the cold that managed to sneak into my clothes while i relieved myself. it was not a very restful evening, i must confess. when the effects of alcohol waned, i woke up several times due to the erratic popping of our poorly-constructed kitchen tarp. it sounded like some firecrackers had been randomly lit outside my tent. i would have preferred a steady rattle. each time the nylon roof whipped from the furious benguet wind, i would open my eyes and admire the mesh body of my new REI quarter dome T2 plus, until my heavy eyelids shut over my blurred vision, only to open again when the roof went wild once more. i had half-hoped that that wind would just carry it far away where it would disturb no one.

finally when the sun was almost out we had to leave the warm comfort of our tents. there was still the business of breakfast, and another day's hike, to deal with. the first thing we did was to take down the kitchen tarp that apparently gave most of us a fractured sleep. we munched on canadian back bacon, cold pancakes, hash browns, and coffee before continuing on the trail which they refer to as kabayo road, leading to a barangay of the same name, already in the town of kayapa. the road in fact, is a joint project of bokod and the nueva vizcayan municipality. it was still very narrow and parts look ripe for further landslides. at its highest point is a bench and a small sign pointing to the direction of mt. purgatory. this is where the trail first leaves the road, and gets very interesting.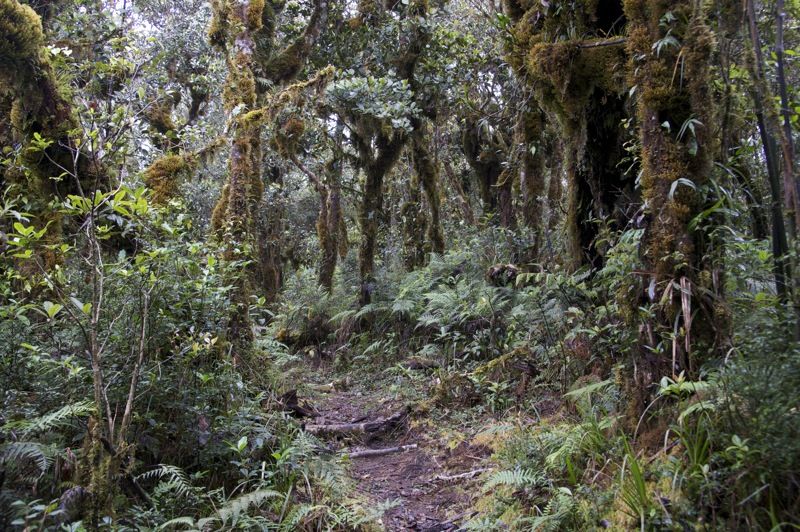 the way from the kabayo junction until the end point in pethal is mostly a foot trail, and it begins with a climb to the summit of mt. pack (banshilan) through a mossy forest where the path has been paved with good intentions. bars of slender trees have been placed on the trail to mimic steps, and also possibly to avoid erosion. the forest itself is damp, and the moss-covered branches are cold to the touch. after just 20 minutes, you reach a clearing where a marker denotes the boundary between benguet and nueva vizcaya, bokod and kayapa. the efforts of the local government to make this trail tourist-friendly have paid off, and there are no obstacles along the way, just a straightforward and moderately-challenging trail that enchants with its flora, and were it not so foggy, its fantastic views. at around noon we asked our guide if there was any place we could stop for lunch, and he said that mt. purgatory was around 20 minutes away. we timed the trek, and we did reach the place in around 22: an area that suddenly clears from the clasp of the mossy forest's low lying trees. in a scoop nearby is a small ramshackle hut and beside it a sign which declares our location.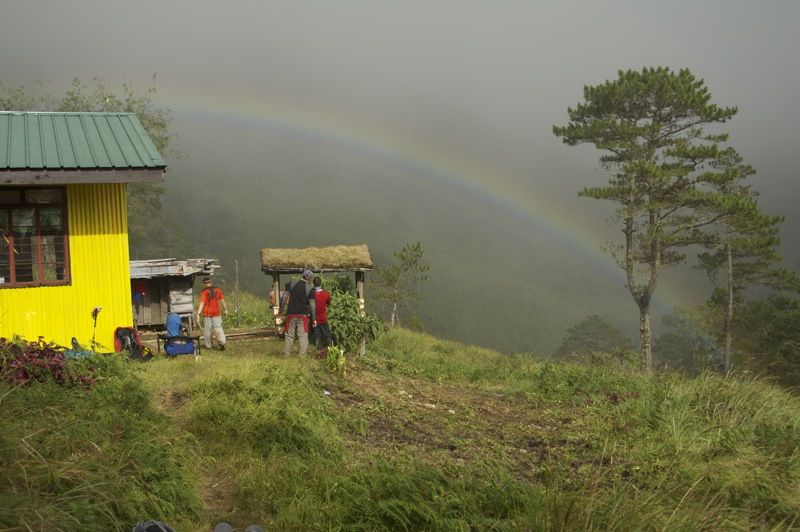 we immediately got down to business since we still had to cook rice. i knew it would be better to have steaming hot rice along with the bistek we had planned, so we didn't waste time. around the hut there were remnants of the sawmill that once operated there. tall wooden posts that had been connected by long steel cables still stood, marking the spots where logs were methodically brought down to the lowlands to be milled into boards. the area itself isn't so huge, and there were few spots that could accommodate tents, although our guide said it once hosted more than a hundred climbers. where they managed to pitch i can only imagine. finally CY and his sweepers arrived just as we had lowered the fire for the rice, and not soon after, we were eating lunch. from here, the trail passed a few houses and a school whose walls had been painted a bright yellow and whose roof was green. we were told that the other group had camped here -- they had tiny bags because they didn't have tents. i used the toilet there, and some men were present building a new and better toilet for visitors such as ourselves. we paused here for about an hour, waiting for an afternoon drizzle to stop. ironically, it began to pour just after we had seen a rainbow. the multi-colored bridge was so near us we were tempted to dig the pot of gold at its end.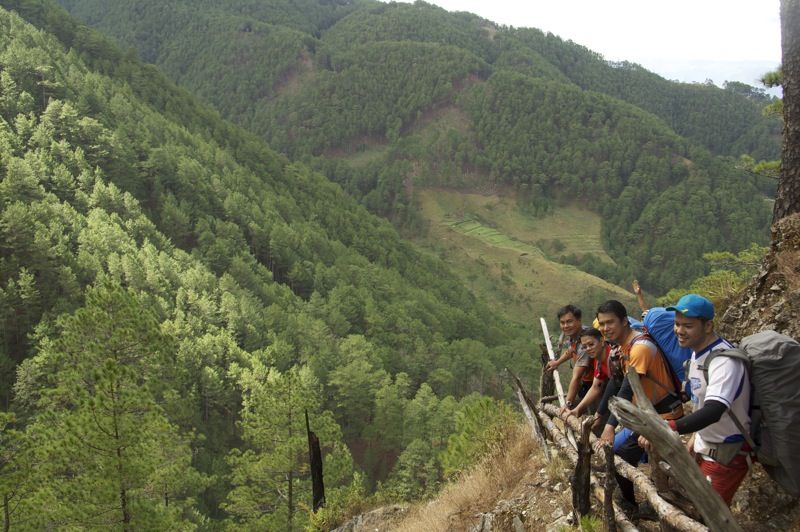 then we pushed for the last remaining half hour to the campsite, but not before dropping by a store in a small community of about 5 houses, hoping to buy gin. but they only had crackers, and i think we nearly emptied the shelves. they did offer us some free coffee and a platter of boiled sweet potato. i joked about the political dynasty at the school where the bulk of the class officers came from two families, and not surprisingly, we met the VP and the treasurer there. then we left for the campsite which was on top of the hill. it was a huge place which could accommodate 50 tents easily. there was a long table at one end, and a long bench perpendicular to it. the views were spectacular here: in the distance we could see ridges of distant mountains. the guide pointed out halsema highway, and trails leading to ambangeg, kayapa, and possibly babadak. the crown of the cordilleras -- mount pulag -- stood at the edge of these ridges, swathed in strips of clouds. a determined breeze blew through the campsite as a fantastic play of light happened in the horizon, and i made sure to devise a better kitchen tarp than the previous evening. when all things had settled, we sat down under the yellow wing of our temporary shelter to prepare a post-christmas dinner consisting of wine, cheese, a hot spicy soup, and a ball of fiesta ham. since we only had one bottle of wine that evening, after dinner, we ended the night with a "slumbook" session, then crawled into our tents for our last night in the cold mountains of bokod.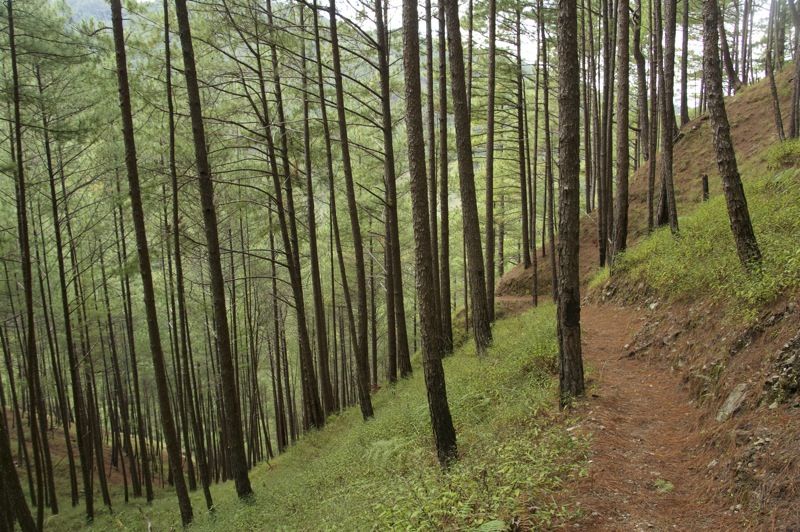 i had a strange dream that evening, although sometimes i confuse my sleep-deprived imaginations with reality. finally, it was time to go out of the tent and kiss the morning. the rising sun was throwing long shadows of pine trees onto the campsite, and it was a glorious day to do just about anything. several people pitched in for the morning tasks, and pretty soon we had a really good omelet, macau sausage, and rice to give us enough energy for the remaining trek of the day, which took us first up to mt. komkompol. along the trail, the guide said that there was a shorter way straight to ekip, but he figured we would not consider it since there was no view. once we reached komkompol, he pointed to a mountain not far away, which he said was hitherto unexplored -- its summit had no name yet. from there, we plunged once again into deep forests, and eventually emerged in the midst of a wide stand of very erect pine trees. such views are normally just found around mt. pulag, so it was a great treat.



the trails were narrow and rather pleasant, and in some tricky turns, wooden railings were fixed to prevent hikers or their gear from accidentally tumbling down deep ravines. very soon we had reached ekip, and there was a rough road that ended just below the barangay hall. the jeepeney was already waiting for us in pethal, half an hour away by the guide's reckoning. he had mostly exaggerated his estimates, so we hoped to get changed and be on our way to baguio shortly after lunch time, but it was a long, featureless road that hurt our feet. this was arguably the most difficult part of the trek, possibly because we had expected it to be less of a burden. parts of it were too steep for the jeep to pass through, and we finally reached the end of our cavalries after close to an hour. by then we had covered a total distance of 26KM, as the crow flies, and we queued at the only two bathrooms available. on our way to baguio, our guide was telling us about the other features around the area, such as the waterfalls. he pointed out that the body of water beside the road was actually a pond where they raised tilapia. there happened to be a carabao standing beside it so joshua made the brilliant conclusion that carabaos ate tilapia. we hadn't recovered from laughing about this when he said that the carabao which lacked pigmentation was a mongoloid.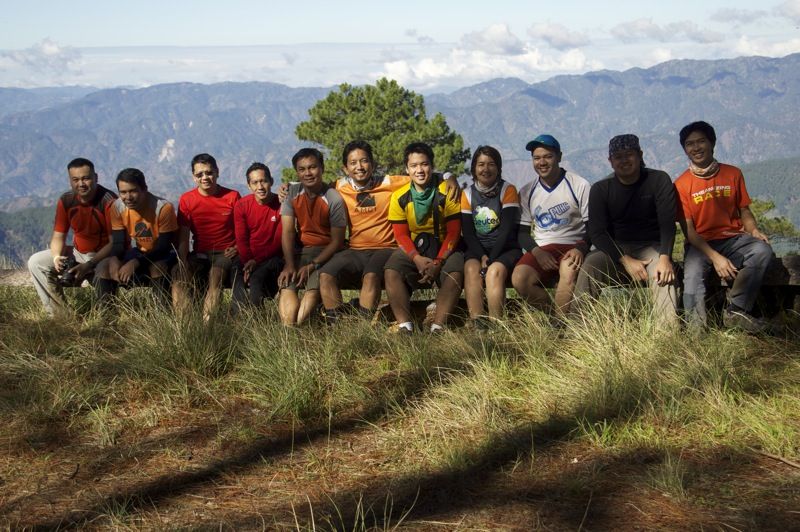 finally at 4pm we reached the gurel junction for a very late lunch, waved goodbye to jonathan, and embarked on the first part of our travels on our return to the plains. new year's celebrations were waiting. my mt. purgatory climb was meant to end the year with a happy discovery. although the mountain falls short of what we would normally consider a training climb, it certainly has many of the qualities we look for when we wish to relax and take it easy. i didn't necessarily suffer at any time during the trek, but i certainly saw glimpses of heaven. it has been a year of many difficult challenges for me, mountaineering-wise, so it was an appropriate way to close out the year with my mind -- and particularly my back -- free of unnecessary burdens. and while i ended the year with an easy one, there seems to be no reason for me to turn down the volume: i look forward to a 2013 filled with even greater challenges and more discoveries. to fun and happy climbs, including the more difficult ones!