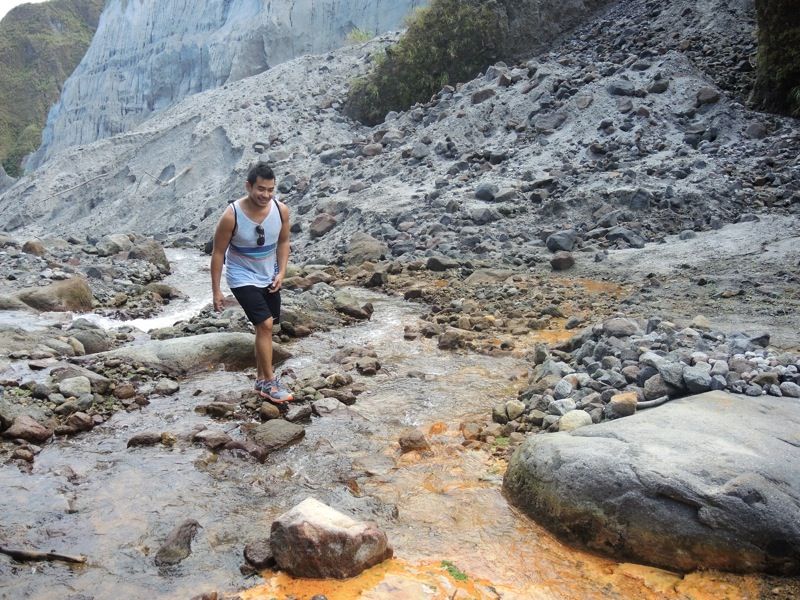 my friend glenn has this 365 project which requires him to post one photo on facebook every day of himself doing something special, something unique. he's now at his 282nd, and always the challenge is for him to find, if not new ways of seeing old things, then new things altogether. one thing he has not done is hike through the lahar plains of mt. pinatubo and see its crater lake. who better to ask about matters related to hiking than me! but although
i've been to pinatubo a total of 3 times
prior to this weekend, the last one was in 2006. that's 6 years ago, and many things have changed, not least the landscape. i said i did not know how to get there, much less commute. most of the trips there are organized by unimaginative and unoriginal travel outfits who make a killing from tourists who are lazy about making itineraries -- the type who think that there is no joy to planning your own adventure, and are willing to pay someone for the inconvenience of organizing a trip. i'm not the type.
so i made quick research about getting to sta. juliana in the town of capas in tarlac. that much i remember. very early on sunday, we left manila to drive through NLEx and SCTEx, exiting at concepcion, and finding that unmarked alley at the junction past caltex just before reaching the capas municipal hall to get to the jump-off where 4x4s would be waiting. for a tourism venture that rakes in thousands of tourists on some weekends, the way there is rather difficult to find. i would imagine huge signs pointing us to the direction of sta. juliana. previously, most things were done at the municipal hall, but a container van had been converted into a satellite office of the municipal tourism office right beside the area where the hulking off-road vehicles park themselves. the tab is as follows: PHP3,000 for the 4x4, PHP500 for the guide, and PHP300 for each visitor. the ratio is 1 4x4 and 1 guide for every 5 hikers.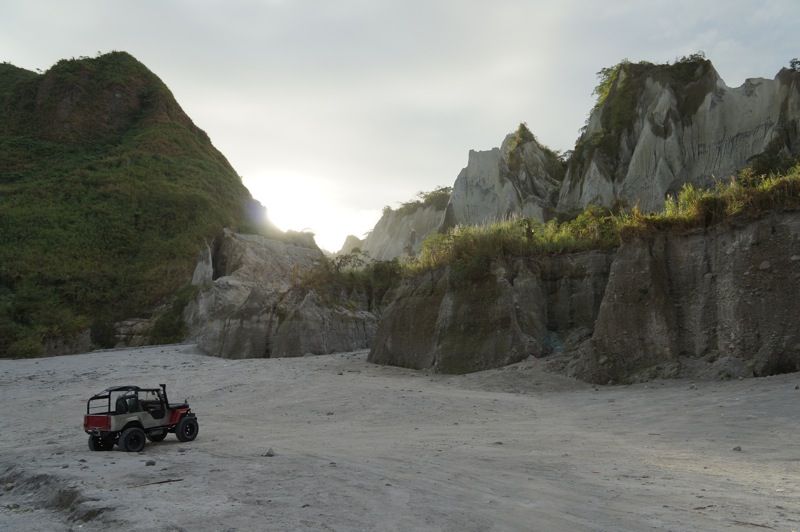 we were among the first to leave for lipit. it was a bumpy 45-minute ride to as far as the vehicles could take us. from the edge of the road, we entered the lahar plains, which could rival the imagination in our depiction of things otherworldly, such as the moon, or mars perhaps. we sped off just as the sun was rising -- rays of light were breaking through the jagged peaks of the walls that narrowed as we got nearer the crater. the locals call this the crow valley, although i did not notice any crows. there were, on the other hand, several land mines near sta. juliana, planted there by grazing cows and carabaos. how these bovine creatures manage to find grass to chew on amid such desolate conditions is a mystery to me. the barren sand that gushed from the mouth of the volcano does not quite nurture plant life.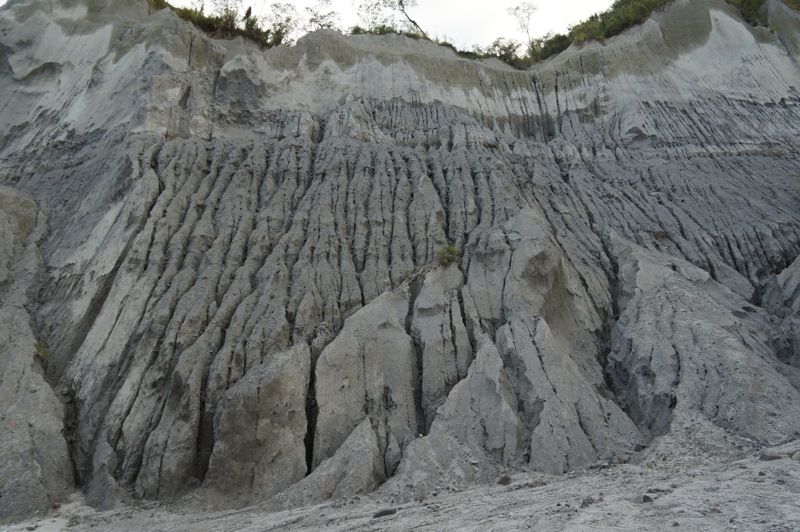 mount pinatubo is unique in that although the features of the lahar channel may tend to be monotonous, it is far from boring. each year, immediately after the monsoon passes, the trail changes. nowhere is it more appropriate to say that the more things remain the same, the more they are different. when the hiking season opens, guides and the maniacal 4x4 drivers have to carve out a new trail, criss-crossing deep streams and maneuver around boulders that shift in position. there was a time when 4x4s could go as far as 1km from the crater. lately though, with landslides making the "skyway" impassable, the hike begins in lipit, which is 7 kilometers away. the route is marked by footsteps and tire tracks. the previous week, our guide shared, a group of motocross riders drove as far as the "cottage". there are also temporary sheds built at each kilometer marker, where enterprising aetas sell soda cans, gatorade, and bottled water at PHP100 each. it's robbery, i think, because they mostly hitch rides with 4x4s that aren't full.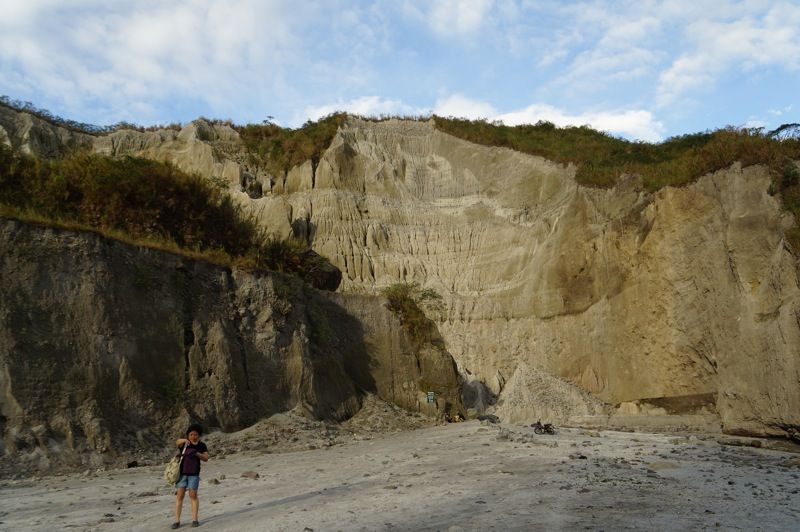 the hike itself isn't so difficult, although it may be my mountaineer's legs talking. there are few challenges along the way, and the trail rises in elevation at a gradual, hardly noticeable angle. the stream narrows as we get closer the crater, just as the walls in some portions appear to close in, creating the illusion of being trapped inside a gorge. at the time of my visit, the stream was shallow enough to cross without getting my feet wet. on some days, you really have to ford through the water, the source of which i am unsure. at one point, our guide told us to touch this wayward brook which was warm. trekking close to the walls, one would notice how high the water goes. sometimes, you see pebbles tumbling down the vertical walls, where strange, missile-shaped patterns have formed. at one point of the ride, the guide pointed to us this pyramid shaped hill which they've christened toblerone mountain.
finally, we reached the 6-kilometer mark. two cottages had been built there, and beside them are toilets with running water. a sign says that the crater is just X minutes away, depending on how old you are. i was determined to beat the estimate, but didn't manage to, or at least failed to prove that i was still young.
none of these structures were present in my last 3 visits to the crater
, but nothing surprised me more than when i finally reached the viewdeck. it looked like a park, with cobblestone paths leading to a landscaped patch. not that i think it shouldn't look like that, it's certainly very convenient for the type of people it attracts. we went down to the crater and spread a blanket under another cottage, opened bags of chips and peeled wrappers off blocks of cheese while a cool breeze skimmed the surface of the lake and blew to our spot. we would own that spot for just half an hour, before other tourists poured from the viewdeck in droves. very suddenly i regretted not having taken pictures while the crater was empty.
we stayed for over an hour. i would have wanted to go for a dip, but the guides did not allow it, although i did get my feet wet. some boats were moored to the lakeside. i remember when the lake was a rich turquoise color. now, it's a very bland green. clouds were moving swiftly over the mouth of the crater, and several visitors began taking their shirts off to sunbathe. before the migration reversed, we decided to head back to lipit. the scorching sun of high noon caught us somewhere along the 7-kilometer stretch, but a friendly breeze kept us company during the trek. i could not have wished for better weather. at lipit, where more than 30 4x4s were parked, aetas had gathered. i asked one of them what they were doing there, whether they lived close by, and she replied that they were hoping to receive blessings.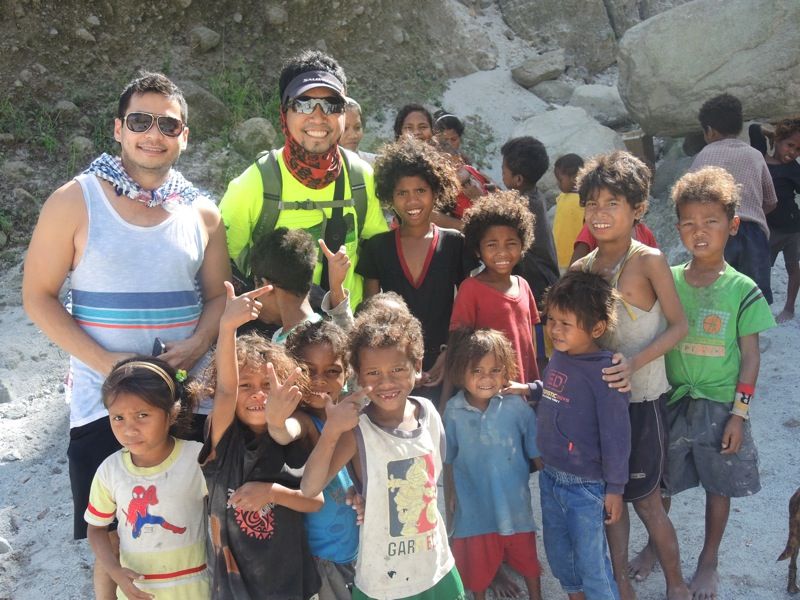 along with a convoy of 3 vehicles, we returned to sta. juliana. it was the same route, in reverse, and we were shaken inside without remorse, i didn't want to fall asleep lest i hit my head somewhere. when we reached the barangay, we had lunch at spa town and arranged for massages, which was done in a huge, open-air hall. we had finished everything at 5pm, and just had enough time to see the capas memorial at sundown. so this DIY mt. pinatubo day trip saved each of us about PHP1,000. the tourism office did give us a tip: to call ahead of the visit so that we can be ensured a guide and a 4x4. there are 300 guides who rotate to bring visitors to the crater, and on peak seasons, some of them actually get work up to twice a month. this is also very lucrative business for the town of capas, considering that much of crow valley and the lahar plains all the way to the crater are territorially on the zambales side. so do yourself a favor and do something new -- just like what my friend glenn did. drag 4 of your friends and consider visiting mt. pinatubo. just remember to bring sunblock, sunglasses, and a hat.