i was given the privilege of joining a few skyrunners and representatives from media and the blogosphere to try out the route of the 2013 salomon x-trail run, which is scheduled on march 23. very early in the morning i had to suit up in my salomon gear to get to R.O.X. in BHS. i did not have a wink of sleep prior to that saturday morning event, despite the knowledge that we'd be running. after a few hours, including some delays because of a flat tire and some late arrivals, we arrived at the spanking project on this side of nasugbu, batangas: hamilo coast's pico de loro cove, which is a prime development being undertaken by SM, another luxe offering with members-only amenities. there was a briefing prior to our run, and the race organizers showed this GPS-powered track of the 24km route, which was not unlike my first encounter with temple run: it made me a little nauseated, but also glad that i won't be running that distance.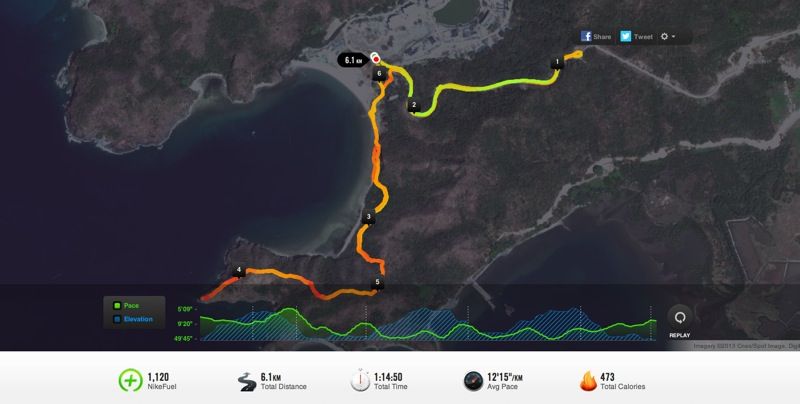 we were only scheduled to try out the 6K trail, and because of the delays, we started at 10:30am, which is not a good time to start a run, if you ask me, but what do i know, i've never done any heat training in the past. the run started just outside the pico de loro beach resort, across of the pico sands hotel, and wound up to a rotunda, covering a distance of 1,200 meters and an elevation gain of about 160 meters. we went back to where we started, turned towards the beach, then entered an eco trail, portions of which had been paved with crude rocks to mimic stairs. there was a finger of earth jutting out onto the luzon sea, separating the pico de loro cove from another yet-undeveloped portion of the 5,000+ hectare hamilo coast property, which i would later learn has 12 coves in total, some only accessible by boat.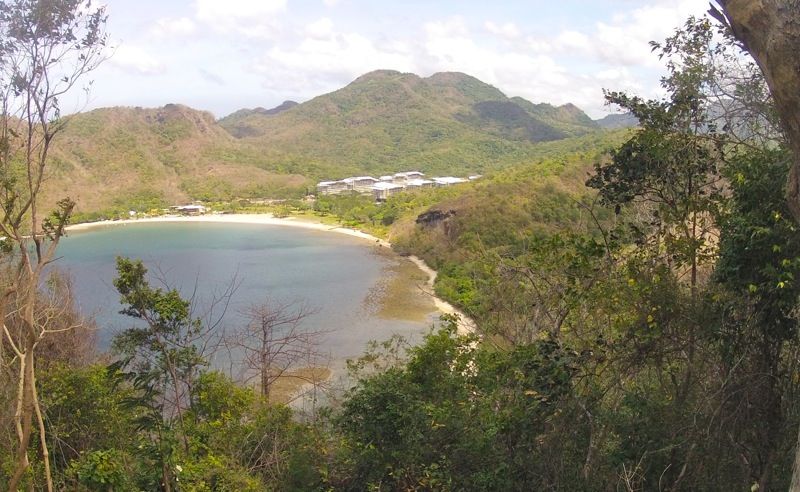 this was the part i liked most, although it left me panting and wheezing and asking what the heck i was doing. it was a trail which had really steep parts, and handrails are located in several portions. the tree cover thinned as we gained elevation (the highest point was a modest 115masl), and going towards the edge of that mini-peninsula, the plants were stunted into leaf-less bushes, which allowed the mid-day sun to pour all that noonshine on all of us runners. we paused briefly at the end of the trail, and while the others admired the view i ran quickly back because the heat was piercing even my dark skin. a note to runners: on race-day, wear a hat, sunglasses with UV-protection, and maybe even arm warmers. and don't slather sunblock on your forehead because all those chemicals are going to collect on your eyes after just a few minutes.
unlike last year's social media preview
, i managed to keep pace with the serious runners, who were obviously taking it easy.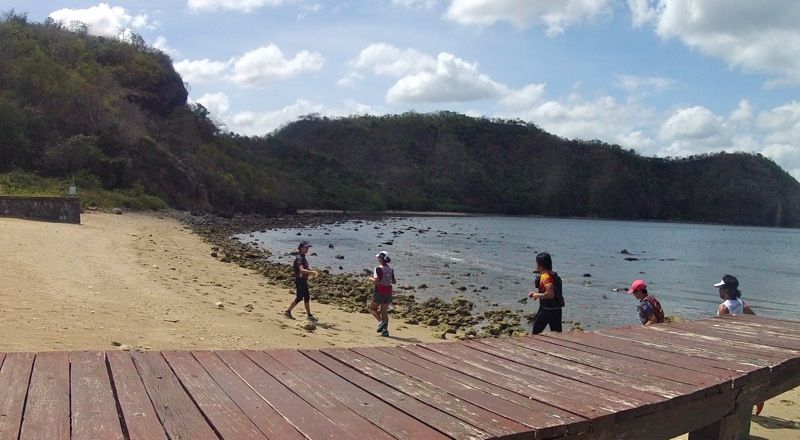 i ran back ahead of the other runners mainly because i wanted to keep an accurate assessment of the time it would take me to run that distance. i passed all these guards with their heavy fire-power who secured the trail for us, and my GPS measured 6.1kms, which i finished in 1:14. i probably would have managed to keep it under an hour, but we weren't there to race -- merely to try it out. the 6K, with its 50-50 road-trail split seems appropriate for people who are new to trail running and are still unwilling to submit to the rigors and evident dangers of the sport. if you've done one before maybe you'd like to try out the 12K, which is not just a longer version of the introductory distance -- there's more trail involved. the 24K, on the other hand, should be approached with caution, and is not for beginners, because it has a 5-hour cut-off, including 16kms of varying terrain, including bike trails, fire routes, foot paths, rough roads, and a forest trail up to the shoulders of pico de loro, reaching as high up as the smart tower (i wasn't listening intently but it sounded like a 300-meter gain over a distance of less than a kilometer). this mountain run is tough, and only the tough should attempt it.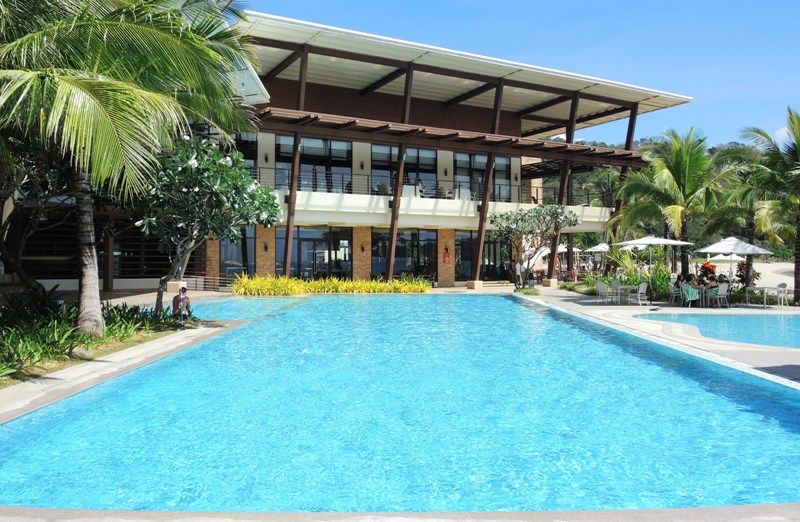 this isn't a running blog, and i don't normally share
information which you could access somewhere else
, but anyone wanting to run the event should remember that this is a green event, so there will be no plastic cups in any of the hydration stations. BYOB. also, unless you know any of the members of hamilo coast (getting in is a cool 550 thousand pesos), there is no chance you're going to see this property development, so the salomon x-trail run is your chance to check it out. one of the running bloggers asked this question during the briefing: what do you mean by technical? it made me grin, knowing i've asked the same of people who tell me that this mountain trail or that mountain trail is technical. if i had answered that question i would have said, anything that's technical requires the use of technique beyond what you normally do. so, as opposed to the simplicity or straightforwardness of road running or even a regular trail run, a technical trail would require you to scramble, skip, scrape, screech, and everything else in between. so good luck to everyone running the salomon x-trail run. it will be difficult, but i'm sure it will be a lot of fun.