i once was very curious enough about macro photography to seriously consider investing in a micro lens (that's nikon parlance). i still am now, but the price tag on the equipment has hindered me from pursuing it. macro photography reminds me of the time when i was a young boy observing a train of ants as they carried crumbs of bread on their pincers. the details that this genre of photography gives us i find really fascinating. this is the complete opposite of what i now normally do, which is outdoor photography. my compact digitals are able to shoot faux macro. even though i get as close as 5 centimeters, shooting at the widest angle doesn't give me the level of magnification that would make an otherwise mundane subject interesting.
since i could not yet afford to get a micro lens, i've decided to just get a toy macro lens in the form of the ōlloclip 3-in-1 lens system for the iPhone 5. as you may guess, it has 3 functions, and one of them is for macro photography (the other two i'll talk about in a later review). i don't know the specs on the iPhone 5, but it can't get too close to any object. if you want to magnify an image, you'd have to crop it. the macro lens on the ōlloclip allows you to get as close as 12mm to the subject.
i've only done some indoor shots of random objects around me, and i can already tell that this will be a source of many distractions for weeks and months to come, until of course i lose parts of it. the ōlloclip is so tiny that you could misplace the entire thing. also, you'd have to unscrew the wide angle lens in order to do macro shots. i'm pretty sure that this will be the first to go, if not the lens caps on both the fisheye and the wide. a friend of mine said that a local seller has made it available here but i actually got mine over on amazon, and had it shipped here through johnny air.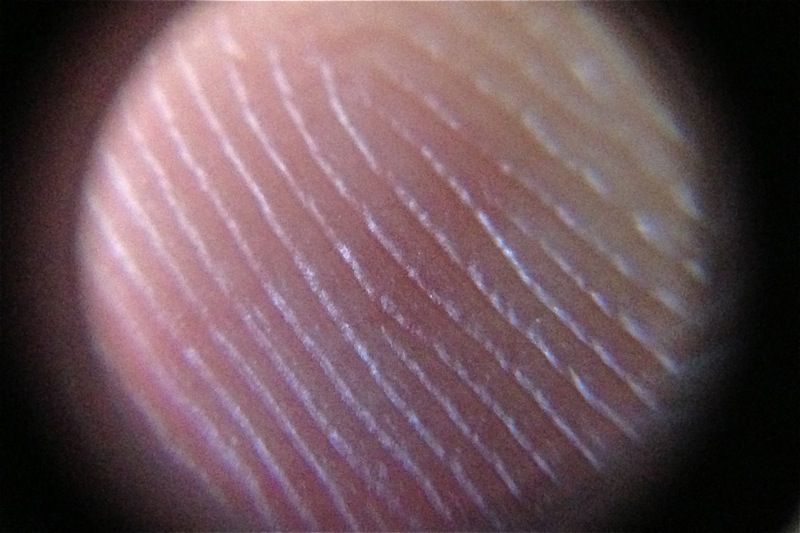 but although macro photography gets us close to objects, it still doesn't satisfy my childhood fantasies. i wasn't staring at ants because i wanted to do macro photography. i wanted to become a scientist, and look through the lens of a microscope. while browsing through amazon to get the ōlloclip, i stumbled over another lens which allows for 60X magnification. it's practically a microscope. i can't really say that this toy lens has any practical application -- i'm certain it couldn't be used to aid scientific research, but it's certainly fun to play with.
i won't be able to (as suggested by a friend) observe life at the cellular level, but it does magnify enough for me to discover details otherwise not seen by the naked human eye. for example i never would have noticed that the yellow lines curving around manuel roxas on the new 20-peso bill are actually made up of tiny letters that don't spell anything. now that's a security feature if there ever was one. below are a few more examples of how this toy could potentially waste a lot of time trying to find small details to photograph. just like a microscope though, the images aren't presented in a rectangle pane. i'm still not used at looking at round images -- i feel like the negative space on what seems like a vignette is wasted.

a detail on my korean visa



the intricate weave of my piña barong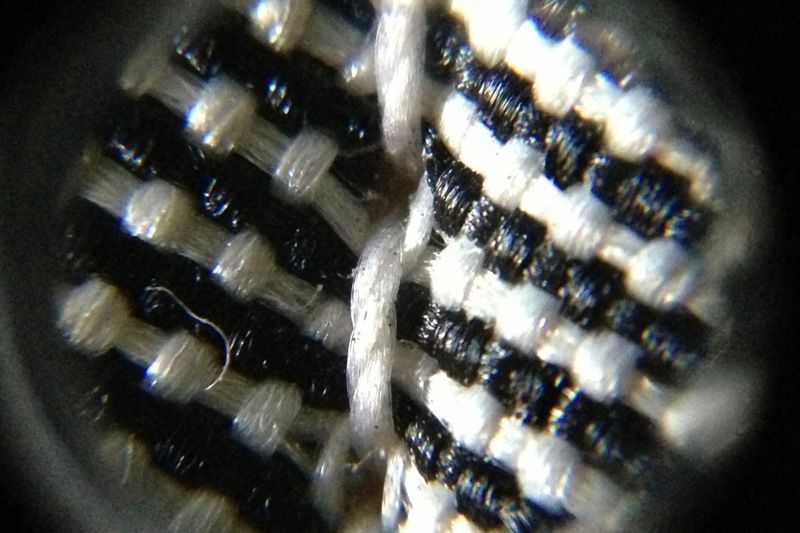 the stitching on my adidas shoes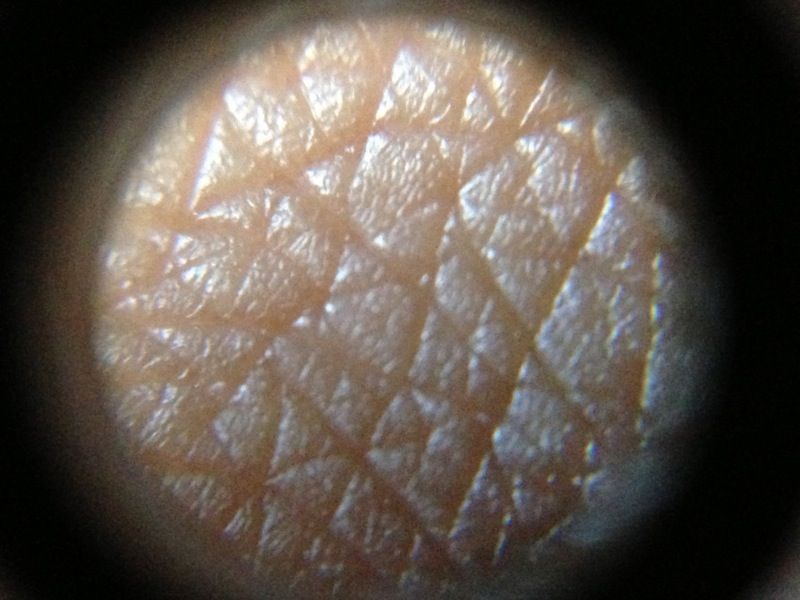 the cross-hatching on my knuckles