i don't think i've ever turned to social media to growl about my frustration for having
limited mobility
. i once made a scathing rebuke of the first-world concerns we post online that we never realize how some people can't even complain about getting basic services (perhaps because that lack of basic services refuses them access to the web). for example, how many telegraphed grumbles have i read about slow internet connection or weak mobile phone signals? but then again, i have almost absolute freedom to write about anything on this blog, so i shouldn't really call out people for their irrelevant and mundane non-problems. i just sometimes wish my newsfeed would provide me with information and entertainment, rather than reduce me to a mute counselor: one who merely listens to the issues of others, but who is unable to give sound advice, because for the most part, i really don't care that you can't decide what to wear to a party.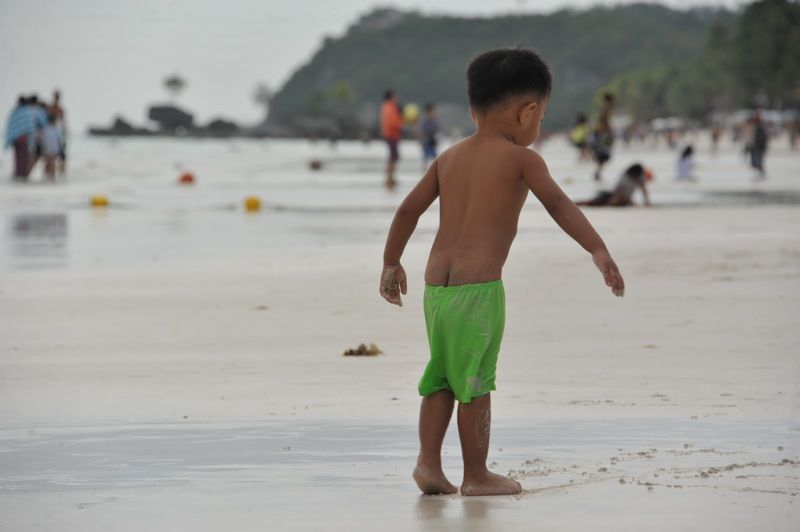 when in boracay, show some skin
but what i did notice about some recent postings is about the heat of summer. and it's not just about the 32-degrees that's been turning many bedrooms into saunas during the day. it's about these grand beach vacations. i couldn't help but feel a twinge of envy that while many of my friends are elsewhere burying their feet into sand, i was at home looking at a foot wrapped in a green fiberglass cast. i was particularly jealous of all these pictures and status updates about boracay. for a time immediately before and during holy week, it felt as if half the world i knew was there. i have to admit that i fed off their fun vicariously. given my fantastic imagination, it wasn't really hard to picture myself there, lost in that maze of people, their bare shoulders red under the tropical sun, their eyes hidden under dark round glasses, looking out at the still, blue sea beyond the white beach fringed by a line of green algae, and their hands clutching smoothies and fruit shakes.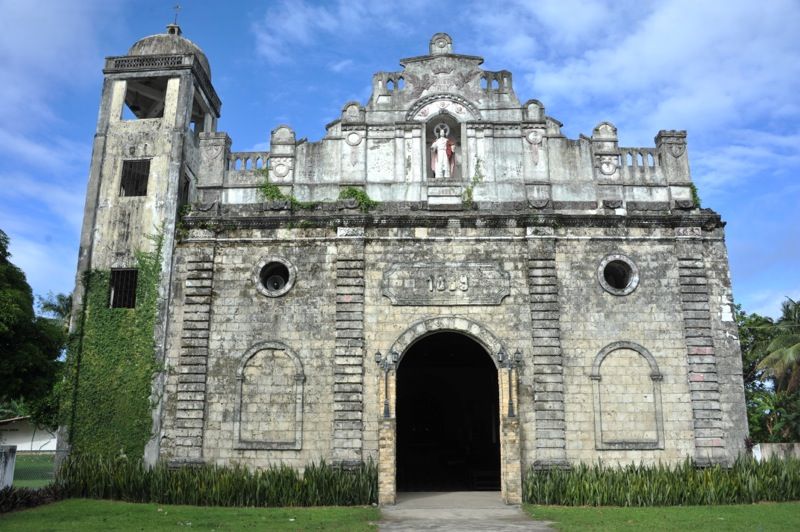 the jawili church was built in 1889
it isn't really hard because i was in boracay just last january, immediately after i attended
the ati-ati festival in ibajay
, although i have to admit i didn't really see much of it during the day. on my first day alone i arrived at sunset. my friend glenn insisted we check out this spot in tangalan. it was called the jawili falls. we took public transport to get there after receiving instructions from the students who were at the front desk of our hostel. we first heard about it from a local we met at the plaza during the coronation of ms. ibajay 2013. how else do you interact with the locals when you are in the province anyway? so with little knowledge save for two adventurous hearts, we got down at the wet market of tangalan, then hired a tricycle to take us there and back again to the national highway.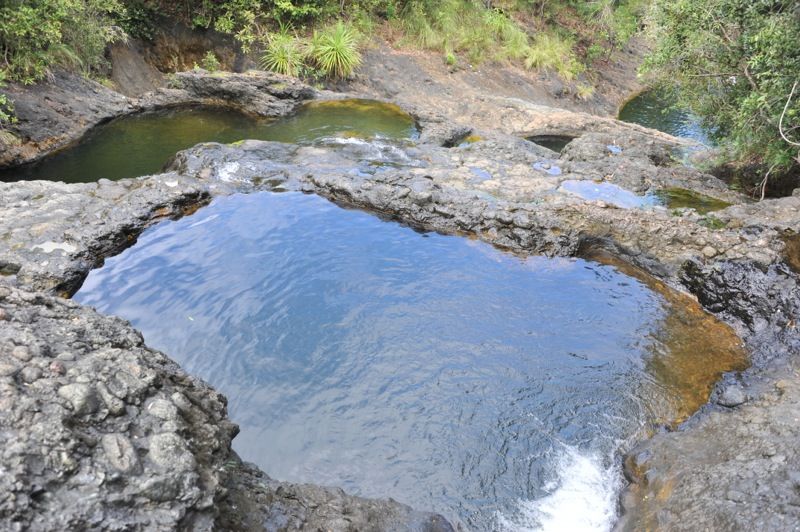 the jawili falls boasts of a series of seven basins, pouring from a narrow and meandering stream, onto a large oval pool the size of a volleyball court. it wasn't quite as rugged as i had expected: there is a resort which charges an entrance fee, and a concrete stairway takes you to the highest basin. the pools are dark and clear, and in many parts deep enough that local boys were executing deathly jumps from high perches. a mistake could send these kids to the hospital, or possibly, the morgue. i can't imagine how these basins were formed -- the surface of the chunk of rock shaped by flowing water resembles the texture of rough cement. there must have been a volcano nearby during a long-forgotten ancient time, or the earth just opened up and poured hot magma suddenly cooled by a raging river. there is no river anymore, but its influence of the shape of jawili falls is obvious.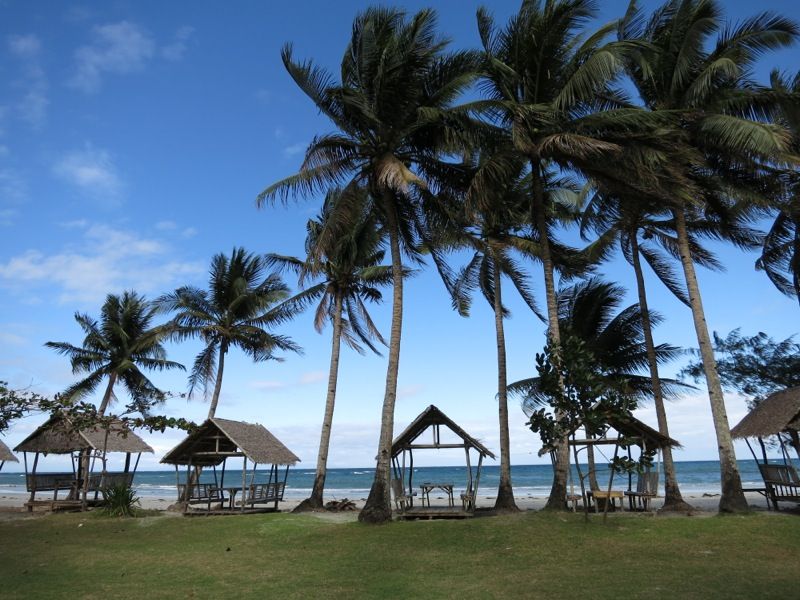 jawili beach
while in tangalan, we also dropped by the beach, which has a smattering of empty resorts offering very cheap accommodations and a decent stretch of creamy sand fringed by the cool shade of leaning coconut trees. the waves are gentle and it had this positively deserted feeling to it. i wouldn't mind going back there. while in the area, we also visited an old church whose façade still retained the blocks made during the late 19th century. it was lunchtime on a saturday afternoon but the only noise we heard emanated from the two of us. it was eerily peaceful, even outside the twin parks that faced the church and the small municipal hall.
the sun's daily dance at dusk in boracay never fails to amaze
meanwhile, we arrived in boracay during a particularly intense sunset. the stretch of sky in front of white beach was lit in a fiery orange glow, and vacationers were fixed on the sand, training lenses and the backs of awkward-looking tablets to capture the view. for the next succeeding days, i would only go out of my room to watch the sunset, or to eat. at no time during that visit did i ever bathe in the sea. i don't think i've frolicked on the beach of boracay in the last three times that i was there (of course during one of those times i was suffering from a mild case of food poisoning after eating half a sack of oysters prior to
cris's wedding in roxas city
). i suppose this is the case because i really have issues about being half-naked. i don't have a beach body and i wouldn't photograph myself without my shirt on. it's just not nice to look at, and this is coming from a person who has no high regard for people obsessed with working out. i'm a complete contradiction!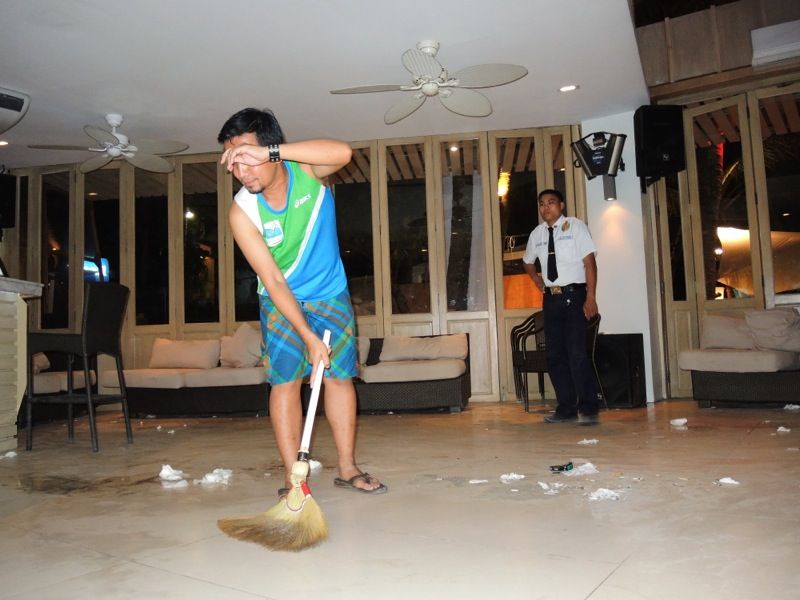 i was still in epic by closing time, i was forced to work for my beer
it's also because i find that boracay is a little too crowded.
urban creep has so overwhelmed the island's fragile ecology
, and it's bleeding, that it will probably die during my lifetime. it makes me sad because boracay is truly one of the world's best beaches -- probably the world's best tropical beach -- just take out all the people and the unchecked development that's destroying it. so i have been going to boracay solely to party and find an excuse to be boozed out. such a pity because although
i've done what most tourists might do
, there still are new things being invented so that returning visitors don't get bored. i hope i'm not too jaded to someday rediscover boracay.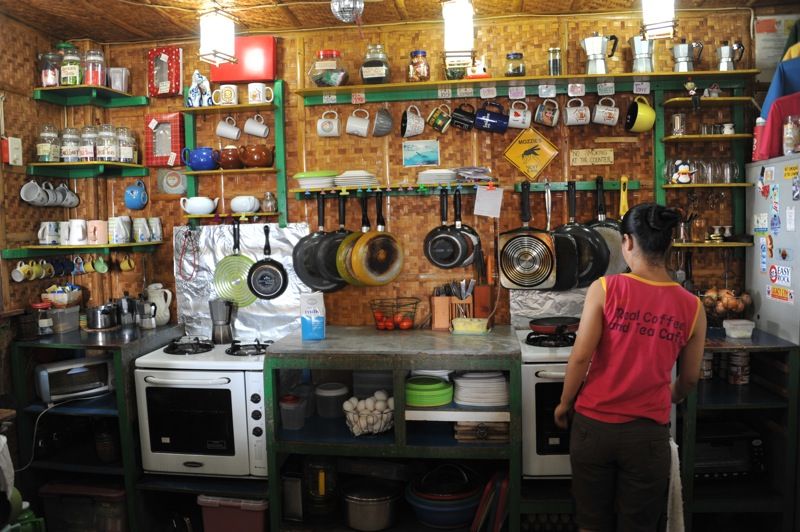 one of the things that glenn helped me discover about boracay is its food. normally i find it too overpriced unless you visit the talipapa in d'mall and have an unmarked restaurant cook your food. but there are gems hidden in its many pockets. when i first visited boracay in 2003, i remember rather vividly being asked by two foreigners each clutching a frayed copy of lonely planet philippines where they could find real coffee. at first i thought is there fake coffee, and then only later realized they were looking for a particularly famous coffee shop.
i don't drink coffee
so i didn't know and didn't bother to find out. but glenn insisted that we go even though he had a hazy recollection of its location, because he said there were other things there apart from, well, real coffee. he said we could have brunch there. but what really amazed me about real coffee is not its terribly expensive all-day breakfast offerings, but its delicious calamansi muffins. they claim it's an original, although i don't know of any other establishment that offers something similar. i thought it was really really good that i went back to real coffee on the day i was to fly back to manila for a take out.
from L to R: david, alman dave, arman -- what were the odds?
so for now, i satisfy my envy for losing this year's summer to an unfortunate disability by talking about a not-so-recent trip. please indulge me this moment of nostalgia. although i didn't get to enjoy its famous white beach, boracay will be fondly remembered as a keeper of many nocturnal secrets, as a broker of new friendships and chance encounters, as a reminder of what we stand to lose when we rush to consume the usefulness of the things around us.