the tawangan trail, which is a 10-hour ordeal starting from the barangay of the same name to the fringes of the grasslands, resembles no other part of mount pulag that i know. at its lower slopes from upwards of 1,500 masl are narrow, twisting, marivelesque tracks where recent rains have created fresh obstacles, and allowed the slithering riverine systems to spill over the trail and soak our shoes. i was not appropriately clothed; my gore-tex boots repelled water, but also kept it in, so each step i took, even when i was on dry land, was accompanied by an annoying, squishing sound. during the several breaks i took during this uphill battle, i would sit down, take off my shoes, and wring my socks half-dry.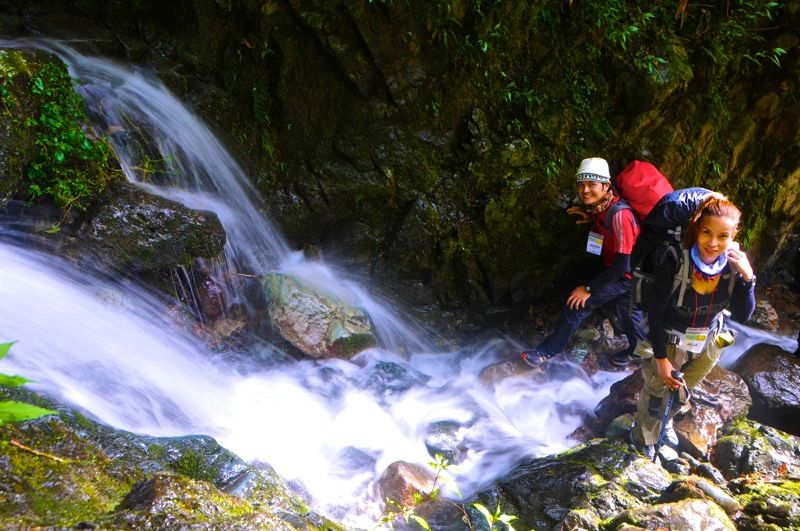 there are many trails to the summit of mount pulag, and i have, in my 13 returns to this playground of gods, luckily been to three: ambangeg, ambaguio, and akiki. there is a hanging bridge over edet river just before you embark on a back-breaking crawl up to junior pulag, so it is not at all possible to ford through water anywhere on this mountain, except perhaps when rain angrily pours while you trek and the trail is transformed into a spillway. to speak of a trail characterized by springs and streams is to hint of a different mountain altogether; certainly not this one, which spreads over the provinces of benguet and nueva vizcaya, and is the highest in all of luzon. but there we were, cold water wrinkling our toes, wondering when we'd see a hint of the familiar landscape that crowns this massive mountain range.
that does not happen until after we hurdle the hulking challenge of the hike's first few hours. eventually, the cascading whistles of the tumbling streams thin into distant hushes, and the immediate surroundings transform wildly into a lush montane forest. bushes suddenly tower into trees whose branches clasp over our heads, obliterating the sky. the trail winds upwards without end, and at a certain altitude, moss gently creeps from under rocks and around stumps, wrapping slender trunks and extending heavenwards to become hanging organisms that support a variety of lifeforms. trees and their tresses of moss provided not just shade, but cool, fragrant air.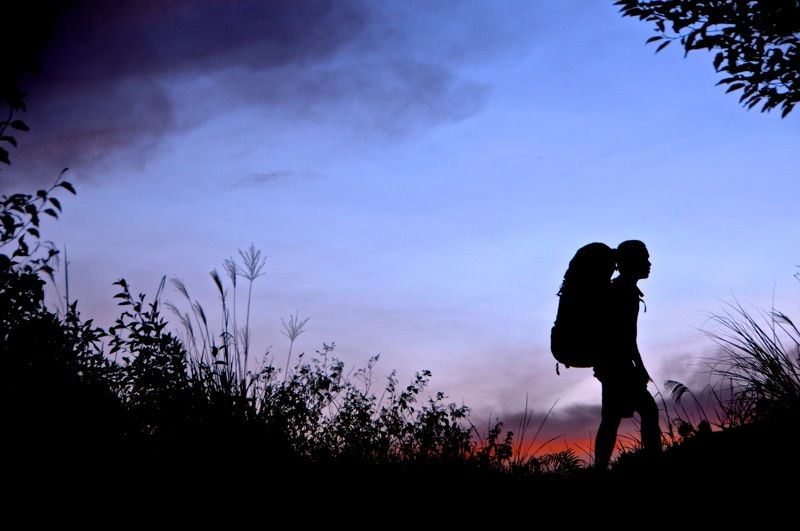 we were warned about the pesky limatik that would be in attendance during our ascent, and many came prepared with their alcohol sprays and worried screams. others were more paranoid and wore leggings under pants, or sometimes inserted the cuffs of their pants into their socks. others rubbed soap and insect repelling lotions on their legs to ward off the forest's inhabitants. not having any fear of leeches, at least the kind that we find here, i don't understand why some people make such a fuss about finding a creature the size of a matchstick on your body. for my part, i decided to confront the sanguivorous annelids by exposing my legs. i've learned that by keeping skin hidden under clothes, i was more prone to having the creepy crawlies plant twin puncture wounds on my body, which could often be nasty since even the smallest bite will keep bleeding long after the limatik has detached itself.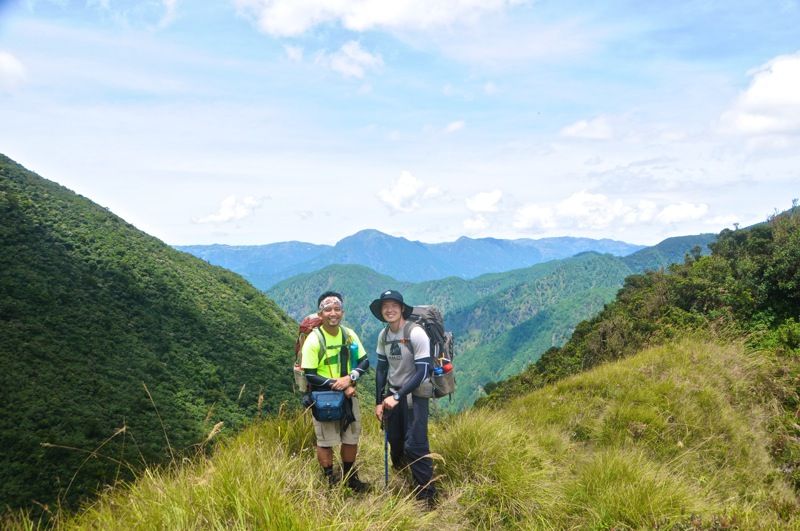 all throughout the trek i did not bother to steal a glance at the itinerary, although of course i was curious to know where we were and how far away our quarry was. i was on a new and seldom-trekked trail to the saddle of mount pulag, and i was terribly excited. the landmarks had boring, unimaginative designations which kept most of us guessing, and sometimes guessing incorrectly. i was more concerned with my right ankle, and how it would handle the hours of abuse under an unfamiliar weight. although i pared my load and trimmed some unnecessary ounces, i was close to carrying the usual burden of my uninjured self: very heavy. although on occasion i felt a very brief sting burst like lightning along the right side of my leg, i was amazingly steady, and complained seldom. i left the trekking pole at home with the knowledge that it would be, for the most part at least, just a long walk.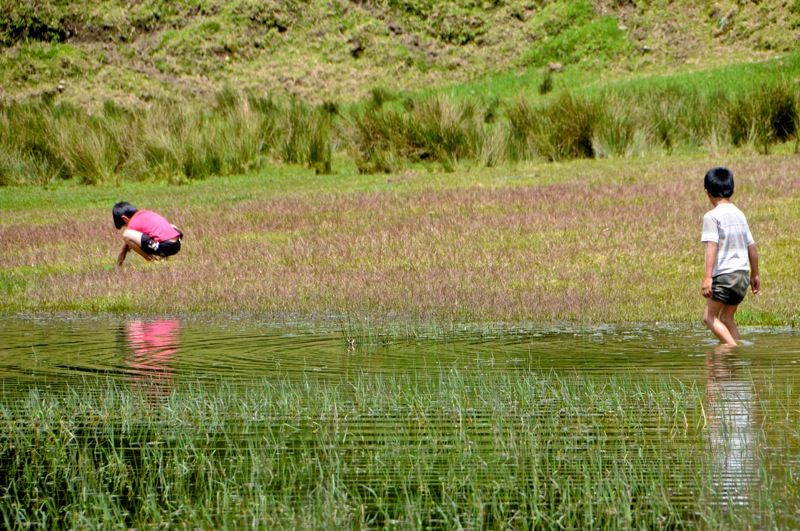 and in fact it was, for the most part that is. the reason the tawangan trail is seldom used is that it is so difficult to reach. prior to this climb, i had never been past the jump-off to the akiki trail in kabayan, so i assumed the road does not go farther: that it somehow ends at the foothills of mount pulag. surely, no one can live so far away from the nearest ATM. but more than an an hour after we passed brgy. edet, we were still rolling past hamlets of homes with their galvanized iron walls, and rows of hillsides transformed into terraces and plantations. the roads were of the worst kind: unpaved except in the most crucial of places. earth movers were scattered along this perilous highway, clearing landslides and reshaping the mountain. close to lunch, and after nearly 6 hours on a rusty coffin that shook us sideways and under, we were deposited in lake tabeyoc: a large pond that rests silently on a saddle between two hills. this is the farthest the rickety jeepneys could take us. a few meters away, the road is completely blocked, as chunks of rock are drilled and quarried to make barriers, and as wet cement is allowed to dry. a crane operator whom we passed smiled at us and said that next time we visit, it will be concrete all the way.
this is where the dreary march begins: it is no more than 2 hours until the barangay, but much of the altitude we gained during the ride is immediately lost 30 minutes into the trek. we gird along the sorry, forgotten road, which is perhaps among the worst i've seen in all my forays to the mountains. we do not see much ahead: just featureless hills that meander thoughtlessly into the horizon. then suddenly a village springs under our feet. we escape the perilous road and turn into a steep foot trail that made my knees tremble violently. it didn't take long before we found the school quadrangle where we made camp. in the same venue, the schoolteacher, who wore a wicked witch's hat, lined up her wards to receive kits that contained coloring books and art materials.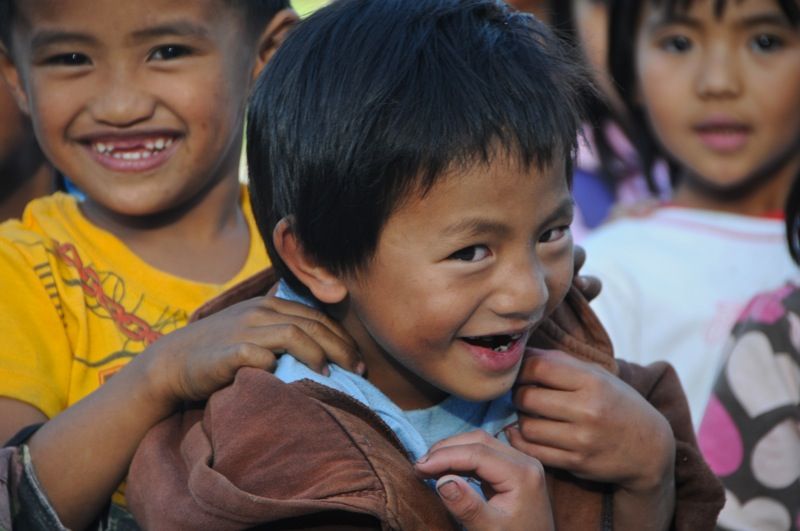 some barangay officials dropped by our campsite to inform us about some rules: no noise after 9PM. most of us retired early, as we had to rise at 3AM the following day for a 5AM start. the itinerary predicted a 12-hour trek, although of course we hoped it would be shorter. just before lunch we finally caught a glimpse of the grasslands that cover the highest peaks of mount pulag, as we followed a ridge fringed by twisted trees. not far away, the sky suddenly appears on a windswept saddle that spells just how little we've accomplished even after 7 hours on the trail: we've merely reached a conduit of earth that connects two mountains: farther ahead is a two-hour climb. it is at this point that we are given a hint of what lay ahead: the wind turns suddenly icy; even the spring on the trail is cold.

and if that wasn't enough, rain began to fall. i tried my best to hold it off, and use the cold as fuel to walk faster. i wanted to generate my own heat rather than scoop into my bag to fish out my poncho. but when we reached the last water source, where i paused to load 2 more liters on my pack, i decided to put it on. it wasn't long after when we emerged from the forest and spilled undramatically into the grasslands, which resembled a barren patch of earth made even more bleak by fog. i began to lose energy here, even though the trail wasn't difficult. earlier, i had boasted that i knew the grasslands like the back of my hand, but even though the dwarf bamboo looked familiar, everything else looked alien. it was as if i were an astronaut expecting to land on the moon, but finding myself on mars instead. on this unfamiliar terrain, the ungentle rain fell horizontally; if we had emerged an hour earlier, we would have battled hail. we followed the trail until we came upon a crossroads, and we took the one which proceeded to the general direction of the summit.
but we came upon even more crossroads, and it discombobulated all of us, and disproved my claim. i proceeded to join prince on a peak and waited for the sky to clear. meanwhile, news of a trainee getting the chills was carried by the howling wind. i was worried and wanted to find the traditional trail immediately. finally, our prayer was answered and the sky cleared, not just briefly, but permanently: the wide path carved by climbers was just down the other peak. but as i was about to call everyone to follow, the guide spotted us and ordered us to go the other way. prince and i refused, and we followed our instincts, which saved us nearly an hour of trekking time. apparently, we had found ourselves exactly where i predicted: on one of the minor peaks, where trails had been blazed by people who were probably bored by how easy the traditional one was.
we began our last half hour to the saddle, passing the lonely tree and lamenting the many missionary trails that are created by hundreds of pairs of shoes during the peak seasons. when we looked down at the saddle campsite, it looked as if another group had gotten there before us: there were already too many tents, although less than a third of the team had gotten ahead. upon my arrival, a cup of hot soup immediately greeted me. my own group was helpless: we had 1 tent, a cookset, but no stove. i set up our massive parawing and waited for the rest of the team to trickle into the campsite. the arrivals were few and far between. we only started on dinner at 5PM, and still, some groups still had some of their members trekking in the darkness. finally, while we were passing around the first few swigs of my expensive vodka, faint lights beamed from the shoulder beside the summit. anton, who had shown symptoms of mild AMS earlier, got up to welcome his mom. neither her nor the sweepers were there; later that night we would learn that they'd settled for camp 2, as they were still trekking at past 9PM.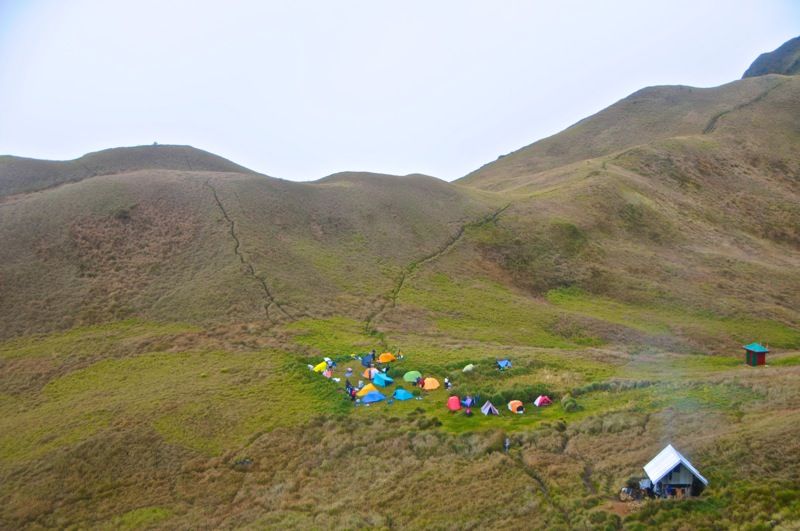 the celebrations that evening were muted: no extended drinking binges that lasted till midnight. it wasn't particularly cold, and usually, when it rains, the mercury doesn't dip too low. it's colder in pulag during the dry months from december until february. it was considerably warm, in fact, that i fell asleep in another group's kitchen. i had to be told to get up and leap into my tent, which i promptly did. i slept sound that night, and woke up only when the trainees were roused for their summit assault. i wasn't interested. i felt warm and cozy inside princeton's REI half dome and could not be bothered. but i heard ernest's voice saying the TL wanted me up there (a lie of course), so i laced on my boots and climbed, alone, in the dark, my chest heavy with lack of practice. i reached the summit just as dawn was breaking.

only a handful of the trainees had been to pulag before, and all of them were naturally mesmerized. it was also a nice time to see the summit: only 2 other groups were on the mountain, 1 of which was a group of guides on training. the air was filled with the few letters that spell wonder, although i joked that in the 10 instances that i've been blessed with a fantastic view of mount pulag's legendary sunrise, that morning's creeping day occupied the lower 3. in fact, it was far from dramatic: no sea of clouds, no streaks of sunlight stretching out from beyond the horizon, no palette of colors painting the sky. but still, still, pulag is amazingly, breathtakingly, beautiful. and i was all the more fortunate because the last time the weather agreed with me enough that i could do a summit assault was in december 2010.
after we filled our senses with all the fantastic views and vistas that this unmoving landscape could offer us, we all went down to finish breakfast, packed our tents, and embark on the hike back home. it was going to be a quick trek, and we expected to be in babadak before lunch. i wasn't particularly in a hurry to finally peel off the same clothes i've been wearing since i left manila for baguio city. i allowed my group to go on ahead of me, while i lingered a while longer and soak in the mountain air. although i climbed a mountain last july, i felt it wasn't my official return to mountaineering. i carried only about half of what i usually did, and was robbed of much of the agility that goaded some hikers in mount kinabalu to call me a mountain goat.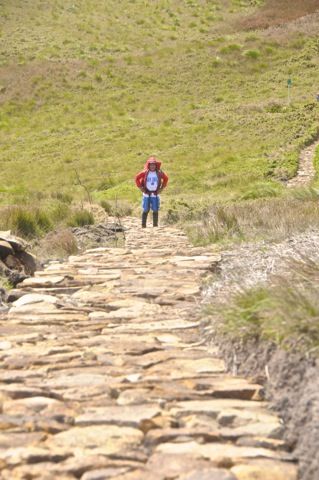 when we approached the brick road that rolls out nearly a kilometer away from camp 2, one of the trainees, who haplessly chased me, asked if i had regained my usual speed. without meaning to sound arrogant, i said i hadn't, and admitted that my doctor hadn't cleared me for mountaineering yet, although i've already disobeyed him 4 times already: first with
gulugod baboy
, then with
calavite
, another time in south korea, and this time with my climb to pulag. but it was pulag that made me feel alive again, and rightly so: pulag was the first mountain i climbed in february 2003, when i knew nothing of mountaineering, except that i wanted to do it. it was pulag that reminded me of the pains associated with climbing rather than injury: a sore back, a heaving pair of lungs, and feet wanting to escape the confines of a pair of boots.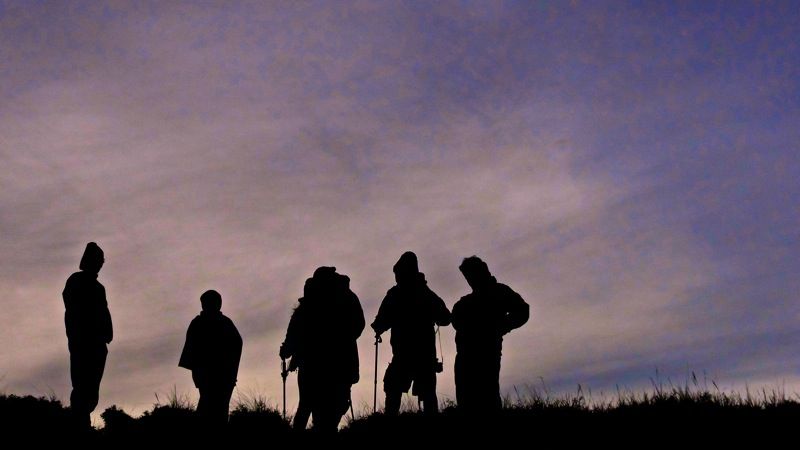 during the last push to the ranger station from the shed in camp 1, manny, as did many before him, asked me how my foot was. my standard reply had been that i always felt the slightest hint of pain on my ankle regardless of the activity, and strangely, the pain is sometimes more pronounced when i'm perfectly still. i complained about not being my usual self: slow and prone to complaints and pauses. as i suddenly found myself leaving manny behind with his trainee and overtaking a group of triathletes who trekked without backpacks, their porters walking behind them, i began to wonder for how long i would be able to use my injured ankle as an excuse for my overall sloth and weakness. my pulag climb actually marks
the 6th month since i fell
; presumably, i should have already completely healed. cheers to my 37-year old legs and my not-so-recently fractured lateral malleolus.