i'm not going to make it a secret, but i am a huge fan of pork.
no, not the kind involving the PDAF scandal, but honest-to-goodness, crackling, sinful, pork. i once attempted to embark on a pescatarian diet, which was only successful for over a month, and i cheated often, initially with white meat, and then i just embraced my inner carnivore by eating pork, lots of it, including the fat.
there are many ways of cooking pork, but my recent favorite has got to be the bagnet. although normally associated with an ilocano curing process that takes more than a few days, bagnet has invaded mainstream menus, with many restaurants offering their versions of it, even using the bagnet as the base meat for a variety of already well-known dishes, such as kare-kare, sinigang, binagoongan, etc.
i've tried different interpretations by pino, 8065 bagnet, forest house, and stoops. sometimes the attempts are futile, and they just come up with a stylized lechon kawali. stoops's take is more authentic, and reminds you of the kind that you find in busy markets in ilocos sur, but i find the meat sharp and overly crunchy, and i often leave the restaurant feeling as if the inside of my mouth had been nicked.
my favorite bagnet is the one prepared by chef kenneth, who used to run the kitchen of donken in the fort. kenneth's version involves a process which i think he shared with me when we both had too much to drink. suffice it to say that it's both tedious and secret, but the result is divine for meat lovers like myself. you can imagine how sad i was when i found out that donken had closed shop.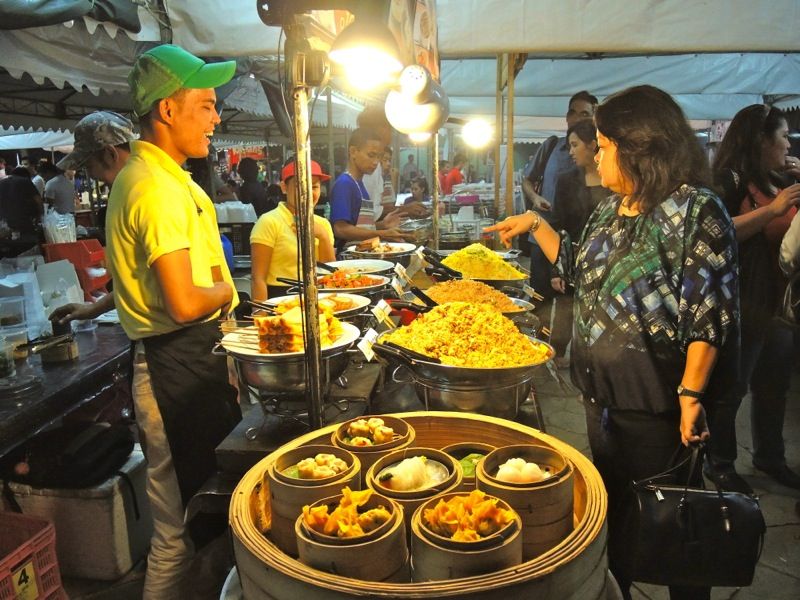 so when donna texted me last week that my favorite kind of pork from one of my favorite chefs will be available in the cucina andare in the glorietta 3 park, it was the first thing i did when i got out of the office last week: get my fill of the famous bagnet ni kenneth. cucina andare has been around for a while, but after a long application process and waiting time, finally, kenneth was given space and a chance to share his delicious creations with the denizens of makati. it will only be their second week starting tomorrow.
arriving at cucina andare, you get the usual, outdoor market feel that's offered by similar establishments. usually food is pre-cooked and displayed on chafing dishes. kenneth doesn't do the same, and might even find the idea repugnant. instead he has a few delectable slices of bagnet on display under a harsh light and each box is prepared with care under his watchful eye. i decided to get kare-kare bagnet. i had the same in pino and was generally unimpressed. but kenneth's bagnet is something else.
the meat isn't as sharp as stoops's, so you don't worry about leaving with open wounds in your mouth, but it's crunchy in all the right places. the meat has a fall-off-the-fork quality. it can get a little flaky in fact, and can be handled even by the plastic spork that i was given. a layer of fat is kept on the meat, but the cuts are chosen carefully such that they don't overpower the serving, and it's cooked so perfectly that you don't have the guilty, giddy feeling you usually get after eating fat. and the skin crackles in your mouth like nothing else.
i know this will sound like an ad, and i will confess that i'm friends with both kenneth and his wife donna, but do drop by cucina andare and look for bagnet ni kenneth. if you don't eat pork, kenneth also has a chicken version, which i have yet to try, and is a reason for me to go back. cucina andare is open from thursday to saturday, 4PM till the wee hours of the morning. and if you'd like to take home a block of the bagnet, best to reserve in advance. they have a facebook page, but let me know as well as i can text them myself.
here's to good, sinful, pork!