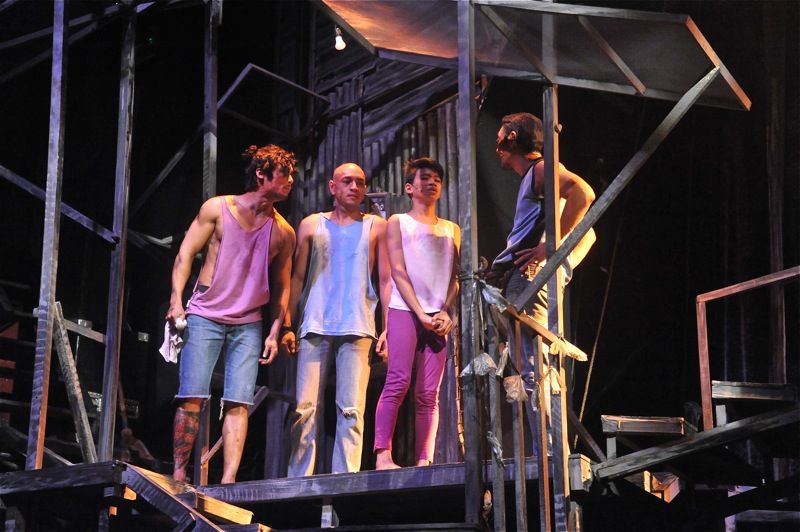 When I saw a Facebook post from my law school batchmate Darwin Mariano about a musical he was producing, I immediately sent him a message saying I was interested in blocking a show. I only knew two things: that it was going to be based on the much-loved and multi-awarded 2005 Cinemalaya coming-of-age film "Ang Pagdadalaga ni Maximo Oliveros" and that it would be staged in November. I didn't even know the first thing about being a showbuyer -- a term I only learned after he handed me a contract. I signed it immediately without reading it; not exactly what a lawyer would do, but I was extremely excited about the idea of helping bring a brilliant concept to life. I've known Darwin since 1998 when we were both bright-eyed freshmen in UP Law, and he was always the guy with bright ideas. Even then, he already had a passion for theater, buying shows even when the market was thin. In fact, it was through him that I managed to see the earlier stagings of "Rent" as well as "Proof of Life" and I supported him when he introduced "Orosman at Zafira" to a larger audience by bringing it to the SM Mall of Asia.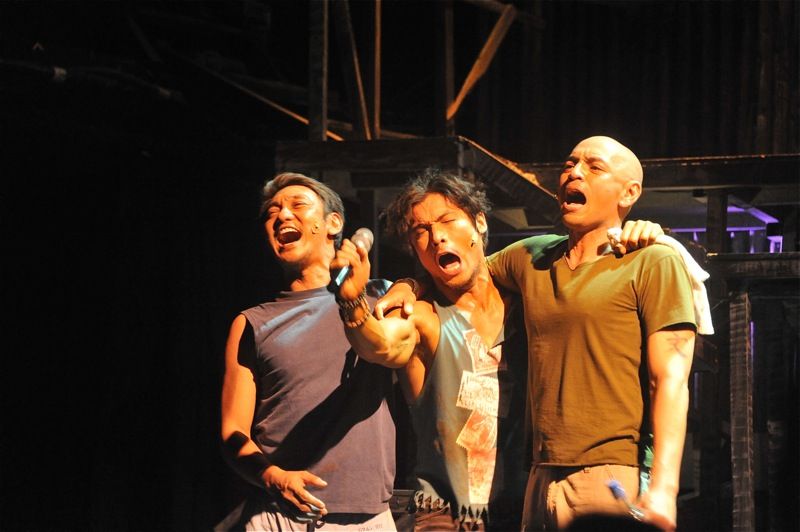 The story behind Maxie the Musicale is interesting as well. Darwin shares that he approached Jade Castro to ask the director of the film "Endo" if he'd be willing to have the movie adapted for the legitimate stage. Jade had a better idea: why not turn "Ang Pagdadalaga ni Maximo Oliveros" into a musical instead? What followed was a long process of writing a book and a libretto and auditioning the title role of an 11-year old effeminate boy, and finally putting a casual conversation into a glittering reality chock full of bells and whistles.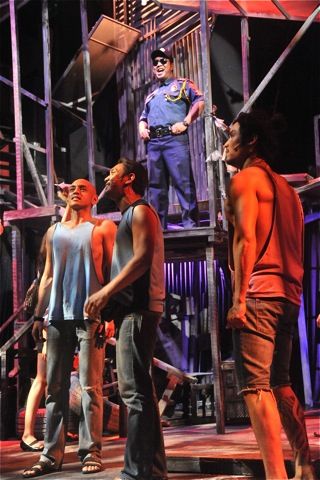 Because of my status as a showbuyer, I was also privy to information that wasn't available to everyone. I knew very early on that the role of Maxie had been given to a theater newcomer: the very talented Jayvhot Galang, a mainstay of amateur singing competitions who shot to national fame courtesy of a short appearance in Will Time Big Time (where he unabashedly introduced himself as a 13-year old stunner) and a winning streak in Talentadong Pinoy. How they found him is a story in itself. Several young kids applied for the part, but none of them could possibly cover the range that the musicians required. Finally, Darwin was sent a link to a YouTube video where unwittingly, Jayvhot actually recites his address. Darwin searched for him in his Sta. Ana, Manila neighborhood, and Maxie the Musicale director Dexter Santos knew, immediately after he sang his first line, that they'd found Maxie.
I was also given the privilege of attending previews of the musical: first in CCP's Tanghalang Huseng Batute which they called Patikim ng Schlight, and later at Bed Manila's press preview. A number of songs were performed, lines from the play were read, and already, I was amazed by the vocal range that the songs demanded, and was even more impressed with the musical arrangement, which covered a wide gamut of influences including Kundiman and Manila sound.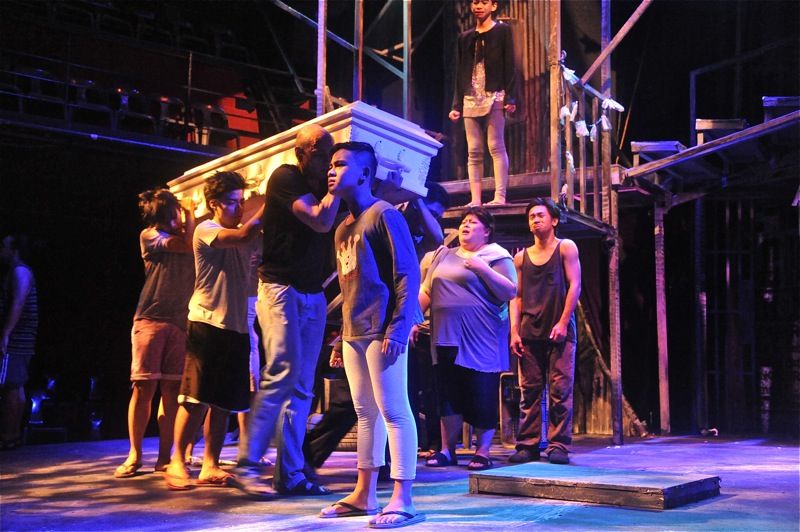 Maxie the Musicale eventually premiered to a huge and appreciative crowd at the PETA Theater Center on a wet Friday evening. I arrived very late, but just in time to see Maxie getting rescued by a suave Kuya Victor from some neighborhood goons. Laughter erupted often inside the theater, and there were copious amounts of contextual jokes that only a certain portion of the audience understood. But there were also many tense moments of seriousness: the eviction scene that involved violent skirmishes between the police forces and the residents of Sampaloc, the confrontation of Kuya Boy and his father Paco, the burial of Mang Paco, and the grieving that followed. But the scales are tilted in favor of fun by extended scenes of pure joy and abandon.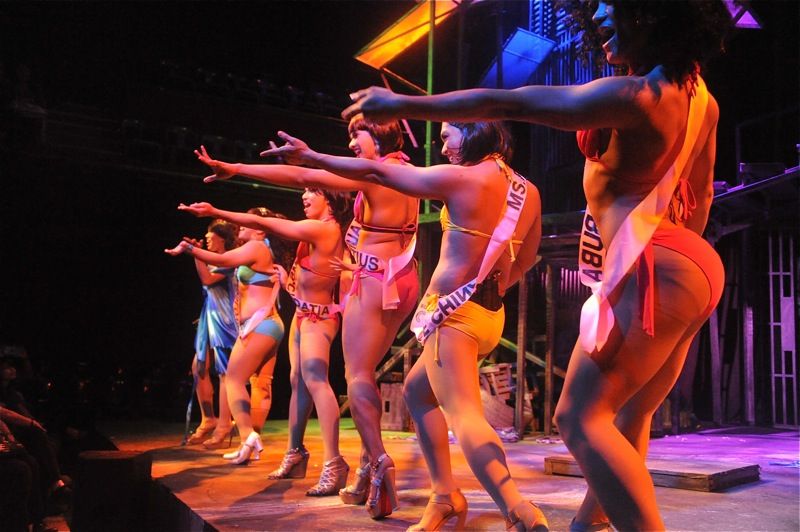 In the film, the beauty contest lasted about 3 minutes. In the second act of the musicale, this is stretched to 15-minute spectacle. But what a satisfying quarter of an hour it was, which involved quick costume changes, a parade of nations, swimsuit and evening gown competitions, a talent portion, and finally an interview. This was certainly one of the most amazingly choreographed portions of the musical, as you tend to forget that these characters are the same actors who exit the stage wearing burlesque costumes, and reenter barely 1 minute later in fully-sequined evening gowns. They do this so seamlessly you forgive that the sash is worn the other way around. Or that in the first half of the show, these same ladies were jockstrap-wearing prisoners, slapping their butts with towels during a shower scene.
But this being a musical, the costumes, the elaborate set, the riveting choreography, and the fantastic lighting were just fancy embellishments not meant in in any way to distract from the singing. And why would they? The vocals were top notch, particularly for a libretto that demanded so much from all of them. There are dramatic ballads and even more dramatic choir pieces, diva solos, duets, and several group numbers. Accompanied by a live band that hid under the stage, the actors belted song after song that might have many of you humming as you leave the theater. Unlike some musicals which tend to have an overarching musical theme (meaning several songs have essentially the same tune), Maxie stretches the talents of its composers by challenging them to come up with unique, individual pieces that stand on their own. The songs were written by Nicholas Pichay -- a lawyer, poet, and playwright whom I've admired since I was an undergraduate student after perusing through his now rare poetry collection "Ang Lunes na Mahirap Bunuin" -- which just means that the words deserve to be chewed slowly lest you miss the subtle poetry that's rampant throughout the play.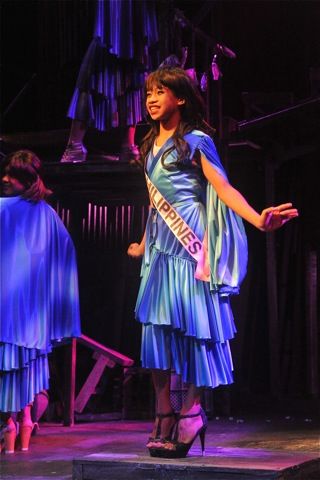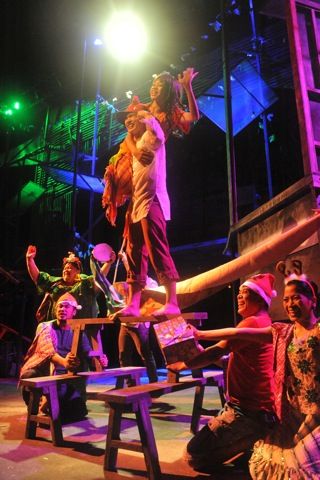 It might be expected of me to heap praises on the musical since as a show buyer, I need to promote it. But this rave review is not meant to spur ticket sales. Maxie, regardless of my views, deserves applause for its ambition and its scale. Watch Maxie the Musicale at the PETA Theater Center on weekends, 3PM and 8PM, until December 8. The show that I blocked is this Sunday, 17 November 2013, 8PM. Contact me for ticket reservations. Watch it not after everyone is already raving and talking about it. Be among the first to be enthralled by this year's most exciting local theater production.